The Hundred 2021: Women's team guide - London Spirit
Who are the overseas stars? Where will games be won and lost? What has changed since 2020? The Cricketer takes a deep dive into London Spirit's women's side ahead of the first season of The Hundred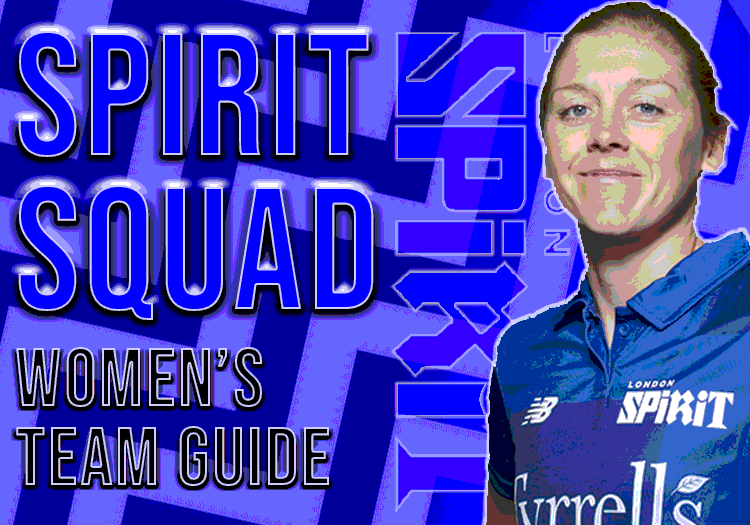 Coach: Trevor Griffin will coach the women's side. He previously coached Western Storm in the Kia Super League between 2017 and 2019, winning the title on two occasions, and is currently the head coach of women's regional side Sunrisers and Sydney Thunder in the Women's Big Bash.
Captain: Heather Knight – The England skipper, who succeeded Charlotte Edwards as national team captain in 2016, will lead London Spirit. The 30-year-old allrounder has made 199 appearances for England in all formats, captaining her side to the 2017 Cricket World Cup title, and also captained Western Storm under Trevor Griffin.
Overseas stars
Deepti Sharma: One of five Indian players in The Hundred, Deepti Sharma is currently fourth in the ICC ODI allrounder rankings and places fifth in the same category in the T20 rankings. A spinning allrounder, the 23-year-old scored 172 runs and took 10 wickets in India's multi-format series against England and is not short on confidence, stating in a recent interview: "I like to play in pressure situations."
Deandra Dottin: A whirlwind batting allrounder, Deandra Dottin is to women's cricket what fellow West Indian Chris Gayle is to the men's game. In 2010, she scored the first century in a women's T20I, scoring 112 not out against South Africa and bringing up her hundred from just 38 balls. It remains a record in international cricket and was only surpassed by Sophie Devine in January 2021 (36 balls, Wellington Blaze v Otago Sparks). Dottin is also a fast bowler and has featured in both the WBBL and the KSL, representing Lancashire Thunder in the latter.
Chloe Tryon: Chloe Tryon is a 143-cap South Africa international and medium-fast bowling allrounder. Famous for taking a wicket with the first ball of her T20I career, Tryon has represented Central Women and KwaZulu-Natal Women in South Africa's domestic leagues and Hobart Hurricanes in the Women's Big Bash.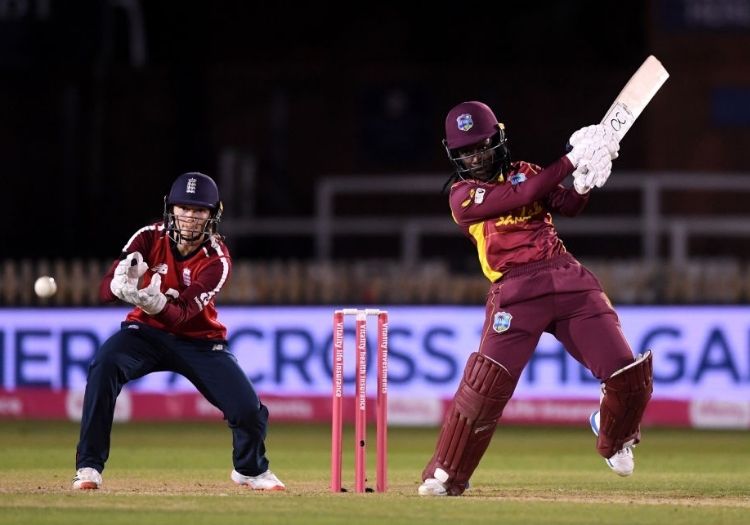 West Indies allrounder Deanra Dottin
English stars
Heather Knight: England's captain and allrounder, Knight made her England debut in March 2010 and has gone on to score 4346 runs and take 70 wickets in 191 white-ball outings for her country. As well as being a natural leader, Knight bats steadily, if not rapidly, in the middle order and is also a talented offbreak bowler. She is currently ranked fifth on the T20 Player Index.
Tammy Beaumont: An opening batter and wicketkeeper, Beaumont has been a staple of the England side for well over a decade – although she has relinquished control of the gloves at international level to concentrate on her batting. In her past ten innings for club (Lightning) and country, Beaumont has passed 50 on five occasions and failed to reach double figures just once.
Freya Davies: At the other end of the international spectrum is Freya Davies, who has made just 17 white-ball appearances for England. A tall pace bowler, Davies represents South East Stars in both women's regional competitions.
Batting
Power hitters
Deandra Dottin: Look no further. Dottin is a former track and field athlete, specialising in throwing, and as mentioned above, has the fastest century in women's T20Is to her name. True, that was 10 years ago, and she hasn't had a big knock in a while, but she does possess a strike rate in excess of 100 in both the WBBL and the KSL.
Tammy Beaumont: Not quite as explosive as Dottin but still a formidable striker of the ball in her own right. She isn't averse to finding the boundary, hitting 179 fours and 20 sixes in her international T20I career.
Anchor: Heather Knight. Knight has explosive capabilities as her T20I strike rate (118.21) and 2020 WBBL stats (446 runs off 357 balls) show. However, she will likely take on the role of anchor in the London Spirit side to Beaumont and Dottin the freedom to start with a bang. It's a role she plays well for women's regional side Western Storm for whom she is yet to post a sub-50 knock.
Finisher: Chloe Tryon is definitely a contender for this role. Looking at her Big Bash form alone, the South African has scored 412 runs at a strike rate of 141.58 in 26 appearances.
Alternatively, Sunrisers 'keeper Amara Carr has been scoring quickly in the Charlotte Edwards Cup this season, most notably scoring 18 not out from 11 balls against Western Storm to see her side over the line and secure their first ever victory.
Problem areas: Outside of Spirit's top five of Beaumont, Dottin, Sharma, Knight, and Tryon, no one else really stands out with consistent batting performances. That being said, with options including Naomi Dattani, Amara Carr, Danielle Gibson and even young Grace Scrivens, it's not like they don't have potential. They just need a couple of them to fire at the same time.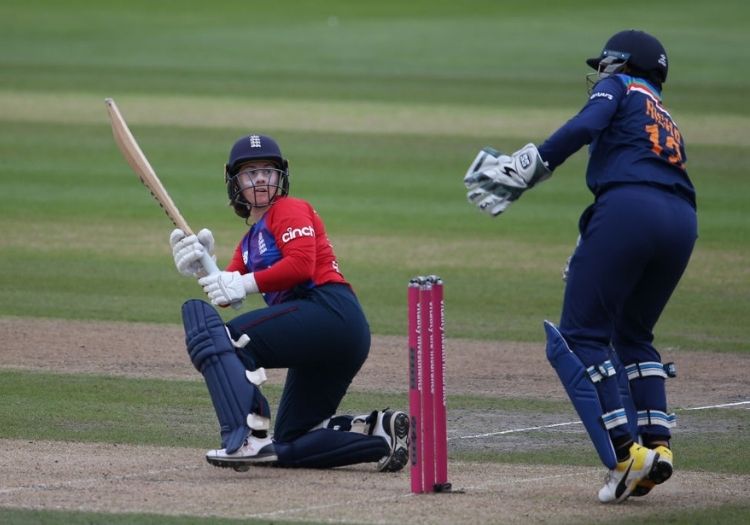 Tammy Beaumont of England
Bowling
Seam attack: Spirit's No.1 pace bowler, Freya Davies one of the few players who poses a realistic threat to England's long-time opening partnership of Anya Shrubsole and Katherine Brunt. Her 19-wicket haul in the 2019 KSL is a competition record while she wreaked havoc for England against New Zealand in March, taking career-best figures of 4 for 23 in the second T20I. A form bowler.
Dottin is also an option, regularly picking up middle-over wickets without stemming the flow of runs, and Naomi Dattini is also pace options, but hasn't bowled with any consistency in 2021. Meanwhile, Lightning's Sophie Munro flies somewhat under the radar but her right-arm pace is showing promise, most recently taking 2 for 10 from three overs against Central Sparks. A possible powerplay bowler.
Variation: An interesting collection of spinners among Spirit's cohort, including overseas pair Tryon and Sharma. However, perhaps the best variation will be found closer to home in Charlie Dean and Grace Scrivens. Dean has 25 wickets for Southern Vipers since the start of last summer while 17-year-old Scrivens is blossoming into a real talent.
Line and length: Sophie Munro – Known for bowling hard and aggressive lengths, the teenager is one the upcoming seamers on the domestic scene.
Ten-ball over candidate: It has to be said, Spirit's bowling line-up is nowhere near as star-studded as their batting options. Possibly Freya Davies as one of the more experienced operators and a proven performer in home soil, or maybe even young Charlie Dean.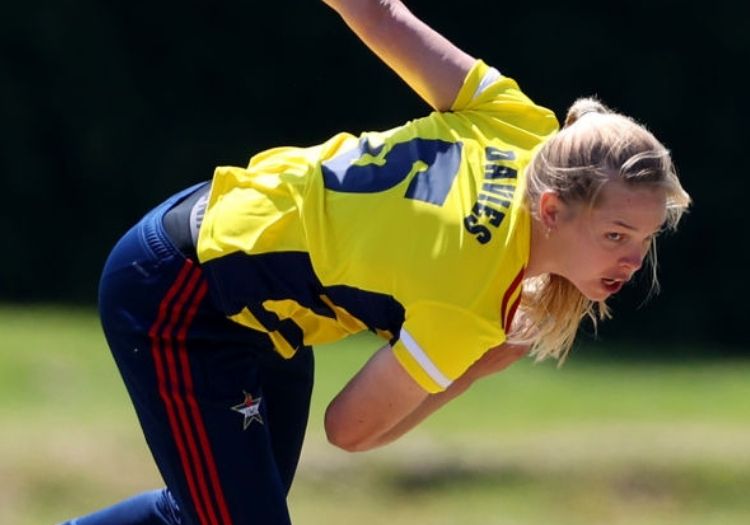 Freya Davies is Spirit's leading seam bowler
Fielding
Gun fielder: Dean has taken the most catches in the Charlotte Edwards Cup, snaring five wickets in three matches, while Beaumont and Dattani have also proved handy in the field. However, Deandra Dottin is next level and was listed alongside Danni Wyatt and Lydia Greenway in a BBC poll for the best women's fielder of the decade – quite nice company.
Who takes the gloves?: Amara Carr – While Tammy Beaumont is a wicketkeeper, she long relinquished control of the gloves at international level to concentrate on her batting and doesn't even keep wicket for Lightning, preferring to leave that to Sarah Bryce. Carr, however, is Sunrisers' go-to 'keeper and a very safe pair of hands. The 27-year-old has 47 catches and 34 stumpings in 95 List A appearances, and a further 12 catches and 22 stumpings in 56 T20s.
Changes from 2020: London Spirit have been largely unaffected by the mass withdrawals from The Hundred, only losing Surrey captain Hannah Jones to injury. Holding onto Knight, Beaumont, Dattani, Dottin and Tryon, Spirit added Carr, Aylish Cranstone and Danielle Gibson in January 2021 before another raft of signings – Davies, Bean, Jones, and Munro – in February. Sharma joined squad in June, one of five Indians to confirm their involvement in the tournament, while Grace Scrivens was added to the roster in July.
Ground: Lord's – The home of cricket. Only one women's T20I has ever been played at Lord's, when England lifted the World T20 title after defeating New Zealand by six wickets. New Zealand were bowled out for 85 while the rate of scoring was around 5 runs per over. The pitch at Lord's is famous for its slope, which bowlers can use to their advantage – seamers are traditionally more effective from the Pavilion end while swing bowlers enjoy success from the Nursery end.
Fixtures: July 23 - Birmingham Phoenix (a, 3pm), July 25 – Oval Invincibles (h, 11am), July 29 – Trent Rockets (h, 3pm), August 1 – Southern Brave (h, 2.30pm), August 3 – Northern Superchargers (h, 3pm), August 10 – Manchester Originals (a, 3pm), August 14 – Oval Invincibles (a, 3.30pm), August 18 – Welsh Fire (a, 3pm)
Sound from the ground: Radio presenter Jess Iszatt will be the resident DJ at Lord's, with Gracey (Trent Rockets, July 29), Alfie Templeman (Southern Brave, August 1), and Asha Gold (Northern Superchargers, August 3), also performing at selected matches. The live artist for London's Spirits first home match of the season against Oval Invincibles is yet to be revealed.
Squad: Deandra Dottin, Naomi Dattani, Deepti Sharma, Heather Knight (captain), Amara Carr, Aylish Cranstone, Danielle Gibson, Susie Rowe, Chloe Tryon, Charlie Dean, Freya Davies, Sophie Munro, Tammy Beaumont, Grace Scrivens
Possible XI: Tammy Beaumont, Deandra Dottin, Deepti Sharma, Heather Knight, Chloe Tyron, Charlie Dean, Danielle Gibson, Amara Carr, Grace Scrivens, Freya Davies, Sophie Munro
OTHER TEAM GUIDES
Northern Superchargers - women

Please ensure all fields are completed before submitting your comment!