A History of The Cricketer: The 1920s
HUW TURBERVILL: Unsurprisingly with Pelham Warner at the helm, The Cricketer in its early years was a fairly august organ, a publication of record, regarded as the voice of the Establishment. Its closest progenitor was Cricket, edited by CW Alcock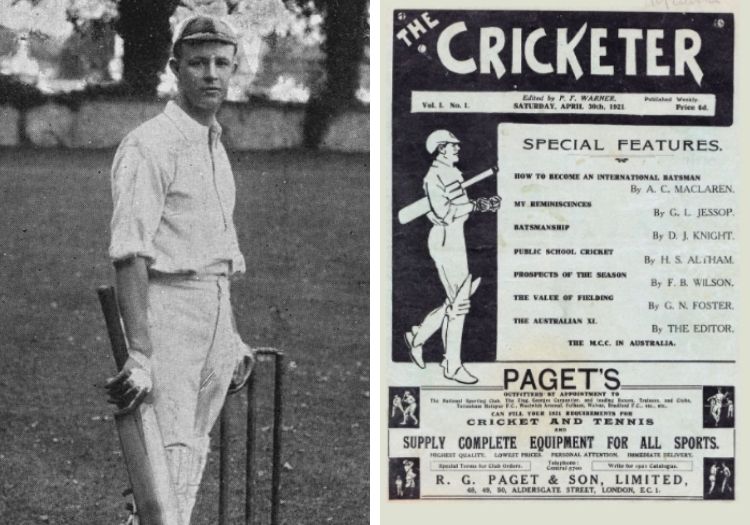 How many great ideas have come from watching cricket at Lord's?
The Cricketer was the brainchild of Geoffrey Foster, the Kent and Worcestershire batsman. According to EW Swanton in his book, Follow On, Foster told his friend Sir Pelham Warner at the end of a day's play at HQ: "In order to preserve the best interests of the game someone like he (sic) should start a paper devoted to cricket." (Note 'paper', not 'magazine', at that stage).
Warner, known as 'Plum' of course, loved the idea – he was playing his final season for Middlesex so would have more time on his hands – and it was he who thought up the name.
He was a former England captain who took the first official MCC side to Australia in 1903/04, retrieving the Ashes. His book, How We Recovered The Ashes, gave cricket's most famous contest its name from that point on (he obviously had a talent for such matters); he then repeated the feat down under in 1911/12.
Warner was an establishment man: Rugby School, Oxford University, Middlesex CCC. Historical consensus has him clashing with England captain Douglas Jardine over his controversial tactics when he was manager on the 'Bodyline' tour of 1932/33, although possibly this was exaggerated by the rather melodramatic-yet-fun Australian television drama.
Unsurprisingly with Warner at the helm therefore, The Cricketer in its early years was a fairly august organ, a publication of record, and regarded as the voice of the Establishment. Its closest progenitor was Cricket, edited by CW Alcock, which was first published in 1882.
It was decided to form a company to run The Cricketer, and it was based at 115 Fleet Street, London. Warner's approach was elaborated upon in the first issue, under an 'editorial foreword'; he said its aim was "to criticise justly and comment fairly and accurately not just on first-class cricket but on club, services and school cricket as well." This dedication to focus on all aspects of the game lasts to this day, from grassroots to Tests.
He continued: "The very essence of cricket is camaraderie and good sportsmanship and the contributors to The Cricketer will strive to write in such a spirit, hoping hereby to spread an even greater love of cricket than exists at present, and at the same time, to educate the general public in the finer points of the game." It was also important for Warner that it covered the game in 'our overseas dominions'.
It had an 'old-world air' in the early issues, with Warner writing with courtesy, using phrases like "may I venture to suggest", and "can I enquire if I may be allowed to do so". In one article he was critical of some of the "chattering" during the speeches at a dinner at The Savoy celebrating the centenary of the Varsity match. Tradition and decorum were key.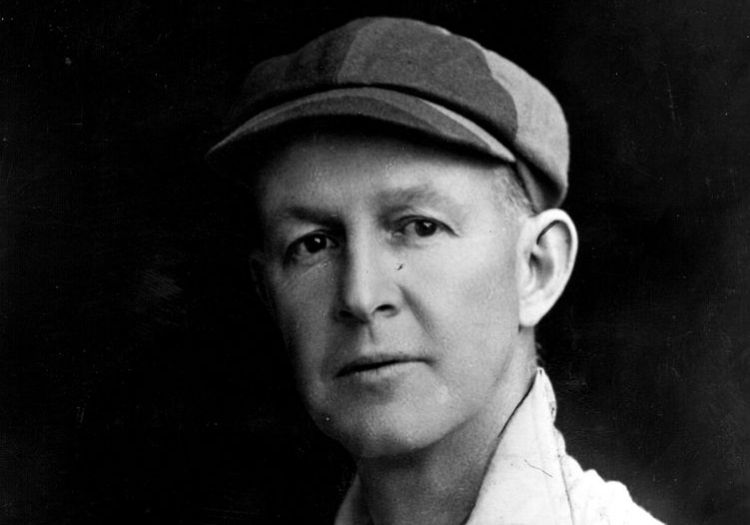 Pelham Warner, the founder of The Cricketer, is pictured in 1910
The first issue of the then weekly title appeared on April 30 1921 (the summer in which England lost 3-0 at home to Australia). It was sold for 6d, which remained its price for 20 years.
Warner was editor until 1961 (although strangely in his autobiography, Long Innings, The Cricketer warrants just a single line!); from 1921–1934 he was also cricket correspondent of The Morning Post (a newspaper that was eventually acquired by the Telegraph in 1937) and, from 1935–38, was chairman of selectors: a portfolio of roles that seems inconceivable now.
According to the book Cricket's Historians by Peter Wynne-Thomas (2011), Francis Joseph Sellicks actually did most of the day-to-day editing of The Cricketer. Sellicks – from a Malvern and Worcestershire background – was rugby correspondent of The Post, but stayed at The Cricketer for seven years.
The layout was left to the chief printer who would simply slot copy and pictures in as they fitted best.
The editorial team was able immediately to draw on the top writers of the day, however. Many of them wrote anonymously and most of them for free through this era of gentlemen and players.
In the first winter annual appeared articles by cricketers like Archie MacLaren (former England captain), rapid run-scorer Gilbert Jessop (Gloucestershire and England), Harry Altham (Surrey and Hampshire, chairman of selectors in 1954), Arthur Croome (Gloucestershire), the Rev Frank Gillingham (Essex) and Digby Jephson (Surrey).
Then there were the cricket journalists, RC Robertson-Glasgow (his first published work), Frederick Samuel Ashley-Cooper and Frank Mitchell, who provided regular topical commentary under the pseudonym 'Second Slip'.
There were also hugely famous writers not synonymous with cricket, like Sir Arthur Conan Doyle, AA Milne, Edward Verrall Lucas (a humourist for Punch) and Sydney Horler (novelist); there were noblemen, including William Legge (the sixth Lord Dartmouth) and Sir Home Seton Charles Montagu Gordon the 12th Baronet Gordon of Embo, Sutherland; and their contributions appeared alongside those from the actor C Aubrey Smith (the founder of Hollywood CC), and the politician Sir Edwin Stockton.
The early contents might be considered a little dry to modern eyes.
There was a 15-part series on batsmanship by Donald Knight (Surrey and England); and one on how to run public school cricket by Altham; and there was also Fielding in Six Aspects, by Foster.
Altham also began a 'History of Cricket' series in 1922, which ran until 1925: it featured 91 episodes, culminating with the 1912 Triangular Tournament involving England, Australia and South Africa. The series was reissued as a book, A History of Cricket, by Allen & Unwin in 1926.
"Exactly what audience the magazine was designed for is difficult to tell, but it seemed to be public school sports masters," wrote Wynne-Thomas.
Nevertheless there seemed a good mix of topics; there were county scores and Test reports, Lancashire and Yorkshire leagues previews, and there were also some offbeat articles. These included 'growing oranges in South Africa'; rugby articles by Sellicks (the only time his byline was used); and a preview of the 1924 Olympic Games in Paris by Arthur Langford. A journalist for the Post and the Evening Standard, Langford was a club cricketer for Jesters, Hampton Wick, Nomads, Grasshoppers and MCC. He also started writing notes on club cricket in the home counties, and became influential in the running of the magazine for a number of years. Freddy Wilson, a freelancer for The Times, also contributed some lighter articles.
There were statistics by Major Reginald Owen Edwards, who also wrote about the Minor Counties having played for Norfolk and Cambridgeshire. He also wrote about cricket current affairs under the pseudonym 'Vin Ordinaire'.
There were several cod bylines, in fact, a bit like the Twitter twitterers who use such disguises these days. 'Country Vicar' was another; that was Randolph Llewellyn Hodgson, who wrote an article about the centenary of the Varsity match in 1927.
Then there was the look of the publication.
"No cricket paper would be complete without photographs," wrote Warner in that maiden issue, "and each issue will be considerably indebted to the work of the camera". And Charles Grave provided the cartoons, including a full-page feature of a cricketer for each issue.
The Cricketer made a promising start commercially – the first two copies sold, although back copies could be unearthed apparently on condition a subscription was taken out.
Nevertheless it was struggling to break even by the second year, and the readers had to ride to the rescue, buying shares. Further savings were made when it moved into the offices of the Post.
The second financial crisis struck in 1928, but was averted when Sellicks and the advertising manager were laid off, and Langford assumed their duties – he remained involved with The Cricketer until 1968.
Warner described The Cricketer as 'a bible to be collected in instalments', and said: "When will it be finished?"
To which his answer was: "Never."
NOW READ...
A History of The Cricketer: 1930s
A History of The Cricketer: 1940s
A History of The Cricketer: 1950s
A History of The Cricketer: 1960s
A History of The Cricketer: 1970s
A History of The Cricketer: 1980s
A History of The Cricketer: 1990s
A History of The Cricketer: 2000s
A History of The Cricketer: 2010s
Please ensure all fields are completed before submitting your comment!