A History of The Cricketer: The 1940s
HUW TURBERVILL: Food rationing had been introduced, Neville Chamberlain was going to be replaced by Winston Churchill before long, and The Cricketer needed help from contributors to keep afloat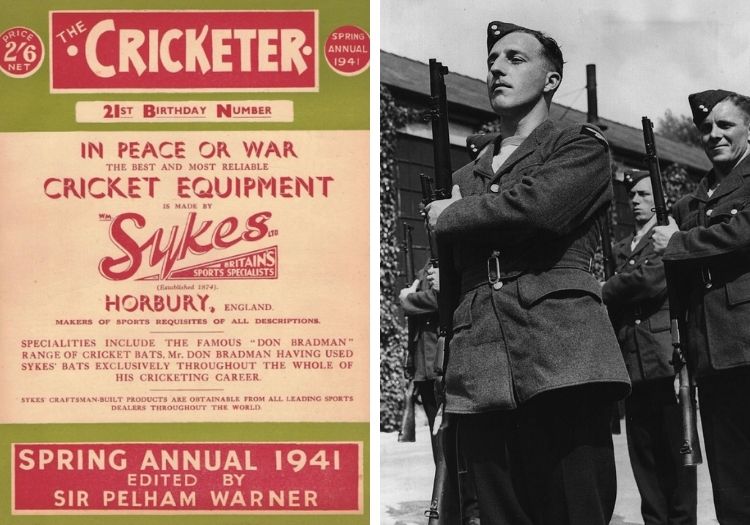 The outbreak of the Second World War on September 1, 1939, after Germany's invasion of Poland, curtailed what had been an enjoyable season: a welcome distraction from the impending doom.
West Indies, after losing the three-Test series 1-0, did not play their last five tour matches, sailing home early before the U-boats began to rule the seas. Lord's sent its treasures, including the Ashes, to a secret location, and England's tour to India that winter – under MCC colours of course in those days – was cancelled.
"Hitler permitted us almost to complete an exceptionally interesting season," Sir Home Gordon wrote in The Cricketer. "We were, perhaps, lucky to have enjoyed almost a complete season's cricket, as for weeks past we have been listening to the flapping of the wings of the Monster, and his shadow was around us and above us. When shall we see stumps pitched again?"
The magazine continued to be published, albeit with a reduced page count, as the conflict simmered through that first winter. Just as the season would normally have been starting it escalated, however, with Germany invading the Netherlands on May 10, 1940. Hedley Verity, who of course was just about the most high-profile cricketer to lose his life in the War, told our readers that "it was an early-season setback".
The Spring Annual was full of war-themed adverts and had no first-class cricket to preview. Food rationing had been introduced, Neville Chamberlain was going to be replaced by Winston Churchill before long, and The Cricketer needed help from contributors to keep afloat.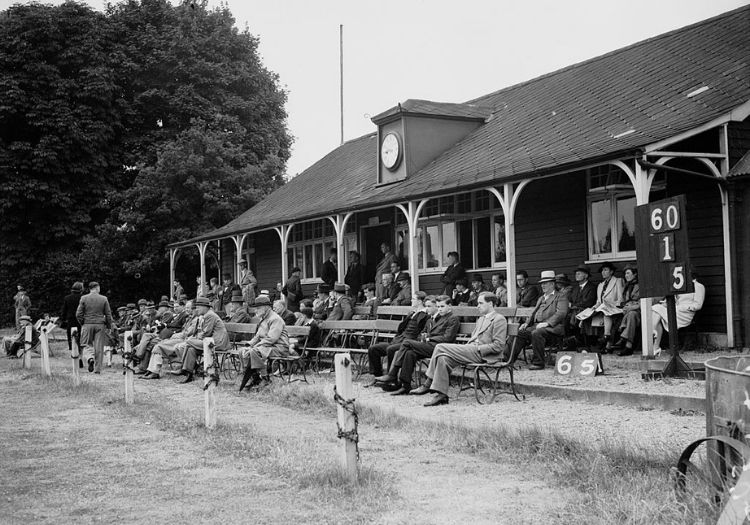 A crowd at a Chelmsford club match in 1940
Editor Pelham Warner thanked its sponsors and gave a stirring message to readers: "My first duty in writing these notes is to thank those who contributed to the success of The Cricketer Annual, 1939–40. I admit now that it was with some hesitation that we decided during those grim, uncertain days of last autumn to publish the annual, for the outbreak of war, as we all know only too well, had a disruptive effect upon every phase of life. But kind friends rallied round us and an appeal which I ventured to make met with what I can only describe as a splendid response...
"It must never for a moment be forgotten that there is a war on. Everything must give place to the prosecution of that war to a successful end, for we are fighting not only for a way of life but for the very existence against a ruthless, bullying, cruel and efficient enemy. Nothing else matters… Cricket expects that its devotees will do their duty, that each one of them, of every age and generation, will move forward in defence of this England which we love so well, of which we are so proud, and to which we owe so much."
Arthur Langford continued running the magazine from his home in Surbiton with his wife Meg, who dealt with subscriptions. He visited Warner to consult about editorial decisions.
Three handwritten two-page letters from Langford to Warner have just been sold at auction by Knights. Dated January 30, 1941, December 2, 1943 and November 12, 1947, in the former Langford mentions the recruitment of CB Fry, ER Wilson, AER Gilligan and HS Altham as contributors for the Spring edition of 1941.
After Langford's work was complete, Alfred Charles Leopold Bennett, the former Northamptonshire btsman and now BBC journalist, and EL Roberts the well-known statistician, braved the streets of the capital during the Blitz, between September 1940 and mid-May 1941, to deliver the handwritten pages to the typesetters in Bermondsey.
"With only two people and a printer holding it together, with next to no advertising revenue, it was a sort of publishing Dunkirk"
In one article former England captain Arthur Gilligan described his surroundings while penning his thoughts, "sitting in a blacked-out house with the lights dimmed".
There was no first-class cricket in England to report on, but one-day club matches were played, with the Bradford, Birmingham and Lancashire leagues all battling on. Gordon likened these games to Francis Drake finishing his game of bowls before fighting the Spanish Armada.
In 1942 paper rationing finally forced The Cricketer to become fortnightly, though. On a brighter note every issue was distributed through the Red Cross to reach it magazine became a treasured reminder of life at home.
EW Swanton had contributed a short series of articles in 1941 while waiting to be posted overseas. Once he had left he did not send anything home, he reflects in his Book Follow On, though, "unlike another PoW (and journalist), Terence Prittie… The Germans allowed his article on cricket as played in the moat of the Polish castle which was being used as the PoW camp [to be sent] – even sketches of the moat." Swanton reflects that he would have been unlucky to get this past his Japanese captors.
"It would be interesting to compare The Cricketer magazine through the war years against the current pandemic," reflects the magazine's editor in the 1970s, David Frith. "It was a much smaller publication then, but with only two people and a printer holding it together, with next to no advertising revenue, it was a sort of publishing Dunkirk."
Finally the War did end, and The Cricketer reflected on the deaths of 12 Test players (five English, two South Africans, an Australian and a New Zealander) among a terrible list of 130 first-class players.
The Cricketer managed to ease out of the shadow of war for the remainder of the decade.
The majesty of Denis Compton and Bill Edrich in the glorious summer of 1947, and the brilliance of Don Bradman's Invincibles the following year, ensured that the game and the magazine were in better shape by the end of the decade than when it started.
NOW READ...
A History of The Cricketer: 1920s
A History of The Cricketer: 1930s
A History of The Cricketer: 1950s
A History of The Cricketer: 1960s
A History of The Cricketer: 1970s
A History of The Cricketer: 1980s
A History of The Cricketer: 1990s
A History of The Cricketer: 2000s
A History of The Cricketer: 2010s
Please ensure all fields are completed before submitting your comment!