A History of The Cricketer: The 1980s
HUW TURBERVILL: The magazine was based at Great Portland Street in the 1960s and CMJ joined as assistant to the deputy. That was upgraded within a month thanks to the resignation of Irving Rosenwater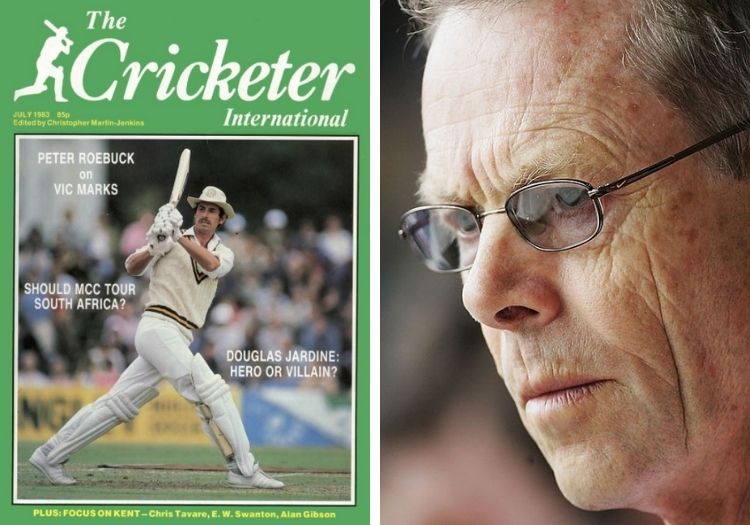 There are some true legends of cricket writing who have controlled the editorial direction of this magazine in its 100 years. The 1980s was all about Christopher Martin-Jenkins MBE.
He was editor between 1981­–91, after a spell as assistant editor from 1968­–70 (before he joined the BBC). That was his first job in journalism after Cambridge.
He devotes a chapter to The Cricketer in his autobiography, A Cricketing Life, written shortly before his death in 2013.
The magazine was based at Great Portland Street in the 1960s and CMJ joined as assistant to the deputy. That was upgraded within a month thanks to the resignation of Irving Rosenwater, who CMJ describes as a "precise and punctilious cricketing scholar". Effectively CMJ became editor, answering to the overlord Swanton, "a good and influential mentor".
Rosenwater "taught him a lot about producing a fortnightly" even in the short time that they were together, especially about working in 'hot metal' publishing. He also had to think on his feet. Richie Benaud was due to file a column and it didn't show, so CMJ 'ghosted' it from scratch instead – and no one noticed.
He returned to the payroll in the summer of Botham's Ashes, weary of overseas travel and mindful that he needed to be at home with a young family. It involved a salary drop, but his TMS work continued, and he commentated on the Sunday League on BBC2.
He describes "a cosy but cramped little editorial office rented by Ben Brocklehurst in Redhill", where he "did his best to widen The Cricketer's influence and sharpen its topicality.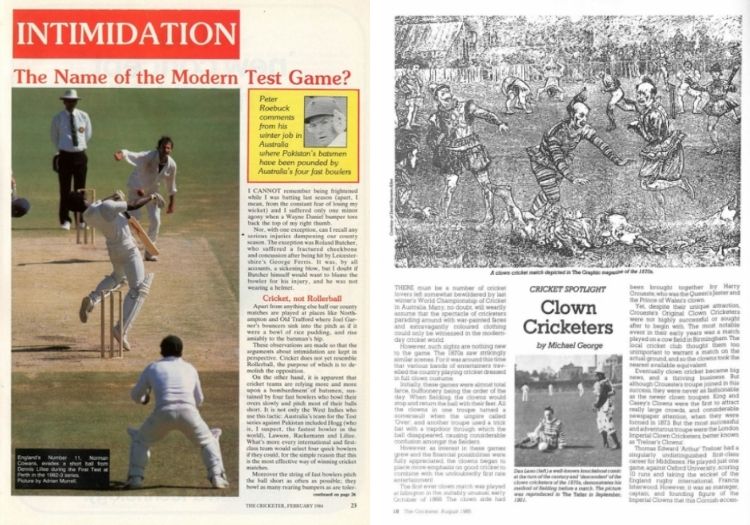 Pages from 1980s editions of The Cricketer
"Swanton and John Woodcock were still writing, and the genial and quietly shrewd Vic Marks joined the board that already had Sir Colin Cowdrey and John Haslewood, a friend of Swanton's and a director of Watney-Mann brewery, on it.
"Once a year we met for a two-hour board meeting at the In and Out Club in Piccadilly, followed by a three-hour lunch. Wine flowed freely and the company could not have been more convivial. No one remembered what had been discussed at the formal board meeting: Ben Brocklehurst continued to run the company's financial affairs precisely as he pleased."
CMJ was assisted by Andrew Longmore, who was "determined, and a fast learner". The secretary was Mandy Ripley, "for whom nothing was ever too much trouble". She was swiftly upgraded to assistant editor, working at the magazine for 22 years, from 1981­–2003 (before becoming secretary to Sir Stirling Moss).
She was introduced to CMJ at a party by her mentor Gerald Williams, the tennis legend (she has also worked at Wimbledon in the referees' room for 44 years, taking unpaid leave from The Cricketer). "It was a happy place," she tells me.
"CMJ had a heart of gold and I learnt so much from him. I used to have to try to decipher his handwriting and I wrote to Sir Don Bradman once. I typed Charlie Grimmett and Bradman sent a scathing letter back within five days, saying: "I'd have thought better of you CMJ", and so on. He apologised, and so asked me if I wanted to learn about cricket history. He gave me a book about Clarrie and the 'Invincibles' of 1948 and I read it, and have loved the game since.
"I used to buy or make lunch for everyone, and one day CMJ asked for a cheese sandwich. I made it, and then the phone rang. It was somebody waiting to meet him in the pub, the Home Cottage, just down the road; he slapped his forehead as he did and had to go and have a second lunch – he was never much of an eater! Another day the heating failed. Suddenly he leapt up like Basil Fawlty and did five star-jumps, then sat down and said, 'That's better!'"
"CMJ's knowledge and appreciation of the game was outstanding – and he was a brilliant broadcaster – precise, colourful, often humorous and an excellent mimic too"
Mandy has also given us an exclusive – the cover of the May 1981 Jubilee issue shows a picture of Warner back to front. "No one noticed," she says.
Richard Lockwood worked on The Cricketer Quarterly, a stats-heavy compendium, while Christopher Bazalgette worked on the commercial side. I phoned him for this column. Now 82, his other claim to fame is that he took 1,405 wickets for Hampshire Hogs; and in other matches dismissed Ross Walters, Ravi Shastri and Jeff Crowe. He was so meticulous with his bowling gameplan that he would mark where his fielders should stand. "CMJ appeared laidback," he told me, "but actually he was very much on the ball. We also had the various competitions going on, including the Village Cup and the Company Cup, and an under-14 competition which had a final at Trent Bridge; and I organised a competition for youngsters to throw a ball the furthest at Lord's."
Back to CMJ. "Andrew and I made our mistakes when it came to the presentation of the magazine with which Ben was seldom satisfied, but I think we produced an interesting monthly," he wrote. David Frith had left to start rival Wisden Cricket Monthly, but CMJ felt The Cricketer was "more varied in its approach, if, for a long time, less colourful."
CMJ had a bee in his bonnet about the money men. "Our expenditure was always closely monitored, which meant we made a profit while WCM never did. Ben's cost-cutting rottweiler Harry Constantine was a portly fellow who was likeable but always knew better than anyone else – he would have been just the man to enforce George Osborne's spending cuts."
Longmore, also sadly now deceased, left and enjoyed a fine career with The Times, and in came Peter Perchard (more of him next month): "A skilful production man who loved cricket," wrote CMJ. "That little office was a hive of industry from soon after dawn until long after dusk."
CMJ resumed his duties as BBC cricket correspondent in 1984, but remained 'less-hands-on editor' until 1991.
It was a golden period for the magazine, and I was a young, keen subscriber, one of 100,000, enthused by Botham's brilliance; it regularly clocked up 80,000 under CMJ.
"CMJ gave me first writing commission on The Cricketer," says current editor Simon Hughes. "He had seen me come down from Durham University and waltz straight into the Middlesex Championship and Gillette Cup-winning team (don't quite know how) and he hired me to write the monthly county cricketer's diary.
"His knowledge and appreciation of the game was outstanding – and he was a brilliant broadcaster – precise, colourful, often humorous and an excellent mimic too. But he was an eccentric character who was always hurrying because he was habitually late (invariably hustling up the stairs to the commentary box as the first ball of the day was bowled). He was absent-minded and tended to mislay stuff, most painfully 250 typed pages of his World Cricketers manuscript on tour in New Zealand. His enthusiasm for cricket and generally welcoming nature to anyone prepared to have a go at writing was infectious and he was loved by everyone."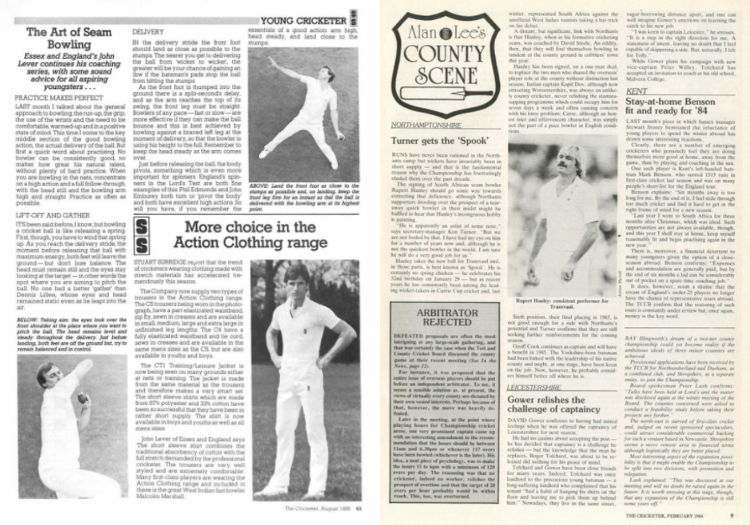 Pages from 1980s editions of The Cricketer
It wasn't just CMJ
Two editors enjoyed shorter stints before CMJ.
When Frith departed abruptly, Tony Pawson filled in. He had been an entertaining batsman, a captain of Oxford University who went on to play 43 matches for Kent, scoring 2,100 runs at 33.33. He was an amazing runner between the wickets, especially in partnership with Godfrey Evans, and a skilled fielder. He was also a fine amateur footballer, who played twice for Charlton Athletic, scoring twice on debut against Tottenham Hotspur. "He was a lovely man and so hard working," recalls Belinda Brocklehurst. "He was in his 50s, and loved his cricket and football. He used to put The Cricketer 'to bed' on the floor of his drawing room – it was before we had a proper editorial office!"
After him came the superb all-round sports journalist, Reg Hayter, from 1978­–81. He was the joint founder of the British Empire XI (cricket) which, during the War, raised £100,000 for the Red Cross. He loved the game, and was a populist without hint of snobbery, who was pals with Denis Compton and Sir Ian Botham. "A super guy," says Belinda.
His son Peter, a renowned cricket scribe himself, says his father enjoyed the job: "He tried to make the magazine more inclusive and accessible, and he was successful, bringing the subscription up to that mid-40,000s level. He opened it up to a wider audience, and brought writers like Tony Lewis in, who had the common touch. He also sent Adrian Murrell on tour as The Cricketer's official photographer, which was innovative. We always suspected that Mr Swanton saw him as a stop-gap, and Dad was disappointed when CMJ replaced him, but he'd done a good job. He saw it as an honour and privilege, and it left him to run his sports journalism agency, Hayters, and he was also a players' press agent for players like Beefy. He was a very good writer himself – he wrote a lot for the Wisden Cricketers' Almanack."
I have a book, The Best of the Cricketer 1921-81 (Cassell), edited by him. "Cricket will survive," he wrote. "This game of isolated incidents, stops and starts, hours of probe, thrust and parry, then the fireworks which can light up the sky even under a blazing sun."
How lovely is that?
NOW READ...
A History of The Cricketer: 1920s
A History of The Cricketer: 1930s
A History of The Cricketer: 1940s
A History of The Cricketer: 1950s
A History of The Cricketer: 1960s
A History of The Cricketer: 1970s
A History of The Cricketer: 1990s
A History of The Cricketer: 2000s
A History of The Cricketer: 2010s
Please ensure all fields are completed before submitting your comment!