A History of The Cricketer: The 1990s
HUW TURBERVILL: Christopher Martin-Jenkins departed in 1991, and owner Ben Brocklehurst felt he needed a famous face involved, and he had one as his son-in-law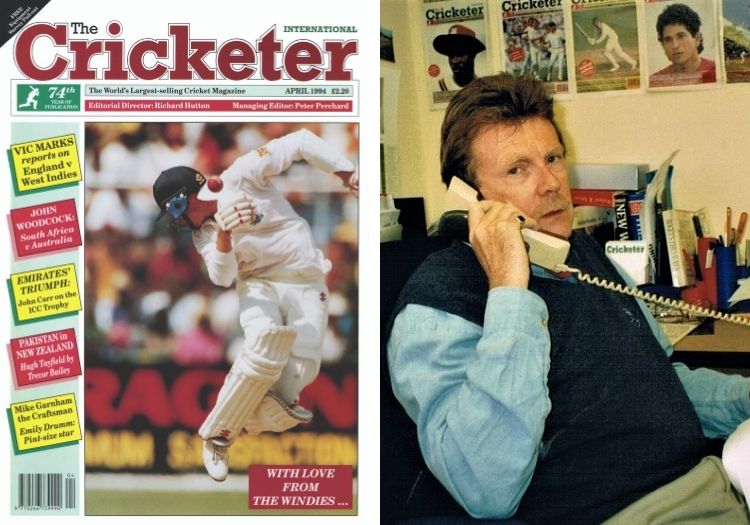 There were more famous names as the figureheads of The Cricketer during the 1990s, but Peter Perchard was the grafter who pulled the magazine together.
Christopher Martin-Jenkins departed in 1991, and owner Ben Brocklehurst felt he needed a famous face involved, and he had one as his son-in-law. So former Yorkshire seamer and Len's son, Richard Hutton, became editorial director, replacing EW Swanton; and Perchard – who succeeded Andrew Longmore as assistant editor – became managing editor.
They had the hard-working Mandy Ripley alongside them, and John Westerby, Andy Tong and Jamie Nicholson were also involved at various times.
Perchard had already been doing much of the work in the late-1980s, with CMJ increasingly tied up with being cricket correspondent of the Telegraph, and working on TMS. Now 77, he now looks after the Water Lawrence Trophy, awarded for the season's fastest century, and its three other competitions.
He is proud of his time at The Cricketer, and feels the magazine had a fine line-up of writers.
"The emphasis was always on good writing," he said. "As well as regulars John Woodcock, Mark Nicholas, Vic Marks, Paul Allott, Matthew Fleming and the current editor Simon Hughes on board, I was chuffed to add people like Simon Barnes and Ted Dexter as well as giving young players like Mike Atherton, Nasser Hussain, Mark Butcher, Andrew Strauss, Paul Collingwood and Clare Connor their first commissions.
"Robin Marlar was our book reviewer, and, of course, dear old Jim Swanton still delivered his regular columns and phoned regularly (always reverse-charge!). His calls became mellower as the decade passed, with Kent always prominent in his thoughts, but I incurred his displeasure early in my tenure when I featured pictures of Ian Botham on four of the first few pages (including the cover) – he had an aversion to what he termed 'Bothamania'.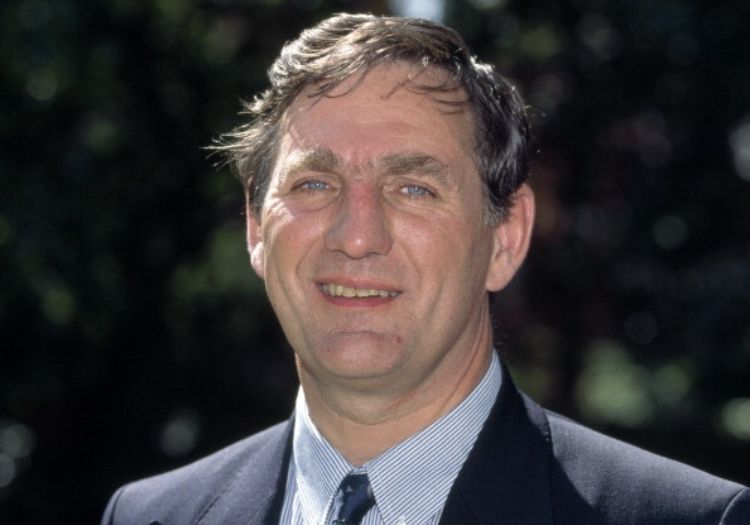 Editorial director during the 1990s, Richard Hutton
"I think The Cricketer had something for everyone. We tried to cover all levels. For instance, the series Lifelines, which allowed players to open up about their personalities and private lives, proved popular with all ages.
"Mandy was in charge of and did great things with the Young Cricketer section, and we also enjoyed running the National Village Cup. I was less keen on the Cricketer Cup (for public school old boys) if I'm honest. That was Ben's baby, but it was a little elitist, a bit out of its time. I must also mention our photographer David Munden, a talented cricketer at Leicestershire in his early days, who sadly succumbed to Parkinson's Disease and died in 2018.
"I enjoyed working with Richard, who possessed a wonderful dry wit, but there were frustrations. We wanted to get more colour into the magazine, but Harry Constantine kept a tight rein on the budget. And working on a monthly could also be perilous in terms of topicality and the two-week hiatus between press date and publication.
"I remember asking Simon Hughes to write a front-cover piece about Ed Giddins, who was man of the match against Zimbabwe at Lord's in 2000. Later I took early copies of the magazine to Lord's and espied Ed making for the Gents at the Nursey End and presented him with a copy. Clearly delighted, he gleefully strode into a full house at the urinals and shouted 'Look everybody, here's the latest edition of The Cricketer, with a wonderful front cover'." Sadly, by the time it was published, Ed was out of the side!:
Hutton's appointment by Brocklehurst was endorsed by CMJ and board member Sir Colin Cowdrey. He had played five Tests for England and was a good allrounder for Yorkshire between 1962–74, with seam bowling probably his best suit. He was an intelligent and perceptive writer, according to Perchard and Ripley, but he could be controversial.
A reference to David Blunkett, the Home Secretary who was blind, upset some readers, for instance. He also had strong feelings of antipathy towards his old team-mate, Sir Geoffrey Boycott. After an eight-year stint he left the business in 1999 after a falling out with his father-in-law even though circulation and advertising revenue were both up.
There were other significant technological developments from 1993, when the internet arrived. Ben's son Tim plugged in a modem and ran an online search for 'cricket'. "Eight sites came up. Seven were about insects and the other was Cricinfo.com," he said.
"There may have been an element of nepotism here because I happened to be the proprietor's son-in-law," Hutton told The Cricketer. "However, I had been a director for several years and had regularly reviewed the commercial and financial performance of the business in my capacity as an accountant. The intention was that I should play a similar role to the departing editorial director, but it was apparent that the magazine was understaffed and needed another pair of hands. In effect I became an employee and worked alongside the two stalwarts, Peter and Mandy, on a 9-5 five-day week basis.
"I was new to publishing but Peter and Mandy readily accepted me as an addition to the production unit and tutored me in all aspects of putting a magazine together. Thankfully our particular attributes were complementary.
"Both Peter and Mandy were meticulous, hard-working and took great pride in the magazine, and they were receptive to my ideas. The size of the magazine was always governed by the amount of pagination required for adverts which were sourced single-handedly by Christopher Bazalgette. I remember one issue when we were desperately short of space and I asked Jim Swanton, who without fail for years had provided a regular monthly contribution, if he would mind his copy being trimmed to make space for something pressing. 'My boy,' he said, 'my words are golden.'
"I had the misfortune to write about England in the 1990s. There could not have been a more desperate decade. I sometimes wondered if such extensive match reports made for turgid reading. We tried to lighten and vary the magazine's content while retaining the coverage given to all aspects of the game, from schools to Tests, at the same time introducing a modicum of fun and irreverence."
Ripley recalls long but happy hours working for the magazine. "I lived in London so life became difficult when the office moved from Redhill ("a dungeon of an old print works," according to Hutton) to Langton Green (in the same factory where Subbuteo was made) and then Ridge Farm, Lamberhurst (in a vineyard), both villages just outside Tunbridge Wells. I would sometimes pick Peter up in Epsom so he could do proof reading while I drove because we were always up against deadlines and had some long days. For the 1999 World Cup it was decided late that we'd also do a supplement. We were in the office at 7am, stayed until 3am, and went home for two hours' sleep before doing it all over again.
"I was worried when CMJ and Andrew left, but Peter was good to work with. He tried to make it more topical, more user-friendly. He put all the front covers on the wall so you could see at a glance what topics, colours and pictures had been used. He was also calm and professional when we switched from the old cut and paste to desktop publishing in the mid-90s. The day after we got the magazine out these new computers arrived and none of us had ever worked with them before. It was a huge learning curve."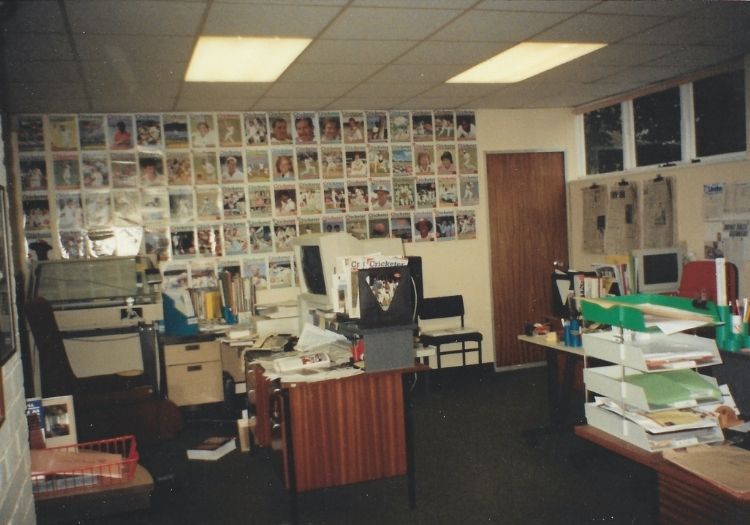 The Cricketer office in Langton Green during the 1990s
Brocklehurst was still in charge of the business side of things, and I have the minutes of a board meeting held at the Naval & Military Club, on November 10 1992. They reveal that the switch to desktop saved about £20,000 a year.
There were other significant technological developments from 1993, when the internet arrived. Ben's son Tim plugged in a modem and ran an online search for 'cricket'.
"Eight sites came up. Seven were about insects and the other was Cricinfo.com," he said. "We grew a co-operative relationship with Simon King, Cricinfo's founder, which ultimately led to the launch of cricshop.com in 1997, run by Charmaine (Hutton, Ben's daughter, wife of Richard). It put The Cricketer's mail-order shop merchandise in front of a mass global audience via Cricinfo which, by then, had 4.5m registered users.
"We also invested in technology, and adopted new strategies to increase subscriptions in the face of declining bookstall sales. With the retirement of our much-loved subscriptions manager, Mary Longley, we employed Alan Miller. Alan came from the RAF and he picked up the subscription marketing methodology quickly. He helped us increase subscriptions from 10,000–15,000 in the three years to 1996. So in 1995, for the first time, while the circulation was on around 30,000, subscriptions accounted for half of it.
"In 1999, the Indian internet firm Satyam Infoway invested $25m for 25 per cent of Cricinfo.com. Suddenly, long-established cricket media like The Cricketer and Wisden were dwarfed by the potential of online counterparts.
"As it reached the end of the century, The Cricketer was buoyed by its subscription volumes and bonused by its new online sales. It was also hard at work preparing for The Millennium Festival of Wandering Cricket, which took place for five days in Oxford in 2000. There was a lot to celebrate."
"Tim ensured the magazine was ready for the 21st century," said his mother, Belinda Brocklehurst. "Previously all the Village Cup draws had to be typed out on waxes – a nightmare job. Results were sent in by hand on cards, and it was all done by hand. Life changed in the 1990s when Tim arrived and computerised everything – the subscriptions, the competitions, even the Cricketer Holiday brochures."
The Brocklehurst family were always looking to expand the business. They had tried to buy the Wisden Cricketers' Almanack in the early 1990s, but were outbid by American oil tycoon John Paul Getty, who had developed a passion for the game late in life. With it came Wisden Cricket Monthly, The Cricketer's rival, which had been started by David Frith during his final months at The Cricketer. The latter outsold its competitor, but some began questioning whether the world was big enough for both.
So early in the next millennium, they combined forces…
NOW READ...
A History of The Cricketer: 1920s
A History of The Cricketer: 1930s
A History of The Cricketer: 1940s
A History of The Cricketer: 1950s
A History of The Cricketer: 1960s
A History of The Cricketer: 1970s
A History of The Cricketer: 1980s
A History of The Cricketer: 2000s
A History of The Cricketer: 2010s
Please ensure all fields are completed before submitting your comment!