WBBL 07 team guide: Sydney Thunder
Defending champions have swapped out all their overseas players ahead of the 2021 season, but there is still plenty of reason to think they could claim back-to-back titles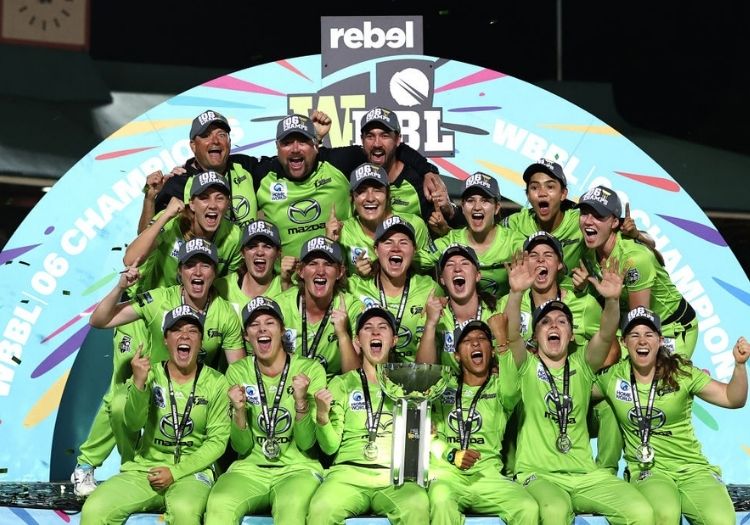 Coach: Trevor Griffin is at the helm for Sydney Thunder, a position he has held since 2019. The Englishman also serves as the head coach of Sunrisers and London Spirit in England. After finishing in sixth position in his first season in charge, Griffin led Sydney Thunder to WBBL glory in 2020.
Captain: Veteran batter Rachael Haynes was due to lead Sydney Thunder for the third season in a row. However, the 34-year-old has provisionally withdrawn from the entire tournament to spend time with her newborn son. In her absence, seamer Hannah Darlington will lead Thunder. The 19-year-old, who has made 27 career appearances for the Thunder, is the youngest captain in Women's Big Bash history. She has previously captained New South Wales in the Women's National Cricket League, standing in for Alyssa Healy on two occasions in 2020.
Overseas stars
Deepti Sharma: The Indian allrounder has the unenviable task of replacing England captain Heather Knight in the Sydney Thunder XI. Sharma has made over 50 T20I appearances for India as well as enjoying stints in both the Kia Super League and The Hundred. Representing London Spirit in the latter competition, Sharma scoring 77 runs at a strike rate of 113.23 as a middle-order finisher and took 10 wickets with her right-arm off-break bowling.
Smriti Mandhana: Opening batter Smriti Mandhana is only 25 years old and yet it feels like she's been around forever. The India international averages 28.80 in T20s and has a career strike rate of 122.92 in the format, marking herself out as solid and explosive in equal measure. She has previously represented Brisbane Heat and Hobart Hurricanes in the WBBL, scoring 407 runs at a strike rate of 129.61.
Issy Wong: One of the most exciting fast bowlers in women's cricket, Issy Wong arrives in Tasmania with both a growing reputation and the huge shoes of Shabnim Ismail to fill. Fortunately for the 19-year-old, she has enjoyed a productive domestic season, taking 18 wickets for Central Sparks and a further six for Birmingham Phoenix. One to watch.
Changes from 2020
Sydney Thunder have had a full change of overseas personnel, replacing Ismail (injury), Knight and Tammy Beaumont (both unavailable) with Wong, Sharma and Mandhana. Young batter Rachel Trenaman has also departed, signing for Hobart Hurricanes before rupturing her ACL, while Saskia Horley and Gabby Sutcliffe (replacement) were not offered contracts.
Corinne Hall has swapped Hurricanes purple for Thunder green, arriving at Sydney to bolster the top six, while teenage fast bowler Jessica Davidson is the other new face in the squad.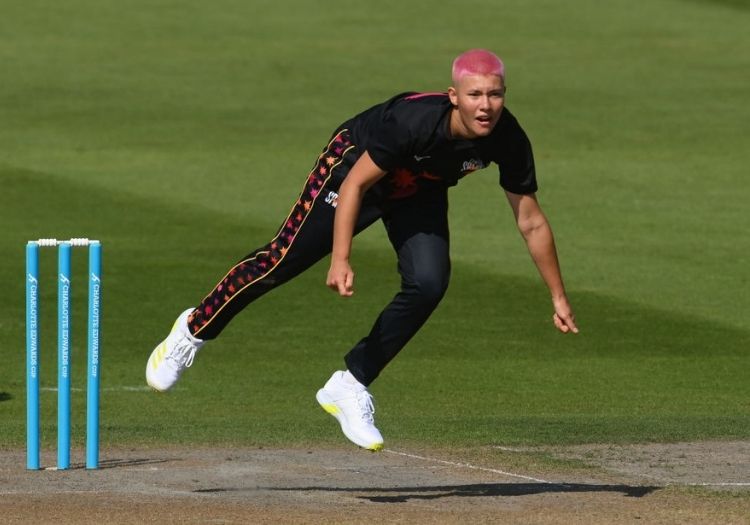 Issy Wong has joined Sydney Thunder
How did they do last season?
After finishing second in the table, one point behind Melbourne Stars, Sydney Thunder defeated Brisbane Heat by 12 runs to progress to the final. Facing the Stars at the North Sydney Oval, Thunder romped to a seven-wicket victory to collect their second title.
Best finish: Champions (WBBL 01, WBBL 06)
Batting
Power hitters
Opener Smriti Mandhana has a T20 career strike rate in excess of 120 and showcased her big-hitting potential in The Hundred. Representing Southern Brave, the Indian struck 167 runs at a strike rate of 133.60, including 17 fours and six sixes – a haul of maximums only Danni Wyatt could match among her teammates.
And if you roll the clock back to WBBL 04, Mandhana scored 318 runs (44 fours, nine sixes) at a strike rate of 144.54 for Hobart Hurricanes. Thunder have snared themselves an aggressive batter who loves taking on both bowlers and the boundary.
Anchor
In the likely absence of Rachael Haynes for the entire tournament, Deepti Sharma will become the anchor. The Indian international has scored 1575 runs in 110 T20 appearances to date and has a solid average of 30.28. She lacks Haynes' explosive edge (her strike rate is 98.43 compared to Haynes' 109.93) but has experience on her side.
Slightly lower down the order, Phoebe Litchfield and new signing Corinne Hall both have the skills to hold an innings together. Hall, the former Hurricanes captain, has 81 WBBL appearances to her name heading into the 2021 season, scoring 955 at a strike rate of 103.80. Litchfield, meanwhile, has scored 360 runs at a strike rate of 98.09 in two seasons with Thunder and offers stability at number five.
Finisher
Sammy-Jo Johnson is Thunder's best bet in this department. With a WBBL career strike rate of 120.68 – a shade under her T20 career rate of 121.79 – from 51 innings, Johnson is no stranger to finishing an innings with a bang. Remember the time she hit Sophie Devine for four sixes in five balls in WBBL 05? (If not, look it up).
Her new pace pal, Issy Wong, also demonstrated a penchant for fireworks in The Hundred, scoring 65 runs at a strike rate of 132.65, including a memorable 11-ball 27 at Edgbaston.
Problem areas
Following the departures of Tammy Beaumont, Rachel Trenaman and Heather Knight, Sydney Thunder have lost 908 runs from last season. Of the three, Knight (446 runs at 40.54) is the biggest loss and unfortunately, Thunder have not replaced her.
Sharma has been given that assignment but with just two T20 fifties to her name and a career strike rate below 100, she lacks Knight's ability to anchor an innings, keep the scoreboard moving and take calculated risks all at the same time. The England captain was central to Thunder's success last season and the big question is, who will step up and fill her 400-run deficit? And following the withdrawal of Haynes, Sharma now has to cover her runs as well - a big job for the Indian.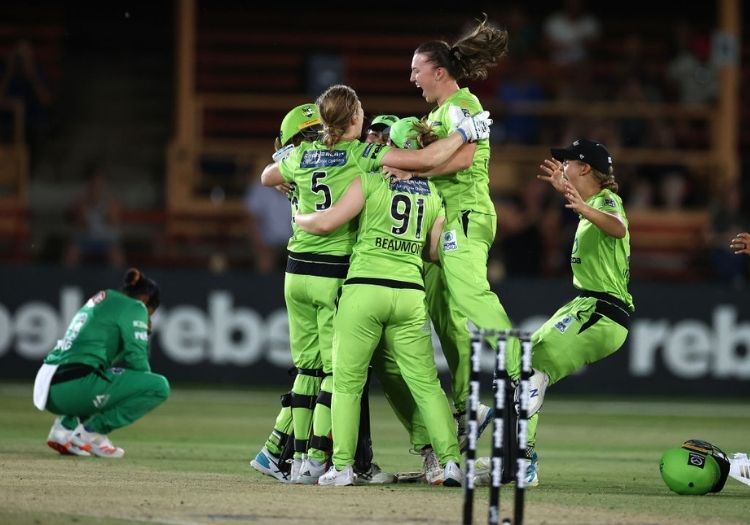 Sydney Thunder are the defending WBBL champions
Bowling
Speed merchants
Pace bowling is certainly not an issue for Thunder, who have kept hold of right-arm duo Sammy-Jo Johnson and Hannah Darlington. Johnson took a competition-leading 22 wickets last season and bowled with an economy of 6.63 and recently wreaked havoc for Trent Rockets in The Hundred with 15 wickets – nine more than her nearest teammate.
Darlington, meanwhile, is a precocious talent and earned her international white-ball debut off the back of a 19-wicket WBBL 06 season. Expect to see Johnson at the back end of the powerplay and at the death, while Darlington will likely enter the attack after the first six.
And if that isn't enough, they've replaced Shabnim Ismail – their powerplay specialist – with Issy Wong, a 70-plus mph sensation and herself no slouch with the new ball. What she lacks in experience and control, she makes up for in raw speed, positivity and great form – she took 24 wickets over the English summer.
Variation
Two words: Samantha Bates. Not only do Thunder have last season's top-two leading wicket-takers in Johnson and Darlington, but they also have the best spinner. 29-year-old left-armer Bates took 18 wickets and bowled with an economy of 5.94 in WBBL 06 – her third 15-plus wicket season in four years. What's more impressive, is that she bowls the majority of her overs during the powerplay.
Thunder's two other spinners are left-arm off-spinner Lauren Smith, who took eight wickets last season and offers a different action to Bates, and Sharma. The Indian international will be expected to replace Knight's 10 wickets and with over 100 career T20 wickets and an economy of 5.77, she shouldn't struggle to replicate that side of the England captain's game.
Problem areas
Thunder's bowling attack is blessed with raw pace, proven wicket-takers, and three spinners with different actions and skillsets. However, in losing both Ismail and Knight, they've lost a lot of experience. Ismail's 14 wickets and powerplay bowling, in particular, are almost irreplaceable and while there is no doubting Wong's talent and potential, she will have to adjust to the WBBL quickly or risk forcing Thunder to alter last season's hugely successful formula.
Who takes the gloves?
Young Tahlia Wilson has custody of the gloves for Sydney Thunder, a role she inherited from Rachel Priest ahead of WBBL 06. A talented wicketkeeper-batter, she has completed seven dismissals (three catches, four stumpings) in 14 innings behind the stumps.
Squad: Rachael Haynes (withdrew October 13), Samantha Bates, Hannah Darlington, Corinne Hall, Sammy-Jo Johnson, Anika Learoyd, Phoebe Litchfield, Kate Peterson, Olivia Porter, Lauren Smith, Tahlia Wilson, Smriti Mandhana, Deepti Sharma, Issy Wong, Jessica Davidson
Fixtures: October 16 – Adelaide Strikers (Blundstone Arena – Hobart, 9.05am GMT), October 23 - Sydney Sixers (University of Tasmania Stadium, Launceston - 5.40am), October 24 - Perth Scorchers (UTAS, Launceston - 7.15am), October 26 - Melbourne Stars (UTAS, Launceston - 3.25am), October 27 - Melbourne Renegades (UTAS, Launceston - 3.25am), October 30 - Melbourne Stars (UTAS, Launceston - 6.05am), October 31 - Hobart Hurricanes (UTAS, Launceston - 12.15am), November 6 - Brisbane Heat (Adelaide Oval, Adelaide - 11.15pm), November 9 - Adelaide Strikers (Karen Rolton Oval, Adelaide - 7am), November 11 - Perth Scorchers (Karen Rolton Oval, Adelaide - 2.25am), November 14 - Sydney Sixers (Great Barrier Reef Arena, Mackay - 2.40am), November 17 - Melbourne Renegades (Great Barrier Reef Arena, Mackay - 8.05am), November 19 - Brisbane Heat (Great Barrier Reef Arena, Mackay - 8.05am), November 20 - Hobart Hurricanes (Great Barrier Reef Arena, Mackay - 4.40am)
Possible starting XI: Smriti Mandhana, Rachael Haynes, Sammy-Jo Johnson, Phoebe Litchfield, Corinne Hall, Tahlia Wilson (wk), Issy Wong, Hannah Darlington, Lauren Smith, Samantha Bates, Jessica Davidson
ALL WBBL 07 TEAM GUIDES
Please ensure all fields are completed before submitting your comment!