WBBL 07 team guide: Brisbane Heat
Heat have packed their ranks with plenty of firepower... but will they have enough to challenge for a third WBBL crown?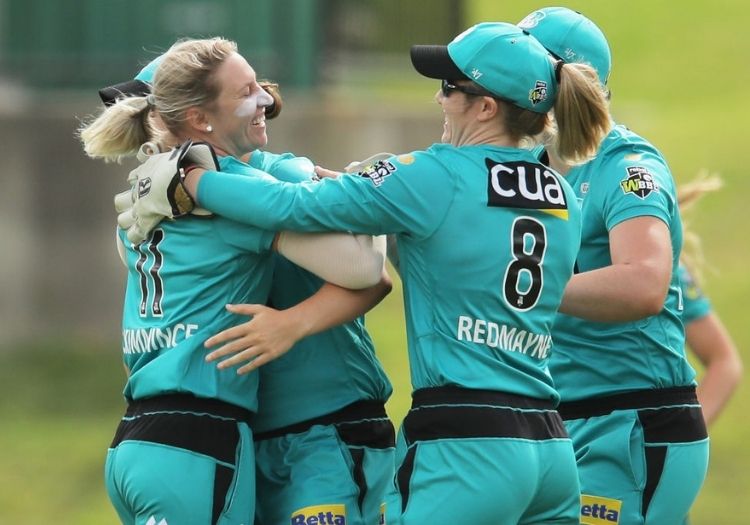 Coach: Former Australian allrounder Ashley Noffke is Brisbane Heat's head coach, a position he has held since WBBL 05. In his first season in charge, Noffke led Brisbane to their second Women's Big Bash crown before reaching the semi-finals in 2020.
Captain: Jess Jonassen replaced Kirby Short as captain ahead of WBBL 06 and will once again lead the side this season. A regular for the Heat since 2015, the Australia international is the franchise's all-time leading wicket-taker and second-highest run-scorer, behind Beth Mooney.
Overseas stars
Anneke Bosch: In line to make her WBBL debut is South African allrounder Anneke Bosch. The 28-year-old, who has been capped 14 times by her country, can bat anywhere in the top seven and has a career strike rate of 95.44 heading into WBBL 07. However, her international strike rate is as high as 112.19, suggesting she has explosive potential, while her economy of 5.57 makes her a useful seam bowling option.
Nadine de Klerk: Returning for a second season with Brisbane Heat is young South Africa allrounder, Nadine de Klerk. The 21-year-old, who has made 37 appearances for the Proteas, scored 89 runs and took three wickets for the Heat last season. However, her strike rate of 117 and bowling economy of 6.43 suggests she has more to offer.
Poonam Yadav: One of seven Indians in the 2021 Women's Big Bash, Poonam Yadav is one of white-ball cricket's star spinners. Ranked eighth in the ICC bowling rankings for the game's shortest international format, the 31-year-old has taken 98 wickets in 71 T20Is and boasts a T20 career economy of just 5.29. Yadav hasn't appeared in the WBBL prior to this season.
Changes from 2020
Brisbane Heat have lost New Zealand pair Maddy Green and Amelia Kerr with Anneke Bosch and Poonam Yadav joining Nadine de Klerk in the overseas trio. Delissa Kimmince and Lilly Mills are the other two departures, the former retiring and the latter moving to Perth Scorchers. Ellie Johnston and Zoe Cooke have arrived in their place.
How did they do in 2020?
The defending champions enjoyed a strong group stage in WBBL 06, winning eight and losing four to finish second behind Melbourne Stars. However, they came unstuck against eventual champions, Sydney Thunder, in the semi-finals, losing by 12 runs.
Best finish: Champions (WBBL 04, WBBL 05)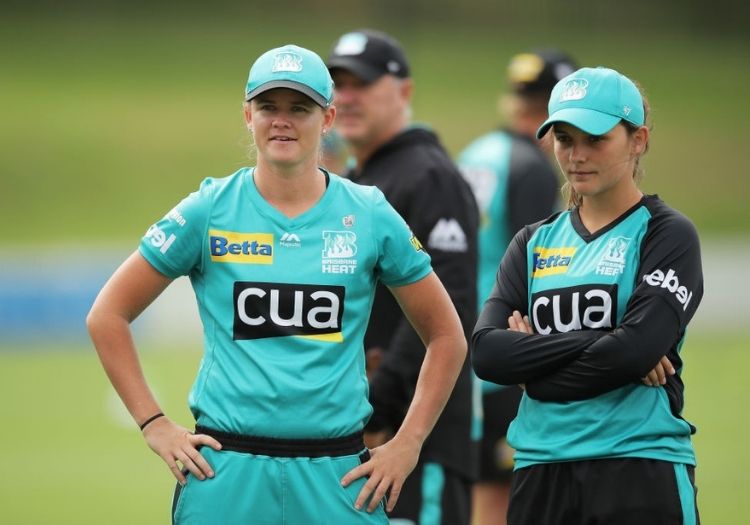 Captain Jess Jonassen leads Brisbane Heat but Amelia Kerr, right, has left
Batting
Power hitters
Why have one when you can have three? Grace Harris is the Heat's maximum queen. No one in the franchise's history comes close to her 43 career sixes (and she even spent 2016/17 season at Melbourne Renegades!) while she also has a healthy 142 fours and a career WBBL strike rate of 127.46.
Then there's her opening partner Georgia Redmayne, who scored 48 boundaries in WBBL 06 – 16 more than her nearest teammate – on her way to a team-leading 357 runs.
And finally, Harris' sister, Laura Kimmince, who blasted 12 maximums in 2020 to finish third in the overall six-hitting charts. Of her 84 career WBBL boundaries, 31 per cent have been sixes. All in all, with these three at their disposal, Brisbane Heat already appear to have quite the enviable top six.
Anchor
Captain Jess Jonassen forms the backbone of Brisbane's innings and has done for a long time. The Australia international is the second-highest run-scorer in Heat's history, scoring 1,609 runs at an average of 26.37 and a strike rate of 112.51. She's not afraid of hitting a boundary, with 162 fours and 26 sixes to her name, but naturally favours precision hitting over wild swinging.
Coming in at No.4, Georgia Voll also offers solid foundations to Brisbane's XI, scoring a useful 153 runs at a strike rate of 100.65 – risk free but still keeping the scoreboard ticking over. And then there's South African Anneke Bosch. The 28-year-old has a solid T20 strike rate of 95.44 and recently impressed in a series of 50-over matches for South Africa Emerging Women, passing 40 five times in six innings. You'd back these two to stop the rot if the top three fell in quick succession.
Finisher
While Harris and Redmayne do their big hitting at the top of the order, Kimmince enters the field at number five or six (or earlier if necessary) to kill off a game or rescue a chase. The 31-year-old has a WBBL career strike rate of 144.81 and scored 177 runs at a strike rate of 205.81 in this role last season. And she's set to enter WBBL 07 in red hot form after scoring 61 runs at a strike rate of 174.28 in four cameo appearances for Northern Superchargers.
Coming in at No.7 or No.8, Nadine de Klerk may have a boundary or two up her sleeve. The South African scored 89 runs at a strike rate of 117.1 last season, including a high score of 32 off 23 balls against Sydney Sixers.
Problem areas
Brisbane Heat appear to have constructed a fairly balanced top six for the 2021 season and you can even stretch that praise to the top seven if you back de Klerk to bat with gusto. They are quite reliant on Kimmince to do the damage at the death but as long as they can keep one of Harris, Redmayne, Jonassen or Kimmince in for the bulk of every innings, they shouldn't face too many issues in this department.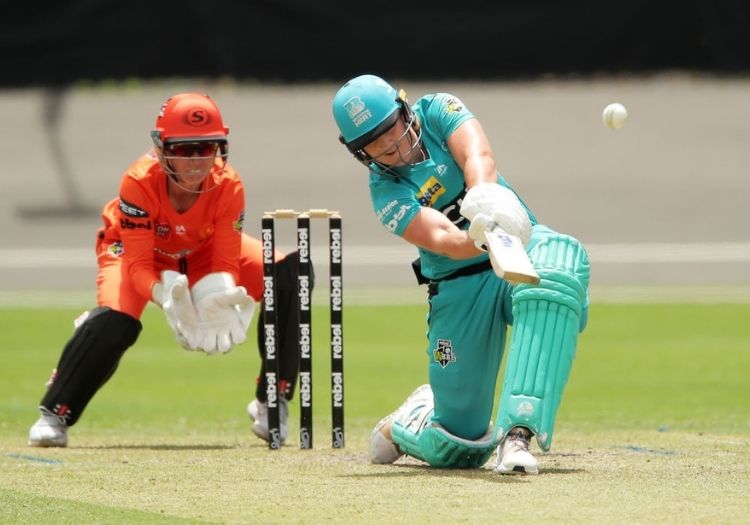 Laura Kimmince is a potent six-hitter in the Heat ranks
Bowling
Speed merchants
Nicola Hancock leads the way in the seam attack. The 26-year-old, who bowls in the powerplay and at the death, took 11 wickets last season to finish as Brisbane's third-highest wicket-taker and has taken 10 or more wickets in three of her past four seasons.
Fellow right-arm medium-fast pacer Georgia Prestwidge has taken 18 wickets in her past 26 matches for the Heat and took best figures of 4 for 12 against Melbourne Renegades in a strong demonstration of her potential. Charli Knott, Courtney Sippel, Bosch and de Klerk will provide pace support.
Variation
Spin is not an issue for Brisbane Heat. They've kept hold of right-arm orthodox spinner Jonassen and right-arm office Harris, who took a combined 30 wickets last season. The former is also Brisbane's all-time leading wicket-taker, with 92 wickets and a career economy of 6.19. And they've sourced a like-for-like replacement for Amelia Kerr in Poonam Yadav.
The Indian is a right-arm leg-spinner, highly economical (Kerr conceded just 5.32 runs per over last season), and enjoys bowling both in Australia and against Australian players. In seven T20Is against Australia, Yadav has taken 12 wickets while in her seven T20Is in Australia (against Australia, New Zealand, Bangladesh and Sri Lanka), she has 13 wickets. Odds of her matching Kerr's 17 wickets from last season? Quite high.
Problem areas
Brisbane Heat do not have a left-arm bowler, nor do they have an out and out fast bowler. Delissa Kimmince's retirement deprives the bowling attack of a lot of experience while the twin loss of her and Kerr means the Heat will have to find a new formula both in the powerplay and at the death. That said, their spin attack is solid while their pace attack has potential.
Who takes the gloves?
In Georgia Redmayne, Brisbane Heat have one of the best wicketkeepers in the competition. Last season, the 27-year-old completed a tournament-leading 18 dismissals (11 catches, seven stumpings), taking her to 51 overall - the fifth most in WBBL history. Like fellow 'keepers Alyssa Healy and Beth Mooney, she's also an excellent batter, scoring 250+ runs in three of her five WBBL seasons.
Squad: Jess Jonassen, Grace Harris, Laura Kimmince, Mikayla Hinkley, Charli Knott, Georgia Prestwidge, Georgia Redmayne, Georgia Voll, Anneke Bosch, Nadine de Klerk, Courteney Sippel, Ellie Johnston, Nicola Hancock, Zoe Cooke, Poonam Yadav
Fixtures: October 17 – Perth Scorchers (Blundstone Arena, Hobart – 12.15am GMT), October 19 – Perth Scorchers (Blundstone Arena, Hobart - 6.50am), October 23 – Melbourne Stars (Invemay Park, Launceston – 4am), October 24 – Adelaide Strikers (Invermay Park, Launceston – 12.15am), October 26 – Hobart Hurricanes (University of Tasmania Stadium, Launceston – 6.50am), October 30 – Hobart Hurricanes (UTAS, Launceston – 9.30am), October 31 – Melbourne Stars (UTAS, Launceston – 2.40am), November 5 – Melbourne Renegades (Karen Rolton Oval, Adelaide – 11.15pm), November 6 – Sydney Thunder (Adelaide Oval, Adelaide – 11.15pm), November 9 – Sydney Sixers (Karen Rolton Oval, Adelaide – 3.35am), November 13 – Sydney Sixers (Great Barrier Reef Arena, Mackay – 8.05am), November 13 – Adelaide Strikers (Great Barrier Reef Arena, Mackay – 11.15pm), November 19 – Sydney Thunder (Great Barrier Reef Arena, Mackay – 8.05am), November 20 – Melbourne Renegades (Great Barrier Reef Arena, Mackay – 8.05am)
Possible starting XI: Grace Harris, Georgia Redmayne, Jess Jonassen, Georgia Voll, Laura Kimmince, Anneke Bosch, Nadine de Klerk, Georgia Prestwidge, Courtney Sippel, Poonam Yadav, Nicola Hancock
ALL WBBL 07 TEAM GUIDES
Please ensure all fields are completed before submitting your comment!