WBBL 07 team guide: Adelaide Strikers
Dane van Niekerk is an exciting addition but Strikers will need the South African to do a lot of the heavy lifting if they are to compete for the title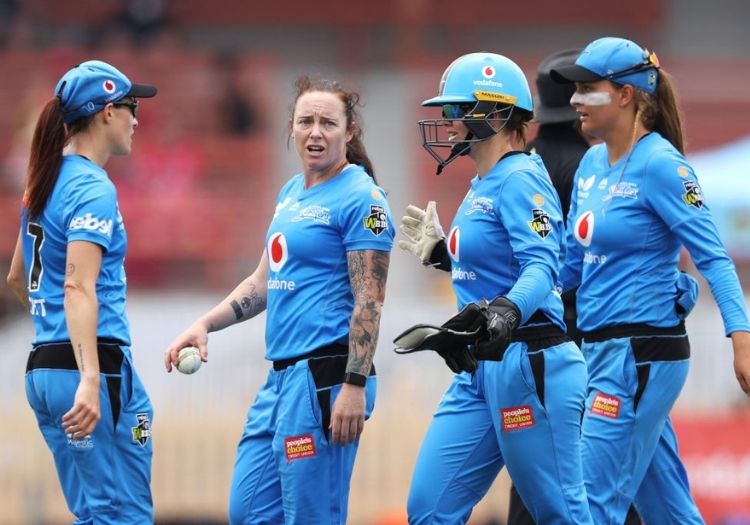 Coach: Luke Williams, a former Australian cricketer who made five first-class appearances for South Australia, is in charge of Adelaide Strikers. He has been the Strikers' head coach since WBBL 05, leading them to the final in his first season at the helm.
Captain: Tahlia McGrath will lead Adelaide Strikers in 2021. The allrounder is the fifth player to captain the Strikers, following in the footsteps of Lauren Ebsary, Tegan McPharlin, Suzie Bates and Megan Schutt. McGrath has spent her entire WBBL career in Adelaide, scoring 1,241 runs and taking 54 wickets in 83 appearances ahead of the 2021 season.
Overseas stars
Dane van Niekerk: The South Africa international, who has skippered the national side since 2016, is a genuine allrounder with over 3,700 T20 runs, a T20I strike rate of 94.94, and just under 200 T20 wickets. She recently captained Oval Invincibles to glory in The Hundred, scoring 259 runs and taking eight wickets, and spent five seasons with Sydney Sixers prior to joining Adelaide, winning two WBBL titles.
Laura Wolvaardt: South Africa's rising star, Laura Wolvaardt already has 95 international caps to her name and is a talented top-order batter who favours exquisite timing over raw power. Last season, the 22-year-old scored a team-leading 347 runs for the Strikers having previously spent two years with Brisbane Heat. Representing Northern Superchargers in The Hundred, she scored 181 runs in seven appearances at a strike rate of 116.77.
Changes from 2020
Overseas trio Suzie Bates, Stafanie Taylor and Katie Perkins (an injury replacement for Bates) will not re-join the Strikers in 2021, with skipper Bates withdrawing from the tournament due to the travel uncertainty caused by Covid-19. Young bowler Ellie Falconer has transferred to Melbourne Renegades while Alex Price has not been retained.
South Africa captain Dane van Niekerk, signed from Sydney Sixers to replace Bates, and Australian trio Jemma Barsby, Nell Bryson-Smith and Meagan Dixon are the new faces in the squad.
How did they do in 2020?
Adelaide Strikers finished sixth in WBBL 06, winning six and losing seven of their 13 completed matches. They missed out on a top-four finish by a single point.
Best finish: Runners-up (WBBL 05)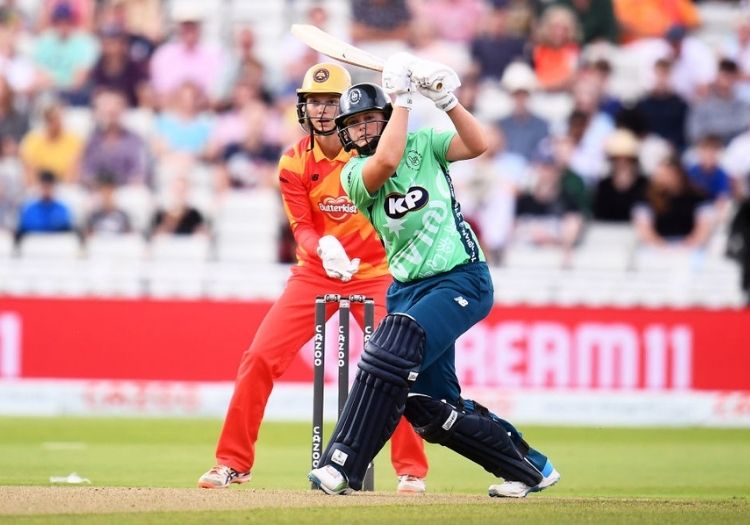 Dane van Niekerk is a big signing for Adelaide Strikers
Batting
Power hitters
Dane van Niekerk demonstrated in The Hundred – as if we needed reminding! – how much she enjoys hitting a boundary. Her 32 fours in nine innings placed her nine ahead of her nearest teammate while her total boundaries for the tournament (34) was bettered by only Jemimah Rodrigues (42) and Eve Jones (37).
The South African, who is ranked 14th on the T20 Player Index, isn't the most explosive batter (her career WBBL strike rate is 104.91) but when she hits the ball, it goes far.
Anchor
Katie Mack will likely open the batting for the Striker with van Niekerk and should be the perfect foil for the South African. Striking the ball at 109.6 last season, the Australian scored 251 runs at the top of the order to finish second on Adelaide's run-scoring charts.
And the player ahead of her? Laura Wolvaardt, the second South African in the Strikers squad and another anchor option. With a sumptuous cover drive in her arsenal and the ability to bisect any field with her excellent timing, the 22-year-old doesn't need to rely on raw power to score runs or boundaries. Last season, she topped her side's run-scoring charts with 347 runs, including two half-centuries, at an average of 26.69.
Finisher
Madeline Penna is a solid option in this department. The 21-year-old, who can bat anywhere from four down to eight, scored 173 runs at a strike rate of 120.97 last season, including a monster 33-ball 56 against Hobart Hurricanes. Veteran wicketkeeper Teagan McPharlin is also more than capable of sending the worm skyward from the lower order.
However, Adelaide's biggest weapon is allrounder Amanda-Jade Wellington whose WBBL career strike rate of 134.63 is the fourth-highest in the tournament's history. Last season, the Australian scored 164 runs at a strike rate of 138.98, including 13 fours and four sixes.
Problem areas
The Strikers do not have a banker – someone they can rely on match after match to score the big runs. At Perth Scorchers last season, Beth Mooney scored four half-centuries and averaged 55.10 while her teammate, Sophie Devine, scored one century and two fifties, and had an average of 51.11.
At Melbourne Stars, Meg Lanning passed 50 on six occasions and average 41.08; Ellyse Perry (Sydney Sixers) averaged 48.75; Heather Knight scored four half-centuries and averaged 40.54 for Sydney Thunder… the list goes on.
And yet for Adelaide, Wolvaardt's 26.69 average and two half-centuries were as good as it got in WBBL 06. There's a lot of pressure on the 22-year-old to match the form of the above players and while the addition of van Niekerk is a boost, she only has a WBBL average of 20.44.
Speaking of van Niekerk, she's already under a lot of pressure to single-handedly fill the shoes of both Suzie Bates and Stefanie Taylor – no easy task even for a player of her calibre.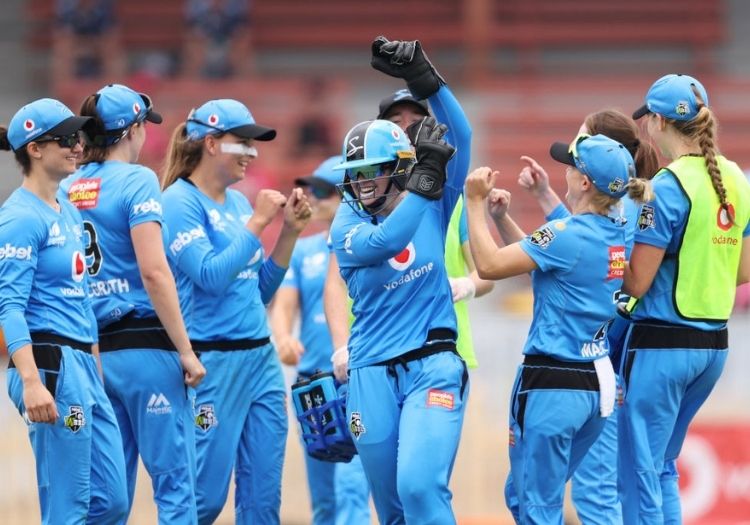 Adelaide Strikers have never won the WBBL
Bowling
Speed merchants
Pace is a very promising department for Adelaide Strikers with Sarah Coyte, Megan Schutt and Darcie Brown at their disposal. The trio took a combined 39 wickets in 2020 and were Adelaide's top-three most economical bowlers.
Right-armer Coyte led the way with 18 wickets – the third-most in the competition – and conceded just 6.51 runs per over, a tidy economy from Adelaide's death specialist. Schutt, meanwhile, is the franchise's all-time leading wicket-taker among seam bowlers, with 74 wickets in 85 appearances and a career economy of 5.72. Expect her to dominate in the powerplay and at the death.
Brown, however, is the one to watch. A precocious talent, the 18-year-old possesses both raw pace and control and is trusted to swing the new ball in the powerplay despite her young age. Last season, she took 10 wickets and bowled with an economy of 5.52 in her debut WBBL campaign. Now a capped international in both ODIs and T20Is, Brown rivals Issy Wong for the title of 'most exciting fast-bowling talent' in the women's game.
Variation
Only two spinners – Molly Strano and Jess Jonassen – have taken more WBBL wickets than Amanda-Jade Wellington's 80. The 24-year-old leggie has taken 15 or more wickets in three of her past four WBBL seasons and recently lit up The Hundred with a team-leading 14 wickets for Southern Brave.
Support will be provided by right-arm leg-spinners van Niekerk, who heads to Australia with 191 career T20 wickets and an economy of 6.51, and Penna.
Problem areas
Adelaide's bowling department is very right-arm heavy, with no left-armers among their seven most recognisable bowling options (the above six plus seamer Tahlia McGrath). The departure of both Taylor and Alex Price also deprives the Strikers of an off-spinner. One can't help but wonder if their bowling attack will become too predictable.
Who takes the gloves?
Former skipper Tegan McPharlin is Adelaide's go-to wicketkeeper. Reliable with the gloves and a useful lower-order batting option, the 33-year-old has taken 35 catches and 26 stumpings in six seasons with the Strikers. At the start of the 2021 season, she placed fourth on the all-time WBBL wicketkeeper rankings.
Squad: Darcie Brown, Katie Mack, Madeline Penna, Bridget Patterson, Amanda-Jade Wellington, Laura Wolvaardt, Tegan McPharlin, Sarah Coyte, Tahlia McGrath, Jemma Barsby, Dane van Niekerk, Nell Bryson-Smith, Annie O'Neil, Meagan Dixon, Megan Schutt, Ella Wilson, Tess Cooper (both temporary replacement signings)
Fixtures
October 16 – Sydney Thunder (Blundstone Arena, Hobart – 9.05am GMT), October 20 - Melbourne Renegades (Blundstone Arena, Hobart - 5.40am), October 23 - Hobart Hurricanes (Invermay Park, Launceston - 12.15am), October 24 - Brisbane Heat (Invermay Park, Launceston - 12.15am), October 30 - Perth Scorchers (Lilac Hill, Perth - 6.50am), October 31 - Melbourne Renegades (Lilac Hill, Perth - 2.25am), November 6 - Melbourne Stars (Karen Rolton Oval, Adelaide - 2.40am), November 9 - Sydney Thunder (Karen Rolton Oval, Adelaide - 7am), November 10 - Sydney Sixers (Karen Rolton Oval, Adelaide - 5.50am), November 13 - Hobart Hurricanes (Great Barrier Reef Arena, Mackay - 4.40am), November 13 - Brisbane Heat (Great Barrier Reef Arena, Mackay - 11.15pm), November 17 - Perth Scorchers (Karen Rolton Oval, Adelaide - 4.40am), November 20 - Sydney Sixers (Adelaide Oval, Adelaide - 2.40am), November 21 - Melbourne Stars (Adelaide Oval, Adelaide - 2.40am)
Possible starting XI: Dane van Niekerk, Katie Mack, Laura Wolvaardt, Tahlia McGrath, Madeline Penna, Amanda-Jade Wellington, Bridget Patterson, Tegan McPharlin, Sarah Cotye, Megan Schutt, Darcie Brown
ALL WBBL 07 TEAM GUIDES
Please ensure all fields are completed before submitting your comment!