WBBL 07 team guide: Hobart Hurricanes
Hobart aim to end a run of finishing in the bottom two in the WBBL in three straight years. If they are to make an impact, much will be asked of Mignon du Preez and Molly Strano - and fingers will be crossed that Tayla Vlaeminck stays fit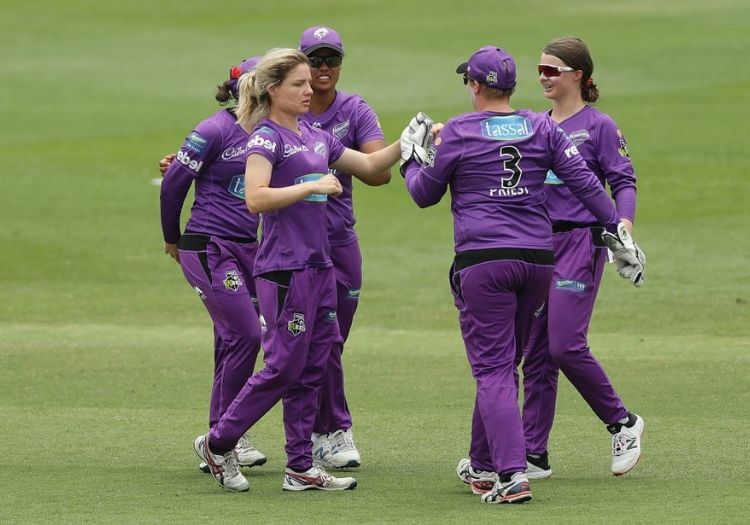 Coach: Former Yorkshire batter Salliann Briggs is head coach of Hobart Hurricanes, a position she has held since March 2018. In her three years in the role, the Hurricanes have finished eighth, seventh and eighth. Briggs also coached Trent Rockets Women in The Hundred.
Captain: Replacing Corinne Hall as captain is former New Zealand international, Rachel Priest. The 36-year-old, who joined Hobart last season, has over 300 career T20 appearances and six seasons of WBBL experience to draw upon. Priest will also be able to pick the brain of former South Africa skipper, Mignon du Preez.
Overseas stars
Rachel Priest: A familiar face for Hobart's fans. Rachel Priest is a powerhouse of a wicketkeeper-batter, with 162 international appearances, 2,567 runs and 165 dismissals to her name. The New Zealander, ranked 22nd on the T20 Player Index, is a WBBL regular and has scored 1,764 runs and completed 63 dismissals in 82 appearances.
Mignon du Preez: Prized away from Melbourne Stars after six seasons, Mignon du Preez could turn out to be the signing of the season. The 32-year-old is South Africa's record run-scorer across all formats and has a WBBL strike rate of 111.62.
Richa Ghosh: One of seven Indian internationals signed up for WBBL 07, 18-year-old Richa Ghosh is an attacking, free-swinging wicketkeeper-batter with a T20I strike rate in excess of 110. She's unlikely to usurp Priest with the gloves but could be a valuable middle-order addition and an exciting replacement for Lizelle Lee.
Changes from 2020
Hobart Hurricanes have rung the changes after failing to reach the knockout stages since WBBL 02. Captain Corinne Hall has moved to Sydney Thunder while injury replacement signing Nell Bryson-Smith has joined Adelaide Strikers. Erica Kershaw, Brooke Hepburn and overseas trio Hayley Matthews, Hayley Jensen, and Chloe Tryon have not had their contracts renewed. Emma Flint misses this season's tournament as she is on maternity leave.
Among the host of new faces in Hobart are the WBBL's all-time leading wicket-taker Molly Strano (poached from Melbourne Renegades), Rachel Trenaman (formerly of Sydney Thunder), Ruth Johnston, and Angelina Genford. As mentioned, their two new overseas signings are Richa Ghosh and Mignon du Preez.
How did they do last season?
Hobart Hurricanes finished eighth in 2020, winning just three matches and losing nine. They did, however, complete the double over Melbourne Renegades – who finished two points above them in seventh – and defeat two-time champions Sydney Sixers.
Best finish: Semi-finals in WBBL 01 (second in regular season table) and WBBL 02 (fourth)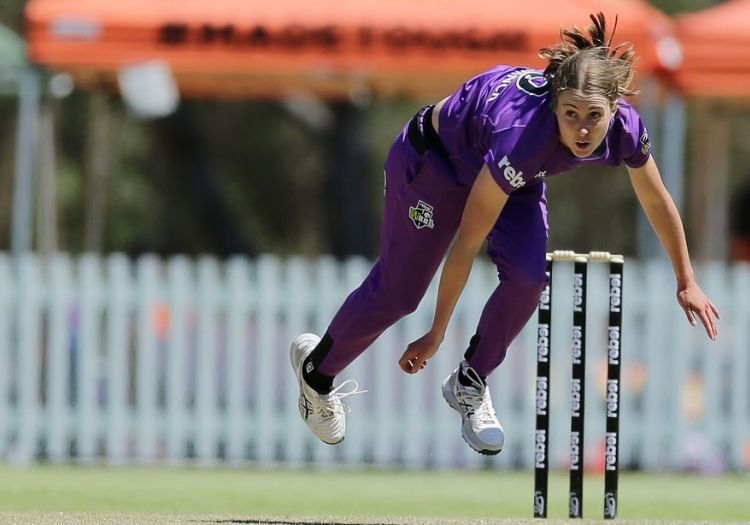 Tayla Vlaeminck is a major asset to Hobart Hurricanes when fit
Batting
Power hitters
Rachel Priest was Hobart's one shining light with the bat last season, blasting 354 runs at a strike rate of 118. Included in those 354 runs were a huge 53 fours and seven sixes, taking the big-hitting Kiwi to 296 career boundaries in the WBBL.
She was equally destructive in The Hundred for Trent Rockets, scoring 138 runs (20 fours, five sixes) at a strike rate of 136.63. Expect Priest to ruin a few economies in WBBL 07.
Anchor
While she struggled for consistency in WBBL 06, Nicola Carey was a strong opener in her first season in Tasmania in 2019, scoring 267 runs at an average of 24.27.
However, Mignon du Preez's arrival will ease the burden on the Australian. While not afraid of hitting a boundary (she has 172 in the WBBL alone), du Preez - nicknamed "The General" by Mel Jones - has often played a holding role for South Africa, batting between No.3 and No.5, and her career average of 27.46 stands her in good stead to form the backbone of Hobart's innings.
Finisher
The Hurricanes will likely turn to young Richa Ghosh to provide the fireworks at the end of an innings. After nine T20Is, the 18-year-old has a strike rate of 112.5 while she has proven herself to be equally quickfire in the 50-over format, scoring a 29-ball 32 and a 50-ball 44 against Australia.
Fellow teenager Ruth Johnston could also be an option, although her selection would be something of a curveball. The untested allrounder has enjoyed something of a breakout 12 months, earning her WBBL contract after scoring over 800 runs at a strike rate of 100-plus in the Katherine Raymont Shield (Queensland's Premier League competition). Full of youthful exuberance, who knows what she can do.
Problem areas
The Hurricanes do not have an experienced finisher. Only four players had a strike rate in excess of 100 for Hobart last season and of those four, only Priest is contracted for WBBL 07.
Naomi Stalenberg did score 162 runs from the middle order last season, finishing 2020 as her side's third-highest run-scorer, but her strike rate was just 92.57. Furthermore, beyond Priest, Carey, du Preez, Ghosh, and Stalenberg, Hobart don't have any real batting threats, giving them a lengthy tail. In short, runs could once again be a problem for the Hurricanes.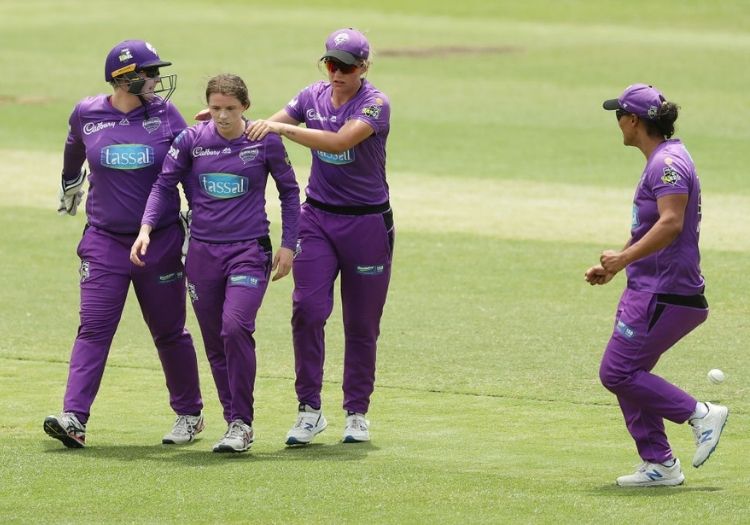 Hobart have finished in the bottom two of the WBBL in each of the past two seasons
Bowling
Speed merchants
In Tayla Vlaeminck the Hurricanes have one of the fastest bowlers in women's cricket, with the young pacer regularly clocking speeds in excess of 120kph. In 19 WBBL appearances, the Australia international has taken 14 wickets and bowled with an economy of 6.94. And while she has been plagued by injury, missing the entirety of WBBL 06 and Australia's recent ODI series against India, she did return for the first T20I and recorded figures of 0 for 32 - a promising sign for the Hurricanes.
Last season, Carey and Belinda Vakarewa were Hobart's frontline pacers, taking a combined 19 wickets. However, neither player can reach the speeds of Vlaeminck.
Variation
Spin is arguably the Hurricanes' strongest area after convincing Molly Strano to trade Renegades red for Hurricanes purple. A right-arm off-break bowler, Strano is the only player in WBBL history to take over 100 wickets and has a career economy of 6.52 in the tournament.
Consistent, reliable and capable of bowling in the powerplay, Strano is the perfect person to replace last season's star spinner, Hayley Matthews, who took a team-leading 12 wickets and conceded just 6.03 runs per over.
Leg-spinner Amy Smith, who took eight wickets in WBBL 06, and off-spinner Sasha Moloney provide Hobart with additional bowling options.
Problem areas
With Vlaeminck's injury history, Hobart could find themselves without their prize pace threat and once again relying on Carey and Vakarewa. And while the pair acquitted themselves well in WBBL 06, there's no replacing the raw speed of Vlaeminck. There's also a lot of pressure on Strano as the spinner following the departure of Matthews. In short, as with batting, Hobart Hurricanes lack depth.
Who takes the gloves?
New Zealand international Rachel Priest is behind the stumps for Hobart. The veteran wicketkeeper-batter, who has previously represented Melbourne Renegades and Sydney Thunder, heads into WBBL 07 with 62 dismissals in 82 appearances - only Beth Mooney (75) and Alyssa Healy (80) are ahead of her in the all-time Women's Big Bash standings – and an eagle eye for a stumping.
Squad: Nicola Carey, Maisy Gibson, Rachel Priest, Chloe Rafferty, Naomi Stalenberg, Amy Smith, Molly Strano, Belinda Vakarewa, Tayla Vlaeminck, Mignon du Preez, Rachel Trenaman (unavailable), Sasha Moloney, Ruth Johnston, Angelina Genford, Richa Ghosh, Ava Curtis (temporary replacement)
Fixtures: October 16 – Melbourne Renegades (Blundstone Arena, Hobart – 5.40am GMT), October 17 – Sydney Sixers (Bludstone Arena, Hobart – 3.40am), October 19 – Melbourne Stars (Blundstone Arena, Hobart – 3.25am), October 23 – Adelaide Strikers (Invermay Park, Launceston – 12.15am), October 26 – Brisbane Heat (University of Tasmania Stadium, Launceston – 6.50am), October 27 – Melbourne Stars (UTAS, Launceston – 6.50am GMT), October 30 - Brisbane Heat (UTAS, Launceston - 9.30am), October 31 - Sydney Thunder (UTAS, Launceston - 12.15am), November 3 - Sydney Sixers (WACA, Perth - 2.25am), November 6 - Perth Scorchers (WACA, Perth - 5.50am), November 7 - Perth Scorchers (WACA, Perth - 5.50am), November 13 - Adelaide Strikers (Great Barrier Reef Arena, Mackay - 4.40am), November 19 - Melbourne Renegades (Great Barrier Reef Arena, Mackay - 4.40am), November 20 - Sydney Thunder (Great Barrier Reef Arena, Mackay - 4.40am)
Possible starting XI: Rachel Priest (wk), Nicola Carey, Mignon du Preez, Richa Ghosh, Naomi Stalenberg, Ruth Johnston, Sasha Moloney, Molly Strano, Amy Smith, Tayla Vlaeminck, Belinda Vakarewa
ALL WBBL 07 TEAM GUIDES
Please ensure all fields are completed before submitting your comment!