WBBL 07 team guide: Melbourne Renegades
Packed with exciting batters but without raw pace, it will be intriguing to see how the Renegades get on in this edition of the WBBL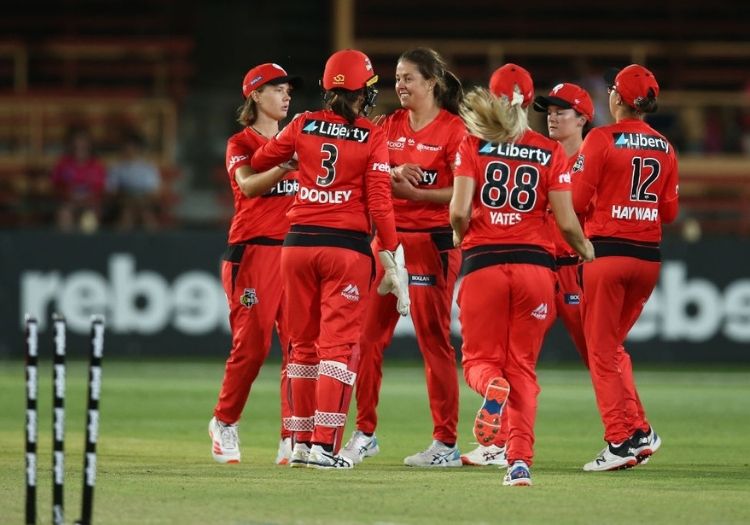 Coach: Simon Helmot is in charge of Melbourne Renegades this season after replacing Lachlan Stevens. Helmot, who has previously served as a head coach in the Afghan Premier League, Bangladesh Premier League and BBL, worked as assistant coach to the men's and women's teams last season. The 49-year-old is contracted as head coach for the next two years.
Captain: Sophie Molineux will captain Melbourne Renegades in WBBL 07 after replacing New Zealand's Amy Satterthwaite in July. The 23-year-old Australia international is the club's youngest ever captain and joins Meg Lanning as the youngest captains in WBBL history. Allrounder Molineux has represented the Renegades from the very beginning, scoring 1,299 runs and taking 57 wickets in six seasons.
Overseas stars
Eve Jones: A WBBL newbie, Eve Jones arrives in Australia in hot form. The 29-year-old, who captains Central Sparks, excelled in all three white-ball competitions in England in 2021, scoring a combined 808 runs across the Rachael Heyhoe Flint Trophy (List A), Charlotte Edwards Cup (T20) and The Hundred. Recently crowned the PCA Women's Player of the Year, she's also a handy part-time pacer bowler, picking up eight wickets, and an experienced leader.
Harmanpreet Kaur: Veteran allrounder Harmanpreet Kaur brings experience in abundance to this Melbourne Renegades side. The Indian international has well over 100 T20I caps to her name and has plied her trade around the globe, featuring in the WBBL, Kia Super League and The Hundred. Kaur made 35 appearances for Sydney Thunder in her previous WBBL stint, scoring 713 runs at an average of 35.65 and taking 12 wickets.
Jemimah Rodrigues: One of the most exciting batters on the white-ball circuit – men's and women's – Jemimah Rodrigues earned widespread recognition during The Hundred, scoring 249 runs at a strike rate of 150.90 for Northern Superchargers. A talented top-order batter, Rodrigues is arguably the most exciting player in this year's WBBL and has the potential to be a season-defining signing for the Renegades.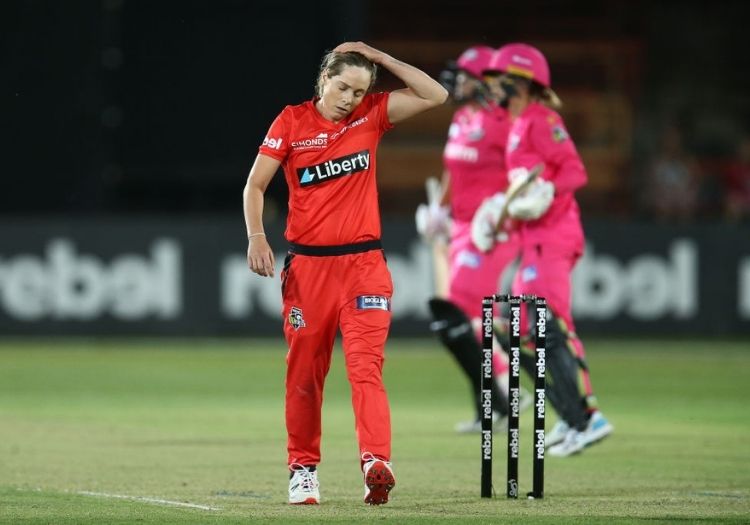 Sophie Molineux leads Melbourne Renegades in 2021
Changes from 2020
There have been quite a few changes in the Renegades camp, most notably all-time WBBL leading wicket-taker Molly Strano moving to Hobart Hurricanes. Upcoming pacer Maitlan Brown has also departed, signing for Sydney Sixers, while overseas trio Amy Satterthwaite, Lea Tahuhu and Lizelle Lee are not returning to Melbourne, with the latter signing for Hobart before withdrawing from the tournament.
Erin Fazackerley and Courtney Neale have not had their contracts renewed while Rebecca Carter, Amy Yates and Rosemary Mair were only replacement signings.
Jess Duffin (maternity leave) returns after missing the 2020 season and is joined by new signings Holly Ferling, Ellie Falconer and Rhiann O'Donnell. Jones, Kaur and Rodrigues are also new additions to the Renegades squad.
How did they do in 2020?
Melbourne Renegades placed seventh in WBBL 06, winning just four of their 12 completed matches to finish two points clear of bottom-placed Hobart Hurricanes.
Best finish: Semi-finals (WBBL 04, WBBL 05)
Batting
Power hitters
Jemimah Rodrigues isn't the biggest hitter, nor the most expansive player, and demonstrated during The Hundred that she likes a steady start to her innings.
However, the 21-year-old, who is ranked 25th on the T20 Player Index, did score a competition-leading 41 fours, was the only player to pass 50 on three occasions and scored her 249 runs at a strike rate of 150.90. She might take a couple of overs to settle but the Indian can explode into life in an instant.
The returning Jess Duffin is also something of a boundary fiend. In 35 innings prior to the start of WBBL 07, the middle-order batter has scored 117 fours and 25 sixes on her way to 1,045 runs. Only Danni Wyatt (161 fours, 15 sixes) and Molineux (160 fours, 14 sixes) have scored more boundaries for the Renegades. Duffin also averages 37.32 in Renegades red and has a strike rate of 123.37.
Anchor
Eve Jones is an anchor extraordinaire. In The Hundred, she not only scored her 233 runs at an aggressive strike rate of 118.27 but also averaged 29.12. She was even better in the Rachael Heyhoe Flint Trophy and Charlotte Edwards Cup, averaging 42.71 and 55.20, respectively, and scoring a combined six 50-plus knocks. Jones arrives in Tasmania with six 30-plus scores in her past seven white-ball innings and is the perfect foil for Rodrigues.
Finisher
Young allrounder Georgia Wareham is a powder keg waiting to explode in the middle order. In WBBL 06, the 22-year-old scored 139 runs at a team-leading strike rate of 146.31 while the season before, she posted 94 runs at a strike rate of 154.09. It's safe to say she has the potential to cause chaos at the end of an innings.
Similarly, Duffin is Glenn Maxwell-esque. In WBBL 05 – her most recent season – she scored a team-leading 544 runs at a strike rate of 138.77, and all while batting at No.5. And of course, there's Courtney Webb, who scored 246 runs - the second most in the team - at a strike rate of 112.32 as she covered for Duffin last season.
Problem areas
With a possible top six of Jones, Rodrigues, Molineux, Webb, Duffin, Wareham, batting shouldn't be too much of a concern for Melbourne Renegades. Perhaps the only worry is who scores the big runs after Wareham because much as Kaur and Josephine Dooley are solid batters, neither is particularly explosive.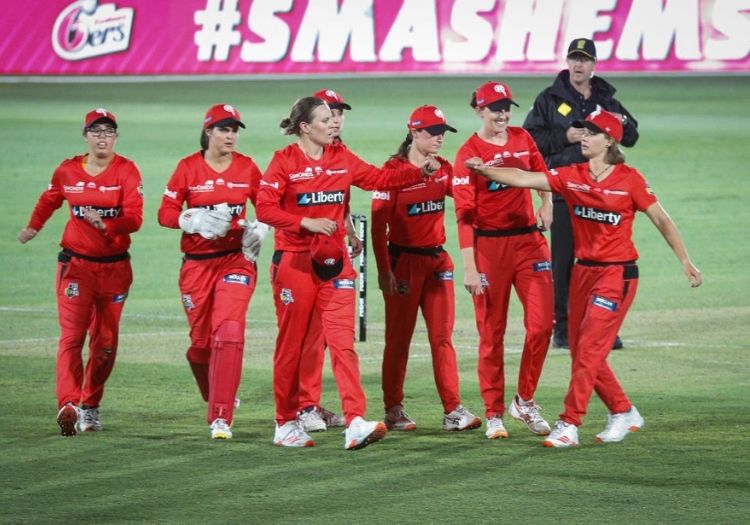 How will the Renegades get on in 2021?
Bowling
Speed merchants
The 22-year-old Carly Leeson is Melbourne's primary pacer. While her WBBL stats don't make for great reading – 16 wickets in 27 matches – 11 of those wickets came in 13 matches in 2020, suggesting the youngster is growing into her talents.
Webb and McKinley Blows offer support as part-time seamers, taking a combined five wickets last season, while new signings Ellie Falconer and Holly Ferling are also pacers. Ferling, in particular, is a good addition to the bowling attack with 43 wickets and a WBBL economy of 6.8 to her name.
Variation
Spin is a stronger area for the Renegades, with allrounder Molineux excelling as a left-arm orthodox bowler. The 23-year-old has taken 57 WBBL wickets – 11 of which were taken last season as she topped Melbourne's wicket-taking charts - and has a career economy of 6.71 in the competition. Teenage off-spinner Ella Hayward showed promise last season, taking five wickets in eight appearances, while Jones, Kaur, and Wareham all offer additional spin options
Problem areas
Where Melbourne Renegades have impressive batting depth, their bowling pool is very shallow and over the past two seasons, they've lost three of their star bowlers in Lea Tahuhu, Molly Strano and Maitlin Brown. And while Molineux and the part-timers can plug the spin gap, the loss of Brown and Tahuhu's genuine pace leaves the Renegades very short of intimidating bowling. The other concern is who is going to be their 15-plus wickets a season bowler?
Who takes the gloves?
The 21-year-old Josephine Dooley will keep wicket for the Renegades this season, with Duffin an emergency cover. Dooley has held the gloves for the past two seasons, completing 12 catches and seven stumpings. The fact she was trusted with wicketkeeping duties last season with Lizelle Lee in the squad is a testament to her abilities behind the stumps.
Squad: Makinley Blows, Josie Dooley, Jess Duffin, Ellie Falconer, Holly Ferling, Ella Hayward, Sophie Molineux, Georgia Wareham, Courtney Webb, Rhiann O'Donnell, Poppy Gardner, Carly Leeson, Eve Jones, Harmanpreet Kaur, Jemimah Rodrigues
Fixtures: October 17 – Hobart Hurricanes (Blundstone Arena, Hobart - 5.40am GMT), October 20 - Adelaide Strikers (Blundstone Arena, Hobart - 3.25am), October 23 - Perth Scorchers (University of Tasmania Stadium, Launceston - 9.05am), October 24 - Sydney Sixers (UTAS, Launceston - 3.40am), October 27 - Sydney Thunder (UTAS, Launceston - 3.25am), October 30 - Sydney Sixers (Lilac Hill, Perth - 3.25am), October 31 - Adelaide Strikers (Lilac Hill, Perth - 2.25am), November 3 - Perth Scorchers (WACA, Perth - 5.50am), November 5 - Brisbane Heat (Karen Rolton Oval, Adelaide - 11.15pm), November 7 - Melbourne Stars (Adelaide Oval, Adelaide - 2.40am), November 11 - Melbourne Stars (Karen Rolton Oval, Adelaide - 5.50am), November 17 - Sydney Thunder (Great Barrier Reef Arena, Mackay - 8.05am), November 19 - Hobart Hurricanes (Great Barrier Reef Arena, Mackay - 4.40am), November 20 - Brisbane Heat (Great Barrier Reef Arena, Mackay - 8.05am)
Possible starting XI: Eve Jones, Jemimah Rodrigues, Sophie Molineux (c), Courtney Webb, Jess Duffin, Georgia Wareham, Josephine Dooley (wk), Harmanpreet Kaur, Carly Leeson, Ella Hayward, Holly Ferling
ALL WBBL 07 TEAM GUIDES
Please ensure all fields are completed before submitting your comment!