From the rooftops of Attock to becoming the face of United States cricket: Ali Khan in his own words
SAJ SADIQ sits down with United States seamer Ali Khan to discuss his childhood, his family's move to the USA, his dreams and his return to the Pakistan Super League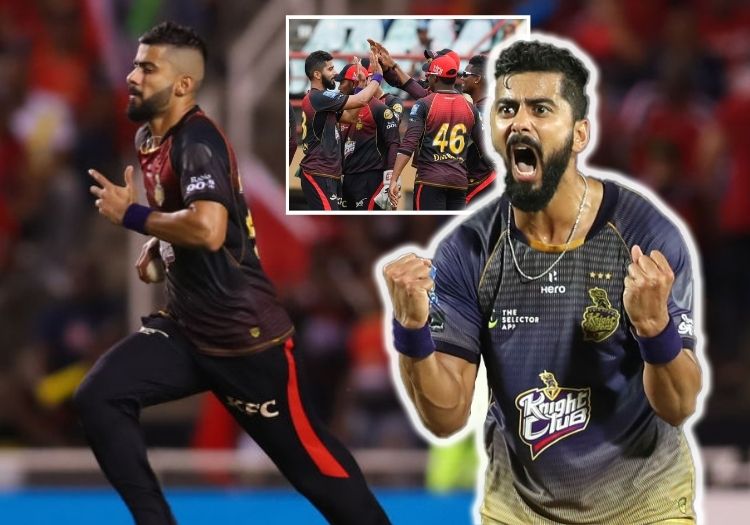 Ali Khan was born and raised in Attock in Pakistan's Punjab Province before his family decided they were going to emigrate to the United States when he was a teenager.
Initially he played club cricket in Ohio before he was spotted by Courtney Walsh at trials for the ICC Americas team and was selected to play in the Nagico Super50 tournament in Trinidad.
His cricketing journey has seen him picked in the Caribbean Premier League, the Global T20 in Canada, the Pakistan Super League, before Kolkata Knight Riders selected him for the 2020 Indian Premier League.
Khan has also played an ODI for the United States and is regarded as the nation's highest profile cricketer. Whilst cricket remains a minority sport in the USA, Khan has his heart firmly set on leading his adopted country to a World Cup in the future.  
This month he will be turning out for Islamabad United in the PSL. In advance of the tournament, he spoke exclusively to The Cricketer.
***
What are your memories of growing up in Pakistan and how did they influence your life and career?
My memories of growing up in Pakistan are great and days that I will always cherish. One of the most important lessons I learnt about growing up in Attock was the value and importance of your family.
I grew up in a joint household living with brothers and cousins and it taught me the importance of never taking things for granted and realising that family always comes first. 
How did you get into cricket - was it a typical Pakistani tape-ball to domestic cricket journey?
I started playing cricket in Attock with my brother and my cousins on the rooftops of local buildings, in the streets or the local fields all day. It didn't matter whether it was summer or winter we would be out there with a bat and ball in hand.
I was playing tape-ball cricket, but the problem was that because I was bowling so fast, the boys who were the same age as me would refuse to face my bowling or would even stop me from playing.
Did you always want to be a professional cricketer?
Cricket wasn't even in my dreams as a profession because nobody apart from my cousin really took the sport seriously. He was pretty good but never played professionally. Whilst he was the one who I looked up to when it came to cricket, I really had no idea about how to get into the sport professionally. 
I would watch Waqar Younis, Wasim Akram and Shoaib Akhtar on television and think these guys are cool and how great it would be to follow in their footsteps and play for Pakistan one day. But I had no idea how that would be possible or even if I was good enough. 
In addition, there was another issue, which was that my family did not want me to play cricket professionally and wanted me to instead concentrate on my studies. So, I had to sneak back into the house if I had been out playing cricket, otherwise I would get a telling-off from my parents if they found out that I had been playing cricket again.
I wasn't born into a very cricket-friendly culture and this was not an environment which was conducive to becoming a professional cricketer.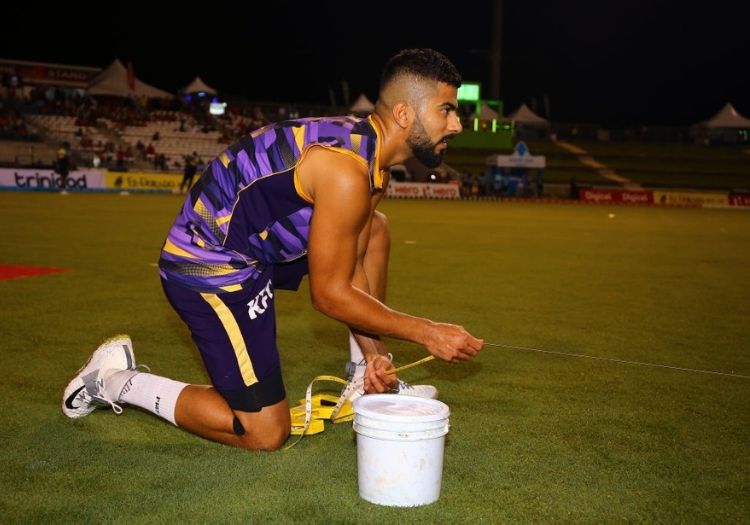 Ali Khan has been involved in the PSL, IPL and CPL
At the age of 19, your life completely changed when your family decided to move to the United States of America. What impact did that have on you?
My uncle was living in America and he very kindly sponsored us. My family wanted a brighter future for all of us and they felt that we would have better opportunities if we moved there. It all happened so quick, we were notified that we had to attend an interview at the US Embassy and before we knew it, we were having medicals and literally out of nowhere we were on the plane heading to America.
When I first moved to America I totally gave up on cricket as I thought nobody even knew what cricket was out there. I brought my bat and ball with me from Pakistan to America and I would just play against myself using a wall and pretend to be Shoaib Akhtar bowling to Shahid Afridi. But in my heart, I thought the days of playing cricket properly were over for me and it would just be me against the wall.
When did you realise that cricket was actually played in America?
Fortunately and to my relief, my uncle told me that he played some cricket and he took me to a local club called Greater Dayton Cricket Club in Ohio where he was one of the founder members. I went with him to a practice session and bowled fast and impressed the local players. They had a match at the weekend and invited me to play for them and that was how I started playing cricket in America.
"When I first moved to America I totally gave up on cricket as I thought nobody even knew what cricket was out there"
How did you manage to start taking cricket more seriously in the USA?
For two or three years I played local cricket in Ohio before in 2013 I spotted someone on social media called Maq Qureshi who was hosting a cricket tournament called US Open. I contacted him and told him that I was a fast-bowler and was keen to play in the tournament. He invited me to play in the tournament and said that he would like to see what I could do, so I bought a one-way ticket to Florida in the hope that I could make a name for myself.
I turned up at the US Open and there were professionals from Pakistan and some semi-professional cricketers from England also, which was a little nerve-racking at first. We made it to the quarter-finals where I took four wickets but unfortunately, we lost. Maq and the rest of the tournament organisers were really impressed with me though, so much so, that Maq bought my return ticket to Ohio and from then on, he has always picked me for his teams in local tournaments around America and the US Open each year.
What about the step up to playing for the United States, how did that happen?
In 2015 there were open trials in Indianapolis for an ICC Americas team with ICC officials overseeing the process of picking players. The West Indian legend Courtney Walsh was the main selector.
Out of the 90 players, 14 were picked for phase two and they joined pre-selected players who were already playing for USA and Canada. I recall that I went to the trials, bowled a lot of yorkers at a good pace and showed a lot of energy in the field and impressed Courtney Walsh who had some very encouraging words to say to me. I got through to phase two trials which were held two weeks later and contained some of the big names of North American cricket.
Fortunately, I did well there too and made it to the final 15 players and got selected for the ICC Americas team which was a combination of American, Canadian and players from Bermuda. This was my first experience of being picked for any professional team.

Is it true that things really changed for you when you were playing for the Americas team in Trinidad?
Yes absolutely. I went with the Americas team to play in the Nagico Super50 tournament in Trinidad. The rule was that each of the Caribbean Premier League teams had to pick one player from the Americas team for the next CPL.
Whilst I only played two matches in that tournament, I bowled really well and took two wickets. Then in the 2016 Caribbean Premier League Draft I was picked by Guyana Amazon Warriors.
How did it go in your first couple of seasons in the Caribbean Premier League?
I only played one match in 2016 and on my first delivery I dismissed Kumar Sangakkara which remains my career highlight. But the match didn't go well as I got hit around as many other bowlers have, by Chris Gayle and I went for 49 runs.
Playing alongside Dwayne Bravo in the Global T20 in Canada proved to be an important step in your career didn't it?
Ahead of the 2018 CPL draft I was released by Guyana and it was a worrying time for me as I was without any team and without any cricket on the horizon. In the 2017 US Open tournament in December, I was playing in the US All Stars team and had Dwayne and Darren Bravo as team-mates. Dwayne saw me bowling and whilst he didn't say much, I knew he was impressed.
Subsequently, there was a draft for the 2018 edition of the Global T20 Canada, and he picked me for his team. DJ Bravo gave me plenty of opportunities in that tournament. It was wonderful to be a part of his team and I had a great tournament where I played in all of the matches and took 10 wickets.
TEAM GUIDES

PSL TOURNAMENT INFORMATION
Things really changed for you when you were signed by Trinbago Knight Riders didn't they?
In 2018 there was an opening in the Trinbago Knight Riders team in the Caribbean Premier League where I replaced Ronsford Beaton who was suspended due to an illegal bowling action. From there on my life changed and I cannot thank Dwayne Bravo enough for his support. In that tournament I was the 3rd highest wicket-taker and we were champions. After that tournament, more doors opened for me and I went on to play in other Twenty20 leagues around the world.
Can cricket one day become a popular sport in America?
It will take time, but there are new people involved in cricket in America and they are investing a lot of money which is a positive sign for local cricketers in America and for the sport as a whole in the country. 
I think Major League Cricket will be a gamechanger for the sport in America, but cricket can only become a major sport in America once it is played in schools and colleges and universities. I believe that Major League Cricket and Minor League Cricket will give cricket more exposure to the general public and make the public aware that cricket can be a major sport in America and be a part of the Olympics in future.
"I feel that I am not just playing cricket for myself, my family, but also that I am representing the American cricket community"
How did it feel to go back to Pakistan and play in the Pakistan Super League (PSL)?
It was really special for me. Never for a minute did I think I would go back to Pakistan as a professional cricketer whilst living abroad. It was one of the leagues that I really wanted to be a part of and I'm very grateful to Karachi Kings for giving me that opportunity. 
It was great to be in Karachi and experiencing the PSL in Pakistan and it was fantastic that Karachi went on to win the PSL this year. Unfortunately, I wasn't there for the play-offs, but I was still in touch with the squad and really happy for them when they won the trophy.
How disappointing was it to be picked by Kolkata Knight Riders and miss out on playing in the Indian Premier League (IPL) due to injury?
It was heartbreaking. I was so emotional and very happy and proud when I was picked as it was a dream come true for me. All these years I have been dreaming of playing in the IPL and on the biggest stage in cricket and for the chance to be taken away from me due to injury was just terrible and very upsetting. 
But the owners, the management, Brendon McCullum and all of the players really supported me as they knew how keen I was to play. Sadly, these things happen and are out of your control and you just have to get over it with time being the healer. I firmly believe that if my fate is to play in the IPL in future then that will happen.
Do you feel you are the face of USA cricket and one of its ambassadors?
A. Yes it does feel like that and I feel very honoured and happy when I hear that being mentioned as I want to be that guy who goes out and represents America and maybe turns a few heads towards American cricket wherever people see me play.
I feel that I am not just playing cricket for myself, my family, but also that I am representing the American cricket community and the cricketing talent that we have here. If you look at Rashid Khan and what he has done for Afghanistan cricket, I hope that I can do something similar for American cricket. 
I hope I can be that guy who helps other American cricketers to come to the attention of the cricketing world and play in leagues around the world. I also want to be the guy who makes people take American cricket seriously and brings some attention and more interest to cricket in America.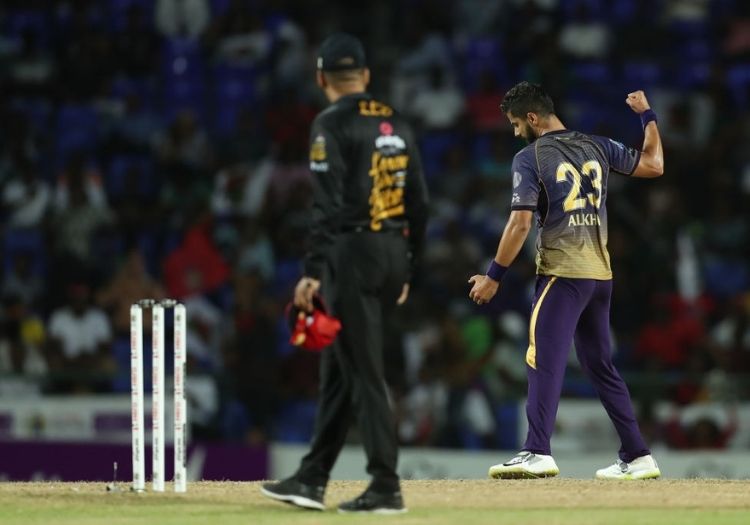 Khan is the face of United States cricket
Have you tried your hand at baseball?
A. Maybe after I'm done playing cricket, I'll give it a shot and become a pitcher. I'd really like to go and train with a baseball team and learn from them and see the tricks they use to throw the ball and the varieties they have at their disposal. 
There are definitely aspects of each other's sports that bowlers and pitchers can learn from each other.
Do you feel that you can get close to the 150kph mark?
 I think I can bowl faster especially if I get the chance to bowl on quicker wickets such as in Australia or England. The wickets are so quick in Australia and I'd love the chance to go out there and test myself and see how fast I can bowl. 
So far, I have bowled fast, but I have played mainly on slow pitches, more suitable for spinners which aren't bowler-friendly but even then, I'm clocking over 140kph and my fastest ball has been clocked at 145kph. I'm working on my fitness and always looking to make improvements to my game and as a Pakistani, it doesn't matter where you are, there is always the need for speed when you have a cricket ball in your hand.
I believe I can definitely bowl faster if I stay fit. Unfortunately, I've had a few injuries, but you learn from them and come back stronger. I always want to bowl fast, but I have realised it's not just about bowling fast, rather it's about maintaining and improving your skill-levels. 
My strength is bowling yorkers and I want to be known as one of the guys who bowls the best yorkers in cricket. If you just have speed, you are not going to survive in cricket, because the faster you bowl, the faster the ball disappears. The yorker is the ball that has brought me to this level of cricket and it's the ball that I continue to work on.
What would you like to achieve in cricket with America?
My dream is to play in a World Cup for America because realistically speaking Test cricket is a long way away yet. What is in our reach are Twenty20 World Cups and 50-over World Cups. 
I look at the 2023 World Cup and I see that there is a pathway for America to get to the World Cup qualifier stage and then anything is possible. I am 29 years-old and feel that I still have a few years of cricket left in me and the 2023 World Cup is not too far away. To play in that tournament or a Twenty20 World Cup would be a dream come true for me.
What are your own aims and targets?
My own dream has always been to play in the Indian Premier League. Yes, I made it there but obviously I got injured and didn't play any matches. My focus is to get back into top shape and pursue the dream, keep working hard and to be a part of the Indian Premier League again. 
But this time, I want to not just get picked for the IPL but play in the tournament and perform really well. As well as success in franchise cricket, I want to be remembered as one of the players who took the American cricket team to play in a World Cup.
Please ensure all fields are completed before submitting your comment!