Women's Regional team guide 2021: Sunrisers
Who are the ones to watch? Who are the England stars? How did they do last season? All your questions answered ahead of the new Rachael Heyhoe Flint Trophy and Regional T20 campaigns...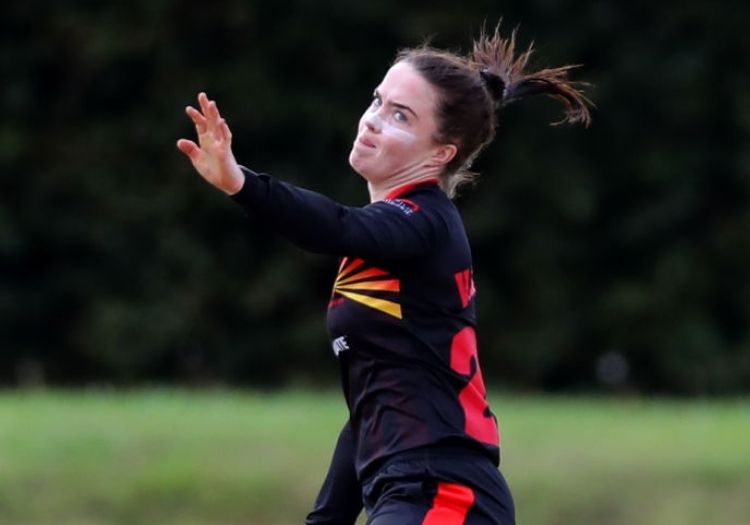 Sunrisers Hub: Player profiles, grounds guides, latest news and much more
Captain: Amara Carr
Coach: Trevor Griffin
Home ground: Chelmsford
Team background
Sunrisers represent the London and East region. Officially, that covers three first-class counties – Middlesex, Essex and Northamptonshire – as well as National Counties Bedfordshire, Cambridgeshire, Hertfordshire, Huntingdonshire, Norfolk and Suffolk.
Sunrisers' squad in 2020 was relatively inexperienced in Kia Super League terms, with only a handful of their players having featured in that competition.
They struggled last year but the key to the side's success going forward could well be coach Trevor Griffin, who won the KSL twice at the helm of Western Storm and is one of the most respected coaches currently working in the women's game.
His move to Sunrisers from Storm came as no surprise; he is due to lead the London Spirit side in the inaugural women's edition of The Hundred.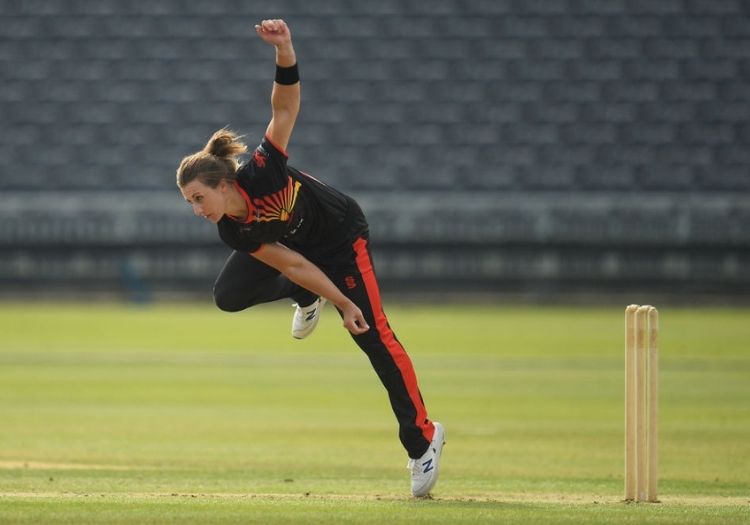 Jo Gardner in action for Sunrisers in 2020
What happened last season?
Sunrisers head into 2021 still looking for their first win as a regional hub, having lost all six games in the Rachael Heyhoe Flint Trophy as Griffin began working with his youthful group of players.
They were beaten in twin meetings with local rivals South East Stars, eventual champions Southern Vipers and Griffin's KSL side Western Storm.
There were few bright sparks from a collective perspective, but several individuals offered evidence of their talent going forward. Jo Gardner topped the team's run-scoring charts with 193 in six games, while teenage allrounder Grace Scrivens made 72 in a defeat against Storm.
The highest score registered by a Sunrisers player belonged to captain Amara Carr, who made 99 against South East Stars – the highest score in top-level women's List A cricket in England by a player without an international cap since 2016.
Who are the England stars?
Mady Villiers and Fran Wilson were allocated to Sunrisers; Villiers is Essex through and through, while Wilson has played county cricket for Middlesex.
Both are regulars in the national setup but could do with consistent seasons to help their chances when the time comes for Lisa Keightley to pick her first squad of the summer.
Villiers is one of several talented young spinners in the English game, while Wilson's spot as a finisher in England's middle order is hardly impenetrable.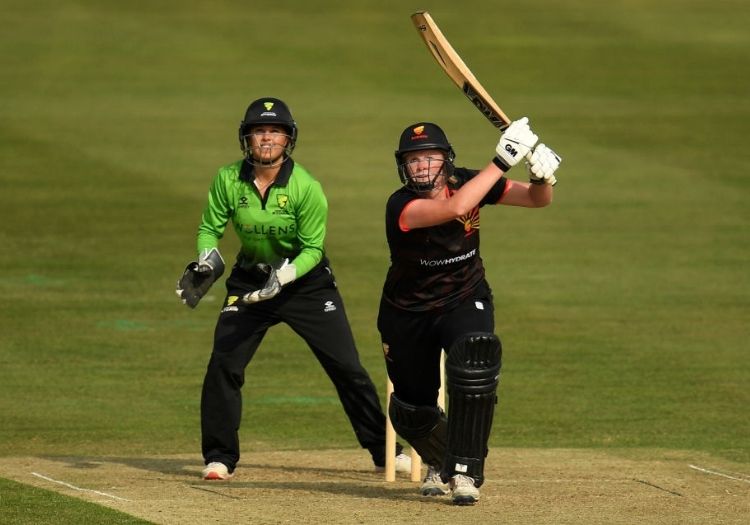 Alice MacLeod at the crease against Western Storm in 2020
Who are the old heads in the side?
In short, there aren't many, which is perhaps why this role is such an intriguing challenge for Griffin – the opportunity to mould a young side on its journey.
Wilson apart, Carr is the oldest member of the squad at 27, 11 days older than Naomi Dattani, who began her Middlesex career playing alongside Sunrisers director of cricket Danni Warren.
Seam bowling allrounder Kelly Castle is only 23, but she has gained significant experience already as captain of Essex.
Who are the young players to watch?
Speak to any member of Sunrisers' camp and Scrivens' name comes up frequently. The 17-year-old has begun pre-season much in the same way that she ended the 2020 campaign: in the runs.
There is excitement around her name and also in the performances of fellow teenager Sonali Patel, Sunrisers' leading wicket-taker last time around.
This could also be a big year for Jo Gardner, now on a professional contract and – after averaging 32.16 in 2020 – in a position to push on further with her game.
The same can be said for Cordelia Griffith, who has been highly regarded for some time and, on a full-time deal since signing a retainer ahead of the summer season, now has a chance to turn her significant potential into a stream of regular runs.
Squad: Hayley Brown, Cordelia Griffith, Fran Wilson, Kelly Castle, Naomi Dattani, Jo Gardner, Katie Midwood, Alice MacLeod, Grace Scrivens, Amara Carr, Scarlett Hughes, Mia Rogers, Gayatri Gole, Sonali Patel, Emily Thorpe, Mady Villiers, Katie Wolfe
Fixtures
Heyhoe Flint Trophy: May 29 – South East Stars (h), May 31 – Thunder (a), June 5 – Northern Diamonds (h), June 12 – Lightning (a), Sept 10 – Central Sparks (h), Sept 12 – Southern Vipers (h), Sept 18 – Western Storm (a)
Regional T20: June 26 – Western Storm (a), July 2 – Northern Diamonds (h), July 9 – Thunder (a), August 25 – Northern Diamonds (a), August 28 – Thunder (h), August 30 – Western Storm (h)
Additional reporting by Raf Nicholson
OTHER TEAM GUIDES
Please ensure all fields are completed before submitting your comment!