Understanding Sussex: What is happening at Hove?
NICK FRIEND: In 2021, Sussex won just three games in the County Championship and Royal London Cup as they put their faith in a group of talented youngsters. Rob Andrew, the club's chief executive, opens up on a difficult year and a long-term vision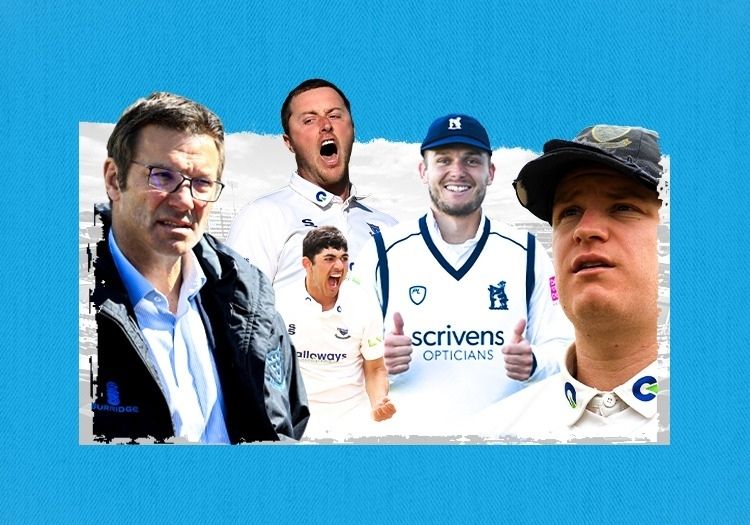 Three days after losing at T20 Finals Day, Sussex hosted the parents of their first team for lunch. At Edgbaston, 170 miles away, Danny Briggs was on the way to winning the County Championship title in his first year since leaving Hove for Warwickshire. Further north, Luke Wells would soon be celebrating Lancashire's victory over Hampshire.
The reason for the meal was to discuss the collective responsibility that comes with looking after a desperately young group who have been asked to cope with plenty. Of the 26 players to feature for Sussex in red-ball cricket in 2021, three are now back at school; a further 10 aren't yet at university graduation age. Individually, they have impressed to a man, breaking records along the way: Danial Ibrahim is the youngest scorer of a County Championship half century and came within six runs of a landmark hundred, Archie Lenham was the first person born after the inaugural Twenty20 Cup to feature in the Blast, James Coles is Sussex's youngest first-class cricketer. But they won just once all season in four-day cricket and twice in the Royal London Cup.
"We've asked them to do too much all at once," admits Rob Andrew, the county's chief executive, speaking exclusively to The Cricketer.
"That has been a challenge for them. I think they've performed remarkably well and have confirmed the ability that they've got. We just need to have a slightly stronger group that can protect them a little bit more and not have them all in the firing line at the same time."
The upshot is that Sussex finished bottom of Division Three, ending the season with a comprehensive home defeat against Derbyshire – their ninth of the summer in the County Championship. For the wellbeing of a promising batch of teenagers, it is key that an intriguing, youth-heavy strategy maintains a healthy pathway and doesn't descend into a cycle of perennial losing as they get to grips with the professional game.
"We haven't been able to quite get that right this season," says Andrew, an international rugby player himself before stepping into administration and aware, as much as anything else, of his pastoral obligation to a squad that, for the moment, is learning on the job.
"Trying to find the right balance is one of the biggest challenges for modern sportspeople. The demands are so high; the expectation and intrusion into lives – particularly through social media – is really potentially damaging. Somehow, we have to try to find the answer. On one hand, we want them to commit fully to be successful – and you can't be successful unless you commit fully. But on the other hand, we're telling them to have a balance in their lives and to get away from their sport and create some space. So, you're asking them to do two things that aren't compatible."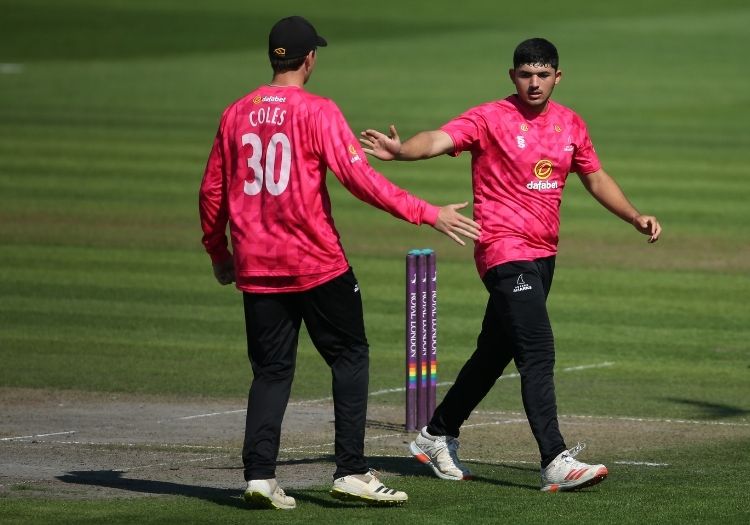 Danial Ibrahim and James Coles have both impressed since arriving on the scene as 16-year-olds; they represented England Under-19s against West Indies this summer
Earlier this year, The Cricketer spoke to Barney Gibson, the youngest person to play a first-class game in the United Kingdom. He was then 15 then and is 25 now but left cricket when he was 19, finished with its lack of freedom and eternal intensity. There was no blame attached nor lingering animosity – elite sport is a unique environment that, quite simply, is not for everyone. For that reason, Andrew knows the importance of this part of his role, given the potential pitfalls associated with playing professional sport and the draws of the 'real world' that might come with higher education.
He says: "That's why we have to work very closely with all of our coaching staff and their closest advisers, who tend to be their families initially. Agents have a big role to play in this as well. There is a huge responsibility because we're taking these kids on a journey; it's their dream to play first-class cricket or international cricket, but it comes with a lot of challenges and stresses that we have to try to manage.
"We have to find a balance so that they can have a little bit of something else in their lives, but that is easier said than done – when you're 20 or 21, all you want to do is play your sport."
As happens at moments like this, Andrew has come in for significant criticism, not least on social media from former players like Matt Prior and Chris Adams, both of whom have helped out with some coaching this year but have also questioned the direction of a club that – in their day, at least – was used to competing at the other end of the spectrum. Few counties have undergone such change in so little time.
"Matt clearly has views and he's entitled to those views, as is everybody," says Andrew. "I agree with some of them, I don't agree with others – that is also my right as well. I understand exactly where the frustration is."
Sussex have not won a trophy since 2009, when they completed a limited-over double to end a decade that saw them collect seven pieces of silverware. Twelve years on, only Luke Wright and Will Beer remain, several influential senior players have moved on and this new project – based around championing the region's up-and-coming, homegrown talent – is both admirable but also quite extreme. The line-up that faced Worcestershire at the end of August was the youngest ever fielded in a County Championship game.
"Some of it has worked, some of it hasn't," he says. "But we're very clear that this is the right thing to do.
"We all want success, but we have to balance it within the context of where we are as a club at the moment. Of course, we want to do better. We all accept that, and we need to improve and get that balance right. Yes, there are some supporters who are frustrated at the moment, but there are a lot who are fully supportive of the strategy and understand where we are as an organisation.
"I'm old enough and thick enough in the skin not to worry about Twitter. People can have opinions, whoever they are – that's absolutely fine. It doesn't change the fundamentals of the strategy and where we are as a business. We did a Members' Forum, and they understand where we're at.
"How do we give the youngsters a bit more support? Because they are hugely excited about the quality of the young guys who are out there, who are all from the county, who've all come through Sussex teams, clubs and schools. The members want them to do well. We just have to contextualise things at the moment."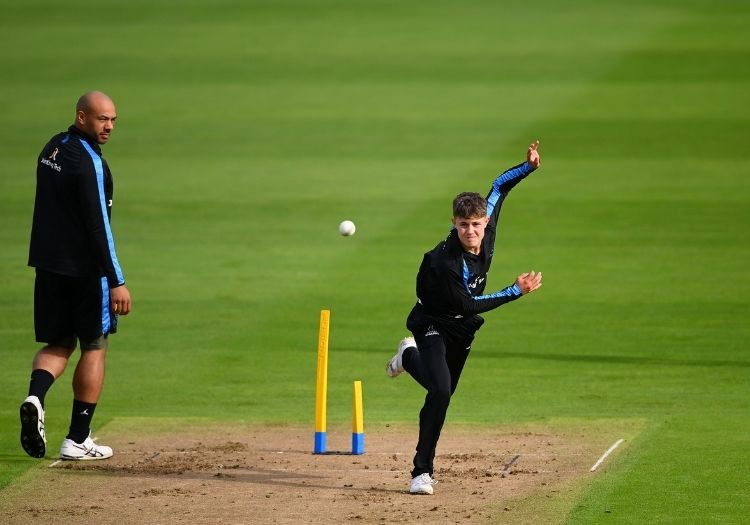 Archie Lenham - the third generation of his family to play for Sussex - performed so well in the T20 Blast and Royal London Cup that he earned a Hundred replacement deal
Ibrahim, Lenham and Coles were all part of the England Under-19s squad that beat West Indies earlier this month, Jack Carson was the third-most prolific spinner in this season's County Championship and Henry Crocombe has come in for praise from several who have faced him, while 10 of the Sussex team that lost to Middlesex in mid-September were products of private schools in the region, five of whom have also played club cricket for Eastbourne. There have also been opportunities for Ali Orr, 20, Oli Carter, 19, Tom Clark, 20, Tom Hinley, 18, Jamie Atkins, 19, Harrison Ward, 21, Joe Sarro, 19, and Sean Hunt, 19.
"Certainly, for a county of our size – and this isn't a criticism of anything – we have to produce our own players, we have to have a system that keeps producing players out of our own pond.
"In the long run, I think it is the only way you can go as a sports organisation. I think we've probably gone away from that a bit in the last decade, and trying to get back to that is hard because you're relying on what's coming through the pathway and how good they are and if you've got enough of them. There has been a focus on that for the last four or five years. It feels like this is the right time to take that and really drive it home. We made that decision at the end of last season. It has been accelerated by Covid – there is absolutely no question of that."
Predictably, the roots for this change in tack stemmed partly from the pandemic and its worst-case economic implications, though Andrew insists that the county are emerging in "a very solid financial place, as well as doing the development down at the front of the ground, which is a big part of our strategy to keep the club competitive". There is also a sense, however, that this is a direction they have been keen to trial, albeit "fast-tracked a bit quicker than we would have perhaps liked".
By that, he means that the reliance on a young core has been exaggerated by the circumstances.
"There were some decisions that maybe in a non-Covid environment, different decisions would have been made," he explains. "I totally accept that, and that was a factor definitely.
"Everybody was very unsure of what this year would throw at us; we were careful and cautious to a degree, and when I look back at what this year has thrown at us, I'm glad we did – because we've protected the short and medium-term of the club financially, which in the current climate is very important."
Nevertheless, the disappearance of a raft of senior pros – whatever the reason – is impossible to ignore. Ahead of Finals Day, Wright stressed: "We can't be losing our best players all the time." But from the Sussex side that finished third in Division Two three years ago, eight have moved on.
As well as Briggs and Wells, Laurie Evans returned to Surrey and Harry Finch was released in the autumn of 2020. As fate would have it, Finch made his Kent debut in the County Championship against Sussex and hit a match-saving hundred, while Wells averaged 40.85 in red-ball cricket and turned out in the Blast for the first time in seven years. Briggs only played four first-class matches in his last two seasons at Sussex but starred for Warwickshire – as did wicketkeeper Michael Burgess – in winning the title. Understandably, that turn of events has been hard for supporters to take.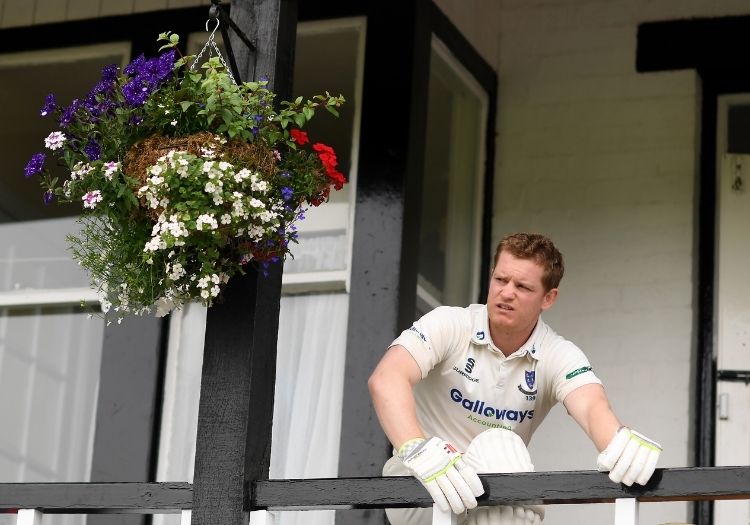 Ben Brown lost the captaincy midway through the season but returned to the team and averaged 64.4 in his last 11 innings of the summer
Along with player exits, Sussex have been hit by the unavailability of their best players. Part of Andrew's frustration around the difficulties of recent months and, indeed, how they have been perceived, is that "the support structure on paper was there at the start of the season", only to be disrupted by a range of curveballs, some more predictable than others.
They are realistic enough on the south coast not to anticipate many sightings of Jofra Archer; even before his injury problems, his schedule was packed with international and Indian Premier League duty. "Sometimes you can be a victim of your own success in terms of producing England-quality cricketers," Andrew knows. "There's no point in complaining about it or wishing it wasn't like that. It's just a fact of the modern game. We have to find a way of dealing with that; we also have to find a way of giving the players a sense of ambition to be the best they can be. They have to have the desire to play for England, and if they get the chance to the IPL, they're going to go."
The same applies for Chris Jordan, who last played a first-class game in 2019. Ollie Robinson, though, didn't start the summer with an England contract, but his success in the Test arena restricted Sussex to just six County Championship appearances from their gun seamer: the pandemic has led to bigger international squads and longer periods away. Phil Salt didn't play a single red-ball game in 2021, while his call-up to England's ODI squad against Pakistan came after the initial party was struck down with Covid, with George Garton subsequently trapped in isolation and two players lost for the price of one.
In that regard, it has been a brutal period, even if Garton – increasingly recognised as one of the best players in the country – has signed a contract extension across all formats, a significant fillip amid a recent upheaval that stretches beyond the playing staff.
Keith Greenfield has been the director of cricket since 2016, while Ian Salisbury and James Kirtley replaced Jason Gillespie as joint-head coaches, split across formats, when the Australian returned home following last year's truncated campaign. But even in the final throes of his tenure were debuts given to Coles, Crocombe, Carson and Will Sheffield. And that is an important distinction to make: there is a genuine belief that these youngsters will have what it takes, that this isn't a case of selection for selection's sake. Andrew also argues that "underperformance" in red-ball cricket is not a new phenomenon at Hove: Sussex spent four years in Division Two without earning promotion ahead of the pandemic, albeit with better results.
At the top end of this new generation is Tom Haines, the 22-year-old batter who ended the season as the leading run-scorer in the country, along with the added responsibility of captaining. Orr, his junior opening partner, went under the radar but now has two hundreds and four fifties across 12 games in two formats.
In theory, the signings of Stiaan van Zyl and Travis Head appeared shrewd additions, only for the left-handed pair to struggle for runs: van Zyl averaged just 24.82; Head failed to make a half century in 11 innings. By the time the County Championship returned in August, both had gone home.
"That has meant [the youngsters] got to the end of the season incredibly tired, physically and mentally, which you would expect," Andrew acknowledges. "They have had a huge burden on them. It has been a fast track, but it has definitely been part of a medium to longer-term strategy that we've wanted to get back to for some time around homegrown players with the right overseas support where it's appropriate."
Sussex reached T20 Finals Day for the fourth year in a row but this generation has never won the Blast title
It is why the county has moved to bring in Steven Finn and Fynn Hudson-Prentice – two players at different ends of their careers, but with the same all-format potential. There is also the possibility of more reinforcements to follow, though it will be interesting to see who they can attract, given the early stage of this rebuild.
While they are determined to add players of quality and experience to take the burden off a group of teenagers who should be supplementary rather than linchpins at this stage, those with international ambitions could be forgiven for looking at Sussex as a risk, given the long-termism of this project and the limited shelf-life of a sporting career.
"I think that's a fair comment," Andrew admits. "It goes back to where the potential incoming player might be in their career. We have to manage where people are on the way in. Whether that's domestic players or overseas players, trying to get those right. The international schedule is not like the old days. One of the challenges for some Sussex supporters is that the old days, where Mushtaq Ahmed and Murray Goodwin would be here all year every year, are gone. The modern game doesn't work like that. It's just a very complex beast."
He adds: "We need a bit more, which we're working on. Another winter for these young guys – nearly every one of them has delivered a career-best and then bettered their career-best. We have to layer that with them and then build them over the next 12, 24, 36 months, while adding that support which helps them to be a bit more successful."
Finn essentially replaces Stuart Meaker and Mitchell Claydon, neither of whom had the impact that was hoped of them after joining and have since retired, while Hudson-Prentice began life at Hove and has established himself as a useful allrounder at Derbyshire. "They are two players who, we hope, will be here all the time and will play all the time for Sussex," says Andrew. "We haven't always had that from some of our players." That is not a dig at any of the club's several white-ball-only employees, but rather an acceptance of modern cricket's landscape: Tymal Mills and Ravi Bopara signed new T20 deals in recent weeks with a county that has reached the knockout stages of the Blast in each of the last four years.
Andrew clarifies: "We have to find a way of keeping our competitiveness in T20 cricket because we've done well in that, we have a good support base, we sell out Hove, it's very important financially. But we're not neglecting it at the cost of the County Championship because we know how important it is as well. We just haven't got that balance right fully over the last two or three years. It's not easy to get it right when you're trying to compete on both fronts.
"That is good on one level – for the white-ball team – but challenging for the red-ball team. Trying to get that back into a better balance is a focus for the next 12 months, certainly.
"We want to be successful in all formats; we just happen to have more experienced T20 players at the moment than red-ball players. We talk a lot about all-format players – that's fine to talk about, but how many are there out there, and can you develop them yourself?"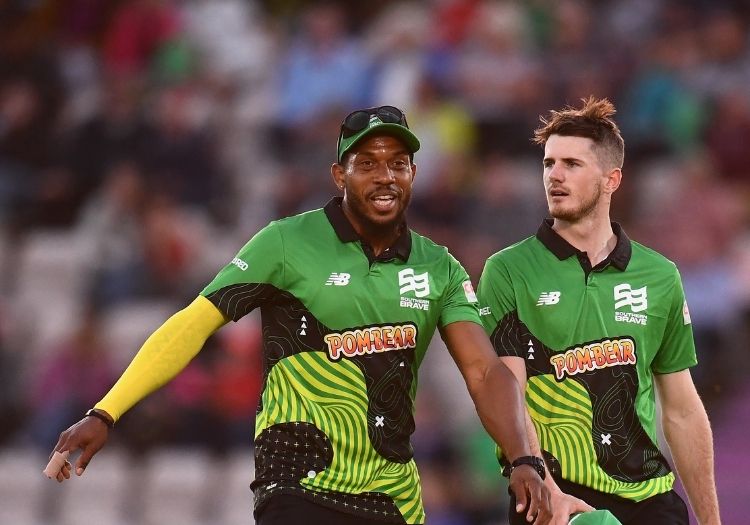 Several Sussex players were picked up for The Hundred, including several to eventual-winners Southern Brave - Rob Andrew doesn't put the exits of Chris Jordan and Phil Salt down to the new competition, though
It is an intriguing dilemma, further illuminated by Andrew's comment that the club's stock of white-ball-only players "has not been by design".
He explains: "We talk a lot about that balance. It's just been the nature of where guys like Wright, Bopara and Mills are with their careers. Then, you throw in a couple of overseas players into the side, and suddenly you've got five, six or seven. Chris Jordan hasn't played red-ball for two years for us, so he's almost become a T20 specialist as well. All of a sudden, you've got a T20 squad."
This year's Finals Day, therefore – when Sussex lost to eventual winners Kent in the semi-final – felt like the end of an era. Jordan and Salt played their last matches before moving on to Surrey and Lancashire, respectively, with Briggs and Evans leaving last autumn from a T20 side that was the envy of the rest of the circuit, even without a trophy to show for it.
The exits of Salt and Jordan, though, are "purely around their desire to have a change of scene", Andrew insists. Pinning their transfers on The Hundred has been a popular line of attack in recent weeks but, while there is certainly a wider concern that players at non-Hundred venues might look elsewhere to boost their chances of being picked up in the draft, this case represents a false equivalence. Quite simply, both are England white-ball internationals and wouldn't have any trouble picking up a Hundred contract, regardless of their county. And while Salt plays for Manchester Originals and has joined Lancashire, it is equally true to suggest that he is a logical replacement for Alex Davies, who is joining Warwickshire. Jordan, meanwhile, is returning to the club where he began his professional career and has been handed the T20 captaincy.
On a broader scale, however, Andrew is keen to see for the implementation of an annual review into The Hundred to document its effect on the counties. "The PCA want that as well," he adds, "because it's absolutely appropriate that there should be no linkage of county contracts and Hundred contracts, and if that is taking place – and I'm not suggesting it is in this case – then that must not be allowed to happen.
"I do think there needs to be – from an ECB perspective – a very clear view of every move that takes place and why it's taking place. Certainly, the non-Hundred venues have said right from the start of this – long before The Hundred was played – that we can't have a situation like what happened in Australia with Western Australia and Perth Scorchers. That does distort the game."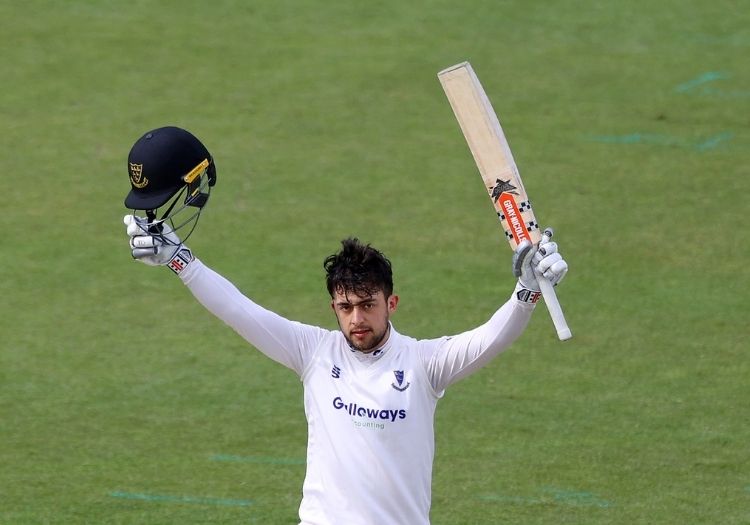 Tom Haines enjoyed a fine breakthrough season, ending the summer as the leading County Championship run-scorer in the country
The positive, though, is that Andrew believes there will be no further departures in the short-term, "which then gives a sense of building this journey with some certainty". Several players are now tied to two-year and three-year deals, including Ben Brown, whose future was reportedly in some doubt earlier this year when he lost the captaincy in July but is "absolutely part of the plan".
The decision to remove the 32-year-old from his leadership position came as a surprise to many, having been appointed as club captain three years earlier. It says much for his professionalism that – despite any frustration – he has averaged 64.4 in 11 innings since, churning out runs in a side that needs a man with 22 first-class centuries. He was replaced by Haines, who enjoyed a tremendous breakthrough season and relished the added responsibility on his shoulders: he more than doubled his run-tally from the first four years of his career. "The quicker I can learn to think like a leader and a senior player, the better it will be for me," he told The Cricketer earlier this summer. "I don't feel like a kid or a teenager playing first-class cricket anymore. I feel like I'm just one of them and that I'm just as good as any of those guys."
Whether he becomes Sussex's new red-ball captain on a permanent basis remains "an open conversation" – it would be much to ask of a young man still learning his own game despite a successful campaign.
"I don't think it's out of the question," says Andrew of that possibility, "but it's not something we need to worry about too much either because even if he didn't captain the Championship side, he'd captain the 50-over side."
There is a keenness, he says, to "create more leaders and a sense of ownership across a wider group" – Robinson was vice-captain at the start of the season and Wright is in charge of the T20 side, while Haines was added to a senior leadership group last winter. That Brown's successor has not yet been rubberstamped might well suggest it is being left open for a possible overseas role, though Andrew could only say that "all options are open there".
He reflects: "I think sometimes organisations find themselves in a place where they have to start on a bit of a journey, and that is where we've found ourselves – rightly or wrongly. Covid to a degree fast-forwarded that process, but we want to produce all-format, English-qualified cricketers who bring success to Sussex.
"If on the way through, they go and do what Jofra Archer and Ollie Robinson and Chris Jordan and Tymal Mills have done – and George Garton will hopefully follow them – then that's a big part of why we're here, to inspire the next generation of kids who are playing out there at the moment, who played at age-group level together and are now playing first-class cricket at the start of their journey."
Please ensure all fields are completed before submitting your comment!