"It has to be the right thing for Bob": Lauren Clark wants Bob Willis Trophy to carry meaning for her late husband
NICK FRIEND: Clark, one of the co-founders along with his brother, David, of the Bob Willis Fund, designed the trophy and has been at Lord's to watch Warwickshire face Lancashire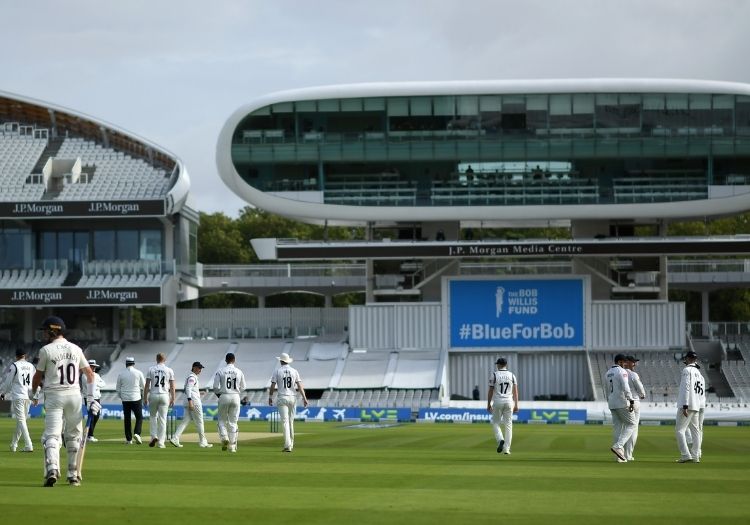 That Warwickshire and Lancashire are competing for the Bob Willis Trophy carries some significant poignancy. Warwickshire, because they were the county for whom the late, great England fast bowler took more than 600 wickets across 13 seasons. Lancashire, because Paul Allott – the club's outgoing director of cricket – was one of his great mates.
Watching on from Lord's is Lauren Clark, for whom this is the ideal contest. She is Willis' widow and one of the co-founders along with his brother, David, of the fund bearing his name. On December 4, two years will have passed since the tragedy of his passing from prostate cancer. He was 70 years of age.
Last summer, the establishment of a tournament in his honour provided county cricket with a much-needed shot in the arm. In the absence of the County Championship due to a four-month delay in starting the domestic summer at the hands of the pandemic, the Bob Willis Trophy became the red-ball competition. At the end of it, Essex and Somerset met in the final – the best two teams in the country from the previous year fighting it out after a monthlong group stage.
"It was perfect for him," Clark tells The Cricketer. "I'd done this art in lockdown when I was on my own and they made this beautiful trophy off the back of it. And then, you won the Bob Willis Trophy. For the counties, that seemed to be something to strive for."
It was a fitting tribute in difficult circumstances. This year's event has been more challenging, though. Lord's is open for business again, but there has hardly been a crowd of any description and the Mound Stand has been left entirely empty – not that this should come as any great surprise. For supporters of both counties, there are long journeys involved – and at short notice, too. Going into the final round of County Championship matches in the top division, five of the six teams could still have qualified.
More fundamentally, however, this year's Bob Willis Trophy lacks the context of last summer, which carried a tangible purpose, with the final considered to be the major spectacle of a truncated campaign. But its second staging – the plan for which Clark was not consulted on – has struggled to replicate that sense of meaning nor attract much of the same excitement. Instead, it feels like a showpiece without a cause: players have been dragged out for one last hurrah after the emotional drainage of a thrilling end to an interminably long season.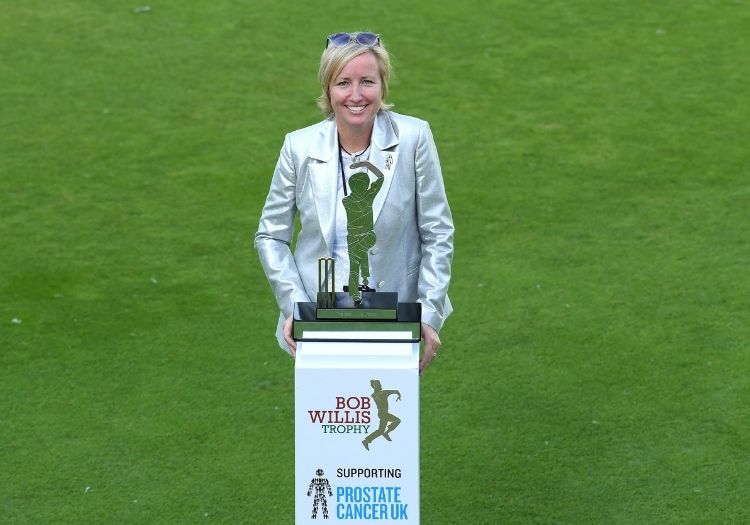 Lauren Clark, with the Bob Willis Trophy
"I think they are really keen to honour Bob and use the trophy in some way," adds Clark, who doesn't want to sound ungrateful in any of this. "But we have to find something meaningful. I do want to protect Bob's memory, and I'm very protective of him.
"What I don't like – being protective of Bob – is it constantly being discussed that we might not have it next year." It is understood that the subject was not mentioned on Wednesday during a meeting of county chairs.
"We would like to be consulted before they announce the decision on the Bob Willis Trophy final. They might just scrap it altogether. If they want to keep it in circulation, we'd like to discuss how they're going to do that. We can't insist that they keep it in circulation, and I'm not massively obsessed with it being in circulation. It has to be the right thing for Bob. If ultimately the trophy just ends up at Warwickshire – because hopefully they'll win – then that would be lovely too."
The Cricketer suggested earlier this week that it could be played for as a pre-season fixture between the previous year's top two red-ball sides, becoming cricket's answer to football's Community Shield in the process. "I'm not wowed by that," admits Clark, who would like to see the prize given to the winner of a County Championship final, "but it would at least have the enthusiasm of the start of the season, probably better weather, more time for people to know that they're in the Community Shield so they'd have time to get tickets."
In short, she just wants the format to represent an appropriate memorial for her late husband rather than seeing Lord's so empty.
Blue for Bob Day accomplished that objective in July when it was held for the first time as England, despite their entire first-choice squad in Covid isolation, faced Pakistan in an ODI at Edgbaston. It was the Tuesday after Wimbledon and the European Championships had come to an end, and a depleted team – led by Ben Stokes – pulled off an improbable chase on a beautiful evening in front of a packed crowd. Earlier in the day, Willis was posthumously inducted into the ICC Hall of Fame.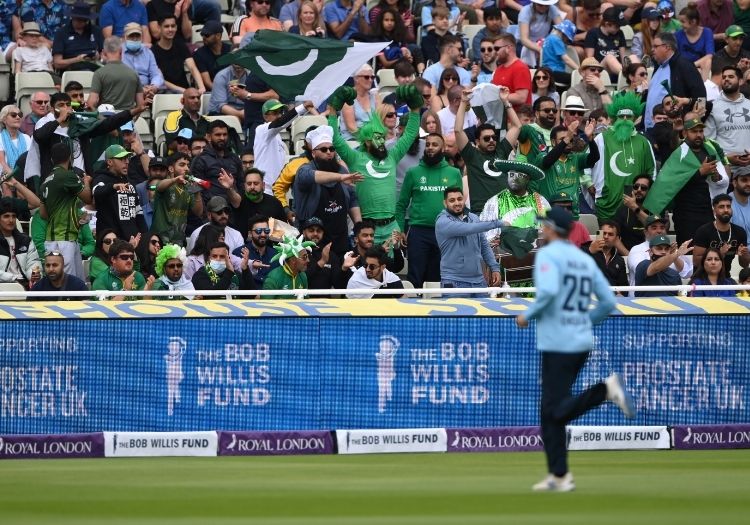 Edgbaston turned 'Blue for Bob' during an ODI between England and Pakistan
"They said they had a million viewers at the end of the game, which is massive," Clark recalls, reflecting on a special afternoon for which she is thankful to Sky Sports and the ECB. "It was our first go at it, and it really couldn't have been any better."
In all, they raised more than £300,000, with Prostate Cancer UK the main beneficiary. She spent much of the day stressing over the amount of money coming in through donations as one of her colleagues provided regular updates. The figure quickly exceeded the target of £100,000 that she had initially set in her mind.
Stokes hasn't played international cricket since then, withdrawing from England's Test squad against India to prioritise his mental wellbeing and rest his injured finger, but Clark makes a point of wishing him well. "We are really grateful to him because him being there gave us some star appeal," she says.
"I wish I hadn't had to be there, and I wish we hadn't had to have a Blue for Bob Day because I wish he was alive. It was a lovely day. I have put myself into quite a lot of situations where Bob is very much in my face still, and I like that because it keeps him alive and everybody else remembers him as well. Sometimes, I don't know how good that is for me in terms of moving on, but he was a very special man. He wouldn't have realised how loved he was. I didn't want him to die in vain.
"Prostate cancer is a hideous disease: it's the No.1 diagnosed cancer in the United Kingdom, but lots of people don't even know what it is or what prostate is."
All being well, Blue for Bob Day will take place again next year, with a match during the ODI series against India one possibility as Clark, who also lost a friend to prostate cancer in 2014, seeks to raise further awareness of the disease.
"There are various versions of it," she says. "Cancer is cancer, but some quite mild versions aren't going to move too much and probably won't reduce your lifespan. But unfortunately, Bob got the worst version of it. When he was diagnosed, it had already spread to his bones. Even though they didn't say that at the time, it really was a terminal situation.
"I would quite like them to be called different things really; lots of people think they know lots of people who've had prostate cancer, and you have your prostate removed and you carry on with life. There are side-effects to that – it's not nice, but it shouldn't affect your lifespan. But once it's spread outside your prostate, it's pretty dangerous.
"If we can tell his story, raise money, raise awareness and ultimately get a better test to diagnose it in the first place, that would be a magnificent legacy for Bob and it would make me unbelievably proud. It's probably impossible, but who knows? There is some good research going on, and it might work – hopefully in the not-too-distant future."
We need to find a better and more reliable test for prostate cancer and help save lives. To support the work of The Bob Willis Fund please go to www.bobwillisfund.org or text Twenty to 70820.
Follow The Bob Willis Fund @bobwillisfund on Twitter, Facebook and Instagram.
Please ensure all fields are completed before submitting your comment!