The pride of James Bracey, an England Test cricketer
NICK FRIEND: By his own admission, the beginning of Bracey's international career did not quite go to plan, but the 24-year-old can look back with philosophical pride on an experience for which he will be stronger should his time come again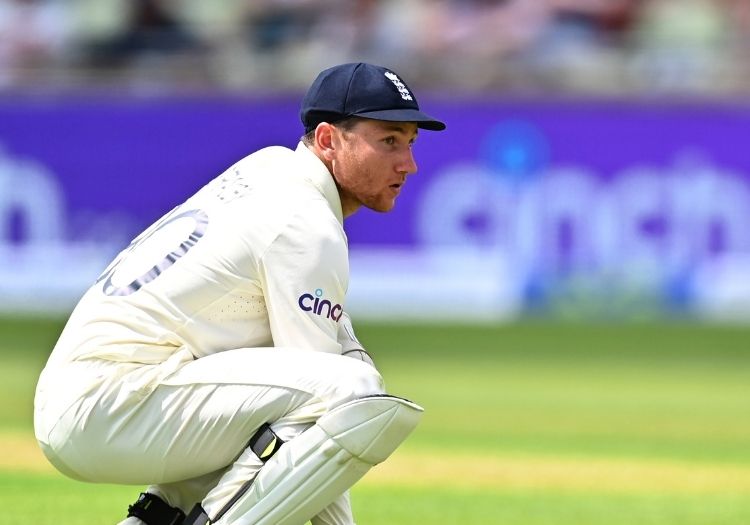 It is the nature of elite sport that young athletes who enjoy early success often only experience failure for the first time once they've reached the pinnacle, in front of the watching world.
For James Bracey, that journey manifested itself in a three-year ascent from university cricket at Loughborough to an international debut during a two-Test series against New Zealand. In between, he made it onto an England Lions tour at the end of his first season as an all-format player in 2019. That was his reward for impressing at all junctures; three years earlier, it had taken him just four games to make his first County Championship century – one of 20 first-class scores above fifty, which is hardly bad going for a 24-year-old.
At the start of this summer, while still 23, he was named as Gloucestershire's vice-captain in red-ball cricket. He began the campaign with half-centuries against Hampshire, Middlesex and Surrey, as well as a match-winning hundred to defeat Somerset's much-vaunted bowling attack.
Then, he faced Kane Williamson's side – winners, a matter of weeks later, of the World Test Championship. Bracey had been selected in the squad as a reserve top-order batsman and backup wicketkeeper but took the gloves while batting at No.7 after Ben Foakes suffered a hamstring injury.
That part of the story has been well told by now: he made eight runs in three innings, falling twice without scoring, and had his keeping almost constantly under the microscope, with England missing their three regular options. Less heard has been Bracey's own response to a whirlwind fortnight that began with his stock at its highest but ended with him "feeling so small".
"It literally felt like all the work I'd done had gone down the pan," he tells The Cricketer.
"That's how it feels in the moment, especially when I got that second duck and got out in a poor manner. You think: why would they pick you again? That's what goes through your head immediately.
"It's easy for me to say now that I feel like I've learnt a lot from it, but at the time it was gutting. It's the worst feeling in the world. It makes you feel so small.
"But I do think that's when you have to be open-minded and you have to be prepared to find ways of dealing with it. Everyone says cricket is a game where you probably achieve what you want to achieve about 10 or 15 per cent of the time from a given game, so I was very lucky that previously I've always stepped up to the mark. But I knew at some point that wouldn't be the case.
"Sadly, it was probably the biggest stage of all. But it is what it is. I've achieved a lot and I'm definitely prepared to keep putting in the yards to try to get back to that international level."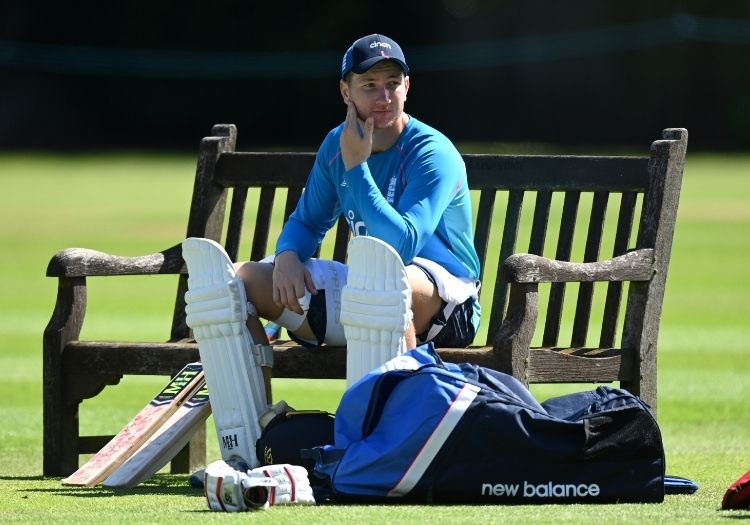 James Bracey made his Test debut against New Zealand in June
Four months on, this is the first time that Bracey has spoken about the experience in such detail, following a personal decision to keep himself to himself that he describes as "semi-deliberate", based on "how I was feeling at that point". It is a stark contrast to the build-up of that series, when he was the principal subject of everyone's previews: Gloucestershire's first Test debutant since Jon Lewis and the beneficiary of a quandary served up by Foakes' misfortune and the postponement of the Indian Premier League, which left Jos Buttler and Jonny Bairstow back in the United Kingdom but not considered for selection.
"The first game – performances aside – I absolutely loved that week," he says. "It was the best week you can imagine as a young cricketer: a debut at Lord's, all the special things that come with it like being presented with your cap, taking the field with an England shirt on. It was really special. I was really happy that I managed to enjoy that week and not to look too much into anything.
"I was brought back down to earth the week after – but again, I really enjoyed it: the Barmy Army was in, the crowd was back, it gave me a real taste of what I want to achieve in my career. But I also experienced one of the downsides of international cricket; it's not all easy, it is difficult. But I'm trying to make the best of that experience, and if I do go back into that environment, then I've learnt some lessons that can maybe only be learnt one way. And it turned out that way.
"I think looking at it, people get ducks. I made a couple of poor decisions as well, I'm the first to admit that. But realistically, it does happen. People go through spells – I think most of the best batsmen in the world have gone through spells like that. It just happened that for me they were my first three innings in an England shirt, it's as simple as that really."
He is reluctant to pin a shortage of runs on his batting position – an unfamiliar role further down the order than what he is used to. Rather, one of Bracey's strengths since establishing himself at Gloucestershire has been his adaptability. "I expected a lot more of myself," he admits.
As for his wicketkeeping, he was "generally pretty happy". It was not perfect – though few come out from Lord's totally unscathed – and plenty of critics lined up to pick apart any errors. But it is worth remembering that 18 months earlier, Bruce French – England's long-time wicketkeeping coach – championed his cause to take the gloves for the Lions in Australia ahead of more established names, while Jack Russell sung his praises to The Cricketer in February as "a naturally talented batsman and gloveman". Neither are bad judges.
Since June, Bracey has been grateful to the ECB, who have continued to be in touch to check in on him and what he's working on. "It's not been a case of all communication being cut," which – on a human level as much as anything else – is reassuring to hear. Thanks to the need for bio-secure bubbles, not many players have spent longer around an England environment ahead of their debut; 11 months before facing New Zealand, he made 85 against James Anderson and Ben Stokes in an intra-squad trial match.
"They've invested time in me from a development point of view. I have to trust that process, that they're going to continue to do that," he says. "But on the flipside, I'm also aware that this might not be anytime soon, it might not be in the next year or two, it might be further down the line. I'm really appreciative that they've put that sort of time into me, and I have to be aware that it might not happen straight away. But I'm really confident that I can continue to work hard. If I get the opportunity, I know how I would do it differently from last time."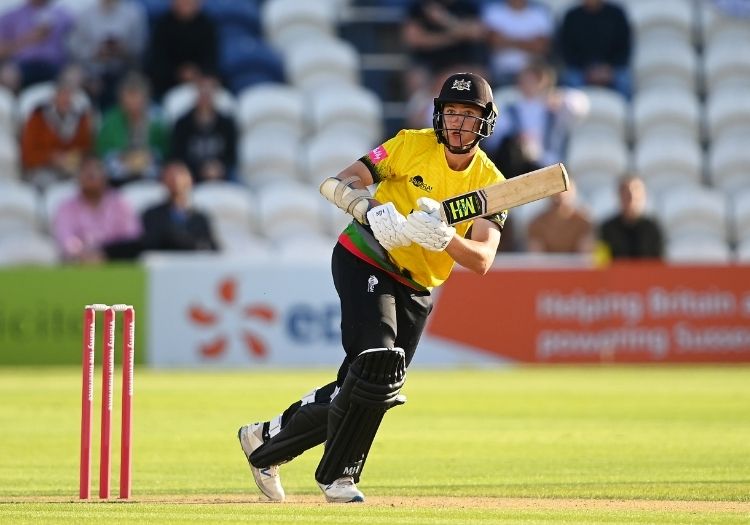 Bracey was named as Gloucstershire's vice-captain in red-ball cricket at the start of the season, skippering in their final game against Durham once Chris Dent had stepped down from the role
By that, what does he mean exactly?
"I think in the time I've had since that series, my goals have changed quite drastically really. When you're building up, your pinnacle is that you want to play county cricket, and then you get to the point where you announce yourself on that stage and you want to play international cricket. I think that becomes your ultimate goal. I think most cricketers would probably say the same. Now that I've done that, the next step is that you want to play more often.
"That's not necessarily going to be 100 caps in a row; not everyone's career is going to take the same path as Joe Root's or Stuart Broad's or James Anderson's. You know, that's it now. There are times when things don't go as planned and you just have to reassess.
"I think with what happened, I've gained a sense of perspective and I'm starting to really appreciate how special it was to play for England. Yes, it didn't go as I wanted it to, but my goals for the future have adjusted to it, and I now know – and I'm in a better place to know – what I want to achieve going forward, not only with England, but I now have more ambition with Gloucestershire, more ambition in other aspects of my life. It has been a really good learning experience and hopefully if I keep performing, I'll get another opportunity."
There really are few more impressive figures in English cricket than Bracey – described by former head coach Richard Dawson as "really self-reliant, self-driven" – so it is little surprise that he has reached a point now where he feels able to reflect on a pretty brutal introduction to the sport's top table.
It was impossible not to root for him: an understated, humble young county cricketer – "I was aware going onto that stage that I was quite unknown" – and a product of the MCCU system, with a family home backing onto his local amateur club and a character vouched for all across the circuit.
He returned to Gloucestershire action soon after his return and struggled for his best form as he attempted to get past his disappointment. "I'd be the first to admit that it wasn't really the same," he says.
In five T20 innings, he reached double figures twice. And although he made 88 in his first four-day game back, he fell cheaply in both innings against Hampshire a week later.
"I felt like I wasn't really in the best place to put in the best performances. I've said that to the guys and I've apologised to them – I didn't have to apologise – but I did for coming back and having that affect my performances for Gloucestershire. It did hit me quite hard.
"I don't think I lost the enjoyment because I was still determined to turn up every day and I was really keen to get out there. But I think it clouded how I was thinking for a while, I guess. That's probably the best way to put it: a hangover from what had happened, from what I'd read and from what I'd seen. I think that caused me to put a little bit more pressure on myself."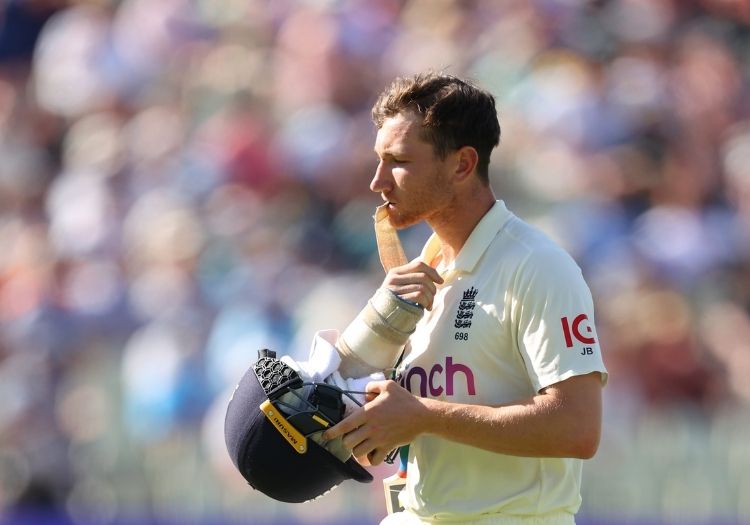 Bracey made just eight runs in three innings with the bat against New Zealand
For two weeks, he was the focus of the eyes of the cricketing world, and the nature of keeping wicket breeds little room to hide: there was plenty of scrutiny – almost certainly more than his entire county career combined – and a spread of opinions across social media.
Bracey – who spent much of lockdown taking an online journalism course – had previously written in an article about the risks of Twitter and Instagram that was published by the Press Association. That piece documented the impact of online abuse on his England teammates and other athletes. At which point, he noted, none of this had personally affected him. Instead, he was a regular user to stay in touch with friends, follow the fortunes of Bristol Rovers and increase his public profile.
Now, however, he has a more rounded perspective, having witnessed its pitfalls first-hand: "Everyone is entitled to their opinion, but I think that's one of the big lessons I learnt – that maybe it's best to stay clear and focus on yourself." His Twitter account is still active, but he uses it much less often than prior to his Test debut.
He adds: "I got a lot of support in that series and prior to that series through social media, so it was great to feel the positive side of it. But I've learnt that it's not the best way to go if you're going to be dropped into that environment because what comes with it as well is a lot of scrutiny and criticism – justified or unjustified, whatever it may be – and that can have an effect.
"It's not always the best way to take all those positives if you're not ready for all those negatives as well. It's down to the individual; I chose to look at it initially, but I realised it wasn't for me, and then I tried to steer clear of it."
Since then, plenty has changed. With Chris Dent's resignation as Gloucestershire captain, Bracey has been put in charge for the final round of County Championship matches against Durham, while he has also started working on an informal basis with Lewis Hatchett, the former Sussex seamer who now helps athletes with mindfulness techniques and yoga. At the moment that amounts to finding a quiet space to practise breathing techniques and be "left alone with my thoughts".
He already used yoga to help his wicketkeeping before dropping Hatchett a message. The partnership, though, has been "brilliant".
"We've been able to develop some tools for me to use when I need to clear my mind of any anxieties or anything like that before playing," he explains.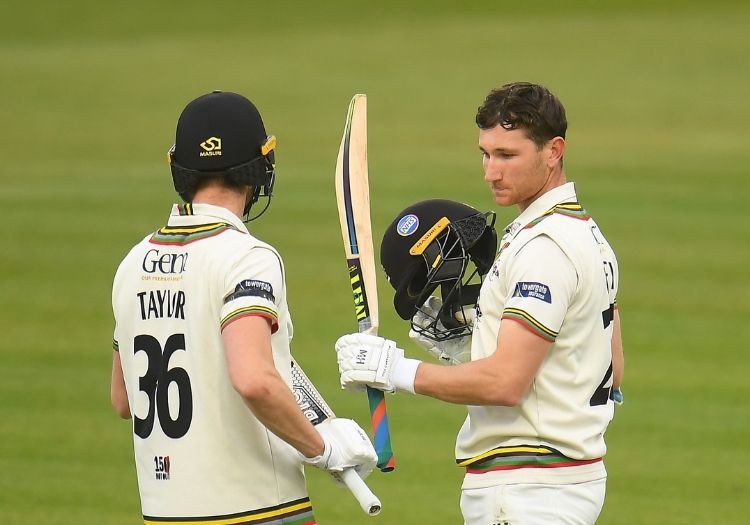 Bracey's sixth first-class century came earlier this season against Somerset
On a similar note, he has learnt to come up for air. Ryan Higgins, his Gloucestershire teammate, told The Cricketer last year that Bracey "works harder than anyone I've met". Ironically, it was two bouts of isolation – his girlfriend and flatmate have both had Covid though he hasn't tested positive yet – that handed him a much-needed opportunity to "refresh and re-energise" after a draining experience.
"I've learnt that rest is so underrated," he says. "Less is more at times. I've always been one who just thinks more is better.
"I've just got more understanding of myself as a person, more understanding of what it takes at that level, what to listen to and what not to listen to.
"I think all of those things together are definitely going to put me in a better headspace to approach my cricket – being able to help others, being able to help myself a little bit more, not just trying to rely on my work ethic and ability alone."
Importantly, however, Bracey is proud of his summer. Not many 24-year-olds are left to captain their county. Three years to the month before his Test debut, he made 73 as Loughborough beat Durham to win a university final. His baggy from those days sits midway up a collection of caps stacked on the chest of drawers in his bedroom. Winterbourne, his boyhood club, is at the bottom.
His England cap hangs on top as an unmatchable peak. "It's pretty surreal to look at it, to know that I've actually got one and that it can't be taken away. If I never play again, then that's how it is, and I've got that. "It's a nice reminder that I'm only 24 and I've managed to achieve all those things. I'm pretty proud of that."
Please ensure all fields are completed before submitting your comment!