Sussex's next generation: How James Coles, Danial Ibrahim and Archie Lenham are setting the trend
NICK FRIEND: Times are changing at Hove, with three record-breaking 17-year-olds coming to the fore. Sitting together, they open up on the journey so far, their studies, parental support and making the step-up from age-group cricket to the real thing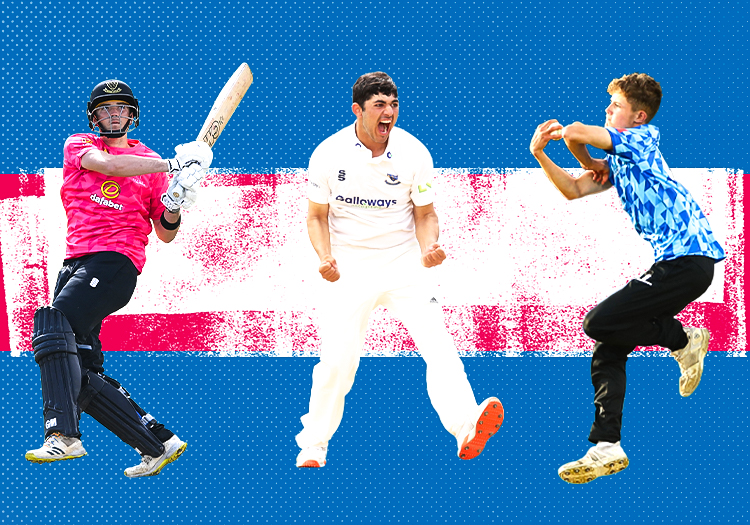 James Coles, 17: Sussex's youngest first-class cricketer. Debut: 16 years, 158 days.
Danial Ibrahim, 17: the youngest person to make a County Championship half century. Debut: 16 years, 298 days.
Archie Lenham, 17: the first player born after the advent of the Twenty20 Cup to feature in the T20 Blast. Debut: 16 years, 323 days.
Over Zoom, it is easy to forget at times quite how young they are; the trio are sat together in their training tops, speaking into Coles' iPhone and chuckling away among themselves. They are not old enough to be included on the squad WhatsApp group, and this joint interview request took longer than usual, as Sussex's media manager sought permission from their parents.
But beneath that teenage innocence, there's a maturity which makes it easier to comprehend a situation almost without parallel, where a county side looks so much like its youth team yet behaves just like a senior team ought.
"It's quite hard to realise that you're actually doing your dream," says Coles. "But you also realise that it's now what you're doing, so you have to perform. You can't be expecting to just keep ticking; you have to produce otherwise it's not going to last for that long.
"There is still so much stuff for us to achieve in our careers, so we have to keep working hard to make those happen.
"But also, they do try to make you realise that what you're doing is quite special and that we should be grateful for the opportunity. It is really nice."
It's a remarkably considered reflection from an impressive teenager, who might just have come onto the scene with the least fanfare of the three, earning his opportunity in the Bob Willis Trophy, a competition which created 30 debutants in a matter of weeks. Lenham, such is English cricket's obsession with leg spin, and Ibrahim, given his landmark fifty, have enjoyed higher-profile introductions.
Next month, however, they will be back at school, beginning their final year and studying for important exams. "It's not ideal," laughs Coles. He will be revising for A Levels in maths, economics and physics, Ibrahim and Lenham for BTECs in sport and business. And university? "I look into it quite a lot. I'm still trying to weigh up my options and whether I should go or not, but we'll cross that bridge when we come to it."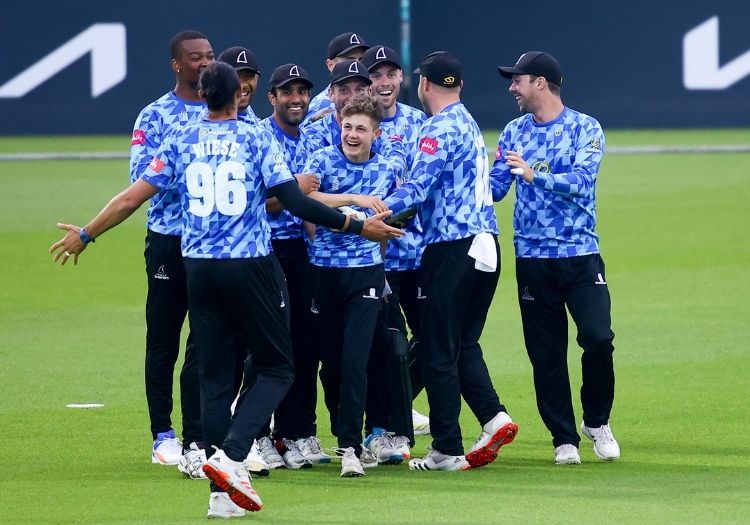 Archie Lenham is mobbed by his teammates after running back from short fine leg to catch Jason Roy in the T20 Blast
When Sussex won their maiden four-day title in 2003, Luke Wright was playing against them for Leicestershire. He was at the start of his career – an 18-year-old on first-class debut. Murray Goodwin finished unbeaten on 335 and Chris Adams' side won by an innings to clinch their crown. None of Coles, Ibrahim or Lenham had been born. Wright, once upon a time English cricket's next all-round hope, is their T20 captain now.
They are the teenagers at the forefront of a new generation on the Hove seaside, and this is a transitionary period perhaps as extreme in its youthfulness as the domestic game can claim to have seen in recent history: Sussex's under-17 starlets faced Essex in a three-day game in 2019 and seven of that cohort have played for the first team this year.
It began last summer in the dying embers of Jason Gillespie's tenure, with the unveiling of Coles, Jack Carson and Henry Crocombe. This season, under Ian Salisbury and James Kirtley, more have followed: as well as Lenham and Ibrahim, Oli Carter, Jamie Atkins, Tom Clark, Sean Hunt, Joe Sarro and Ali Orr have emerged from the production line. None are older than 20, but all have individually shown a potential that should excite the locals and, crucially, should give them, as children, a sense of confidence.
"I'm sure we can all vouch for this, but the point where you score your first boundary or take your first wicket, you realise that actually you kind of do belong where you are," says Coles. "I definitely noticed that, getting my first wicket. I thought: 'I can definitely kind of do this.'"
He turns to his mates for reassurance: "I don't know how you two felt?"
They do this a lot, checking in with one another – it feels delightfully natural, no doubt the consequence of having developed their games in the same dressing room: Lenham and Ibrahim have played all their junior county cricket together and are now both at Bede's School, while Coles joined their age-group side when he moved over from Oxfordshire. "Virtually every game we were playing with each other," he says, on behalf of all three.
"I was the same," Lenham concurs. "When you get a bit of success or do something well – you hit a boundary or take a wicket – it makes you feel easy out there and makes you feel like you belong and that you can actually compete with those guys.
"It's pretty crazy, to be honest. I was talking to Oli Carter, he was just saying how it's so weird that we've all been playing in the academy and the age-group stuff and now we find ourselves playing at the top level. It's pretty surreal, but it makes it so much easier because you know that everyone on that pitch has your back."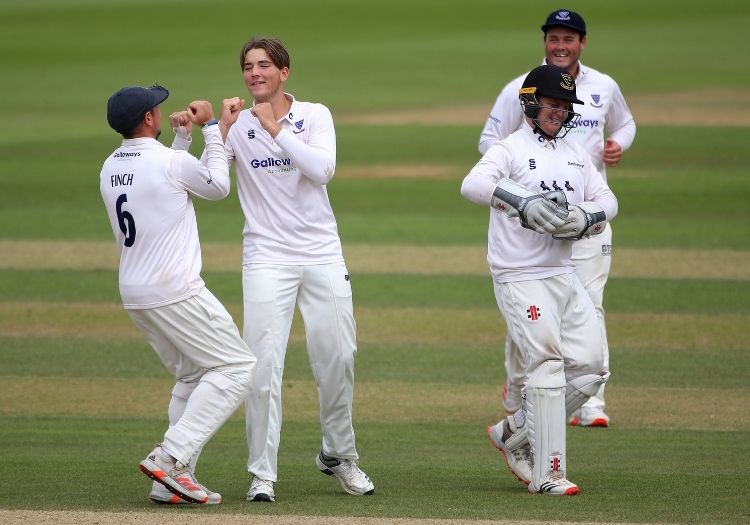 James Coles celebrates his maiden first-class wicket - that of Ben Foakes - in last year's Bob Willis Trophy
Because, it goes without saying that they have been asked to take an almighty jump. For some further context, all three remain eligible to play for Sussex's under-17 side when the time allows in a summer that has become rather busier than they initially imagined.
"It's still always good to see them and to see how they're doing as well," says Ibrahim of his junior teammates, who may well make it to the senior ranks as well, albeit not as early in their cricketing lives. It is a reminder of quite how young they are, quite how quickly this has happened and, pleasingly, quite how well grounded they have remained, even as their stock has risen.
"I'd like to play for them again," adds Lenham, whose first-team schedule hasn't afforded him that opportunity yet since making his Blast bow.
Against a Middlesex under-18 outfit in May, Ibrahim and Lenham opened the batting, with Coles at No.3. Just before the start of the Royal London Cup, Coles turned out in an under-17 T20 "because I was free and there was a game on". As a contracted pro, was he treated any differently?
"I don't know," he ponders. "I guess you know that they know you, but they don't really make it that obvious."
Crocombe, their teammate, explained to The Cricketer last year the extent of the substantial leap from playing against his schoolboy peers to being chucked into the real thing. Bowling an 80mph bouncer at academy level, he said, made him a fearsome prospect and a big fish in a small pond. But bowl the same ball at Alastair Cook, for example, and his fielders might well be collecting it from the midwicket boundary.
"There is definitely less margin for error," says Ibrahim, who has shown off his skills as an allrounder. "You have to be pretty much pinpoint or otherwise you will go the distance. As a batsman, the bowlers don't bowl you many bad balls – they're very accurate, so you just have to stay patient and trust your ability."
Coles adds: "It is a lot harder; you just get fewer free balls to score off, so you just have to try to get better at scoring off their good balls and stuff. And then, you just have to bowl as consistently as possible because you know that if you get it slightly wrong, it's going to go for four."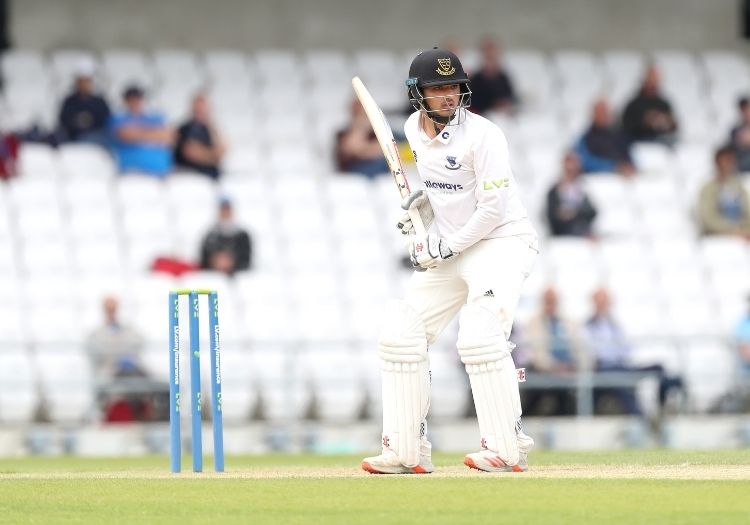 Danial Ibrahim bats on first-class debut against Yorkshire on his way to a record-breaking half century
These are the lessons to be learnt as an absolute novice, and there is no doubt that Sussex's approach comes with risks attached. We are talking here about a group of youngsters without much of a reference point in a squad where there is only limited knowhow to lean on. With so many of the county's white-ball guns on Hundred duty, Jofra Archer injured and Ollie Robinson away with England, that experience currently extends as far as Ben Brown, David Wiese, Will Beer and Travis Head.
But the more you watch these teenagers in action and listen to them speak, the more you sense that they will make this work. They are green, exuberant, vulnerable, gutsy and skilful in equal measure. The talent is there, most certainly.
As Coles puts it: "There's definitely a noticeable step-up, especially as we're not that experienced so we don't really know our games as much as a 20-year-old who makes their debut does. It's quite hard to try to stick to what you know what you're good at when you don't really know that you're actually that good at it yet."
The other side to that, though, is the excitement in a long-term strategy for which the club needs its supporters on board. The plan is for this batch of youngsters to represent Sussex's future as a long-term core. It will require plenty of patience and perseverance from the membership and a healthy amount of trust in the process. After the departures last autumn of Danny Briggs, Laurie Evans and Luke Wells, it seems likely that more senior players will leave as well in the coming months.
There will be bumps in the road as they learn about professional sport, and how Sussex navigate the difficult balance of developing a young team in a results-driven industry will be a fascinating subplot over the coming seasons.
Already in the Royal London Cup, a winning position against Lancashire has slipped away – "we should have won that; they're probably, arguably, the best side in our group," says Lenham – while a fabulous ninth-wicket partnership between Lenham and Carter dragged them from oblivion to the brink of a seismic achievement against Gloucestershire, only to lose in agonising fashion once again. 
Lenham was run out with five needed. When the square leg umpire raised his finger, he sank to his knees in desolation.
That effort from 141 for 8 was led by an extraordinary counterattack from Carter, 19, a wicketkeeper-batsman of considerable ability, who has played for Eastbourne at club level with Lenham, Crocombe and Orr through his youth. The scenes if they had squeaked over the line would have been tremendous, in front of an increasingly raucous home support.
And so, it was difficult as a neutral observer not to feel somewhat chuffed for them when their first victory did come – a two-wicket win over Worcestershire. It has the feeling of a significant result and the sort of day that might be reflected upon in the future – if not in the context of the league table, then as a major fillip for a team featuring six teenagers and eight players under the age of 22. The sooner they realise they are good enough to win, the more you sense they'll do it.
Lenham took four wickets on his List A debut in the Royal London Cup
"Virtually every chat we have, we know that we're still young and stuff, but we're competing really well," says Coles. "There have been games that we probably should have won, and we always talk about how this is the start of our journey together. With the age of the team, the plan is to try to be playing together for a good five more years at least. It's quite nice to know that these are the guys we're going to be playing with for quite a while.
"I think [people] know that this year is probably not going to be the most rewarding, results-wise. But I think we're just trying to take it as long-term as possible. I guess in the short run it's not ideal; but hopefully in a few years' time, we'll be winning."
And for the moments when the going does get tough, all three have decent sounding boards to fall back on at home. Coles' father, Jon, played for Buckinghamshire and later managed the minor county; Ibrahim's father, Kashif, played first-class cricket for Karachi and for Pakistan at under-19 level; Lenham's father, Neil, and grandad, Leslie, played 492 first-class games between them for Sussex, while his older brother, Scott, 19, has turned out for the county's second team.
"I don't think I've ever seen my mum cry this much in my whole life," reflects Ibrahim, the youngest of the trio and the most reserved in our chat, but a lovely talker when conversation turns to family life. "It's obviously quite a special feeling when they're proud of you and you've achieved what you've dreamt of doing."
On his dad, he adds: "The knowledge that he has, not a lot of people have. It's obviously great that he can give me all of that and coach me when he has the time. It's always good to have that on the side."
Lenham, for whom the club runs in his blood, is similarly poignant: "They're proud of me; they've always tried to help me get to this place. Now I'm here, I've just started. They've; come to watch most of my games, which is nice.
"They've always helped me when I've needed to ask things about cricket or needed advice. They're always giving me the right answer to help me get to where I am. I always wanted to be a cricketer and always wanted to be like dad, so I'm not carrying on the name. I'm just trying my best."

He's not on Twitter but has flicked through Instagram from time to time to soak up what people have been saying. "At the moment, it's all been pretty nice stuff, but I might have to stop looking at it too much if it doesn't keep going like this," he jokes.
Ibrahim's parents, too, have been searching. "They're quite proud just looking at it," he says.
Coles, on the other hand, has avoided social media where possible: "I don't really go on Twitter because I just feel like that's such a forum to get abused, so I try to stay away from that. I don't really pay attention to a lot of it."
His first wicket was that of Ben Foakes: a perfect left-arm spinner's dismissal, pitching on middle stump and turning past the outside edge. Ibrahim's was Yorkshire's Tom Kohler-Cadmore, a fearsome ball-striker and a formidable adversary for a teenage seamer. For Lenham, his first wicket came during his Blast debut, on the night that he became the tournament's second-youngest player behind Hamidullah Qadri. He had Gloucestershire captain Jack Taylor caught on the rope. Among his teammates is Ravi Bopara, who played in the Blast's inaugural edition a year before his birth.
Asked if the names of those batsmen will live with them forever, Coles jumps in: "Definitely. They're big moments."
He was on the team coach travelling to the Kia Oval when Gillespie surprised him with the news that he would be making his debut – far enough in advance that he "lost a bit of sleep overnight, thinking about what might happen" but also sufficiently ahead of time that, with fans unable to attend due to the pandemic, he was able to tell his family to make arrangements to get in front of a live stream. 
Likewise, Lenham. He had already been picked in the squad when Kirtley, who was a teammate of his father, dropped the bombshell about 90 minutes before the start.
"I didn't think I was going to play," he says. "I was just thinking that it was a great opportunity to be around these guys and see how they do it."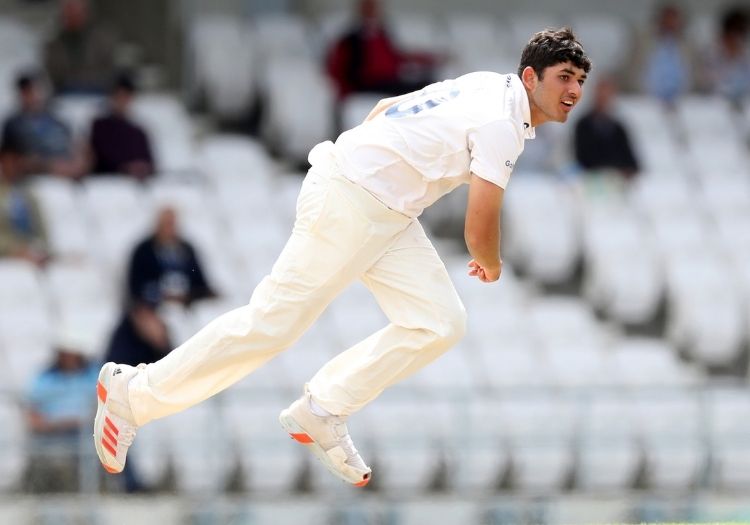 Ibrahim's dismissed Tom Kohler-Cadmore for his first professional wicket
Ibrahim, meanwhile, was playing for the second team when Kirtley pulled him to one side. "He said to me: 'can I just have a quick word with you at the end?' I got a bit worried because it's a one-to-one chat with the head coach. He just said that there was a possibility that I might be going up to Yorkshire, which I was quite surprised about. I went to training and Ian Salisbury told me that I was in. It definitely surprised me. I didn't too well in the second team, so it was quite surprising that I got given the chance this early."
And the half century that gave him a record in a 131-year-old competition as the youngest in a field of 7,188 county cricketers?
"I got off the mark with my first ball, which was quite nice to calm all the nerves," he says. "So, I didn't have to worry about when I was going to get my first run and stuff like that. And then, I was not out overnight, but then you have to start again the next morning, which is a completely new thing, so that was quite nerve-wracking as well. But as soon as I got going again, it was nice."
Since then, they have settled into the rhythm of their new environment: Ibrahim has made two fifties in three first-class appearances, while Coles bowls his left-arm spin like a man with far more experience under his belt than a boy born in the same month as McFly's debut single. It is Lenham, however, whose performances have captured the imagination to the greatest degree.
English cricket loves a young leg-spinner: there are shades of Mason Crane in the sprightly vigour of his run-up and his boyish enthusiasm. That Lenham took 10 wickets in his first nine matches in the Blast is a staggering feat given the circumstances – all with an economy rate of just 7.71, while adding a four-wicket haul on his List A debut.
"I think it's been a confidence thing," he explains. "I had nerves before my debut but with all the experience they all have, it really helps. Before I bowl, at the top of my mark before my first ball of every game, Chris Jordan or Luke Wright come over and say: 'I don't mind if you get hit for a six or two – just try to get me a wicket and get us in this game.'
"It's big for my confidence; it means I can relax a little bit more and I don't have to be too worried about being hit out of the park. It's probably going to happen – I'm 16, 17. It allows me to keep concentrating and trying to get wickets.
"Because our T20 side has a really well renowned bowling attack, realistically I'm probably the weak link in that, so they come after me and that gives me the chance to take wickets."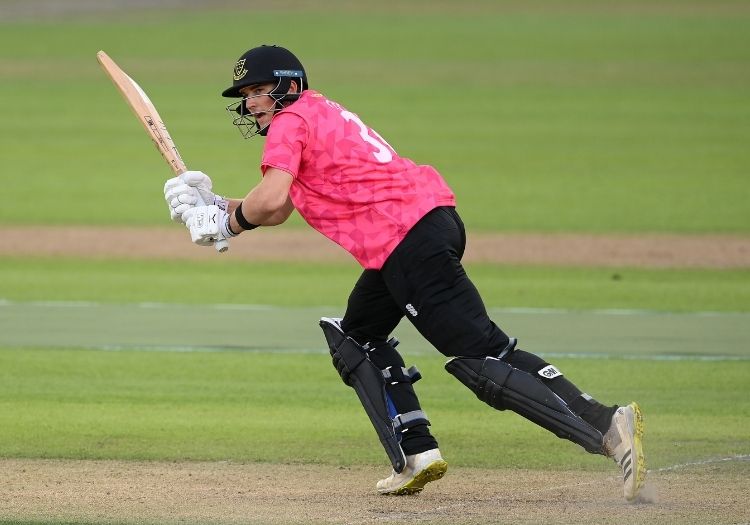 Coles has quickly asserted himself as an allrounder in Sussex's young side
There is almost certainly some truth in that, but Lenham has more than held his own. With the bat, too, he has looked like anything but a tailender – the kind of player who will find his way up the order rather quickly as he grows and adds strength to his frame.
It has been a summer for learning: during the Blast, he found himself playing alongside Rashid Khan, who became an impromptu mentor and one-on-one coach in training. 
"I spent a lot of time with him luckily," he says. Khan would make a beeline for the youngster whenever he was bowling in the nets, standing with him at the start of his run-up and offering advice. "I took a lot from him: things like holding the ball not as tight so I can use my fingers to bowl it a little bit quicker."
For a 16-year-old leggie, as he was at the time, it sounds like the stuff of fantasy. But it has become the reality for these likeable youngsters, even if none of this would have seemed remotely feasible at the start of last season.
Coles chuckles. "It is quite weird actually. I've always wanted to do it, but I didn't realise it would actually happen."
Now that it has, you sense this is just the beginning, and it would take a chilly heart not to wish them well on their journey. What a thrill to be in their shoes, living the dream at 17.
Please ensure all fields are completed before submitting your comment!