Tom Haines' coming of age
NICK FRIEND: As red-ball cricket prepares for its July resumption, only three men nationwide have scored more runs than Haines, an impressive 22-year-old in a Sussex side increasingly looking to him as a leader in their young squad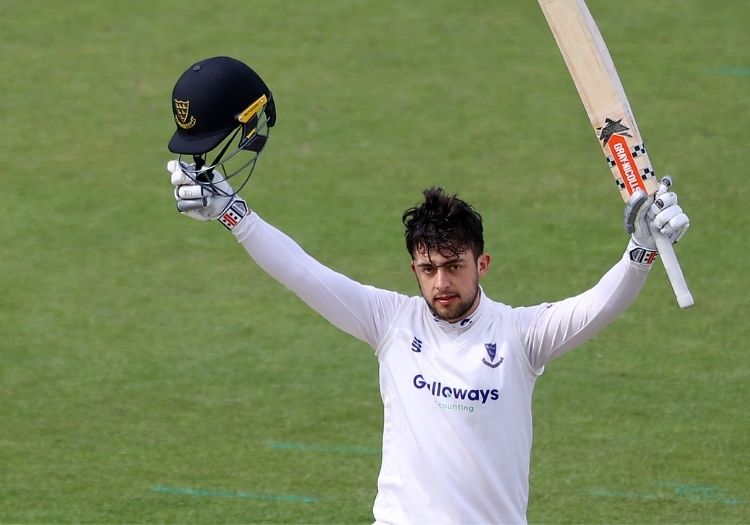 When the County Championship returns after its monthlong hiatus, Tom Haines will resume as a satisfied customer. He will mark his guard with 648 runs to his name across Sussex's opening eight matches, the fourth-highest haul in the country.
Haines is different to most of his peers, and perhaps among the better-kept secrets in the domestic game. He has churned out more runs since April than accrued Twitter followers in the five years of his account's existence. His Wikipedia page gives details only of his birthday, county, nationality, left-handedness and occasional medium pace: all in just 29 words – the same as his number of first-class appearances to date, an article quite literally as brief as his professional career.
But beyond that inexperience is a fast-growing sense of leadership; Haines is a 22-year-old in a squad so young that when Ben Brown's team splits into two for its pre-match warmup exercises, he joins the senior half. In the last 12 months at Hove, there have been debuts for 16-year-olds James Coles, Danial Ibrahim and Archie Lenham, as well as a wider emphasis on offering exposure to a raft of homegrown talent. All of a sudden, his own bow – when he was just 17 himself – feels a long time ago.
As a consequence, Haines has felt a swelling of his responsibility on his shoulders: "The quicker I can learn to think like a leader and a senior player, the better it will be for me," he knows, enjoying this new position as an influencer in a group building for the future.
"I've definitely felt that this year. Even when I'm out there batting, I've said this to a few of my coaches: I don't feel like a kid or a teenager playing first-class cricket anymore. I feel like I'm just one of them and that I'm just as good as any of those guys."
He can trace that mindset shift back to the winter, when the departure of Jason Gillespie as head coach brought forward the combination of Ian Salisbury and James Kirtley, who have split the role between them. Simultaneously, there was a changing of the guard among the playing staff: the backbone of the previous era moved on, with Danny Briggs, Laurie Evans and Luke Wells all leaving. In their place, Sussex opted for a long-term investment in its own production line: Jamie Atkins, Sean Hunt, Henry Crocombe, Jack Carson, Ali Orr, Joe Sarro and Tom Clark have been afforded opportunities, while Oli Carter was among the latest recipients of a new contract last week.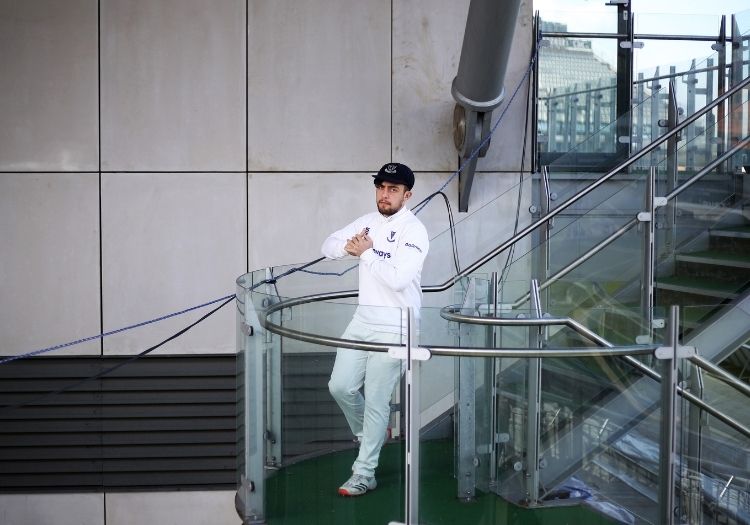 Tom Haines has become a leader in a young Sussex side
And then, there is Haines, trailing only Durham's David Bedingham, Worcestershire opener Jake Libby and Derbyshire allrounder Matt Critchley in the national run-scoring stakes. "Performances help," he laughs, pausing for a moment as he attempts to put his finger on the foundation of an increased self-belief. That is true, of course, but those performances at a traditionally bowler-friendly stage of the year – a career-best 155 against Lancashire in his first knock of the summer, 86 and 87 against Yorkshire and Glamorgan, 103 against Northamptonshire – have their roots in what came beforehand.
"It was just the way I was given a new level of responsibility over the winter," he explains. When Phil Salt and Ollie Robinson disappeared over the winter months for T20 franchise commitments and England duty respectively, Haines was added by Salisbury and Kirtley to a newly created "leadership group" that drove home to him the esteem in which he is held by his bosses.
"They just said that they wanted me to be part of this and to drive this group forward. That, from the coaching staff to me, was quite a big thing. It made me think that they do see me here for the longer term. It gave me a sense of security, but also a sense of drive. It really motivated me. This winter, I trained harder than I ever have."
His eureka moment came in a conversation with Alastair Cook, and it is an enormous marker of the former England captain's selfless will to assist the next generation of English talent that so many young players on the circuit currently seem to have a similar story to tell of tapping into his wisdom.
In Haines' case, they spoke after Essex's three-wicket victory over Sussex in last year's Bob Willis Trophy: two left-handers – one at the beginning of his journey, the other having seen all there is to see, both with a special appreciation for the red-ball game. Haines, at this point, is yet to play a limited-over match at first-team level.
"Cook said: 'The only thing I can say to you guys – I can't tell you how to bat – is that you need to hit more balls than anyone else,'" he recalls.
So, what did Haines do through the winter months? "I hit loads and loads of balls. I have realised what it's going to take for me to be successful, not only at first class level but my dream is to end up playing for England. And that is how it's going to happen."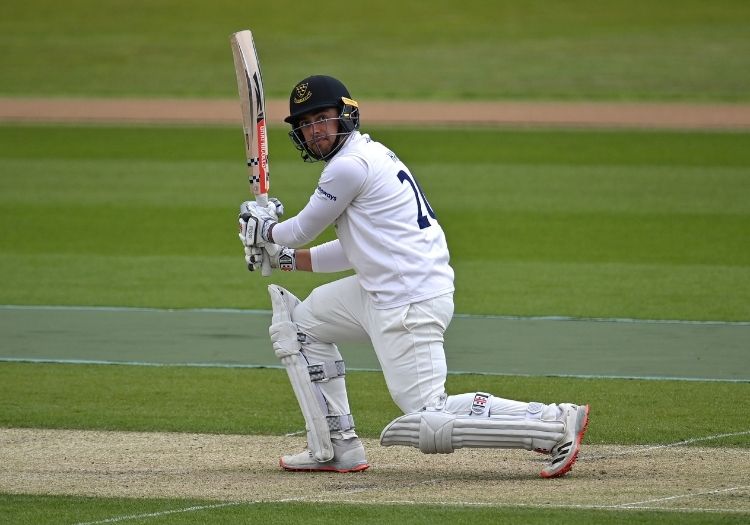 Haines spoke to Alastair Cook last year about what was needed to score consistent red-ball runs
Vindication came immediately in Sussex's season opener – a knock that has paved the way for all that has followed.
"Obviously, the first game against Lancashire where I got the century, that helps. It just sets you off. It's just getting into the rhythm of scoring runs again. Unless you're playing all winter, you do forget. You can have as many nets as you like, but runs are what matter – and finding ways to score them. Building an innings is what it's about. I rode my luck at the start, but I felt like through all the work I did over the winter, I really trusted my defence. And when the ball was in my area, where I knew I could hit it for four, I made sure I did."
There is a touch of the old school about his approach; Haines has faced almost 3,000 deliveries in his first-class career and has hit just two for six. "I do feel like red-ball is my focus," he adds. "My dream as a young player was to play Test cricket for England. That is the pinnacle for me."
To this juncture, that is how things have panned out: Sussex's white-ball riches have so far prevented a debut in the shorter formats, though The Hundred's collision with the Royal London Cup will likely open the door for Haines to show what more his game has to offer. He insists: "I've said it to the coaches here: I don't just want to sit and watch when Sussex play white-ball cricket. I want to be involved; I play it in the second team, and I love it. It's an aim to play for Sussex in all formats."
Born in nearby Crawley, Haines is a product of the club's youth system. His route to becoming an established member of his home county has perhaps been unusual in today's world, proving himself in four-day cricket rather than the other way round. His debut, in 2016, came against Kent, falling to Darren Stevens without scoring before succumbing later in the same game to Hardus Viljoen: two vastly different threats – a decent advert for the challenges of opening the batting in the County Championship as an untried teenager and a touch ironic, given the upsurge in pace that Haines had anticipated ahead of the step-up from age-group cricket to the real thing.
"I remember standing on the balcony, nervous as anything," he says. "I saw Viljoen, so I thought he'd be opening the bowling. But it ended up being Stevens up the hill and Matt Coles down the hill. I ended up facing five balls of Stevens and getting out."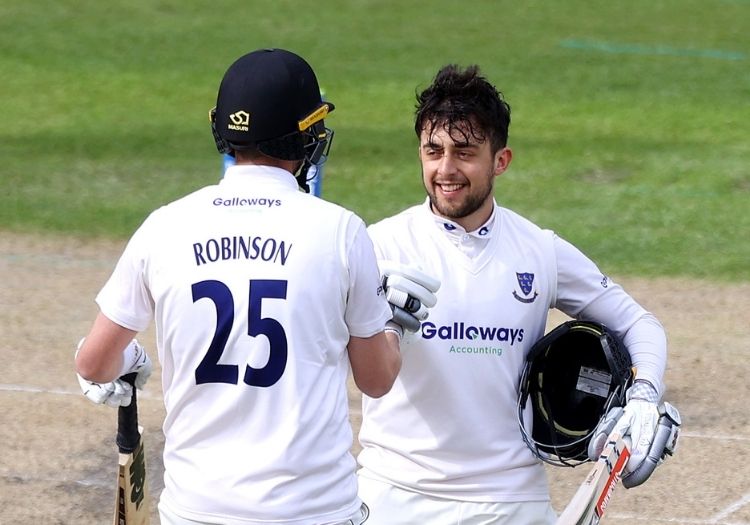 Haines has doubled his number of career centuries this season
There is a reason for that anecdote; Haines is reflecting upon the years before this fruitful summer, when his game had not quite clicked and his maturity was still a work in progress. Crocombe, his teammate and a seamer of considerable promise, has previously spoken to The Cricketer on precisely the same subject of the gear change required when youngsters make the leap from junior to senior cricket.
"I think there is a period of time when you just have to let someone adapt because it's such a big difference," says Haines, whose maiden hundred came two years after his first-class debut, before a further 18-month wait to replicate the feat.
"Going from school cricket, club cricket, second team cricket and age-group cricket, it's just such a big step-up. I think it's a mental switch more than anything: you go from being the best player to just being one of everyone else. But everyone you're playing against now has been in that position."
It is why these recent exploits have meant so much. By his own frank admission, the 2019 season was "one of the biggest learning curves" of a short, still-fledgling career. He averaged just 21, with 93 of 252 runs coming in a single innings out of 12.
"Being dropped and then being in and out of the team and the squad; not scoring the runs I wanted to, even in the second team; really figuring out my own game, what my strengths are and what I had to do to score runs, I had so many emotions that year," he says.
"I went through phases of not enjoying it, really wondering whether I was good enough for this. But what I think I did quite well was that I didn't show it emotionally towards the team or anyone. I kept it quite inwards and tried to manage it myself."

So, the Bob Willis Trophy century against Surrey that ended the truncated 2020 campaign could scarcely have come at a better time as proof to himself of his ability. "It was just a massive relief," Haines admits, "but also one I felt I had really worked for and deserved."
And he hasn't looked back since. "I would never have thought at the start of the season that I'd be top five or top four in the country, but it has been really nice," he reflects.
"It has been really eye-opening to see what I can do, but it's more like a motivation for me. I want to be top by the end. It's more like a driver for me. If I've got here, I can go better. I want to help this team win things in three years' time. I feel like it's possible, I really do."
And with Cook's advice still ringing in his ears, conversation ends as he arrives at training, with balls to hit and runs to score.
Please ensure all fields are completed before submitting your comment!