LV= Insurance Pride of Cricket Awards 2022 shortlists announced
Forty-two entries have reached the voting stage of the competition. The public vote accounts for 50 per cent of the overall judging in each category, with the other half decided by a jury of cricket writers and representatives from LV= Insurance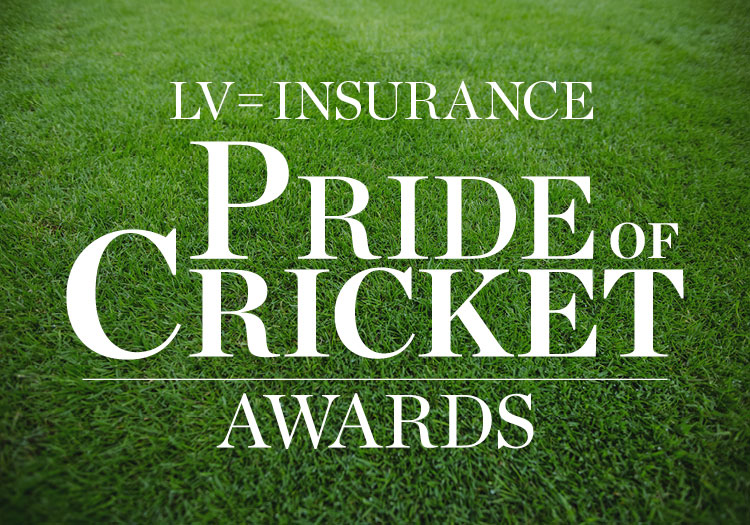 The 2022 LV= Insurance Pride of Cricket Awards shortlists have been revealed, with 42 entries reaching the voting stage of the competition.
Tales of compassion, creativity, kindness and dedication from across the game in England and Wales are highlighted on the shortlists, which cover six categories: the Pride of Cricket Award, Club Hero, Media Hero, Community Hero, Fundraising Hero and Young Hero.
Voting is now open via the links below, with the ballots set to close on Wednesday, October 5 at 5pm.
The public vote accounts for 50 per cent of the overall judging in each category, with the other half decided by a jury of cricket writers and representatives from LV= Insurance.
Jonathan Mansley, LV= General Insurance Sales and Marketing Director, said: "LV= Insurance would like to congratulate all nominees for this year's awards. The grassroots community is truly at the heart of cricket and the nominees represent the very best of those who contribute so much to the game up and down the country.
"For the second year we have been involved we were once again delighted to see so many nominations and hear some absolutely fantastic stories."
The Cricketer's digital editor, Sam Morshead, said the strength and breadth of nominations had once again been hugely impressive.
"Every year, the LV= Insurance Pride of Cricket Awards throws up dozens of incredible stories about ordinary people doing amazing things, all in the name of their local club and the game of cricket - and 2022 has been no different," he said.
"I'd urge everyone to spend a little time reading the mini biographies of each of our shortlisted entrants to get a sense of just how much good is done in the sport across England and Wales each year."
The winners are expected to be announced in mid-November.
The full shortlists are as follows:
LV= Pride of Cricket Award (for a lifetime's or exceptional service to the game of cricket)
Chris Weston, Liverpool & District Cricket
Marcus Berkmann, Rain Men CC
Ross Baker, Beaminster CC
Keith Behagg, Little Hallingbury CC
Andy Major, Newdigate CC
Jim Sandford, Eastnor CC
Nigel Stannard, Corfe Mullen CC
Robin Mills, Mistley CC
VOTE FOR YOUR PRIDE OF CRICKET AWARD WINNER - CLICK HERE
LV= Club Hero (for outstanding work to the club cricket world - either in a single instance or over the course of a lifetime)
Clive Finney, Little Stoke CC
Jon Buckley, Thames Ditton CC
Tom Foreman, Swindon CC
Jason Rochelle, Hadfield St Andrews CC
Neal Wilkinson, Bacup CC
John Williams, Rainford CC
Justin Owen, Grimoldby & District CC
Murray Saunders, Harvel CC
Rob Franks, Parley CC
Nigel Theobald, Derbyshire Disabled CC
Raj Sudat, Sheldon Marlborough CC
Tim Ives, Swanage CC
David Alloway, Knaresborough Forest CC
VOTE FOR YOUR CLUB HERO - CLICK HERE
LV= Media Hero (for outstanding work in promoting the game across any and all media)
Jackson Bentley, The Cricket Kid
Mark Church, BBC London and Surrey CCC
Adam Hope, Lowerhouse CC
Sam Brandon, Buffalo Cricket
Lancs TV production team, Lancashire CCC
VOTE FOR YOUR MEDIA HERO - CLICK HERE
LV= Community Hero (for outstanding work in promoting the game in the community, furthering cricket's reach, or introducing new individuals or groups to the sport)
Kay Baig, Manchester Bee United
Frimley CC
John Green, North Yorkshire cricket
Tom Gailey, Harnham CC
Kevin Burton, Mersham Sports Club
Ian Biddle, Alcester & Ragley Park CC
Steve Bodell, Haddenham CC
VOTE FOR YOUR COMMUNITY HERO - CLICK HERE
LV= Young Hero (for outstanding work in community cricket by a young person)
Ben Lane, Cam CC
Rohan Handa, Cricket Nuggets
India Reilly, West Mercia CC
Emily Vandersteen, Congleton CC
Lily Byford, Great Barrow CC
VOTE FOR YOUR YOUNG HERO - CLICK HERE
LV= Fundraising Hero (for outstanding work generating funds for grass roots cricket or by using cricket as a method for fundraising)
Dr Chris Neil Gunn, Fulwood and Broughton CC
Andrew Derham, Horley CC
VOTE FOR YOUR FUNDRAISING HERO - CLICK HERE
Please ensure all fields are completed before submitting your comment!