Debuts last forever: How the last month opened the door for a new generation
NICK FRIEND: Thirty players made their first-class bows in the Bob Willis Trophy - ranging from 16-year-old James Coles to Jack White at 28. Here, nine of the debutants open up on the pride in achieving their dreams after fears of a wiped out summer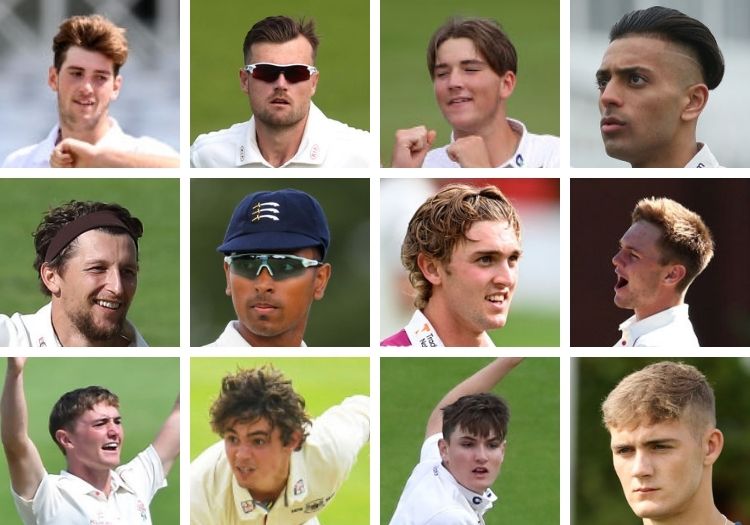 Debuts last forever: the cap presentation, the shirt number, the first ball bowled, the first run scored, the conversation with the coach who lets slip the big news, the phone call home to relay the secret. They are moments to be cherished, never to be taken back.
For those who go on to enjoy fruitful, accolade-filled careers, these days will act as unforgettable footnotes – reminders of the long road taken, of where it all began.
For others, appearances in this year's Bob Willis Trophy might be as good as it gets. Elite sport is a ruthless beast, after all. But even then, they will always have these first memories – the summit atop a mountain of childhood ambitions.
And this season has become a breeding ground for debutants. Even from the outside looking in, there is no better feeling than to be introduced to a new face: a sign – especially in this unusual year – that the world continues, even if it appears to have ground to a halt.
Writing for this website only last Friday, Paul Edwards mused that "to see a young player make his debut in September is to be reassured about the return of spring even before autumn has flamed its first farewell".
Without the burden of promotion and relegation, the pressure around selection has lightened; opportunities have been afforded where they were once at a premium. Enforced absences have played their part, no doubt; and in the exceptional circumstances of these months, there have been more of those than ever before.
But to those stepping out for the first time, none of that matters. Each individual has their own story to tell: days and nights spent on motorways traveling to and from distant games, the resolve to embark on brave decisions and commit to sacrifice, the resilience to keep coming back after each rejection, the times during lockdown when – faced with the realistic fear that this summer might see no cricket – thoughts turned to whether untried youngsters might become the collateral damage of an impending financial crisis.
"There was definitely a bit of relief in making it," Ed Barnes tells The Cricketer. "I'm 22 now. It was like: 'if I've not made it now, am I ever going to make it?'
"In the first few weeks of training, everyone wanted to be in that first squad. And when you're not in it, you're thinking: 'Jesus, we're not allowed to play club cricket. I'm not in the first squad. This could just be a long two months of training.'"
The Yorkshire seamer was sent on loan to Derbyshire in search of cricket at the start of August, with the lack of any organised second team competition this season only adding to a general trepidation that he – and others in similar positions – might go a year without any meaningful action. The same has been true with amateur cricket, where counties have taken different approaches in handling professionals' availability for their clubs.
Relief, then, is one word that crops up often. Proof is another. "Now, I feel like I'm good enough," says Thilan Walallawita, the Sri Lanka-born Middlesex youngster.
For any academy cricketer with the professional dream, that is the everlasting question. For all the confidence in the world, it is an unanswerable quandary until the first steps are taken into the jungle: sink or swim.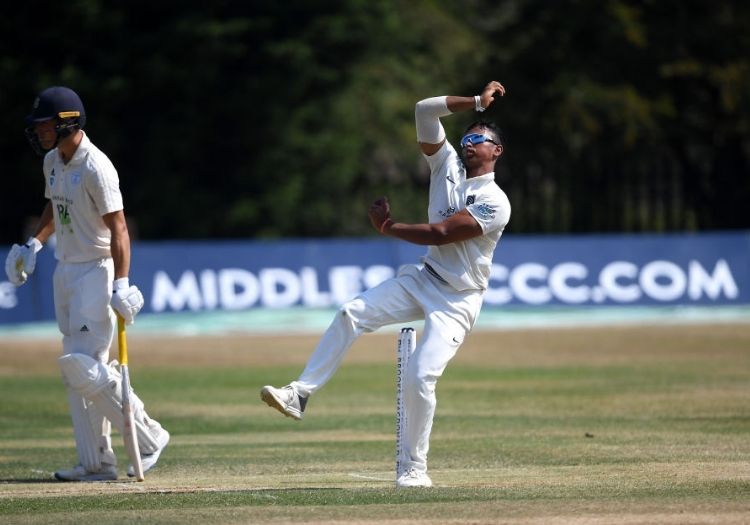 Thilan Walallawita's journey to this point has been more unusual than most
"I thought before I started playing in the first team that I was good enough to play, but now I feel comfortable," adds Walallawita, whose tale is more extraordinary than most. "I now feel like I can be a good first team cricketer for many years. I was talking to my coaches and I told them that I'd never felt so comfortable around the boys."
Essex batsman Feroze Khushi reached his maiden first-class fifty in just his third innings. On debut, he shared an 86-run stand with Sir Alastair Cook, who once upon a time had presented him with age-group awards. "It's not something you can really write," he says. "It's definitely something that will live with me forever."
He slotted into a side without Ravi Bopara – now of Sussex – and Dan Lawrence, who was on England duty. Opportunities have opened up, and Lawrence's own rise – he is only two years Khushi's senior – is a reminder of what is possible for those who hit the ground running.
"To get that first milestone out of the way is a big burden off your shoulders," he reflects. "It was just nice to get that score and to show the lads that you're capable of playing at this level.
"It's something I always dreamed of doing – not only to play in the team, but also to be a permanent member in the side and to do well. It gives you that mental confidence boost that you're capable of playing.
"Dan has shown the way from the academy and has gone onto bigger and better things; I have to try to follow in his footsteps. You have to believe in yourself and in your ability that you can make it.
"It's a good start, but it's only a good start. There is a lot more to do and a long way to go."
Khushi has had the added challenge of breaking into English cricket's standout team – "a feared side", as he puts it. Bopara's departure, however, twinned with the knowledge that Ryan ten Doeschate – even with his enduring class – is in the twilight years of his career, has bent the door ajar.
"I've had to wait a while for my chance but I knew I was edging closer," he adds. "On one side, it's great but on the other side it's frustrating because you're having to work so hard to push to get into the team and you have to wait a while."
He is one of 30 players to have made their first-class bows since August 1. It is a long list, almost certainly more extensive than it might have been in any other year.
As part of this piece, The Cricketer spoke to nine players, all of whom confessed to entering 2020 with the aim of establishing themselves on the second team circuit, but also wondering midway through lockdown what this hiatus meant for their futures.
A bylaw in the County Partnership Agreement has been altered for next year to permit summer contracts, while the minimum wage for county players has been reduced from £27,500 to £24,000 in an effort to stave off a haemorrhaging of young talent from the domestic game.
Ben Aitchison, Jack Schutt, George Balderson, Tom Hartley, Ed Moulton, Ed Barnes, Dom Leech, George Hill, George Burrows, George Lavelle, Jack Morley, Tom Price, Tom Lammonby, Jack White, Callum Taylor, Harry Gouldstone, Thilan Walallawita, Dan Moriarty, Jack Carson, Henry Crocombe, Ajeet Dale, Feroze Khushi, Gus Atkinson, Jack Davies, Tom Scriven, Blake Cullen, Will Sheffield, Nathan Gilchrist, Scott Currie and James Coles.
There have been several standout performers: Lammonby made two vital centuries, Moriarty took 17 wickets in two appearances, Taylor became the fourth Glamorgan player to score a hundred on debut.
At 16 years and 157 days, Coles is the youngest of them. More than a decade his senior is Jack White, a seamer at Northamptonshire with a story not dissimilar to those of Jack Brooks and Richard Gleeson, both of whom also found their breaks at Wantage Road.
The 28-year-old has slotted in seamlessly, taking 13 wickets in four games at just 20 apiece. He is lively without being anything like express, but both consistent and skilful enough to move the ball off the pitch. His whole experience has been a whirlwind – and reward for an unusual, meandering journey.
It makes White atypical among his peers; he signed a one-year deal with Northants in 2019 but missed the season through injury and was handed a further 12-month contract thereafter. Naturally, he worried that the chance might have passed him by when coronavirus threatened to ruin the season.
"It has been a very long road to this point," he laughs. "I was actually thinking about that earlier and some of the younger lads making their debuts at 17 or 18. I just thought: 'Christ, that's ten years ago for me.' But I've enjoyed the way it's happened; it's been really good. And to get an opportunity at this age, it's awesome. I can't ask for much more."
He has lived a varied adulthood; as well as representing Cumberland in National Counties cricket, he has spent time playing in New Zealand, working in the Lake District and living – and skiing – in the Alps.
White's turning point came when he starred for Parramatta District Cricket Club during a grade stint in Sydney. He was the only overseas player in the league without a professional contract but still bowled the club to the title. The experience toughened him up, the hostility and pressure readying him for the county game.
"When you go over there, they just don't rate English players until you've done well," he recalls. "It's pretty daunting: everyone's professional except me – what do they expect? And they're pretty ruthless.
"You have to do well – you can't just cruise. It was tough cricket and it made me realise – playing out there against pros – that I could be good enough. It really made me step up – you can't bowl a bad ball. It's just tough work. It must improve your game because it got me to where I am."
And then, there is Walallawita; the left-arm spinner is just 22 but has already lived a remarkable life; he was just five years of age when his family scrambled clear of the Boxing Day tsunami of 2004. He moved to England a decade ago, where he has become part of the furniture at Potters Bar Cricket Club.
Recent years have been tough, he admits – "a good hard patch," he says of life on the second team carousel. He was only able to make his debut this year after being granted 'unqualified' status by the ECB – he is still waiting for his British passport to arrive. Middlesex's home games taking place at Radlett also helped his cause; having played many of his second team matches there in the past, he knew his role as well as the ground's dimensions.
"I've been working in a doctor's laboratory in a warehouse near my home, I've done a couple of paper rounds when I was younger," he adds of how he has supplemented his cricketing dream.
"The main job was working at the warehouse to keep me plugging away. Now, I feel like I've got to the stage where I have more to focus on with my cricket, so no more part-time jobs.
"I've always been a patient guy, so I knew this day would come if I focused on my cricket and did the part-time jobs to earn some money. It's a relief now; there's more freedom."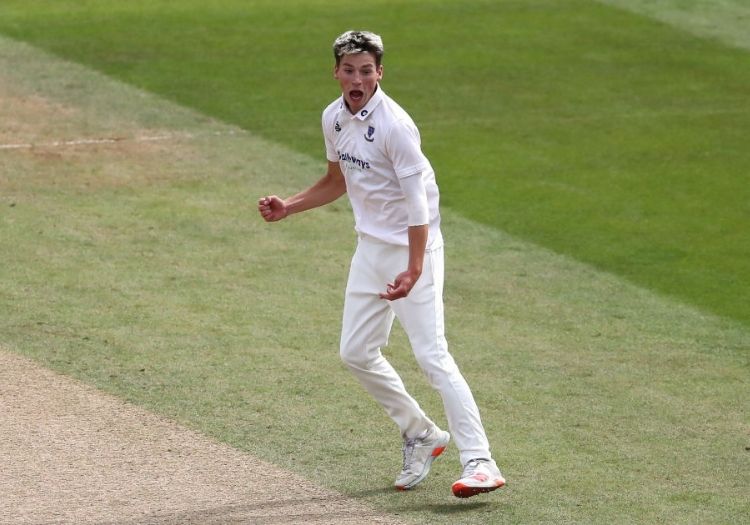 Henry Crocombe had to wait until his third game for Sussex for his first wicket
As for his debut, it is a moment in time he will never forget. He speaks without cliché in reflecting on all that it meant. His parents had been due to be in attendance, but that detail was scrapped when the government went back on plans to allow spectators into the Kia Oval to watch Middlesex's win over Surrey.
"There are no words to describe that day," he recalls. "I was like: 'Wow, it's actually happening. I'm playing first-class cricket.' It was very emotional, and the boys were so supportive. I can't thank them enough for how well they've looked after me."
Jack Carson is another who took the plunge in moving to these shores, albeit only from Northern Ireland. The 19-year-old off-spinner has enjoyed a fine introduction to the first-class game, ending his red-ball campaign with a maiden five-wicket haul at the Kia Oval.
He has been on Sussex's books in one way or another for some time; he was initially spotted by Ed Joyce, who caught wind in local newspapers of Carson's prowess as a youngster for Waringstown Cricket Club in Craigavon, County Armagh, where former Ireland off-spinner Kyle McCallan was club captain.
A trial was arranged and the rest is history. He moved to England as a 16-year-old, boarding at Hurstpierpoint College, whose Sussex production line also includes George Garton.
"Going into the season, my goal was to cement my place in the second team," he says. "Obviously, you have to strive to play first team cricket, but being realistic as well – and that was going to happen for me by dominating in the second team.
"The thing I mostly remember from the day was getting my cap from Ben Brown and the speech and stuff. I was biting my lip trying not to get the waterworks on.
"Just that moment when you get that cap with your number on it – I'm No.755 and Tom Clark, who I've played with since we were under-12, is No.754. He got his at the end of last season; it's little things like that – for our parents as well, who get on well, it's class."
Carson, who speaks with a thick Northern Irish accent, is immensely affable; he is riding the crest of this initial wave. He recalls a two-day pre-season friendly against Hampshire, where he bowled solidly without hammering home his claim.
But then, Jason Gillespie pulled him aside and told him to be ready to face Hampshire once again, but this time in the first round of Bob Willis Trophy matches. "I slept about four hours for the next two nights," he laughs.
A week later, he had five first-class wickets to his name. It is no coincidence that his success – and that of others like Moriarty and Walallawita – has come with red-ball cricket being played in the warm heart of summer. It feels difficult to cast the mind back so far, but the Bob Willis Trophy began amid something of a heatwave.
Thus, thrown in on a dry Hove surface that spun sharply, Carson grasped his chance, aided by the substantial footmarks provided by Keith Barker's left-arm seamers.
"I think he is renowned on the circuit for creating an absolute pizza for the off-spinner," Carson chuckles. "I think their plans had been for Nathan Lyon to bowl into them this summer, but thankfully Jack Carson got called in! I'm not going to sit here and say I bowled on a flat one – I definitely had favourable conditions to start off my first-class career.
"The first ball summed it up. I've been working with Ian Salisbury, and he's been brilliant. Our first thought is to take a wicket and that's what he's been doing with me and Delray Rawlins. It's not about coming in and bowling 12 balls of stump-to-stump flat side-spinners to get yourself into your spell.
"The first ball was in and around the pizza; it ragged and hit Joe Weatherley in the hip and you just go: 'All right, I'm in the game.' Thankfully, he nicked the second one, so that completely settled me down and I was able to just bowl from then on, really."
Not everyone has been so fortunate to find success quite as immediately; Gloucestershire's Tom Price made a pair on debut. For Carson's teammate Henry Crocombe, the wait for a first wicket lasted three games spread over a fortnight.
One of the younger newbies – he won't turn 19 until 11 days after the conclusion of Sussex's red-ball season, he bowled 176 deliveries without reward in his first two outings. His second appearance saw Jordan Cox and Jack Leaning record an unbroken 423-run stand for the second wicket, with Kent racking up a final total of 530 for 1.
"In the Kent game, that was really draining and a really tough game to bowl in," Crocombe reflects. Thus, his maiden wicket of Tom Westley – when Sussex faced Essex a week later – was a significant landmark – the beginning of his belonging.
"It was a relief for it to eventually happen," he adds. "I wasn't bothered how I got it – it was probably the worst ball I bowled in that spell but that's just the way it is sometimes. I was just really happy to get the first one out of the way.
"It made me feel like I was earning my spot, even though it had taken a few games. Everyone around you is thinking: 'He's only 18, it's not going to happen straight away.' But in my mind, I was like: 'I need to get a wicket, I need to show that I can do this.' It was really nice to get it."
Crocombe is young; for context, Gillespie had 102 Test wickets by the time he was born. Nevertheless, he reflects with great maturity on what he has achieved and how much he has to learn, especially having made the "huge jump" from age-group cricket to the professional game in such a short space of time.
"The difference is absolutely massive," he says. "I only played six second team games before I made my debut but I'd probably say that the last month or so is the most I've ever improved as a player because it makes you realise that you can't bowl a bad ball.
"If you bowl a bad ball, it will go away. Whereas if you bowl a bad ball in an academy game, you might get away with it. It's a lot easier to get wickets in academy stuff as well; obviously, that's shown. You have to bowl well enough to get wickets; you're not going to get them given to you a lot of the time.
"Bowling that pace in academy cricket, you can rush players. In this, you're not going to. You have to do something different and learn other skills to worry batsmen.
"If you can bowl 80mph in academy cricket, you're pretty quick. You go to first-class cricket and that's a medium-fast bowler; they're not going to worry at all about that. You have to use your bumper a lot more effectively, you can't just not worry about your length. You have to get it right.
"Being around people like Ravi Bopara, Chris Jordan and Luke Wright, even just being around them and talking to them a little bit, it makes you realise what you're part of now. It makes you feel really lucky.
"I'm part of this squad now and I have to work hard. I've earned my place here but the competition and how tough it is makes you realise you have to learn quickly. You have to be able to do a lot of different things."
Barnes concurs. He was in the unusual situation of running up to bowl his first ball in first-class cricket surrounded by a gaggle of new teammates, having made his loan move to Derbyshire from Yorkshire a week into the shortened campaign.
When it came, his maiden wicket was that of Leicestershire spinner Callum Parkinson, who had been sent in on the previous evening as a nightwatchman.
"Getting the first wicket – and the second came not far off – it gives you a sense of belonging a little bit," Barnes explains.
"I was playing with people I didn't know that well at the time. You almost want to prove to them as well that you belong here and get that backing from them. I think I did do that after that – it definitely settled me down and it gave the skipper that little bit more belief.
"I didn't bowl great in the first innings. You just want to get that first wicket and settle down. In the first innings, I was searing in trying to bowl as quick as I can. You try and say that you don't forget what got you to this point, but it's hard.
"It has given me a great deal of confidence. It's tough until you actually do it to really fully know if you are good enough. When you get a taste for it, it makes you want more and you realise that you are good enough for this. You just want to keep progressing up the ladder and keep progressing more and more."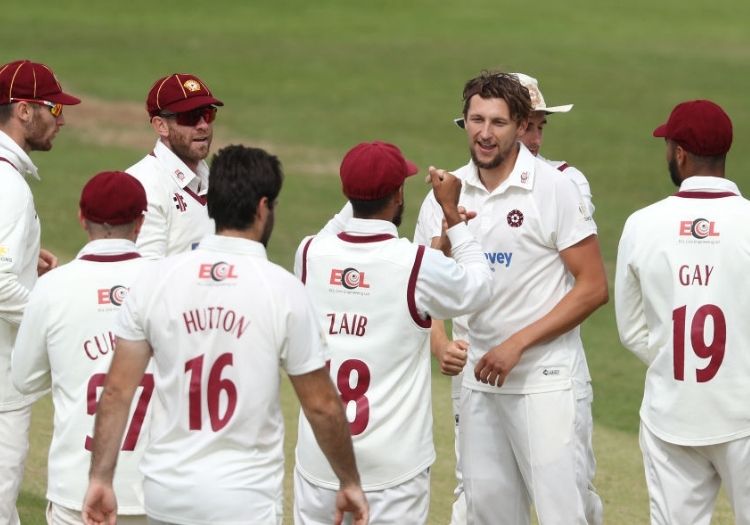 Jack White waited a long time for his opportunity in first-class cricket
Even in a pre-Covid landscape, Yorkshire had planned for Barnes to begin the season elsewhere on loan, aware that something had to give at his age.
And once it became apparent in late June that there would be little organised elite cricket beneath the Bob Willis Trophy and T20 Blast, the urgency for a temporary move picked up.
"As a young fast bowler, this is the age where you learn as much as you can," Barnes says. "I think with no competitive cricket or meaningful competitive cricket, it would almost have been a null season for me. And then, I'm another year older with no experience or learnings to show for it.
"It was definitely a good thing to have the opportunity to go to Derby; it just put a bit more purpose on it. As it happens, I can tell that I've learnt a lot. And from a two-month season, that's all you can ask – just the progression. It gives you belief going forward as well."
Amid Surrey's availability crisis, Adam Finch made a similar move, temporarily swapping Worcestershire for Surrey. While the 20-year-old made his first-class bow for his home county in 2019, he has experienced a similar season to Barnes, seeking to impress at every possible juncture in the limited time available this summer.
The deal had its roots in a chance encounter with Alec Stewart when Worcestershire and Surrey met in a second team game last year.
With Morne Morkel, Jade Dernbach, Connor McKerr, Liam Plunkett, Nick Kimber, Jordan Clark and Rikki Clarke all having missed part – or all – of the campaign through injury, Finch has become an important member of Surrey's red-ball outfit.
"It is a little bit weird, but I'm very proud," he says. "I know the history of the club and its traditions. I'm very proud to be able to say it's something I've done.
"Gareth Batty, when he presented me with my cap at Chelmsford, told me how it important it is to everyone at the club and how you should always take pride in those kinds of achievements.
"It was really nice. It was going to test a lot of the things in my own head that I had in place about bowling and doing what I do. I was really keen to try to take the opportunity and present myself in the best light.
"I was intent on really enjoying it – it was a really incredible opportunity to play at a club like Surrey and get an opportunity there, regardless of whether it went amazingly or didn't go so great. I wanted to come away having enjoyed it.
"I know that might be a really naïve way of thinking about something, but it put me in good stead. Vikram Solanki echoed those same words – not wanting to put any external pressure on the situation."
He has been joined in Surrey's side this year by James Taylor, another new signing ahead of the season, but on a permanent deal. There was a misconception in his initial arrival – the assumption from many that Stewart had poached the England Under-19s seamer from Derbyshire when, in reality, the opposite was true.
This time last year, Taylor was without a club after being told by his former county that he was being released.
And so, these months have provided a surreal alternative reality. When he was first let go, he had considered returning to college, before a turn of events featuring former Derbyshire loanee Tom Lace and Surrey assistant coach Richard Johnson – both connected by Middlesex – led Taylor to the Kia Oval.
"It still hasn't sunk in yet," he says. "I think it's sunk in a bit that I'm actually playing for Surrey, but not that I'm playing first team cricket for them.
"I expected to be on the second team circuit and learning off the coaches. It was supposed to just be a learning curve to get a good grip of my game. I didn't expect it at all; it's been absolutely unreal.
"In the back of my mind I thought I might get a game because it's such a condensed season and we haven't had long to prepare and to get our loads up bowling-wise. Normally, you'd have a full winter. I thought maybe I'd get an opportunity at the end of the season, but I didn't really expect to be involved in the first game."
Taylor made his first-class debut as a 17-year-old in a tour game against West Indies in 2017, with Kraigg Brathwaite as his maiden wicket in the professional game. How early that opportunity came in his cricketing life places him in an intriguing spot: still a teenager, but with three years of groundwork behind him.
"I'm still quite a young lad but I've been on the county circuit now for three years," he muses, "so I feel like I'm getting a good grasp of how I want to play my cricket and how I want to be as an individual and as a bowler and a player.
"I feel like even though I'm still quite young, I've got quite a decent experience now and it should hold me in good stead, I think."
Does that mean there has been no self-doubt since his second shot at county cricket began? Not quite. He admits that he found himself nervous on his debut – a pre-season friendly against Middlesex in front of 2,000 fans shortly before the government aborted its initial trial for the return of spectators to sporting events.
He is not alone in that regard, however. Ben Aitchison's arrival at Derbyshire shortly before the season began came somewhat out of the blue, having impressed in grade cricket over the winter at Parramatta District – the same club where White had performed previously.
And like White, Aitchison was uncontracted and an unlikely star of the Sydney club circuit; his only real experience had come with Cheshire and in Lancashire's academy.
Yet, on August 1 he found himself sharing the new ball at Trent Bridge, a ground steeped in history, effectively replacing Ravi Rampaul, who has been unable to feature for Derbyshire this year due to travel restrictions out of Trinidad and Tobago.
Having taken four wickets on debut, his second game was at Headingley, where a year beforehand Ben Stokes had pulled off his Ashes miracle.
"It's the aura of the grounds – it's amazing just knowing what's gone on there," Aitchison explains. "Just being in the ground itself is just amazing. Just to go to a ground like Trent Bridge was all a bit weird for me.
"It was very nerve-racking, especially being given the new ball straight away as well. You've always got that wonder in your head: 'Oy my god, my first over in county cricket could go for 16.' I was pretty nervous about not messing up.
"My first spell was rubbish. I couldn't really find my rhythm. After about three overs, I was a little all over the place and quite erratic. But I came back for a second spell and bowled quite a good spell; that settled me down a lot."
Aitchison impressed for Derbyshire – even more so given his backstory, taking six wickets before an ankle injury ended his season prematurely. But there is always pressure, even in a year like this, where so little is as it might normally be.
White can look on with a unique perspective; having only now entered the professional game in the last 12 months, he holds an appreciation for a world beyond elite sport.
But for the moment, cricket is everything; after waiting so long for a taste, he is desperate to make the most of the chance that has come his way. In a sense, circumstances have played their part.
The shortage of second team action has meant that he has not had to force his way into the reckoning through weight of wickets. His chance to stake his case, therefore, has come principally on the Bob Willis Trophy stage.
"They just chuck you the ball and see how you go," he says. "In some ways, I think that's brilliant because there's no building up to it. It's just a case of: 'Here you go, have a go.' In a normal year, when we're fighting for positions in a league, you'd probably have to wait for someone to have a dip in form or injuries, rather than getting a go straight away.
"You do feel pressure because in the same way that it's brilliant to get thrown in, on the other side of it, there is no second team or a big long season. In your head, it's brilliant and you do enjoy it, but it is a limited opportunity.
"There is definitely pressure. Okay, I've got three games to show what I'm made of here. That's definitely a positive but it does add a bit of stress. You can't just work your way in through April in the second team and build yourself up.
"All the hard work has paid off when you're playing first-class cricket. But your goal changes; it was to do the best you can, get to first-class cricket and play a couple of games. Now, you want to keep going, you want the next thing. You always want to increase the bar."
And for all 30 of the 2020 class, that is the message. The debut has been ticked off, that pinnacle reached. There are new goals to chase, a different pot of gold at the end of it all. But wherever their careers take them, they will always have their first time.
For unrivalled coverage of the county season, subscribe to The Cricketer and receive 3 issues for £5
News
|
Features
|
County Cricket
|
Bob Willis Trophy
|
1Banner
|
Please ensure all fields are completed before submitting your comment!