Scott Boswell, 20 years on: A life rebuilt from the ruin of the yips
NICK FRIEND: The yips ended Boswell's career as a professional cricketer in the 2001 C&G Trophy final. This is the story of his last two decades, including a watch-along of the over that changed everything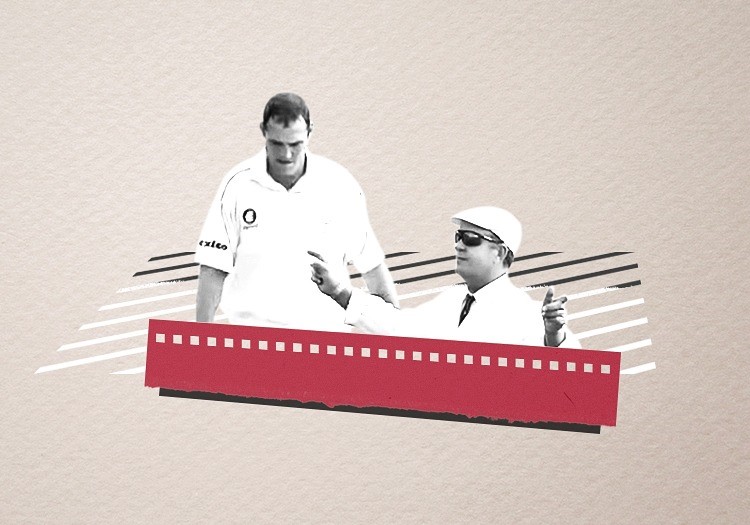 "Everything about me – my confidence and my self-belief – was just knocked so badly that I had nothing. Absolutely nothing. I could not walk into a room without thinking someone would go: 'Oh, there's Scott Boswell' and have a go at me. Everywhere I went – in cricketing circles, in social circumstances, in work situations – I was introduced as the guy who bowled those wides. I was like: 'Oh my god, I'm going to have this for the rest of my life.' And the more I thought about it, the worse it got.
"I don't think I realised after the Lord's final that I was going to be known as this person. And that was horrific. It absolutely killed me. It properly killed me inside to a stage where I just didn't want to be around. That was hard. Really, really, really, really hard to deal with. I tried to dilute that pain with other substances and unfortunately your body can only take that abuse for a certain period of time until you have health risks. Then, reality calls and you have to do something about it."
For almost four hours across two afternoons, Scott Boswell talks about the last 20 years. He has spoken before of the day that changed his life, ended his playing career and left him bereft. But perhaps he has never done so – publicly, at least – in this detail.
If you are reading this, then you are likely familiar with the exact moment at which Boswell's entire existence altered on its axis; it is the brutality of elite sport that the lowest moment of his professional career should have been his greatest – the 2001 C&G Trophy final at Lord's for Leicestershire against Somerset. Instead, it became the most public humiliation imaginable, broadcast on terrestrial television for the world to see.
The Worst Over Ever, as it was christened on YouTube, has been viewed 1.6million times: 14 balls, eight wides. Largely, Boswell has steered well clear of revisiting the video himself, though for the last decade he has been "an open book" on the subject, keen to share his experiences with anyone who might ask. But rewatching it has often – understandably – been a bridge too far. When he attempted to do so last summer as part of a dissertation on the yips by Toby Bailey, a former teammate at Northamptonshire, he was rendered speechless.
And so, his courage is admirable in agreeing to a tentative mid-interview suggestion from The Cricketer: how about a watch-along?
For the previous two hours, he has discussed the past, the present and the future, recounting the frankly inspirational way in which he has rebuilt himself. But this is a leap of faith: "For me to actually look at this is brilliant," he says, his eyes widening. "It doesn't take away that feeling of nausea when you first put it on, but I can feel that shirt, I can feel that cap, having hair. It's all very bizarre. Very bizarre. Press play!"
Boswell excuses himself for a moment to fill up his water bottle, foreshadowing a dry mouth as the memories come flooding back. Channel Four's distinct coverage, with Richie Benaud's iconic tones, retains a place in his mind as a vivid souvenir and the soundtrack of a waking nightmare. That he is happy to do this is a triumph in itself – he has come a long way since a time when he routinely deleted interview requests out of hand.
"All I'm thinking right now in my head is: 'How did I not bowl the bleeding thing straight?'" he laughs, staring at a pre-high-definition broadcast ahead of the start of his second over. By then, two decades ago, he already knew that all was not right: his first over included a wide and a drag-down cut for four by Peter Bowler that forced Richie Benaud on commentary to suggest something felt wrong. Bowler's right-handedness perhaps clouded the extent of what was already beginning to unravel.
Boswell continues: "I must have been holding the ball so hard and so strong. You talk about being relaxed in the moment, I was completely conscious of what was going on, not trusting my skills, my subconscious mind – all that stuff that I'd done before. Once you're in that frame of mind, I think it's very hard to get out of it. I just froze. I couldn't let go of the ball.
"When you've got that amount of traffic going on, you can't focus. I was thinking about what my family was thinking as well; that was a big thing. My mum and dad had come down, my sister as well. I was thinking about how they felt, especially after the first over where it didn't quite come out right.
"I can even now remember it to the day, where I let go of one ball and went: 'Woah.' And that was it. When I let go of that ball and had no control of it, I had no idea. I can't explain it. It literally got stuck in the hand."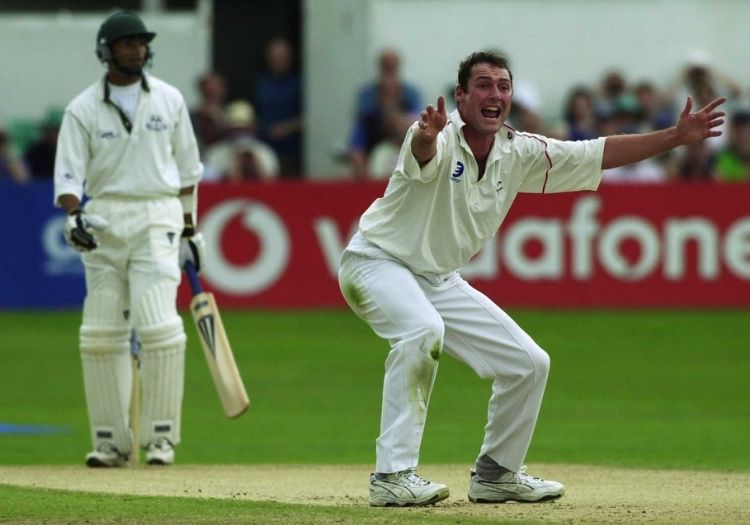 Boswell's two overs at Lord's cost him 23 runs and his career as a professional cricketer
He compares the feeling to a botched throw with a coaching sidearm, where the ball gets wedged in its holder and doesn't come out right: "That's how I was feeling. When I bowl in the nets, I never get that feeling, so why then? It was pressure, wasn't it? It was the pressure I was putting on myself – because I'm very self-critical. I'm my worst critic. We all are, but I go above and beyond because I probably had this image in my head that I wanted to have this Dennis Lillee action.
"I never watched myself when I was playing because, in my head, I thought I was really good in terms of the biomechanics, but when I realised that I wasn't, I found that quite hard."
It is difficult viewing. Far from Lillee's action, Boswell had a low, slingy release at the best of times that required its various moving parts to be in sync with one another. Instead, he was a nervous wreck, speeding up between deliveries, circling at the top of his mark "like a goldfish in a bowl trying to get out of it as quickly as I can", throwing up his hands in a resigned disbelief, wiping the sweat from his brow, searching in vain for a word of reassurance from those around him. At one stage, the camera pans to Vince Wells, the captain, and to England's Phil DeFreitas at another. Neither seem sure what to say or do.
"I'm getting quicker and quicker as I go back," he notices. "Now, my mind has gone. All I'm thinking is: 'How am I going to get away from this? How am I going to get off the field? How am I going to complete this over?'
"The noise is getting louder and louder. I was in such a high level of anxiety that I had no idea of what was going on. I was just thinking: 'Somebody, get me off. Take me away.'"
It's fascinating – and, in an eerie way, a privilege – to watch this back with Boswell. Because, in truth, this was one of the saddest incidents in the recent history of the domestic game. It is the nature of the yips that he doesn't know quite what happened, but he does his best to make sense of it. For all the theories out there, no one is better placed to put their finger on the events of that day.
Just before everything went wrong, Boswell misfielded the final delivery of the previous over from Jimmy Ormond, allowing a ball to bounce off his long barrier at fine leg for an extra run. "Is that me there?" he gasps, watching back an incident that never made it onto the blooper tapes but that might just, in retrospect, be a split second of significance. "God, I remember that. That's really an interesting moment." In isolation, it is the kind of mundanity that happens so often on a cricket field, but he wonders now whether it set the tone for what followed.
After a poor first over, it was his chance to stamp a marker on the game, but his body wouldn't budge. The same thing happened once his spell was over and the humiliation had set in: he was five yards from the boundary rope but, in a state of temporary paralysis, couldn't physically bring himself to bend down for his water bottle. And when the ball came out towards him later on with an opportunity to redeem himself, his dive missed the ball, tearing a clump of turf from the ground. "I just remember looking at the crowd, with people laughing at me. It was like: 'Oh my God, this is awful – and we've still got 35 overs to go. How am I going to do this?'"
But back to the first ball. "That looks like a car crash," he says, highlighting the combination of a low arm and his right leg "flicking round" rather than driving through.
The second delivery is clipped out to deep square leg, bringing Marcus Trescothick onto strike, followed by five consecutive wides: three from over the wicket – one that veered beyond the left-hander's attempted cover drive and two slung down the legside, before a pair from round the wicket.
"That's the one," he exclaims after the third, like a witness spotting a suspect from a photo line-up. It is the sidearm wide – the delivery that remains etched most sharply in his mind and that compelled him to change his angle of attack, taken by wicketkeeper Neil Burns at full stretch. 
"Nobody's looking at me. It's embarrassing for them, it's awkward for them. That's not a great place to be in. We were a really good side leading up to that. But this moment is like: 'Crikey, we're professional cricketers here. What's going on?' I'm thinking now after that delivery: 'Where am I going here? What is my Plan B?' It will be interesting to see whether I go round the wicket after this ball or whether I stay over."
He went round, but the outcome remained the same: "Oh my God. God no. No. The first ball from round the wicket, I'm thinking that if that's not a wide then I'm in. But because the first one round the wicket is a wide, all I'm thinking is: 'Shit, what can I do now? Where do I go? I've gone over, I've gone round. I don't know how I'm going to finish this.'" When he did temporarily rediscover his line, Trescothick drove for four – a relief to Boswell, for it counted as a legitimate delivery.
Trescothick, too, was an unwitting factor in all this – not because he was one of the foremost players of the time, but rather as a left-hander. Boswell had struggled against his kind in the weeks leading up to Lord's, where he had never played before.
"He just seemed so far away," he recalls. "It felt like he was 50 yards away. I just remember thinking about how far away he was and asking myself: 'Why is he moving so far back?' As I was running up to bowl, he was getting further away. I used to dream about that all the time as well. I'd wake up in a cold sweat, where I just couldn't get the ball straight."
Those worries have passed now, and perhaps the most gratifying aspect of this conversation is witnessing Boswell recounting these details without any anxiety.
He questions whether things might have panned out differently if Burns had come up to the stumps, and he highlights the irony that much of his success in one-day cricket was because of the same quirky, chest-on action that ultimately failed him. "I started to see it objectively in terms of coaching, which absolutely gobsmacked me," he explains. "Towards the end of the video, I was thinking: 'If I had just got myself in that position...'"
Does he ever wonder how he was able to get through the over or – put more bluntly – why there were six straight balls among the wides? "That's a good question," he says. "Luck." And, when it ended? "I just die. I just disappear. Pulling my shirt up, sweating. I don't think I'd quite processed it."
Yet at the same time, there has been a gradual realisation that "it wasn't as bad as I'd had it in my head". The wides were less wide than he feared, even if the memory remains of a perfect storm: "It all built up – a full house at Lord's, live on Channel Four. It just builds up to be a horror show."
The million-dollar question, then. Why did it happen?
"I've done a lot of research on this," he explains. "If your conscious mind can trust your subconscious mind, you're in the fly. But as soon as it doesn't trust it – as soon as your subconscious mind doesn't trust your preparation, your past history, your ego, your fear, as soon as it doesn't trust anything else that it's done for years – you are screwed.
"Obviously, for me it was the occasion that just got to me. I'd never played in a final or anything before. Though, having said that, I was starting to bowl really badly to left-handers leading up to that event. And then, it was just the noise and the roar and every time I bowled a wide it just got progressively loud and raucous and then literally, I absolutely froze. So, it was the occasion, I suppose, that actually gave me the yips.
"I didn't have the self-belief. I think my action wasn't biomechanically great and, put under pressure, it was going to crumble. I don't think I was mentally strong enough. I didn't have the techniques or the strategies to deal with it."
If Boswell had come to hate and escape cricket, given what it did to him and what it took away, you could hardly have blamed him, but he speaks about the incident with a refreshing clarity. "If Trescothick had edged that wide one, it could have been a different game," he muses. "What would have happened? Would I have bowled another over? Would a right-hander have come in? Who knows? I could have bowled a maiden and then been three overs for 18. At six runs per over, we're actually all right there, aren't we? Then, I bowl four overs for 20 and five overs for 21. I go down to third man and it's a different game."
And then what? "Would I still have been playing another year? Would I be in the same situation I am now in terms of my desire and passion to help other people? I don't know. Obviously, I wouldn't be having this conversation with you. Things happen for a reason though."
To a degree – and this feels a topical comparison – there are shades of Gareth Southgate in his ability to discuss an unfortunate moment of abrupt ignominy.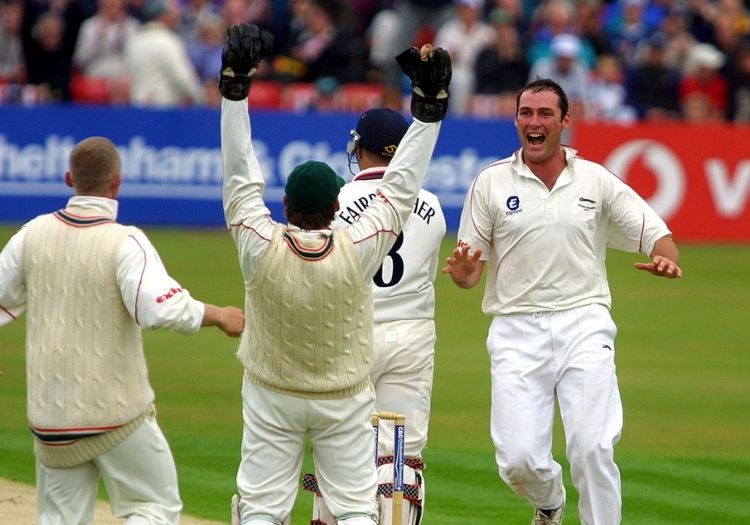 Boswell had been Leicestershire's hero in the semi-final win over Lancashire, taking four wickets, including those of Andrew Flintoff, Michael Atherton and Neil Fairbrother
"When I was that age, I used to always think about what other people thought of me," he reflects. "I wanted to please people. I would bowl to anybody at any time in the day – over after over. I would give people throwdowns. I was quite keen to please other people in terms of maybe wanting to be liked. Here (at Lord's), I'm thinking: 'Oy my gosh, I'm letting myself down but, more importantly, I'm letting my team down and I'm getting a little bit embarrassed by this.'
"I was thinking about what other people would be thinking. Thousands of thoughts would be going through my head at 100 miles per hour – apart from one thing: focusing on trying to bowl. I should just have been focusing on my job, not thinking about what other people were thinking.
"But that's the way I was: I can't change that in that moment. I can never ever change this. Up until about 2011, the amount of times I sat up and wanted to go back to Lord's and do the build-up again to change that moment and be able to be there at the top of my run-up and have some different skills and be able to just bowl that ball where I wanted to and feel comfortable. But unfortunately, I can never do that. However, it has made me what I am now."
And these days, he is one of the country's most qualified coaches: Level Four-certified and the head of cricket at Trent College, at a level where empathy plays such an important part.
"I think that's why I went into coaching," he says. "Because, if anyone else went through that experience, I just wanted to be able to help them to try and overcome something, especially having overcome something that was so traumatic for me.
"I was driven to work out why I struggled in pressure situations. Not only did I find it an issue, I was driven for other people to not be in my situation. I'm passionate about it; I'm passionate about people enjoying cricket. I absolutely love cricket.
"Looking at that video, I'm thinking that if I knew what I know now as a coach, I think I could help that person mentally to improve his game. Physically as well. I think I could find a way to talk to him and to say: 'Look, these are the demands of professional cricket.' I think technically I could help that individual.
"Also, now that I know that I've been through that situation, I can understand what emotions that individual is going through. I think I could help that person. I could help Scott Boswell be a better cricketer. I really do. And that is amazing."
There is so much more to Boswell's story, though, than two overs lasting 21 balls – each delivered with a greater sense of anxiety and crippling inevitability, and that is the motivation for reaching out at this juncture. This year's Royal London Cup will mark the 20th anniversary of an event, the consequences of which were lost entirely in the aftermath: Somerset won and Leicestershire lost, but Boswell became a laughing stock and an unwitting figurehead for the yips.
A month later, while midway through a round of golf, a player in the group ahead shanked his drive from the seventh tee into the houses on the right-hand side and shouted: 'Oh, I'm having a Boswell.'
"That was a tough one to take," Boswell recalls. Tuffers' Duffers, a cricket bloopers DVD presented by Phil Tufnell, was released late in 2005 and featured Boswell prominently: he nearly threw up when a student put it on in front of him, unaware of how raw the pain still was until he saw his teacher's face.
In a club game shortly afterwards, a bowler signalled a wide after Boswell, playing as a batsman, had hit him for six. In another match, he came on to bowl and an opponent blurted 'oh, wide' from the boundary. On both occasions, players on either side put the offenders in their place.
Effectively, his life as a county cricketer ended at Lord's, though he was forced into action a fortnight later against Nottinghamshire for a final time: if Leicestershire had won, the 45-over title would be theirs. Instead, Boswell bowled a single over for 18 runs, faked an injury and left the field. "I went missing at one stage," he confesses. "I just left the ground because I didn't want to play the game or even be part of it."
By his own admission, he was gone and standing at the beginning of a spiral that took him to his lowest ebb: "I don't think I had worked out the fallout in terms of what was going to happen, in terms of not playing professional cricket again, in terms of the abuse I got, in terms of media interest, in terms of how it was going to affect me for the rest of my life."

He puts the yips in their very realest terms: "Imagine having something that you've done so often that it's in your subconscious. You just bowl. But then you wake up one day and you can't do something. It's like writer's block. Imagine waking up one day and you simply cannot write. For whatever reason, you become really conscious about it and you start thinking about it. And then it becomes an issue.
"And then you feel that pressure – internally from yourself and then externally from all the people who are watching. You're under the spotlight, and that is frightening."
He was sacked at the end of the season, not only jobless but also unemployable in his field of work. What followed was a dark period: Boswell was forced into the real world without any sense of direction, working first for a company selling artificial cricket pitches, and then for a sports management agency. He could stand neither.
"I remember getting the job and on my first day I sat with another colleague driving along the M5 with a pitch we were going to deliver in Somerset. There was a traffic jam and a road accident, so we just sat there for five hours. I remember sitting in that van and just thinking: 'Oh my God, my life has just so changed.'"
This was only a month after Lord's – an eye-opener into the merciless world of elite sport's uncertain afterlife. "You think you're going to be a professional cricketer for the rest of your life," he explains. 
When The Cricketer tells Boswell that the average age at which a county cricket career comes to an end is just 26, he is briefly overtaken by shock. Boswell was 26 when it happened. "Is that what it is? Wow. And then what are you doing? You have got transferrable skills and stuff, but…" he tails off, returning to his own struggle for post-sport meaning.
"I'm not a salesman – I just can't push anything on anybody. I think you have to believe in it. I just couldn't do it. I was there for a year and it was getting worse and worse. My mental health wasn't great at the time, and I just had a job that I hated."
"Everything about me - my confidence and my self belief - was just knocked so badly that I had nothing, absolutely nothing"
Athlete management was the same: "I had to get people on board. I just couldn't do that. I'd be in the office and I'd have to ring people up and tell them what we were about and that this is what we could do for them. I hated that."
Ironically, given his subsequent calling as a schoolteacher and cricket coach, he had been offered – but declined – an opportunity in Guernsey.
"I just wasn't quite ready for that," he reflects. "I thought my worst nightmare would be standing up in front of kids and trying to teach them. I didn't think I had the confidence or ability to do that because of what had happened in the Lord's final. I didn't believe in myself. I wanted a job that I could just hide in a little bit."
At the same time, Boswell turned to alcohol, smoking and drugs – "a cocktail of everything," he smiles wryly. "I was probably trying to blank it out, I suppose. I wanted to numb anything that I had. I didn't know at the time, but it just got worse and worse and worse."
He lost friends as he isolated himself, his weight ballooned, he suffered from depression, and suicidal thoughts entered his head at his nadir.
"There is a difference between it crossing your mind and actually doing something about it," he clarifies, "but it crossed my mind all the time when I was driving around, thinking about what my existence was. All I wanted to do was be a professional sportsperson. I was a professional cricketer, I loved it, I enjoyed every minute of it. And then, to go from that to driving a Ford transit van around was a tough pill to swallow. And everything that came with it and everything that happened, that was a hard, hard time. I didn't realise how bad it was until I look back and realise how dark and sad and unhealthy and unhappy I was.
"Do you know what was really sad? The people I thought were my friends just disappeared. It wasn't their fault, but you're in such a tight bubble and I thought I was part of that bubble. But as soon as I came out of it, people who I thought were really good friends were still in that bubble and I was outside it, feeling so isolated and alone. It was totally different."
One of the highlights of Boswell's career was a one-wicket win over Yorkshire, having come to the crease at No.11 with 36 still needed for victory. He ended unbeaten on 23, the hero. He remembers the celebrations, too. "But two or three weeks later, it was gone. I found that so hard to deal with." Which is why he so loves teaching, having rediscovered that camaraderie in the staffroom.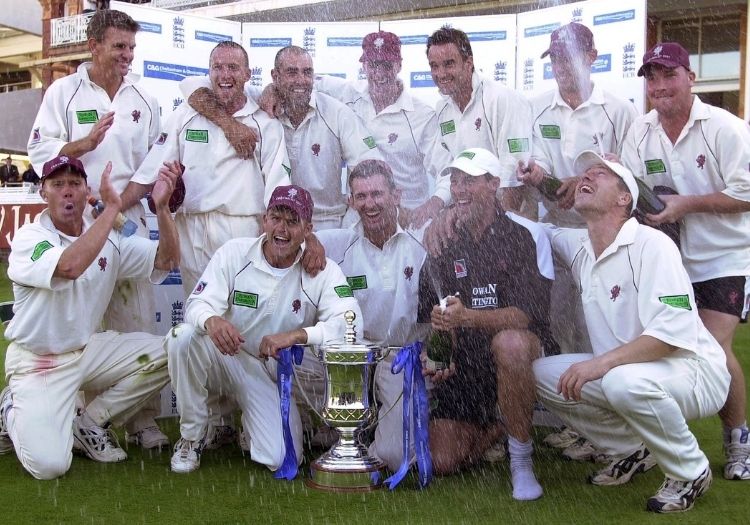 Somerset benefited from Boswell's misfortune at Lord's
At his heaviest, Boswell – a workaholic seamer in his heyday – came to weigh 18 stone with a size 40 waist. "I just remember looking in the mirror one day and thinking: 'Jesus. Who is that?' I had a head that was like a big football and I was like: 'God, that's me.'
"I had gone so far down one avenue that I just couldn't turn. I had blinkers on, I thought I was invincible.
"I didn't realise. I just remember some people saying: 'God, you've put some timber on.' That was it. The wake-up call was when I woke up one day in hospital. I had atrial fibrillation; I probably did things I shouldn't have done for a certain period of time over several years, being unhealthy. I remember waking up in hospital strapped to a defibrillator, thinking that life had to change."
You sense Boswell is not exaggerating when he talks about the importance of wellbeing. He reckons he has never been physically fitter or mentally happier than now, and one of his immediate reactions from this watch-along is a tinge of regret at how he looked at the time: "Oh my God, you fat bugger. You have to start losing weight here," he semi-jokes at one point, speaking to his former self.
Does he even recognise his younger version on the screen? "No, I don't actually. That's a really good question. Because I see myself now as healthy, fit, mentally in a really good place, I'm almost a little bit disappointed in myself in terms of the shape I was in. The year before, I was in really good nick. It's disappointing to see that I don't look healthy: I look overweight and the action is not as great."
His physique was a side-effect, he believes, of simply enjoying too much home-cooking at a point in his life when he was at his most content, having met Steph – his now-wife, with whom he has two children – earlier in the year. He still gets occasional irregular heartbeats, but those act as a useful reminder of his brush with rock bottom. "Hindsight has been really important for me," he adds.
During lockdown, Steph shared the couple's wedding photos on Facebook from around that time. They show how far Boswell has come in the intervening years: he competes in triathlons, taking part in a world qualifier and finishing 20th in a top British competition held at Eton.
"I absolutely love that competitive edge," he chuckles. "A new staff member put on a 'can you beat the number of kilometres that Mr Boswell does in a week' competition. No way is anybody beating me; basically, we have been cycling, biking and running (virtually) to New Zealand. We did it in two months, involving the whole community at Trent. Nobody beat me."
The happiness of this story – and this is truly a positive tale – is that Boswell loves his job, and he's bloody good at it too. His coaching career began with a place on a training programme that took him to Beauchamp College, before moving onto Nottingham High School and, most recently, Trent College. As it happened, his last game with Nottingham was a one-wicket victory over Trent: "You know when you realise that you've reached a place where you've created an environment that you've got ownership of and the players rock up, do the warm-up, do the skills, do the team chat, tidy up the changing rooms afterwards? Everything that I'd been pushing and driving, they did. I just sat back and watched this game. That was job done. I had left them in a really good place."
There is a wonderful, heartening enthusiasm in Boswell's voice when he talks about his current relationship with cricket, so much so that he is keen to test himself at a higher level as a coach: as part of that, he has been seconded onto the backroom staff of Trent Rockets' women's team for The Hundred.
"Before, I would never have had the confidence to do it," he says. "I didn't think anyone would have trusted me and I didn't have the self-belief. But now, I think I can do it. I think I need to grow again as a person and as an individual and see if I can go a bit further. And that is great for me to say."
For that confidence, he thanks Tash Farrant, the England seamer, who worked alongside him on the staff at Trent after losing her central contract at the beginning of 2019. In their spare time, Boswell became her coach and Farrant has spoken openly since her international recall of his impact on her game. "The bowling Gandhi," she called him last year when speaking to The Cricketer: a calm, empathetic guru, who has taken an extraordinary amount of good from his own failings and misfortune. He lists Graham Dilley and Steffan Jones among those whose work he has admired.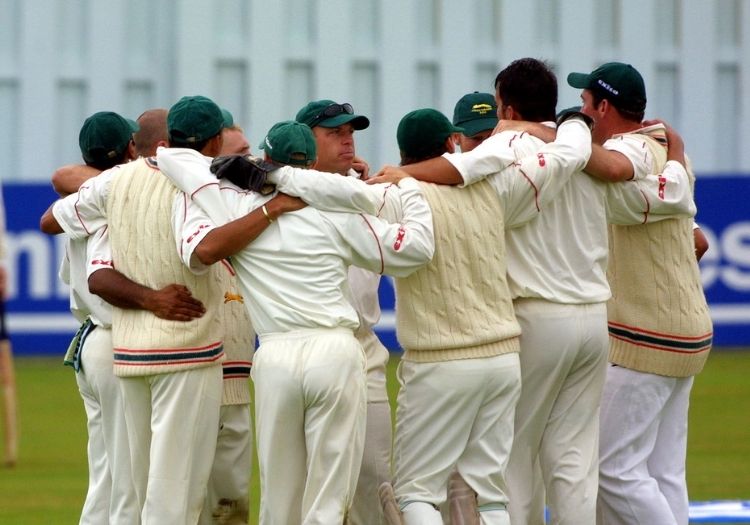 Leicestershire were one of the dominant white-ball teams of the time
How, then, would 2021 Scott Boswell help 2001 Scott Boswell as he stood at the top of his Lord's run-up, consumed by a lonely, suffocating embarrassment?
"Confidence is such an emotion, isn't it?" he starts. "You could be sky-high, having a great morning on a cricket field, then an average afternoon and your evening's an absolute disaster.
"I wasn't relaxed. I didn't feel comfortable in my own skin. I have grown as a person to know how to deal with those moments. I think I'm a more rounded person because of that."
2001 was a different era, though, and certainly the level of societal conversation around mental health was not where it is now. Cricket has become more open than most in that regard, but not necessarily at that time. If then was now, he believes, "you would have identified this before a Lord's final in terms of knowing your individual. Bollocks to technical, tactical stuff. How well do you actually know your individual? Literally, getting to know them. That's the one thing that I think is so important".
He adds: "I reckon if you spoke to all the kids here, I would know them. I would know them inside out: what their dog's called, genuinely know them. Not because you think it's the right thing to do, but genuinely know the kid. Get to know them first, and then you can pick up and observe so many things. Once you get that relationship and trust, I think then you can start adding things on and talking to them about technical stuff or whatever it may be. I think it has taken me a long time to get to this stage, to have the confidence and ability to do that as a coach. But nobody did it. Nobody after the game came up to me."
Instead, he hid in the toilet and smoked, "just trying to take everything away".
Only Ormond, a friend and sometime roommate, approached him; the pair went for a drink. "He just said: 'What the fuck happened there, Bozzy?' Do you know what, I laughed. He put his arm around me and we had a beer, and that was it."
That night, he remembers heading to a nightclub, escaping a team hotel full of Somerset fans. "Steph just didn't leave me. She knew the repercussions. I hadn't really thought about it. I just knew what had happened. The next day, there were so many write-ups about it."
"At the end of the day, it was me who bowled that over. Regardless of what happened before, during and after, I bowled that over. But I've learnt so much about myself"
Boswell was offered some further support afterwards once he asked, but he couldn't bring himself to open up to a psychologist so soon after the event. If there was a saving grace to such a difficult period, it was that it came before the social media age. It was bad enough as it was; his email address was leaked and he received several abusive messages accusing him of fixing the wides for money.
One learning in the years since – and this is not a regret as such – is that aligning himself with other yippers never helped in the way he imagined it might. Earlier this year, Mark Broadhurst spoke to The Cricketer about his own experience; Broadhurst – a rapid teenage fast bowling prospect at Yorkshire – was of the same generation as Boswell, though his journey with the yips began almost a decade earlier. Boswell remembers facing him at Trent Bridge once Broadhurst had moved on to Nottinghamshire in a desperate search to rediscover an ability that, for no good reason, had deserted him.
He says: "One ball flew past my head and I was like: 'Jeez, this guy is rapid.' But then the next ball would go to third slip and the next one would go to fine leg. I was like: 'What is going on here? Why can't this guy just bowl it straight?' Little did I know that six years later I would be in a position to sympathise with what he was going through."
Broadhurst reached out after Boswell's experience, and they became friends. When The Cricketer first approached Broadhurst to tell his tale – untold for three decades until March – he went to his mate first for reassurance. Boswell charts his interview with The Guardian's Andy Bull as a crucial moment in his own recovery, so much so that he wishes now that he had done it earlier.
"It took me 10 years to write anything or even talk about it," he says. "I said to Mark that people would empathise with him and relate. I said it would help with his healing and it would make him stronger and help him to look at the position he's in at the moment." Like Boswell, Broadhurst has come out the other side, forging a successful career for himself in IT, having first had to clear a similarly difficult emotional road.
"I read his story and I had tears running down my eyes," adds Boswell. "We talk about it all the time. He has become a really good friend. Hopefully, it has helped him."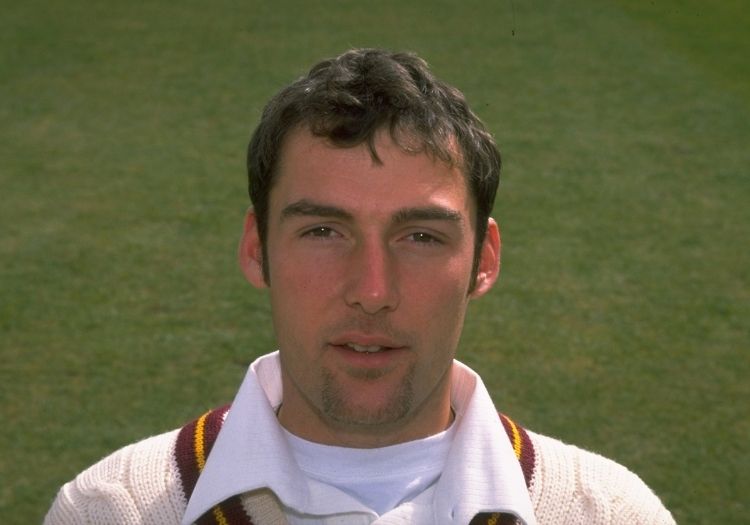 Boswell (pictured in 1997) is head of cricket at Trent College these days, one of the most qualified coaches in the country
In the years immediately after Lord's, however, friendships like this had the opposite effect. Looking back now, Boswell realises that he was reaching out to anyone who might offer him sympathy rather than pushing him to get back to bowling – a mindset it took him four or five years to shake.
Another consequence of his article with Bull was an outpouring from the wider public with similar stories. A vicar, who also played cricket, even contacted Boswell to talk about his struggle with the yips ahead of a Greek mythology exam. And while he was desperate to move on from that chapter of his life, he couldn't help but empathise with those getting in touch. To a certain degree, to have gone through the yips is to be part of an exclusive club: one of the reasons for which Boswell's over has been so widely viewed is simply that, to most people, what they are watching is unintelligible. Whereas those who have experienced its brutal illogic – this writer included – share an unusual, sympathetic connection.
It was a long road, but Boswell can bowl again now. When, on his occasional appearances, a ball slips down the legside, his go-to delivery is a cross-seam bouncer from round the wicket. "And then I'm into it. And as soon as I stop thinking, it's like anything. As soon as you trust your subconscious mind and stop thinking about it, you're in."
For years, he worked to reach that point.
"Do you know what my biggest fear was? My biggest fear was to not complete an over. So as soon as one went down and was called a wide, that was it. I was gone. I was literally gone. Everybody knew, as soon as the umpire's hands came out, everybody knew: 'Oh no, Scott Boswell – wides.' And then I just couldn't let go of that ball. Once I'd bowled a wide, that was it. All I would think was: 'How am I going to complete this over?' That was my biggest fear. And I'd rush it, I'd bowl as fast as I could, I'd be sick before games."
After leaving Leicestershire, he agreed to play amateur cricket for Preston and bowled fine through a series of winter nets, before freezing as soon as the pressure of league cricket reared its head. His family, he says, could work out what day it was based solely on his unease: the closer he came to Saturday and a game of club cricket, the more nervous he became. He began playing as a batsman, but each week became an exercise in wondering whether he might attempt to turn his arm over.
"I was so desperate to get back to bowling. It was hell. We are talking hell. People talk about 'being in the room'. I was never 'in the room' for about 10 years. I was always thinking about bowling and about how I could get back to doing something I did and enjoyed and loved and didn't think about. I would be thinking about it all the time. Come Friday, I couldn't sleep and I'd be doing things I shouldn't be doing. Then, come Saturday, I just couldn't do it. I just couldn't do it. It was awful. I just couldn't let go of it. I wouldn't let go of it, until I did it. And then, once I did it, it was parked and put to bed."
It took a 28-ball over – including a wicket, remarkably – to start the process, but gradually it returned.
He will never be the bowler he was – not least because Boswell is 46 now, but his own sons are approaching the age of playing senior cricket and he won't rule out joining them in their lower-tier leagues.
In 2009, he returned to Lord's for a cup final as Kibworth Cricket Club's 12th man. He cried in the changing room; some of his younger teammates assumed they were tears of happiness, but Boswell was back at the scene of his most traumatic day. It was closure, redemption, therapy and a concoction of so many contrasting emotions. He smiles: "I remember being sat with my lad, thinking: 'This place changed my whole life.' Something I was so passionate about and I loved so, so much. And then, that was it. It was gone. 2001. That was it. I just couldn't play cricket after that because of that one moment and that one occasion. And that hurts. It hurts a lot. A lot, a lot."
At the moment, his annual appearances amount to a single charity match, umpired coincidentally by George Sharp, the same man who stood at his end at Lord's and, in his role as an impartial arbiter, could only muster 'keep bowling' as a slither of advice. Now, they can share a joke, though never totally without nerves. A few summers ago, Boswell took five wickets in that fixture, but bowling his first ball, he remembers thinking: "'Please, just come out okay.'"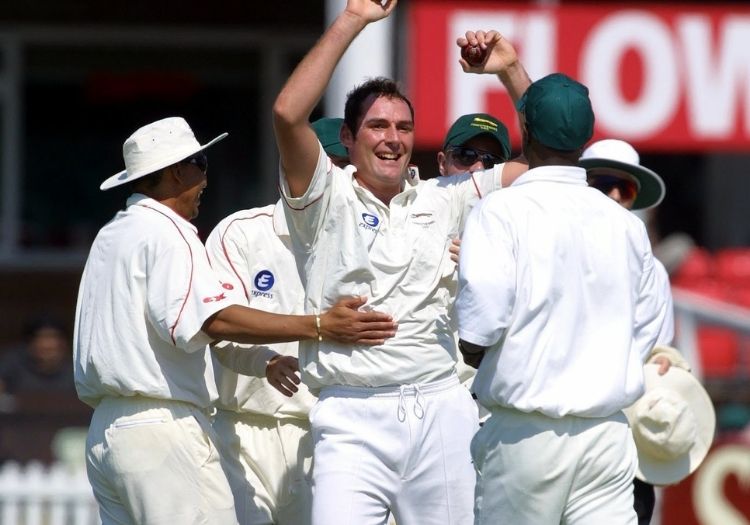 Boswell's natural empathy has made him a fine coach; what an asset he would be in an elite sporting environment, given his story and qualifications since
He was among some decent names, including Martin Bicknell, former Zimbabwe allrounder Neil Johnson and Courtney Walsh. "It was amazing," he chuckles, starstruck even now. "Courtney Walsh remembered who I was." They had played against one another before; Walsh recognised Boswell, they chatted and Boswell asked for a photo. In a sense, it was a eureka moment: a reminder of what he had achieved in a career that was worth so much more than the circumstances of its conclusion.
"I think your mind is set on the negatives and I carry it the whole time, but I always forget about anything that was positive in my cricket career," he explains.
"Some people come up to me and are like: 'Do you remember when you bowled that delivery?' And I don't. I only remember Lord's. It takes me a long time to remember those moments, to get into that positive mindset. And when I do, it brings back amazing memories. But trying to remember those moments is quite hard when your brain is so down that negative side."
When Andrew Flintoff visited Boswell's school, the pair embraced and his students asked how they knew each other. Like Walsh, Flintoff was an old adversary. Boswell had even dismissed him as part of a four-wicket haul in the semi-final before the final. He laughs, as if this has come as a realisation even to Boswell as the years have passed: "I could bowl. I got Flintoff out."
Through the diagnosis of a relative, Boswell has come to learn about the characteristics of ADHD and he believes he is "off the scale". During his career, he was a nervous watcher "to the point that I couldn't watch games", especially when they got close towards the end. He reckons that level of anxiety is a trait of the disorder. Likewise, he found the academic side of his Level Four coaching badge particularly challenging. "My mind is constantly working," he explains. "It's probably one of the reasons that I find exercise rewarding – it calms me down and relaxes me."
"I don't think I realised after the Lord's final that I was going to be known as this person. And that was horrific. It absolutely killed me"
He wonders whether that was the root of an unwavering workaholism.
"I would bowl continuously. I would not stop bowling, almost to the detriment of my action. I remember bowling 50 or 60 overs in a second-team match to the stage where I was so knackered that I didn't even get picked for a game against West Indies. That's one regret I do have. That was just me. I was full of energy."
Listening to Boswell is a fascinating education; he has never blamed anyone else for an episode that changed everything. But with what his own experiences have taught him, he knows that he would approach the same scenario differently as a coach – take the pressure put on him the night before the biggest day of his life, for example, when he was effectively warned not to "fuck up". One of his youngsters approached him recently to share his own self-doubt in his ability and his place in the school first team. "I totally and utterly understood it and empathised with him," he says. "We talked about it for hours and just had a chat. For him to say that at his age is a massive thing."
That stems from Boswell's own precedent; when he first joined Trent, he sat his students down and told them his story because he wanted them to know about their teacher: his values, his insecurities, his motivation and his empathy. Indeed, some of his greatest pride has come from former pupils thanking him for being so open.
Twenty years on, he has claimed total ownership of his lowest moment, and he is determined now to make the most of the attributes it has given him.
"There have been some difficult times," he reflects, "but I have got through those. Sometimes, I'm quite harsh on myself and I can knock myself a lot. I find it very easy to cut myself down quite quickly. But I have to remind myself that I've done my Level Four, I'm in a great school, a great environment, got two amazing kids.
"There were lots of reasons why that happened: building up to it, form, injury, personality. All sorts of reasons. However, at the end of the day, it was me who bowled that over. Regardless of what happened before, during and after, I bowled that over. It was a 14-ball over, but I've learnt so much about myself."
Elite sport has had Scott Boswell once but spat him out. How lucky it would be to have him again.
Please ensure all fields are completed before submitting your comment!