The rise of James Bracey: A Bristol boy living his dream
NICK FRIEND: Speak to anyone who has come into contact with Bracey and they talk of a grounded 23-year-old with a remarkable work ethic. His reward for impressing at Gloucestershire - the county of his life - is a spot in England's training squad
On September 7 last year, James Bracey spent his afternoon at the Memorial Stadium, watching Bristol Rovers take on Accrington Stanley.
He could only stay until half-time, exiting through the turnstiles and strolling down Gloucester Road until he reached the County Ground – from one spiritual home to another, ready to warm up and do battle.
That evening, he would keep wicket for Gloucestershire in a T20 Blast quarter-final against Derbyshire.
It is an anecdote that gets to the heart of a mightily impressive 23-year-old, for whom England have come calling. Bristol has always been home; Rovers represent an enormous part of his – and his family's – existence; a professional career with his county is everything he ever dared imagine.
And now for the next stage: a place in the 55-man training squad assembled ahead of an unusual international summer, having impressed through a winter that involved a batting camp in Mumbai and a landmark, unbeaten tour of Australia with England Lions.
"It's pretty surreal," Bracey admits. The news was initially delivered in a phone call from ECB performance director Mo Bobat, before it began to sink in as he scrolled through a list presented in alphabetical order: to reach Bracey, it meant passing Anderson, Archer and Bairstow, with Broad and Buttler waiting on the other side. "Just that realisation that I was part of a group with all of those World Cup winners and Ashes players – it was amazing to see your name within that."
He could be forgiven for still trying to register it all in his own mind. After all, it has been a rapid rise. He graduated from Loughborough University in 2018 with a degree in sports science with management, having made his first-class debut two years earlier. He has played just 32 times for Gloucestershire in the County Championship, while he only stepped out in white-ball cricket for the first time at the start of last summer. Yet, with every curveball sent in his direction, Bracey has thrived.
"Each time we've thrown him into a situation, he has found a way of getting through," Richard Dawson, his head coach, tells The Cricketer. "When he made his four-day debut, it was challenging. He was still at university at the time and I think he might have only played one game at the back end of the season.
"He went back to university, played first-class cricket for the university, got runs and obviously had learned from his small experience. Then, he came back to us, got runs for us in four-day cricket and then last year we put him into the 50-over competition. What did he do? He scored a hundred, a few fifties, batted absolutely beautifully, won a couple of games for us. Brilliant.
"Then, we threw him into the T20 stuff with his keeping. He always rose to the challenge, and that wasn't just down to his ability, but also his mindset."
Dawson led the Lions in Australia too, where Bracey ended up taking the gloves in five of the trip's six games – a nod to the improvements he made through working with Bruce French. That decision came initially as a surprise to Bracey, who shares wicketkeeping duties at Gloucestershire with Gareth Roderick and has always viewed himself as a batsman first. He kept just twice in last year's County Championship, before taking over in the Blast.
As such, he acknowledges that before the winter he saw himself more "in that group with Sibley, Crawley, Burns, Denly – I'd have been trying to strive towards that more so".
"But now that I've been away and got a taste for it and where I'm at keeping-wise, I feel like I can keep working at it and I can almost see how things go and see how I perform in both.
"It's an interesting one – it's quite a saturated group, but if you can score runs, that is clearly what they're looking at."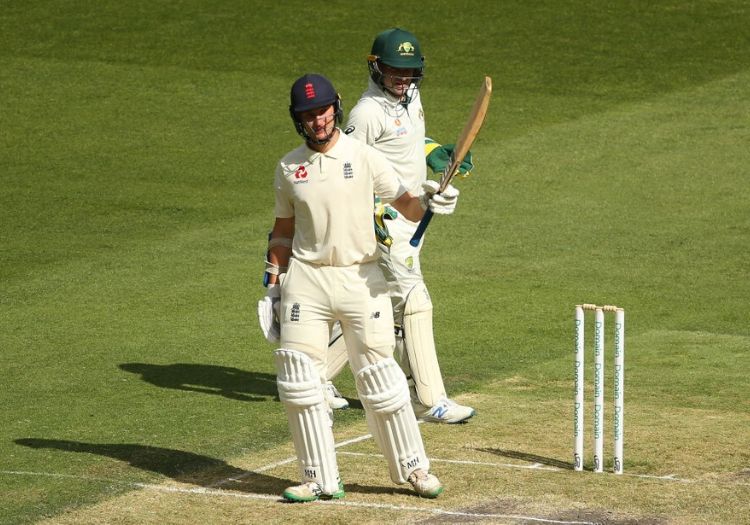 Bracey made 65 in England Lions' victory over Australia A in their unofficial Test 
It has been a lot to digest in a short space of time. Those who know him, however, swear by his character – a combination of humility and age-belying maturity. "He's just a really nice bloke," says Ryan Higgins, a county teammate. "When it's time to work hard, he works very hard, but when it's time to joke around and socialise, he does. He's right in the sweet spot, I suppose."
Dawson adds: "When he started, he was a very quiet kid. But then he started to come out of his shell and grow in confidence. He's just a very good kid, a good lad. He's really humble, good upbringing, gets on with his stuff. He's the same bloke as when he came in, just a bit more confident in himself, which is brilliant."
A product of Winterbourne Cricket Club, his older brother Sam was the first member of the Bracey family to take much of an interest in cricket. Now 26, he represented Gloucestershire's academy, before going on to play for Cardiff MCCU.
Until then, football remained another obsession – Bracey continued playing until he signed his first professional contract at Nevil Road, though by then he had long since homed in on life as a cricketer.
"My dad is a die-hard Rovers fan," he says, "so it was always a big thing growing up. Our family friends are big Rovers fans as well; we'd go down and watch them. While I was at uni, I was able to tick off a lot of the Midlands grounds and places I wouldn't usually venture up to. That was great.
"I haven't been able to watch much of them this winter, being away and stuff. Hopefully, next winter if I have some time at home I can go down and watch them a bit more, though no doubt it won't bring too much joy!"
Given the proximity of the two grounds, the goals can be heard as they go in on a weekend afternoon in the field. "When you hear them celebrate, he's is in the slips or keeping, going: 'Yes boys,'" Higgins laughs. "He's a proper geek when it comes to his football," Dawson chuckles. "He knows his stuff, a little encyclopedia."
His colleagues talk, too, of a remarkable, unmatched work ethic. "It was amazing," recalls Nitish Kumar, the Canada batsman who played alongside him at Loughborough. "He works harder than anyone I've met, I reckon," adds Higgins.
"He has a determination about him which is just incredible. His fitness levels are incomparable. He does everything at a different level – whether it's a yo-yo test or a squat. Everything that he does, he does it to be in the best shape possible as a cricketer."
For Dawson, what stands out is his approach to training. And while it is impossible to ever know for certain whether any youngster will make the grade on the county circuit, he has watched Bracey's growth from academy graduate to potential England player with a sense of admiration. Even in their first session back together last week, Bracey arrived with an idea of what he wanted to work on.
"He doesn't train softly," Dawson explains. "He pushes himself, he's really self-reliant, self-driven. You're not mollycoddling him. It's very hard to say that someone will definitely make it, but what you can get is a decent guide on whether he's going to give himself the best chance – stuff like when you see somebody be challenged in a higher environment than what they've previously played in, how long does it take for them to step up to the mark and put in a performance?
"Some players do it easily, some players struggle. But inevitably that's what gives you the self-confidence – once you manage to step up to that mark and put in a performance. Jimmy, in three formats, has done that very quickly. You look at those things and you go: 'Okay, he can obviously handle the pressure. Now, has he got the ability, has he got the skillset?'
"You can work with a skillset and improve on shots – that's just adding to your game. But the core fundamentals of whether he can handle the situation when you challenge him again, James has done that quite a few times. They're the things that stand out."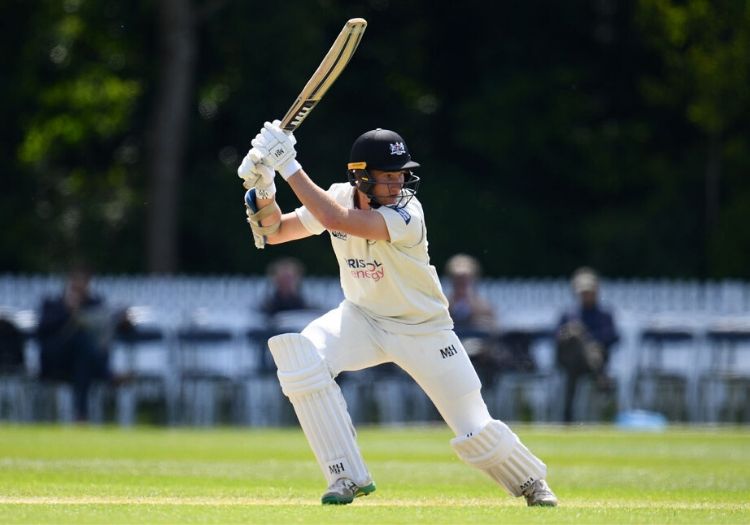 Bracey is popular and highly regarded among those who know him best
Bracey is happy to confess to having "massively" surprised himself with the rate of his success. He has only made nine List A appearances to date but has averaged 60.87 in that time, including consecutive fifties in his first two games and a match-winning hundred in his seventh, his runs coming at a strike rate of 108.94. He is yet to ignite in the Blast in the same fashion with the bat, though one legside stumping of Middlesex's Stevie Eskinazi last July was straight out of the Jack Russell playbook and further evidence of a burgeoning class.
It took him just four Championship games to reach three figures for the first time; among his five first-class centuries, he was not out in three of them, facing fewer than 242 deliveries just once – a nod to Graeme Smith and Alastair Cook, two men he watched growing up. In the Lions' unofficial Test win over Australia A, he made 65. Wherever openings have been afforded, he has pounced.
"I'd like to think that I knew I was capable of it," he reflects. "I've always made the conscious effort to work really hard, especially when I get opportunities. I work extremely hard to put myself in a position to take them. That was the case last year; I didn't start in the one-day campaign. I got left out of the first game and then there was an injury, so I played the second game. It was a case of making sure I was in a position to play really well.
"I think I've been surprised by a few of the things I did and, obviously, the development around going to Mumbai and Lions squads, which maybe I wasn't expecting this time last year. It's great that it's happened.
"I have to remain grounded and keep working hard though; I'm aware that it's not always going to be like this. It's obviously been brilliant for the last two or three years; I've loved that it's been successful, but it's about being aware that I have to keep doing the things that have got me to where I am at the moment."
Should he take the next step this summer and make his England debut, he would become the first Gloucestershire player to do so since Jon Lewis in 2005. For a batsman, the wait has been even longer.
It is one of the reasons for which there is so much pride in Bracey's promotion to this juncture. It takes only a quick trawl through social media to understand how popular an announcement this has been.
"Oh, hugely proud," Higgins enthuses. "I might be biased but I see him as one of those guys who's not in the 55 just because he's there. He's there to play for England, hopefully. I'd love to see him make his Test debut this year. Who knows, but it would be amazing. I know a lot of the guys are very, very happy for him. To just even be in among that, he should be really proud of that."
For Dawson, it acts as a positive marker of the work he and his coaching team are doing. Bracey has been in the setup for more than a decade. Ben Charlesworth, the young batsman, is another; he spent the winter with Lewis' England Under-19 side. "We wanted to get lads recognised – it was a clear goal that we had and one that I reiterated to the committee and also to the players," he says. "That's what your job is as a coach." It is deserved acclaim on the back of Gloucestershire's own success, having been promoted from the second tier of the County Championship at the end of last season.
Truth be told, others are not far away: Higgins, nominated for last year's PCA Players' Player of the Year award, captain Chris Dent and allrounder Benny Howell have all also made strong cases for higher honours of some description.
"It's helped my confidence, knowing that you've done something that's really good and people want to invest in that," Bracey reflects. "Hopefully, I can be the next one to get an England cap. It's great to know that lads can get noticed. A lot of people have that perception of it not being possible in Division Two and those sorts of counties.
"But when I think of county cricket, I just think of Gloucestershire. It's local, I've always played for them, I've always dreamed of playing for them. It's great that my development has been under their guidance. It makes things easier for me and also for my family. They can come and watch to see how I'm getting on. They love to come to watch and support. My brother's buzzing for us – he loves to help when he can.
"I love it in Bristol, so it's great to be able to spend a lot of time here and stick around here. Hopefully that continues – promotion last year and seeing the club moving forward is even better as well, so it would be great if we could bring more success to it."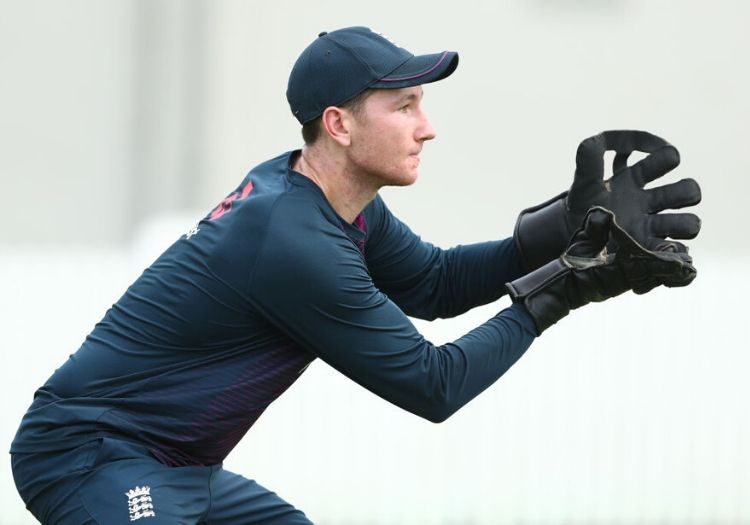 Bracey kept wicket in five of the six games on England Lions' tour of Australia
He points to Kumar Sangakkara as one particular inspiration in his youth – his ability to balance long periods behind the stumps with a staggering consistency with the bat.
Over the winter, he worked with both Marcus Trescothick and Jonathan Trott. Between the pair, their approaches equal something like the sum of what Bracey is looking to achieve: a left-hander with a tremendous range of shots combined with the talents of a man whose reputation was forged around an unflappable game plan and metronomic mindset.
"I'm trying to create a strategy that's really simple, really clear-cut and trying to stick to that as much as possible," he explains. "I wouldn't say I'm a limited batsman, but I wouldn't say I'm the most fluent stroke-maker. You see people like Jason Roy and Jos Buttler who, on the eye, it's so easy. And they've got that great shot-making ability.
"I wouldn't say I'm in that category, but I'd say I have got the shots – it's one of those where it's coming together but I'm still trying to work out a game plan that works for me and makes me hard to get out, really. I think that's the main thing – the longer you stay there, the more runs you're going to score. I think that's something that's really helped me moving forward so far, and think if I was lucky enough to develop that into a Test career, it could stand me in good stead."
Higgins remembers first coming across his now-teammate when the pair were on opposite sides in a second team game four years ago. Bracey was just 19, coming to the crease at 23 for 4; he made a run-a-ball 72 to drag his side to a competitive total.
He witnessed then what he has seen since and describes now. "I'm never calmer than when him and Chris Dent are batting," Higgins says. "He doesn't go out of his bubble too much. All his big shots are managed by what he's good at – he doesn't really go away from that.
"There is no rogueness about him – he won't be on 40 and play at a wide one and nick it to second slip. And if he does, he won't do it again. He's just got a very calm nature to him. I think he's just one of those guys who gets better all the time at everything."
Bracey points back to his time at Loughborough. He is keen to credit his experience at the university and the MCCU system more widely. "Everything on that campus just breaths sport," he recalls. When Loughborough faced Leicestershire in his second year of his studies, the students' team included Bracey, Kumar, Leicestershire pair Hassan Azad and Sam Evans, Middlesex wicketkeeper Robbie White, Essex seamer Sam Cook and Northants' Charlie Thurston.
It was an atmosphere that bred hard work and encouraged prosperity, little wonder that so many have moved together into the professional game. "It was so good for us," Bracey reminisces – "not just the intensity of the training programme, which is up there if not beyond the county system, but with your studies as well.
"Being part of a group that was very successful and having that environment to work in and all of those guys striving for the same thing, but separately having that team ethic to win trophies and be successful as a group, it was really special to be a part of.
"Everywhere you go there are high-quality sports facilities, high-quality coaches, opportunities to do things that I don't think many universities can offer. Everything almost revolves around sport.
"Cricket-wise, two good grounds – you've got the ECB performance centre. Just the little opportunities – the chances for bowlers to bowl at Lions batsmen, for me to go in and catch balls for the bowlers."
Dawson has tracked his evolution as closely as anyone. An alumnus himself of Exeter University, it is a system he holds in high regard. He recalls a conversation ahead of Bracey's final year, telling him to concentrate on his studies.
"I might be biased because that's what I did, but I don't think it should just be dismissed about going to university," he stresses. "I think you learn a lot about yourself, you mature a lot. He definitely matured and gained in self-confidence."
"I said to him: 'The cricket will still be here for you, but make sure you nail it down and get your degree out the way.' So, credit to him for finishing that when he could have easily stepped aside and gone into cricket."
Two years after graduating, here he is, advice heeded and ready to tackle this next step up. The pride of Gloucestershire, a product of Bristol, a local lad living his dream. "It's a bit mad, really," he laughs. Mad, maybe. A triumph of hard work, definitely.
"Being lined up as a potential candidate for an international side is a great honour. I'm very much looking forward to what these next couple of months bring but, if nothing, it's good to know that I'm there or thereabouts and in the hat moving forward."
Save 30% when you subscribe to The Cricketer's print & digital bundle. £35 for 12 issues
Please ensure all fields are completed before submitting your comment!