How to solve a problem like the English summer schedule?
NICK FRIEND - EXCLUSIVE: ECB managing director of cricket Neil Snowball discusses how the county game might look from 2022 as the furore over white-ball emphasis continues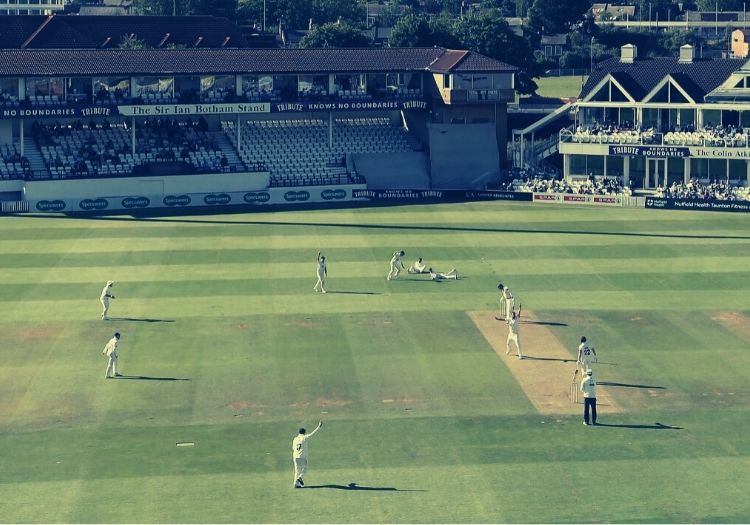 Neil Snowball is the ECB's managing director of county cricket. 
His is a privileged but difficult job, especially in 2021 given the ongoing complications of a pandemic and the curveball of a fourth competition to fit into a summer that has historically battled to balance three.
He is sitting down with The Cricketer at an appropriate moment: there is never more talk about the very public game of Tetris that is the English summer schedule than when the Test team has been bowled out cheaply.
And while the calendar will be put together in conjunction with the counties once this campaign is over, Snowball – formerly chief executive at Warwickshire – lays out some of the options for a game seemingly dripping in division.
The impact of Covid has not helped in all this: it has meant that since the end of 2019, when the County Championship was gearing up for a change in structure – from eight teams in the top division to 10 – little has gone to plan. 
The Bob Willis Trophy stepped in to salvage red-ball cricket in 2020, the Royal London Cup didn't take place at all and the T20 Blast – played behind closed doors – took refuge in September.
The Hundred's grand unveiling was postponed, and the decision was taken to carry over the structure of the Bob Willis Trophy into this summer's County Championship, developing seedings from the performances of the previous two seasons. This time around, the group stage of the T20 Blast ran through June and July, with the Royal London Cup – as had long-been decided – held alongside The Hundred.
Four-day cricket returns at the end of August, by which time the identities of the Blast's semi-finalists will be known, though they will only convene three weeks later to settle on a winner, before it all comes to an end on October 1, when the top two teams in the premier conference in the County Championship play off for the Bob Willis Trophy. By then, one of those teams will already have been crowned county champions.
Got it?
There is an acceptance that this is a bit much, but also that this was devised with the short term in mind.
"It's obviously a new format for this year, and we were very clear that it was just for this year and it's not forever. Also, part of that was a protection against Covid," Snowball explains of the County Championship, which has seen just a single pandemic abandonment so far – Derbyshire's clash with Essex – a result that moved their pool to an 'average points per game' metric.
The day after this interview took place, the Royal London Cup match between Middlesex and Gloucestershire was lost to an outbreak in the visitors' camp, with the same metric adopted. Middlesex displayed their frustration at that consequence, though an ECB spokesperson confirmed that those playing regulations were known ahead of the season.
Still, the domestic game has done well to come through this summer relatively unscathed.
The wider questions, then, are twofold. Firstly, how happy is the sport's national governing body with the system as it currently stands? Secondly, what happens next?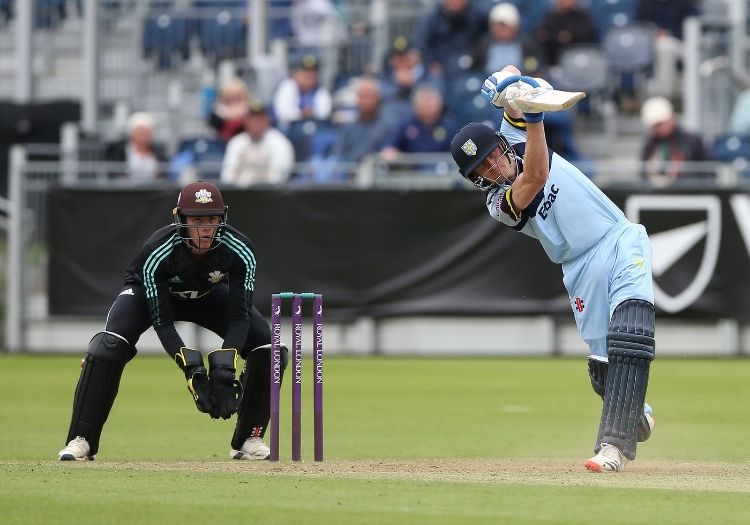 Durham reached the Royal London Cup final, having lost none of their batting line-up to The Hundred
To deal with the first one first: "I'm very comfortable with where we're at, at the moment," says Snowball. "And I'm delighted that we've managed to get as much cricket played as we have."
During his tenure at Edgbaston, he "didn't make any secret" of his support for a "super-charged, city-based competition". He has been broadly pleased with how The Hundred has started – though he highlights certain areas where, with his county cricket MD hat on, he would like to see some lessons learned. We will come to those later, but he remains steadfast in his view that the new tournament doesn't present the existential threat to the Blast – or the county pyramid – of which many are so concerned.
"I just don't see that," he insists. "Yes, we have to fit it all in, but we've been struggling to fit everything in for years. I think there is a place for everything. If you look at the viewing figures and the people who are coming to the grounds to watch The Hundred, why wouldn't they go and see their local county playing Blast cricket?
"I suppose the best way to look at it is that there are counties that are hosting The Hundred and counties that are not hosting The Hundred. For those that are hosting The Hundred, who are the bigger grounds with the bigger capacities, then the Blast is a really important source of revenue but then they are also hosting massive cricket and other major matches, so it's all part of the overall package.
"Actually, you can probably split those into the two London venues, where they've done very well over the years in filling out those grounds to capacity, but most of the other grounds have still got headroom where they're trying to grow the Blast. So, what we need to do is work with them and help them grow that to capacity.
"Then, look at the non-host venues. They regularly sell out because they've got smaller capacity. If you look at Hove, Chelmsford, Canterbury, Taunton – they are regularly selling out their grounds so they're almost at capacity. That's what I mean: why can't we build the Blast to get those grounds up to being full throughout that competition and then move onto The Hundred?"
And so, to the second question: what next? At the end of the season, the game will sit down again – counties, chairs, chief executives, the Professional Cricketers' Association and the ECB. Where the County Championship is concerned, it will be a pretty binary choice: another year of this format, with three conferences of six split at the halfway stage into groups, or a return to a two-tier structure with 10 teams in Division One and eight in Division Two. Quite how the teams would be allocated in the latter is anyone's guess, given how performances have fluctuated since 2019. Take Nottinghamshire, who went 1,043 days without victory in a four-day game between June 2018 and May 2021 but could now win this year's competition.
Importantly, whichever format is chosen will be for 2022 only. Thereafter, the hope is for greater finality, when the annual tinkering promoted by the uncertainty of the pandemic gives way to a consistency that will help clubs, players and supporters.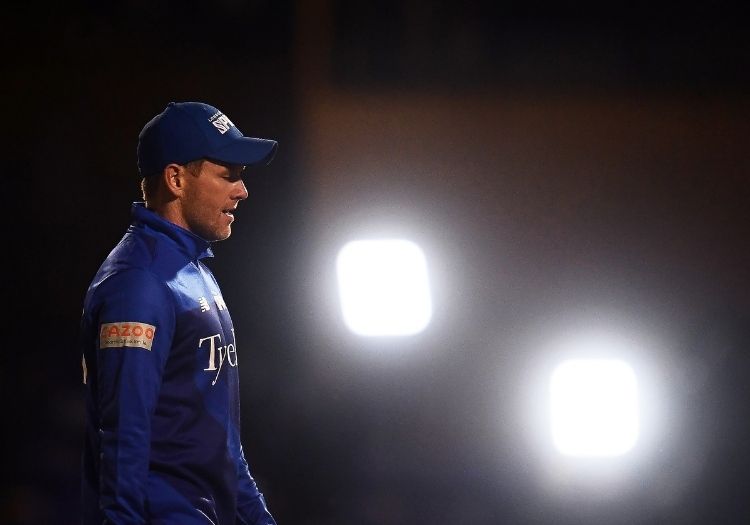 The Hundred finally started this year, after last season's Covid-enforced false start
"That bides us a bit of time to do a little bit more work. Then, we can come up with a plan, not just for the County Championship but for all domestic men's cricket through for a period of time," he adds. A path to be settled upon by 2025 in any case, since the television rights will be up for grabs and broadcasters will need to know what exactly they're buying into, but Snowball is keen for the future direction to be in place beforehand.
"We would love to get to a point where we have settled on a structure, on formats that can be linked together and then we can move forward with that."
Snowball's role as a facilitator for these discussions means that he is compelled to remain somewhat bound to the fence on his own preferences – "from what I've seen so far [this year], I think both have got merit" – though he confesses that he didn't like the previous County Championship structure, with an eight-team top division. "I thought it encouraged short-term thinking," he explains.
"People will say that it was better when we had the divisional structure because you really did have best versus best for the whole season. I would argue you did, but there was an unintended consequence of people thinking really short-term. I was there with Warwickshire: if you're in Division One, where there are only eight teams and two of those teams are going to get relegated, you did not think long-term. That's why I think we had a prevalence of Kolpak players, which is over now because of Brexit.
"But I just don't think that encouraged people to give spinners a chance, to give young players a chance. You were either looking up if you were fortunate or looking down if you were unfortunate. You could argue that moving to a 10/8 structure, with the Kolpak era behind us, might balance things out a little bit more. But I still think the divisional structure with the threat of the drop doesn't necessarily encourage longer-term thinking."
So much has happened since Northamptonshire and Gloucestershire shook hands on a draw in 2019 that earned both counties promotion to Division One that it is easily forgotten that the 10-team top tier has not yet been tried. "In an ideal world, I would like to see how the 10/8 worked, and to see how that plays out," he admits.
On the other hand, the early stages of this year's County Championship were undoubtedly successful, helped by unseasonably dry conditions that have since given way to a wet midsummer. Spinners were heavily involved, there was a genuine race among multiple batsmen towards the landmark of 1,000 runs before the end of May and the absence of relegation as a sword of Damocles over the counties' heads encouraged them to prepare wickets that were perhaps more conducive to games lasting four days than in the past. Additionally, it provided England's Test team with a decent run-up to the two-match series against New Zealand.
There were even two rounds in July, though they could be easily forgotten given the rain that reduced 12 of them to draws. On the flipside, however, those matches were the sum of the County Championship cricket on offer between June 6 and August 30, with some teams instead playing nine rounds in a row between April 11 and June 5 – too much in too short a space of time, one county captain told The Cricketer, to generate the best red-ball cricket possible. That said, he also expressed his irritation at a cycle of debate whereby the domestic game and its calendar come in for criticism whenever England lose but often go unmentioned when they win.

Had the weather played ball – and it was not unreasonable for the ECB to believe it might do in early July – the initial red-ball phase would have enjoyed an exciting denouement. Snowball stresses: "I loved the cut – those final two rounds in July where there was everything to play for as to who went into the different divisions."
Whether it proves as watchable through Super September – as it has been dubbed – only time will tell. As Snowball acknowledges: "I think the true test was obviously when we got to the cut and we've got six teams who probably think this is a great format, and then you've got another 12 teams who maybe aren't quite so sure."
While the top division – Nottinghamshire, Warwickshire, Somerset, Hampshire, Lancashire and Yorkshire – are all playing for the County Championship crown and the right to compete for the Bob Willis Trophy, the rest are fighting for a mixture of pride, prize money and ranking points, which could become significant for next year's seedings.
Last year's Bob Willis Trophy was the red-ball trophy. This time, it's an accompaniment. Whether that produces the "celebration of county cricket" that Snowball is after, given the draining efforts that will be exerted in a busy, competitive September, it remains to be seen. Whatever happens, though, the trophy will remain in existence beyond this year as a tribute to the late England great.
"Some people have said: what's the point of the Bob Willis Trophy this year?" says Snowball. "We did have a conversation as to whether the divisional structure produced the top two teams and then the top two teams then played off for the Bob Willis Trophy and then that would be a winner-takes-all, with the County Championship and the Bob Willis Trophy. But I think the counties felt that was probably a step too far – to put it all on that one game, particularly with it all being so late in the year.
"But there were other people who said: 'Well, that's what they do in the Sheffield Shield.' So, I still think that debate is to be had. Part of me loves the jeopardy – can you imagine if you ended up with Lancashire and Yorkshire in the Bob Willis Trophy final, playing off to determine who's also the county champions.
"We will see how it plays out this year, and when we have the discussion at the end of the season about next year, if the counties decide they do want to go with the same format with the group stage and the divisional stage, then it will be another conversation of whether they do want to go for the jeopardy of a winner-takes-all final or what we've got this year."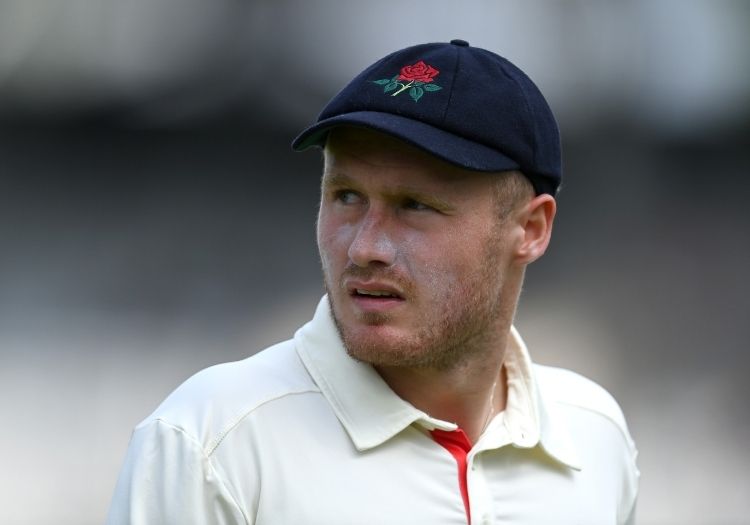 The new format of the County Championship encouraged spinners; Matt Parkinson enjoyed a fine start to the season
All that is well and good: a month ruled by the four-day format can only be a positive thing from an interest perspective – certainly, that was the case through April and May. But enabling more red-ball cricket through July and August is the tricky bit – an issue accentuated by the public debate that followed England's batting struggles against India, as well as the curious fact that between August 13 and August 30 in the heart of the summer holidays in a staycation era, only teams to have qualified for a white-ball knockout round have any cricket scheduled. It seems a maddening oversight for professional cricketers to be booked in for a week off while England are mid-Test series.
"That is the challenge, and that is what we'd like to do," says Snowball, who describes Test cricket as "absolutely paramount to everything we do" and recognises the need for "a strong first-class competition which can produce those players and that will ultimately go on and play Test cricket".
With that in mind, he adds: "We did have those two rounds in July this year. For me, that's an absolute given, that we've got to make sure we try to do that. I think getting county cricket to run right into the early part of July I think is essential.
"As long as they don't keep getting wetter and wetter, we do need to make sure that we've got red-ball cricket in July and, hopefully, in August as well."
How far beyond it can go is difficult to know, given the introduction of The Hundred and the consensus in 2018 that the County Championship should not be the tournament staged alongside it.
"I think the view was that you really can't play red-ball cricket at the same time," he explains. "But maybe that is something else that is open for grabs because you could argue that The Hundred is hoovering up the best hundred white-ball players who aren't necessarily the best red-ball players. So again, that's something that I'm sure we'll look at going forward."
As for an idea shared on Twitter by Kevin Pietersen, advocating the franchising of red-ball cricket and a condensation of talent, Snowball has seen those suggestions – and dismisses them out of hand.
"No, not at all," he says of their feasibility, defending the 18-county structure and the role of the National Counties in the process. "If you look at the production of players, you look at the players that Somerset have got playing for them who've come from Devon and Cornwall. Olly Stone, who I knew well at Warwickshire, look at his journey that started at Norfolk. I think we talk a lot about pathways, and for me the pathway in red-ball cricket is really important so that we have that wide spread.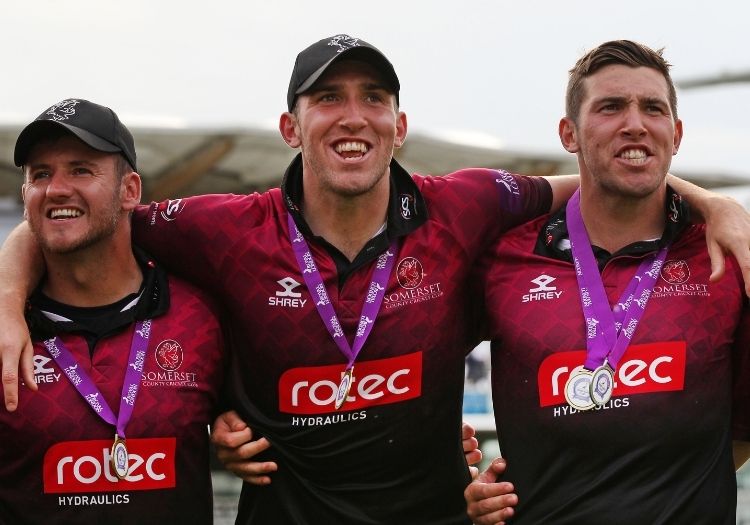 Somerset won the previous edition of the Royal London Cup in 2019
"It's not like football or other sports where you can afford to pluck someone from Cornwall and tell them to live in Devon and put them on an academy contract at the age of 16. There just isn't the money to do that, so they need to stay in Cornwall and be nurtured, and then they can move over once they're of academy age. I think the system works because we've got a complete geographical spread, and therefore they can come through. And then, they will move up. Look at Ben Stokes, Liam Livingstone and the Clark brothers, who've gone from Cumbria – some have found their way to Durham, some have found a way to Lancashire.
"I think for all of those reasons, it works. It works at the moment but, again, is it sustainable? Well, that's down to the counties and whether financially they can sustain themselves in the long run. But certainly from an ECB perspective, it's just never been a conversation in my tenure and even before. It's often a media debate as to how many first-class counties do we need. Well, at the moment, we've got 18 first-class counties and we've got 20 National Counties, and they're all functioning pretty well at the moment."
Indeed, Snowball has fielded discussions with the National Counties around the possibility of involving them in a future List A competition. The plan last year for a set of "showpiece games" featuring them and the first-class counties to precede the Royal London Cup was designed as a trial-run of sorts. After their cancellations in 2020, they were rearranged for earlier this summer. And while several were postponed by Covid concerns, there were intriguing wins for Wales Minor Counties and Cornwall over Glamorgan and Somerset.
Snowball explains: "That is with the view of saying: 'Well, is there something else we can do with the RL50?' There have been ideas knocking around with getting Scotland and the Netherlands involved like there used to be with the Pro40."
That is not something for the immediate future, though: "Right here in the middle of a pandemic isn't the time to be quite that creative, but what I have agreed with the National Counties is that I do want to play those games next year and they will definitely feature in the schedule. We want them to be played as showpiece games at their venues. If it works, we could maybe look at doing something creative with the RL50. That is certainly on the agenda, but it is a question of taking things a step at a time."
In the meantime, the Royal London Cup has reached its conclusion: an established tournament that has undergone a significant facelift. The final has been taken away from Lord's and moved on to Trent Bridge: "It's almost like an FA Cup final not being played at Wembley," commented Durham captain Scott Borthwick after his side confirmed their place. For this year, it will take place on a Thursday, though Snowball confirms that this is "a one-off" caused by a shortage of weekend days in the calendar – every Saturday between now and the end of September features either a Test match, T20 Finals Day, the Rachael Heyhoe Flint Trophy final or the final of The Hundred.
That will change next summer to ensure the occasion receives the focus it deserves. For all the scepticism around an apparently second-rate tournament, given the number of players absent to The Hundred, crowds have been more than respectable and reports from inside various dressing rooms have been broadly positive. "I think what it's done for me is make me realise that The Hundred isn't the be-all-and-end-all," a senior player told The Cricketer last week.
A brief spate of rumours a week before it began levelled some doubt as to whether it would take place at all, given the potential for Covid chaos. And some have suggested that the List A competition is the odd one out, should a format have to give way for the sake of the schedule.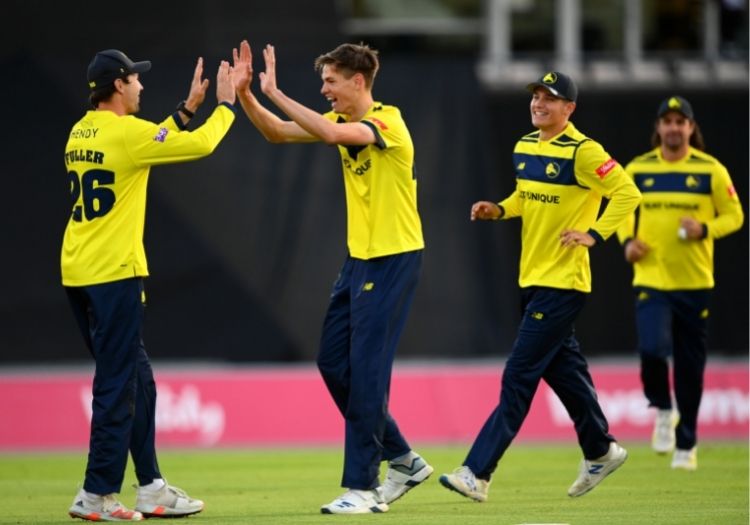 Hampshire won five games in a row to reach the quarter-finals of the T20 Blast but had to wait more than a month for their subsequent quarter-final
Snowball is unequivocal on that, however. "Certainly not on my watch," he stresses. "The reality is that the counties and the players wouldn't let it happen. For all of the domestic players involved in the Hundred, there are 300-odd who aren't. So, they want to be playing good-quality cricket through the heart of the summer. For those players alone, we have to make sure that we have a high-quality competition going.
"It is to make sure that we have a route and a pathway for the white-ball cricketers to come through. There has been a lot of debate about the RL50 this year and, I'll be honest, I've really enjoyed what I've see so far. Yes, there has been some criticism. Some people have said that it's only second team cricket, but that's not what the lads who are playing would say if you look at all those opportunities. It is important. It gives them the chance to play first-class [List A] cricket, hopefully then to get onto the England radar.
"If you look at what happened earlier this year when we lost the whole of the ODI team that was about to play Pakistan, if you look at the squad that we managed to pull together in 12 hours, they then went on to win 3-0, which shows the depth of white-ball talent in the counties. I know the counties were very proud of that, as was I."
And for the supporters – this year from Durham and Glamorgan, who have been given only a matter of waking hours by an unforgiving calendar between semi-final victories and journeys to Nottingham – there is an assurance that this will be better managed next time.
"It would be good to get more of a gap between the semi-final and the final, so there's more time for members of those clubs to get tickets and things like that," he admits.
Overall, however, Snowball has been encouraged by what he has witnessed over the last month – not only at the outgrounds where much of the group stage took place, but also in terms of performances from experienced pros and fledgling youngsters, who sensed the opportunity to make a name for themselves.
"There is no way I'm going to sit here and claim that we've got all the best white-ball cricketers playing in the RL50 because, clearly, we haven't," he knows. "They are playing in The Hundred."
The landscape has shifted exponentially since the C&G Trophy final was the main attraction in the county summer; that title now surely belongs to Edgbaston and T20 Blast Finals Day. But Snowball believes this can be the start of something.
"We all remember the time when the One-Day Cup final was the biggest date in the domestic calendar. But it isn't now," he says. "If you look at the Blast and the prevalence of T20 cricket and Finals Day, that has become probably the biggest day in men's domestic cricket. I think there is a role alongside that for the RL50.
"From a scheduling point of view, we are always looking at that. It's not great this year, it's not ideal. You've got the RL50 final on a Thursday at Trent Bridge for the first time. I think, just as Edgbaston has managed to build finals day into something really special, I hope that Trent Bridge can buy into and really build the One-Day Cup into something really special."
It has become traditional in recent years for the culmination of the T20 Blast to coincide with the arrival of autumn as a colourful, celebratory end to the summer. That, too, could change next year, with the possibility of playing the Blast to its conclusion, including Finals Day, ahead of The Hundred.
Among other things, that move would provide a greater continuity than the present chain of events, which this year will see three competitions – the County Championship, The Hundred and the Royal London Cup – all taking place between the end of the Blast's group stage and the beginning of its knockout rounds. One head coach expressed his frustration at this to The Cricketer.
He said: "The gap between the end of the pool stages of the Blast, the quarter-finals and the final basically means that if you have a decent run, that is stalled. You've got this big long break, so you've lost all momentum. Suddenly, the side you turn up with on Finals Day is not the same side that you've gone through the pool with."
Hampshire, for example, put together a late surge of five straight wins to qualify from the South Group but have played eight one-day games since. Bringing the tournament together, theoretically, will fix that anomaly.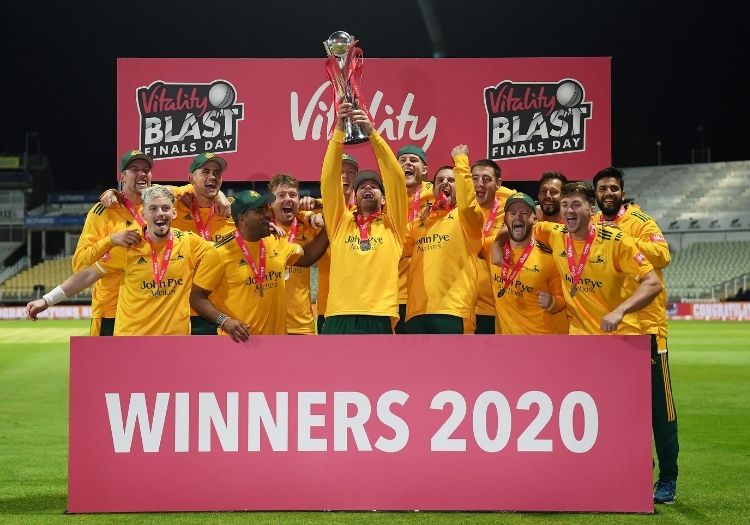 Nottinghamshire won last year's T20 Blast
"It might just be interesting to see how that blends," says Snowball, who views the shift as an opportunity to forge closer ties between the two short-format tournaments through the use of the Vitality Wildcard Draft, whereby Hundred teams pick one player each on the strength of their Blast form.
"One of the things that I was really excited about – and it was still good but it didn't quite work in the way that we'd hoped – was the wildcard picks," he explains. "The whole idea was that eight lads would get picked up at the end of the Blast and go into The Hundred based on their performance in the Blast. For me, that was one of the key connections between the two, and because of timings and everything, it didn't quite work like that. It will be really interesting to see how that works again next year."
Snowball highlights Chris Benjamin and Jake Lintott – both of his former county – as two of the big success stories of the men's competition. How they have fared – Benjamin especially, given the speed of his rise from university to Birmingham Phoenix – has only opened the eyes to others on the circuit. As Snowball puts it, the 115 players involved in the inaugural tournament "will definitely want to play next year".
That is another fillip, he says, for the relationship between The Hundred and the Blast.
"The way for them to demonstrate that they should be drafted again for next year is probably through the Blast and through other white-ball cricket," explains Snowball. "It probably puts even more focus on those competitions for people who maybe didn't get drafted this year to say: 'Right, I need to do better. If I want to play in The Hundred, that's my opportunity.' I think it can only enhance the RL50 and the Blast."
He adds: "I think what is really refreshing is that we're already having conversations with The Hundred hosts for next year, where they're saying: well, it's gone so well and clearly there is a market for these daytime matches during school holidays that you could actually focus them even more on Saturdays and Sundays, with the first game at 11am and the second game at 2.30pm, which has already proven to be a hit, and then leave the Blast in those more traditional Wednesday, Thursday, Friday nights, which can appeal to a broad crowd anyway."
Based on this season's dates, playing the entire Blast at once might also assist another obstacle to factor into 2022: the Commonwealth Games, which sees women's cricket make its debut and the sport, in any shape, return for the first time since 1998. With the multisport event due to take place in Birmingham between July 28 and August 8, playing the whole Blast – for which this season's group stage finished on July 18 – would take enough time that it could finish at the beginning of August, providing a natural lead-in for The Hundred, with many of the best female players in the world already likely to be in the United Kingdom, representing their countries.
One complication, however, would be Edgbaston, where the entire cricket competition will be held for the Games: 16 games in 10 days, ending on August 7 – a significant burden in the middle of the summer.
Indeed, the pressure on their host stadia used for The Hundred – of which Edgbaston is one – has been a major learning this summer for the ECB. "One of the things we know we need to do better is the stress on the venues in terms of how much cricket we play in a very close period of time," says Snowball.
"They're on their knees at the moment and I think we need to learn from that and look at how we can potentially spread that out a little bit more. The same goes for groundstaff and pitches. The reality is that there has been an awful lot of pressure on the squares and on the groundstaff, and we have to have a look at that."
Take Trent Bridge, for example, where in virtually no time at all marquee matches were thrust upon them on an almost daily basis: one T20 Blast fixture, four Hundred doubleheaders, a T20I between England and Pakistan, the first Test of the India series and the Royal London Cup final in the space of a single month.
That can hardly be a healthy way of running things even if, as Snowball points out, "what we've seen over the years is many of the bigger venues becoming more and more dependent on fewer and fewer days of cricket. Effectively, your Test match and your other international cricket – plus your Blast, but now also your Hundred matches – all combine to generate the revenue that enables you to sustain yourself as a business."
What else does he feel The Hundred might benefit from doing differently?
"For all the administrators, it's looking at how we schedule that, how we promote it, how we market it and how we market the other things. I think at the moment, one of the criticisms – and it's a fair criticism – is that because it was new there has been a huge amount of focus on The Hundred. But what about the Blast? What about the Royal London Cup? What about the County Championship?
"Well, the reality is that we've probably invested more money in the County Championship in the last two years through the investment in streaming and promoting digital than we've done for a while. And that will continue. With the Blast, we did TV advertising for the first time ever this year. But we need to do more of that and look at how they fit together. I absolutely do not see The Hundred as a threat; I see it as a way to enhance and improve – and challenge, but also making sure that we have the other competitions working as well as they can."
Please ensure all fields are completed before submitting your comment!