Even revelry and farce cannot overshadow the class of Joe Root
PAUL EDWARDS AT LORD'S: England and India face a two-day shoot-out in the second Test. But for now, the magnificence of the hosts' captain is the central talking point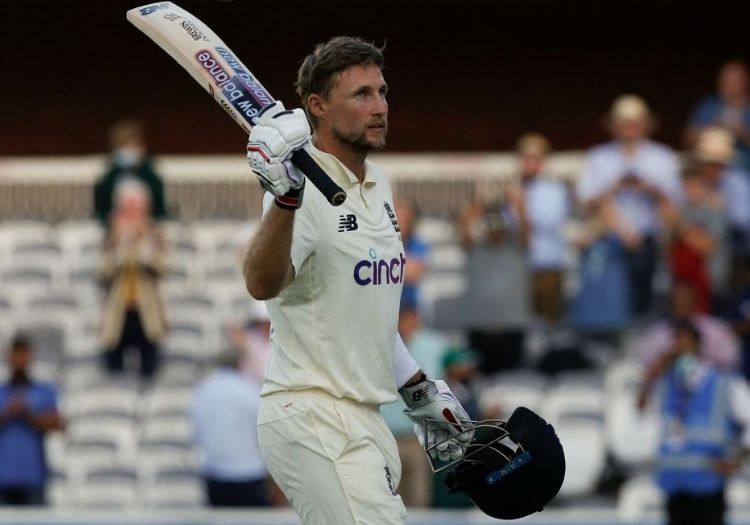 Lord's (third day of five): India 364, England 391 - England lead by 27
It is pleasant to see that a particular day is almost perfect for batting; it is quite another to do as Ken Barrington advised and book in for bed and breakfast on such occasions. However, in addition to being England's captain and an enthusiastic supporter of county cricket, Joe Root is not the type to let an invitation pass by without a courteous response.
He understands what the Saturday of the Lord's LV=Insurance Test means to those attending it and he can certainly tell a flat pitch from a flat iron. And beyond even these things he wants to help his country win Tests. It was therefore scarcely a cause for surprise that he decorated this marquee occasion with one of his best centuries for England since erm…well, since his previous one.
However, whereas Root's hundred at Nottingham helped to save a game, his unbeaten 180 at Lord's was been a matchless contribution to a Test whose outcome remains beguilingly uncertain. When England's last man, James Anderson was bowled by Mohammed Shami's last ball of the day, Root trooped off and received a standing ovation from his wife and family in the Grandstand and also from supporters who knew they had watched one of the great knocks.
Just as significantly, though to many it did not seem so, England's captain had ensured that his team goes into the fourth morning with a slim 27-run lead. It is six-to-five-and-pick-em how this Test will end but there is no conjecture at all as to the calibre of Root's century, his fifth of the calendar year, four of which have been in excess of 150. Sometimes in cricket – think Ben Stokes' Ashes century in 2019 – context is all. And sometimes great innings transcend the circumstances of their making. This was one of the latter.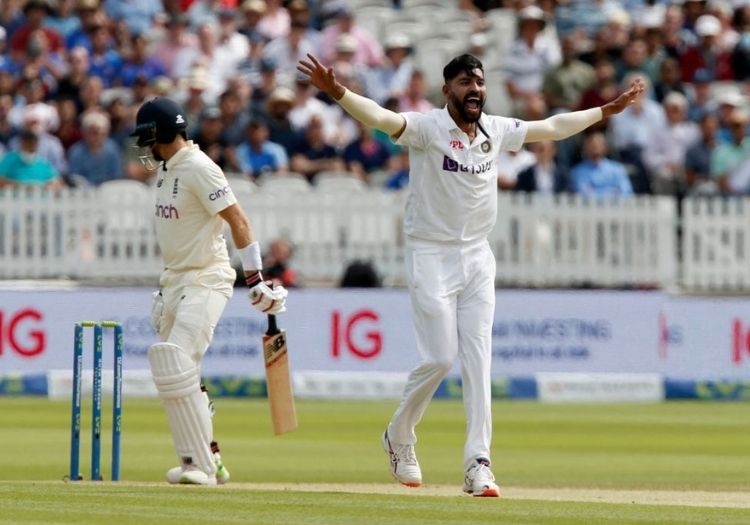 Mohammed Siraj led the Indian fightback
There was so much to admire, so much that was old school in the best sense. Analysts are right to identify the side-on classicism of Root's batting, a characteristic that has only become more pronounced since the end of the New Zealand series. He allows his top hand to control his blade, most memorably when playing the cover-drive but also in the glide to wide third man with which he signs his major innings. Both strokes were on view during his one big partnership of the day, a 121-run fourth-wicket stand with Jonny Bairstow that dominated the morning session.
Yet the morning's play also gave rise to one's only gripe. The authorities at Lord's should not abuse an Englishman's much-vaunted willingness to queue for anything. Tickets for Saturday's play were both highly prized and highly-priced – £165 a pop in parts of the new Compton Stand – yet many spectators were still queueing at least half an hour into the first session.
They thus missed the two gorgeous drives off Shami and Mohammed Siraj with which Jonny Bairstow saluted the new day. By the time those boundaries rattled into the boards at the Nursery and Pavilion Ends, Root had already reached his fifty with a square drive off Siraj, but the authority with which the England skipper currently plays renders such achievements almost mundane. Until that is, one considers the application with which Root approaches his work and the solidity of a defensive technique that makes everything else possible.
Root and Bairstow batted beautifully together, not least in the way they were attuned to each other's judgement of a run. There were plenty of quick singles but no near things. Indeed, the England batsmen feasted nearly as enthusiastically as the spectators enjoying their second major meal of the day at the Nursery End. Corralled behind a rope to separate them by furlongs from any players wanting a net, the lunchers eschewed social distancing as firmly as moderation. Rarely has so much cold meat been consumed by so few in so short a time.
The last few moments of the first interval offered other entertainment. Pitch invaders are often extrovert loons who have made far too free with the fortified cordials but one had to admire the gall of the chap who strolled out with the tourists immediately after lunch.
Dressed in whites and wearing an official Indian shirt he attempted in vain to convince the stewards that he was a member of the side and so bereft of ideas had Kohli's bowlers appeared in the late morning that one would hardly have been surprised to see the skipper ask the interloper if he could twirl a few leggies. As it was, he was led from the field and will no doubt be fined a thousand quid, which, as match subs go, is pretty steep, even for central London.
India, though, are far too good a side to remain obviously subservient for long and within six overs of the resumption they had the wicket they needed. It was not, of course, that of Root, which they would have preferred, but Bairstow's scalp still did them very nicely and no one could have begrudged them their breakthrough.
For after being beaten by Ravi Jadeja with one that straightened nicely from the Nursery End Bairstow appeared caught between a waltz and a tango when Siraj set a leg-side field and peppered him with a few short ones. Eventually, he went for the pull but merely gloved a dolly to Kohli at slip.
Jos Buttler then batted cheerfully enough for an hour without suggesting permanence and had put on 54 with Root in 12 overs when he was bowled by Ishant Sharma for 23, a good ball nipping back down the slope and passing through a gate of Chatsworthian dimensions. Moeen Ali then added a further 58 with Root before he became the first of two batsmen to be caught in the slips off successive deliveries from Ishant.
Jasprit Bumrah's produced four no-balls in his final over
Sam Curran, who is not having a great match, was the second, and with England then 341 for 7 it appeared possible the tourists would take a first-innings lead. The deficit was still seven when Siraj's fourth leg-before appeal in two overs against Ollie Robinson was upheld by Michael Gough but Mark Wood's run out left the home side seven ahead.
What followed was quite farcical as Jasprit Bumrah overstepped four times in one over near the close of play and bowled at least half a dozen short deliveries at Anderson, who was hit on the helmet. During this sequence, reports reached Lord's from a Yorkshire graveyard that smoke had been seen rising from Fred Trueman's grave.
Root, though, still had the last word. He got out the reverse ramp to lift Siraj for one boundary and slog-swept the next ball for another. We thought he might still be batting on Sunday morning but a straight ball from Shami cleaned up Anderson and put Bumrah to shame.
That said, this is not an evening to dwell on anyone's discredit. Lord's is a wreckage of revelry but almost all the fun has been good-natured. Siraj has justified his selection with four wickets but the toast now – even a few Indian ones – is England's captain, much as it has been since January.
Please ensure all fields are completed before submitting your comment!