Ripping it up in April: How leg-spinners bucked a Championship trend in 2021
NICK FRIEND: Leg spin in the early weeks of the County Championship has in the past been a rarely seen art. This year, things have been different. After a winter spent with England, Matt Parkinson and Mason Crane discuss their early-summer success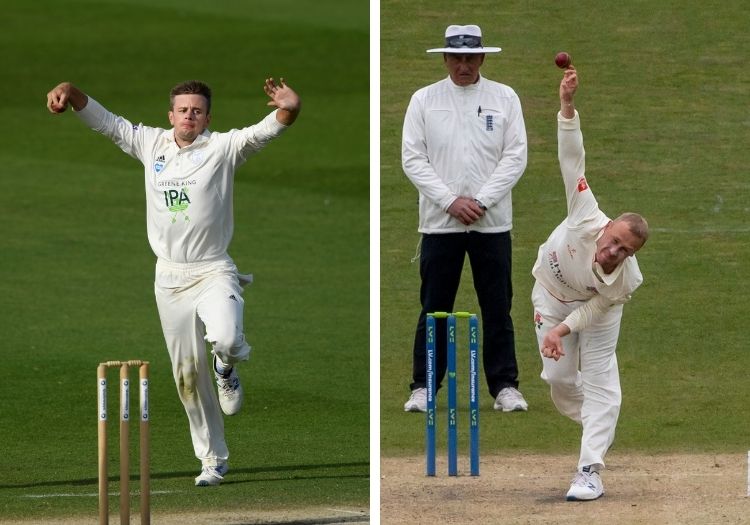 Until this year, Mason Crane and Matt Parkinson had – between them – played just one County Championship match in the month of April. So, when Crane was thrown the ball by James Vince at Grace Road on the second afternoon of the season, it represented a new step in his young career. Likewise, when Parkinson was selected for Lancashire's rain-ruined draw against Glamorgan last week, it marked just his second first-class appearance in the month of May.
Crane made his red-ball bow in 2015, with Parkinson's coming 11 months later; since then, Hampshire and Lancashire have played 44 County Championship matches before the start of June, only 13 of which have involved either leg-spinner. But seven of those have come in the opening weeks of this campaign, when things have been unquestionably different.
A large part of this shift is the consequence of their growth as players: both are 24 years of age and spent much of the winter in each other's company on England tours, first in Sri Lanka and then in India, talking about wrist spin and working on their art.
In many ways, their cricketing lives have followed similar journeys: early success at county level; trouble with back injuries; international debuts in T20Is; learning to deal with the immediate, intense scrutiny that accompanies the existence of any fledgling English leg-spinner; finding themselves on the outskirts of their county sides in red-ball cricket, where control has so often in the past been chosen over the perceived risk of a young leggie; and most recently overcoming those hurdles and putting forward a significant case for their rare talent.
"Mason and I had a few chats this winter about it," says Parkinson. "I almost thought it was more of a cultural thing in county cricket. I never felt it was a dig at me or that there was no trust in me. I just felt that a lot of people go for the safe options; I'd like to think now that I am a safe option and that the work I've done over the winter has enabled me to be selectable in all conditions and in all formats, and that the trust is there in all conditions.
"I still might not make it that far, but I just want to make it far enough to be playing 10 or 11 games and play enough to actually be selected for England off the back of enough performances. I hope I've done that. I think a lot of teams do still go for the lad who can bat a bit and bowl spin.
"Mason and I have probably had quite similar careers so far. It's just about trying to get that trust and getting rid of the adage that it's too risky to play as a solo leg-spinner. I think hopefully we're both coming out the back of that now."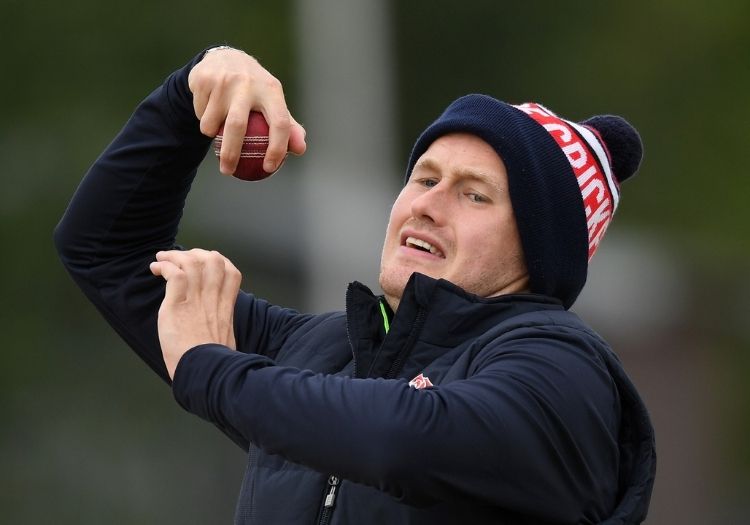 Matt Parkinson has been one of the players of the season so far
Parkinson could hardly have started any better, with 19 wickets in four games, proving in the process that he is far more than a luxury add-on. Highly rated left-arm spinner Tom Hartley was selected at his expense in Lancashire's opening game against Sussex – a reminder that even this campaign began with a brief stint in a fluorescent bib.
Parkinson's response has been spectacular and, while a Test berth against New Zealand in June remains unlikely, the consistency of his performances has at least ensured he remains part of the national conversation.
He produced viral gold dust in bowling Northamptonshire captain Adam Rossington and Sussex's Delray Rawlins with two deliveries that spun prodigiously: the ball to Rossington has been compared to Shane Warne's famous wicket of Mike Gatting; his dismissal of Rawlins, who shouldered arms only to lose his off stump, was hardly any less impressive.
But it speaks volumes for the bowler that Parkinson has become that those showreel deliveries mean less than what he produced against Kent: "They aren't flukes but they're one-off balls," he knows.
Kent was a turning point, and perhaps a defining moment when he looks back at the start of this summer in years to come: we are only five weeks in, but he is already just two wickets away from this becoming his most prolific first-class campaign. Parkinson had never bowled more than 31 overs in a first-class innings ahead of this season, before twirling away for 32.3 overs in the second innings against Northants. There were 16 maidens in that spell – he had never bowled more than that in an entire game, let alone during a solitary innings.
Yet, that was only the dress rehearsal for a trip to Canterbury where, with runs on the board – Lancashire racked up 525 in almost two days – Parkinson was tasked with bowling out the home side on a flat pitch. Overall, he toiled away for 52 overs as Kent sought to avoid an innings defeat, ending with career-best figures of 7 for 126. Such is the nature of digital media, this effort has sailed rather more quietly beneath the radar than those outlier deliveries – especially the ball to Rossington – that captured the imagination of a public obsessed with leg spin and, more specifically, England's perennial search to find the one.
Indeed, a recent CricViz statistic declared that no one in world cricket spins the ball as much or drifts it as far as Parkinson. But in the long run, it will be his tireless clinic at Canterbury that stands him in the greatest stead.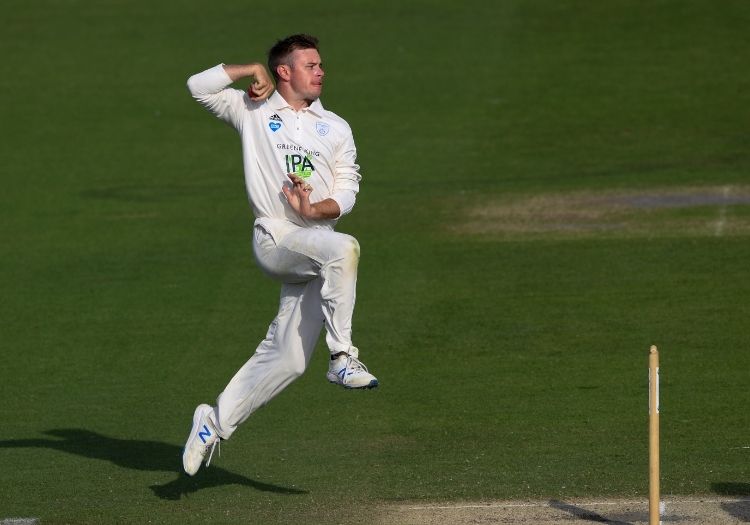 Mason Crane claimed 10 wickets in his first three games of the season, before being left out for defeats by Surrey and Somerset
"Those wickets were very pleasing – I had to work so hard for them as well," he explains. "Fifty-two overs is a long slog. To get lads caught at extra cover and short leg was probably more pleasing than the balls to Delray and Rossington.
"Kent was massive for me personally, learning about myself that I can actually do that on a flat pitch. I think most people probably assumed when they saw that I'd bowled 52 overs for seven wickets that it was a ragger. But it wasn't. I think moving forward, that's something – to play at the next level – that I need to do more of."
And that is the game with leg spin: doing it on surfaces that offer less encouragement, finding ways of making something out of nothing. Against Kent, there were catches in the ring and around the bat, as well as lbws that look innocuous and unremarkable if digested in the same bitesize manner as the "one-off" deliveries. But taken in their entirety, with an appreciation for the patience involved in setting up each batsman, Parkinson fully understands the extent of what he achieved, even if followers on social media won't quite grasp the subtlety at play.
"It's probably the first time in my career that I've had long enough on an unresponsive pitch, where the pressure was on me to deliver and to be able to think about those plans for a long time," he reflects. "Normally, throughout my career I've had very responsive pitches where you don't really have to think too much. You just bowl your best ball and the pitch will normally help you or there will be enough spin that you'll be fine.
"Kent was the first time that I've really had to think in more detail than normal. There were periods of play where we tried to lob it up outside off stump – that obviously brought some reward. There was a plan to hit people on the shin by dragging them across. I think Kent was probably the most sustained period of planning I've had, but that was purely because we were fielding for 200 overs in two and a half days.
"I've probably not had the chance to do it very often – or I've not had the chance to succeed doing it like that. It was loads of fun.
"The attack we have at Lancashire now is so balanced that there shouldn't be too many moments where that happens; we have an attack that's well balanced to take 20 wickets on any pitch. So, I think when those opportunities do come where the captain tells the leg-spinner: 'We need you to bowl from one end and take 6 for 70,' you do have to cherish those moments."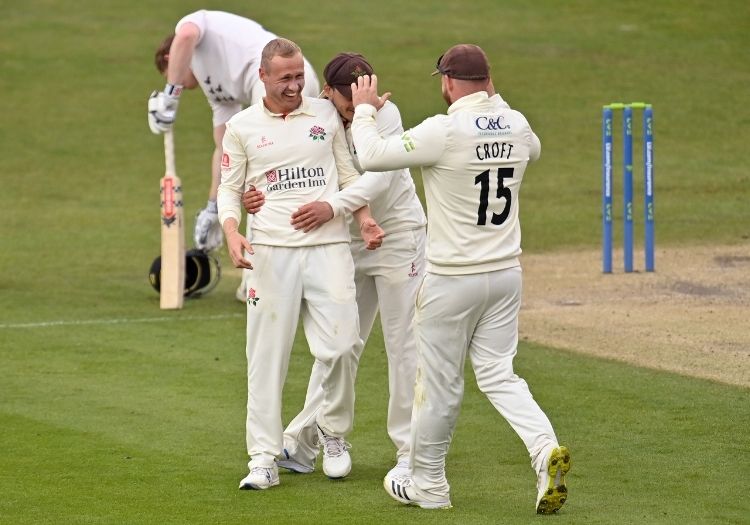 Adil Rashid was the last leg-spinner to take 40 County Championship wickets; Matt Parkinson is already almost halfway to that landmark
Of the eight men to have enjoyed more success in this initial salvo, seven are seamers and Simon Harmer is the only spinner ahead of him.
Crane, too, has started well, taking 10 scalps in three games: convincing wins over Leicestershire and Middlesex and an agonising draw with Gloucestershire. His absence from Hampshire's last two teamsheets has coincided with one-sided defeats at the hands of Surrey and Somerset.
"It has been pretty good," he admits. "Like most spinners, when you realise that you're going to be playing at the start of the season, you're kind of relieved. It is pretty easy to leave spinners out."
The cold doesn't help: it snowed at three grounds during the opening set of fixtures, while Jack Leach's fine spell of finger-spin for Somerset at Lord's during the same week was most admirable for his ability to remain so frugal – 4 for 61 in 33.4 overs – in quite horrific conditions for spin bowling.
"It is disgusting, you can't deny it. It's absolutely minging, but you kind of have to crack on," laughs Crane.
"What's difficult this year when you're bowling is that the twelfth man comes to get your cap and jumper from you – you can't just get it at the end of every over. Standing there with a jumper less than everyone else is tough, but once you get bowling it is actually okay. It's a case of using handwarmers and it's everything you can think of really to try to warm your hands up."
It is why Mushtaq Ahmed went about his work rather differently during his time as one of the great overseas players in county cricket. "I never tried to spin it hard in the middle of May," he told The Cricketer last month. "When the weather was cold, all you had to do was land it in a good area and not try to spin it hard or try to bowl a magic ball. That helped me. I used to think I had to bowl good overs with a good line and length."
Parkinson has taken the opposite approach. "If I was good enough to do that... it sounds very easy for Mushy: just land it there and take poles," he jokes. "I'm just trying to spin the ball as hard as I can on any surface. The only time I veered away from that was in the first innings at Sussex – I just tried to place it there a bit for the first six overs because it was a pretty flat surface. Then Dane Vilas just said: 'Come on mate, rag it.' As soon as I did that, I got Delray out."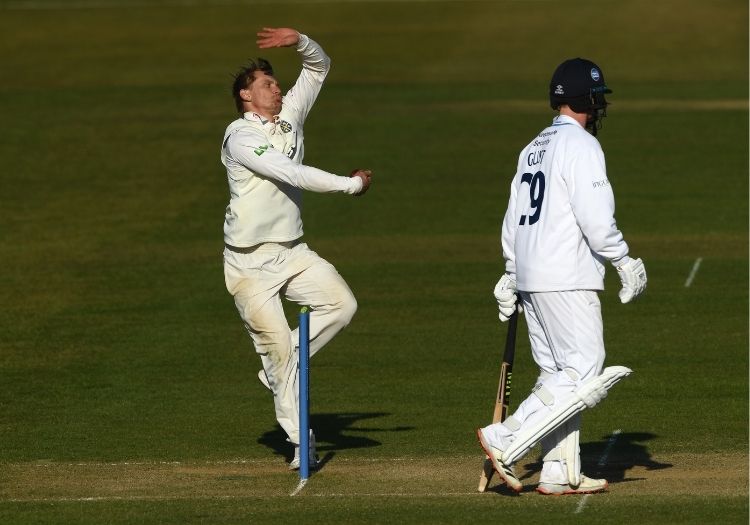 Scott Borthwick rarely bowled for Surrey but has returned to Durham as their primary spin option
Parkinson adds: "I have the coldest hands in the world. Even in Dubai or India, my hands are normally quite cold, so I find it quite challenging to keep warm. I've been quite lucky this year because I have bowled a lot; after two or three overs, your fingers do get warm: handwarmers in pockets, hands down the back of my trousers if no one is watching."
Owing to his two stress fractures earlier on in his career, it is rare anyway for Parkinson to bowl without a sweater – it helps to keep his back warm, but recent conditions have forced him to take extra measures. "This season, I've bowled in a short-sleeved jumper. I wear a long-sleeved jumper on top of that and then I'll take that off to bowl. I bowl in a big coat sometimes in training, so I'm pretty layered up."
Having prior experience of bowling leg spin while well wrapped up has helped Parkinson. Crane chuckles that the closest he has come to replicating these temperatures in a cricketing environment has been during the winters in the Ageas Bowl's indoor school, where there is no central heating.
"The trick I used against Nottinghamshire was to wear two pairs of trousers and put the handwarmers in the trousers underneath," adds Durham captain Scott Borthwick. "I'd actually have my hands in my trousers underneath. It might have looked a bit weird, but it was an easier way of keeping my hands a little bit warmer.
"There is nothing worse than trying to bowl a hard leg-spinner when you've got no blood in your fingers. That's an absolute nightmare."
But although April was the frostiest on record for 60 years, it developed into a month for batsmen on pitches that – for a variety of reasons – brought spinners into the game more than might have been anticipated. Crane describes them as "probably been some of the flattest wickets we'll get all year".
"They're pitches that, as a spinner, I've been involved in. They've not been like some of those early-season games where you just turn up and know you're there as a fielder. I've definitely felt involved in all the games, and that's all you can really ask for."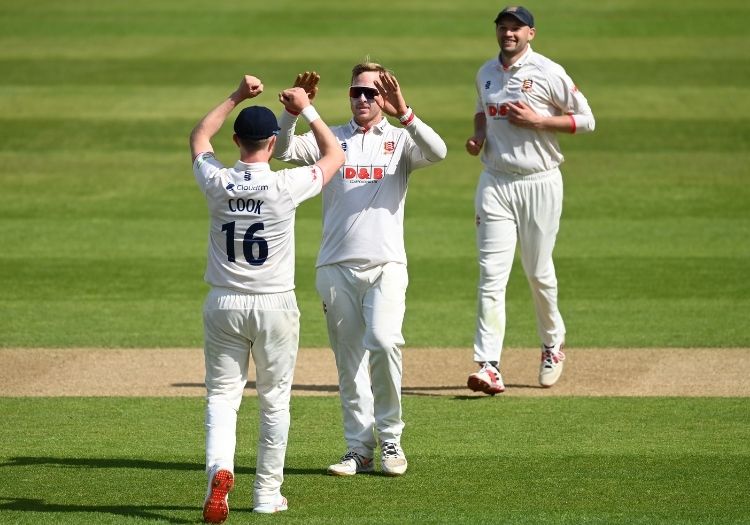 No one has bowled more overs than Simon Harmer
Borthwick references the impact of the heavy roller, especially when used on multiple occasions in quick succession to squeeze the life out of a surface, while Joe Root's public suggestion after England's defeat in India for an increase in the number of points available for drawn games was heeded ahead of the season, with an emphasis on creating an environment in which spinners could thrive.
"I was hoping that I'd be involved, absolutely," says Crane. "Was I confident? Probably not. I was pretty aware over the winter that I might have to try to sort out a loan to try to find some cricket because I want to be playing. You're always hoping you're going to be involved."
He has bowled 111 overs in three games, while just 13 players have done more bowling than Parkinson: Harmer leads the way, having delivered 274.4 overs in five matches. Intriguingly, the next spinner on that list – through 191.4 overs – is Brett D'Oliveira, the only available spinner on Worcestershire's senior staff with Moeen Ali on Indian Premier League duty until the tournament's suspension.
D'Oliveira – in his own words, "a middle order batter and bowling some overs when required" – has already bowled more balls in little over a month than in any previous season other than 2016.
There have been other similarly encouraging stories elsewhere for the leg-spinners' union: Matt Critchey's all-round exploits at Derbyshire have been well documented – he was named by the PCA as its player of the month for April, while Middlesex handed a first-class debut to 20-year-old Luke Hollman. And then there is Borthwick – predominantly a batsman these days but also his side's primary spin option – who has bowled 61 overs and "a lot more than I thought I would" in his first month back at Durham.
"When I see a leg-spinner bowl, the first thing I do check his figures," he says. "I know how hard it is and I know it's a good sign if I see a leggie bowl well. It's almost like: 'Good on you, lad.' And then it almost spurs you on to want to bowl more."
One by-product of the restructured County Championship has been an opportunity for leg-spinners to try out their tricks against new batsmen: Parkinson had never come up against Glamorgan, Kent or Northamptonshire in red-ball cricket until this summer. Crane, who faced Gloucestershire for the first time in the longest format three weeks ago, explains: "There are some players who you've only played in white-ball who you expect to play in a certain way and they don't, so you also have to get used to how they're going to go about it. It is quite nice and it is refreshing to play against different teams."
For Borthwick, it has been a case of relearning what he once knew. After leaving Durham for Surrey at the end of 2016, having made his England debut in an Ashes Test as a leg-spinning allrounder in 2014, his bowling was hardly utilised. In fact, having bowled 1,881 deliveries in first-class cricket in 2016, he bowled just 1,226 over the next four years combined.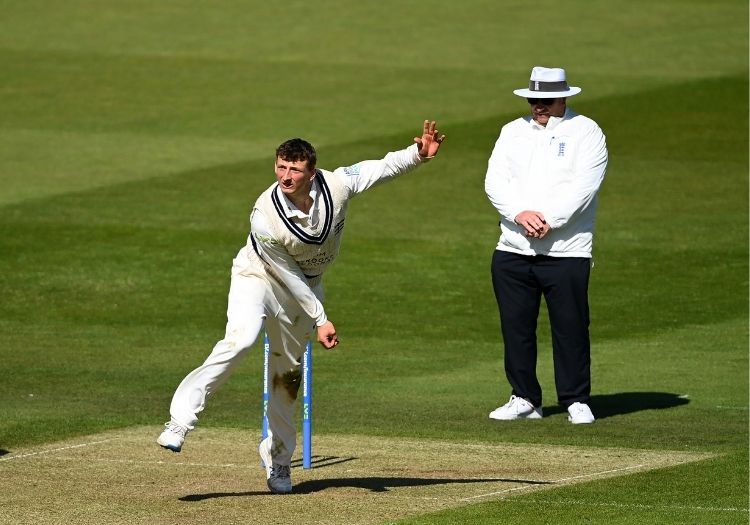 Luke Hollman was handed his first-class debut by Middlesex in April
And so, thinking like a specialist leg-spinner again has provided an additional challenge, while the cloak of captaincy has given him an extra sense of confidence. "It's actually nice to get some overs in and to almost feel like a bowler again. I used to love it: if there was going to be spin bowled in a game, it was going to be me. Also, if there was a chance to win a game on day four, that was going to be me. It excited me.
"My mindset of bowling has probably changed a little bit; I went through a phase where I wasn't as excited as I should have been and I would almost back down a little bit. But I'm getting that back again, knowing that if spin is going to be bowled then it will be me bowling it. That excites me a bit."
And that feeling of enjoyment is a running theme.
"I think there's a difference between using a leg-spinner as a leg-spinner and using a leg-spinner as a spinner," says Crane, who – like Parkinson – is a fascinating talker on his specialist subject. Both men have benefited from their positions in balanced bowling attacks.
At Hampshire, Crane has operated after a world-class new-ball pairing in Mohammad Abbas and Kyle Abbott, and alongside third seamer Brad Wheal, fourth seamer and opening batsman Ian Holland and England left-arm spinner Liam Dawson. In effect, it has handed him free rein; the presence of Holland – and Dawson's reliability as a holding bowler – makes Crane an ideal foil, where risk is outweighed by match-winning potential.
Furthermore, the departure of former West Indies fast bowler Fidel Edwards has increased his importance. The 39-year-old was still bowling at express pace during the 2019 County Championship, where he took 48 wickets. Though their skillsets are different, Crane has taken over from him as the provider of something different.
"He was the X-Factor bowler," he says. "That has kind of fallen on me now, so I'll come on and try to offer something completely different if nothing is happening. That's my role now: to try to make something happen and try to move the game on.
"Similarly, when the tail comes in or they need to score quickly, they give the ball to me. It has helped me in that sense – we don't have the type of bowler that Fidel was."
That ability was evident in the dying embers of the draw against Gloucestershire, with Crane trapping Matt Taylor in front, playing no shot to a googly. His job – especially in situations like those – is to show off his tricks and enjoy his liberty.
"That's kind of why I'm bowling, because I'm offering something different. To the tail, if I'm spinning it both ways, that's my thing. When I do have Daws in the team and we've got our seamers who are so good at controlling the rate, I have the freedom to do that. Whereas when you're the only spinner, sometimes you don't have that freedom because you have to hold an end up."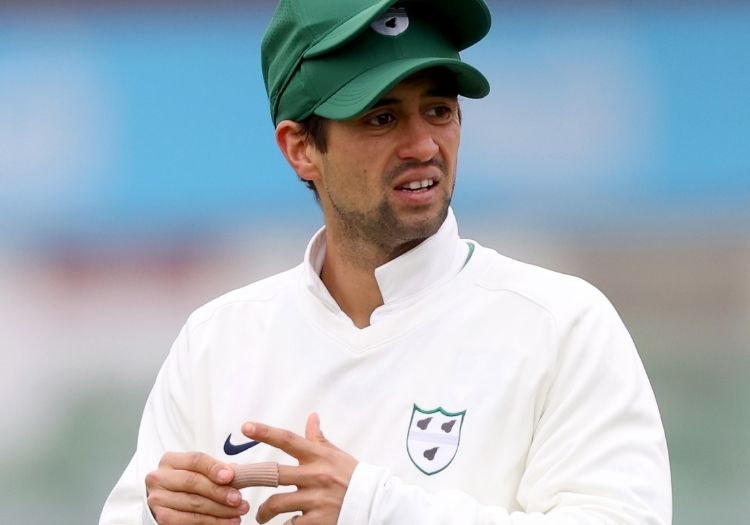 Brett D'Oliveira has already bowled more overs than in all but one season of his nine-year first-class career
That must be a leg-spinner's dream, especially for a child of the Warne era, brought up viewing leg spin as an uber-aggressive, wicket-searching artform?
"At Leicester where we got 600, it's freezing, the seamers aren't getting much from the pitch and they're looking for me to do something a bit different: to bowl 30 overs in a day was great. That's what I'm here for and what I enjoy.
"I can come on and I can try to control the run rate as much as I can; I can have defensive fields and all that jazz, and I can do my absolute best. I did that last year to a point, and I did it fine. But while we've got Daws in the team, why would I? He is way better at that than I am, but I'm more there to be really attacking and try to make something happen when there's nothing going on. It's exciting to be used in that way – for me, that's much more fun."
The same has been true for Parkinson, whose Lancashire side have begun in fine style. They have failed to pass 250 only once with the bat, meaning that he has enjoyed the buffer of having runs to play with, while the return of Liam Livingstone from the IPL – like with Dawson for Crane at Hampshire – has given Parkinson a finger-spinner to share the load. Not that it has to be this way, however.
"It frees a bit of pressure but if the conditions are right, there is no reason why a leg-spinner can't hold and be looking for wickets as well," Parkinson insists, with his exploits at Kent – before Livingstone became available for selection – acting as rock solid evidence for his point.
He expands: "We had three seamers (Tom Bailey, Luke Wood and Danny Lamb), so they rotated from the top end and I just bowled non-stop for two sessions from the other end. That, for me, is ideal.
"If you watch the likes of Simon Harmer and Jeetan Patel, their seamers would operate from one end and then they would hold from the other end. That is probably the ideal position for the leg-spinner to be in: you have to bowl a lot of overs when the pitches are good and the team needs wickets."
So, what about the old mantra of Warne that 'if it seams, it spins'?
"I agree, but you don't normally get to find out because the seamers get a go first," laughs Crane.
"I do firmly believe that every grass pitch will eventually spin a bit. But when it's seaming around against Middlesex and Abbas just bowls them all out (for 79 in their first innings at the Ageas Bowl), we'll never know if that would have spun loads because me and Daws didn't bowl a whole lot!
"That's the whole thing in April – seamers are effective first, so you don't often get the chance to see the spinners have a go, but this year has obviously been different."
Crane and Parkinson both reflect on their winter away with England as a major positive, even if it meant spending months in bio-secure bubbles without any competitive cricket.
"People would ask me if I was improving and I'd say: 'I'd like to think so,' but until you compete against your peers you don't actually know," says Parkinson. "You can bowl as much as you want in the nets, but I'm convinced that I have got better and the work I've done has paid off. The results have shown so far in the games I've played. I can look back on it as a winter well spent.
"It could definitely have gone the other way if I hadn't started as well. It would have been very easy for me to get down and think that it was a bit of a waste. But I definitely feel like I've improved."
And as for Crane: "It's a shame that last year was short really, because I felt like last year was a big year for me in terms of having a real point to prove that I am of use in red-ball cricket. It was only a few games but I feel like I did prove that point, and that's kind of why I'm in the position I am now where I'm actually playing in the first game of the year.
"Last year for me was a real turning point and this is me building on the momentum I built then, just seeing where it takes me. Luckily enough, the weather's been pretty dry so I've actually been getting a bowl as well, so it's all trending in the right direction."
Subscribe today and receive The Cricketer's centenary issue – six issues for £19.21. Click here
Please ensure all fields are completed before submitting your comment!