Rebuilding Durham
NICK FRIEND: This season is the fifth since Durham were condemned to relegation on account of the club's financial issues. With the help of Marcus North, Tim Bostock, Chris Rushworth and others, this is the story of the ongoing recovery and a new era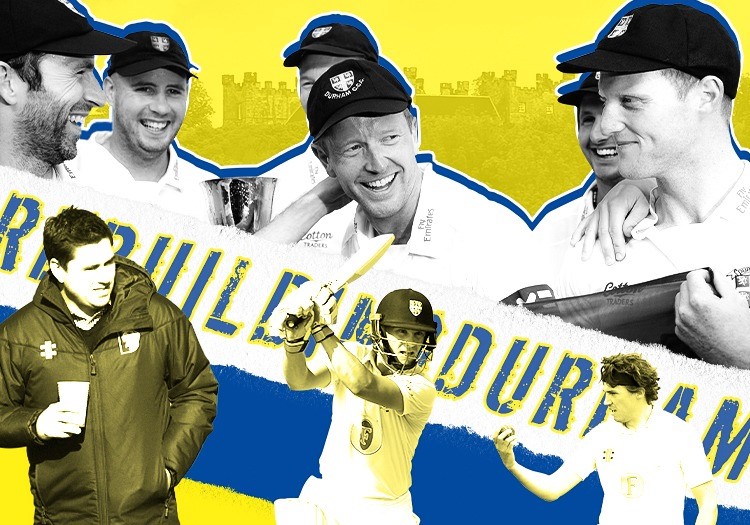 First, Ben Raine returned in 2018; a year later, Paul Coughlin followed; at the end of 2020, Scott Borthwick came home. Slowly but surely, Durham are putting the band back together. 
Rising again as a force from the depths of 2016 has been a taxing process for a club that in the previous decade had won three County Championship titles and two 50-over crowns.
Because in the grim nadir that followed, everything teetered on the edge: a relegation imposed in light of financial issues was announced after the end of a season in which Durham finished fourth in Division One – 30 points behind champions Middlesex and 76 clear of bottom side Nottinghamshire.
An exodus followed of star names, as well as points deductions, salary caps and other unprecedented sanctions placed on the game's youngest first-class county.
Since then, they have recovered incrementally, constructing a promising future with the ultimate goal of returning Durham County Cricket Club to where it was before: a competitor for trophies, a production line of England cricketers, a paragon for others to admire.
And so, the homecomings of Raine, Coughlin and Borthwick have symbolic significance – more than anything, as a sign that the club has emerged from those times intact and that the commitment to filling a Durham team with Durham players remains a priority.
"That's very much part of our strategy," says chief executive Tim Bostock. "We want to continue developing younger players that are coming through and when the opportunity arises, let's try to get Ben Raine back, let's try to get Paul Coughlin back, let's try to get Scott Borthwick back.
"We've managed to do that now in consecutive seasons. It's very important that we're a north-east team with a north-east identity."
All three are Sunderland-born and Sunderland football fans. Raine was released at the end of the 2012 campaign with just two first team appearances to his name, before establishing himself at Leicestershire; but Borthwick and Coughlin departed a year apart from one another in 2016 and 2017, both in demand from other clubs and looking to further promising careers at a time when Durham's prospects were rather less certain.
In 2019, when each squad member was asked for their favourite sportsperson to feature on a wall of motivational quotes, that Mackem association shone through. Raine recalls: "I was sitting in the dressing room and someone was like: 'Who did you put?' And I said: 'I put Lee Cattermole', and he went: 'So did I.' All the Sunderland fans put Lee Cattermole – a bloke who wasn't the best player but loved crunching tackles.
"And I think that's what the region's about. We just love blokes who give their all – they don't have to be the best, but that was the reason I signed back for Durham. I loved that way of playing cricket: I'm here to give my all, 100 per cent, and I'm here to have a good time while I'm at it.
"I always really envied the way that Durham played their cricket. They were there throughout the game fighting against you, but it was with a big smile on their face. You hit them with your best punches and they'd just smile at you. I think it's the north-east mentality and way of life. That's the thing that resonates in a good Durham team."
That passion and the impact it has had on those who have represented the game's youngest first-class county filters through The Cricketer's many conversations with those at the heart of the club in 2021. It is a central, inescapable theme. And, as the county continues to rebuild after its flirtation with the brink, retaining that north-east soul is as paramount now as it ever was.
"One of the great things about Durham is that it has a heartbeat that runs through it," says Marcus North, now into his third year as director of cricket.
His affinity with the area began during a stint as an overseas player for Gateshead Fell – where he met his wife, Joanne. He played for the county in 2004 and worked as chief executive at South Northumberland CC after his retirement.
Now, he is tasked with navigating the way forward, working alongside head coach James Franklin to imagine the future while holding onto the roots of a successful history under club legends Geoff Cook and Jon Lewis, both of whom left the club at the end of 2018.
"I would never be critical of the past," North stresses. "I'm very respectful of the past and the people that were involved in that. They did a fantastic job, and you can't deny the success and the record that they had.
"And if you look at all the periods of time – whether it's at its infant stage at the beginning or when I played and we weren't a successful cricket team or when we brought in Michael Hussey to captain and signed Dale Benkenstein, Michael di Venuto and Ian Blackwell – there's still that heartbeat of the north-east and what Durham means. That was something I was really conscious of.
"Yes, I can come in and implement some changes in staff and structure; yes, we can have a slightly different focus on our standards and what is acceptable and how hard we want to push each other, but we're still going to have that heartbeat that runs through the club.
"That's the balance we're working really hard to maintain. If you ask anyone who's spent any period of time playing for Durham, they will say that there was that heartbeat. Some people can't describe it, but they know the feeling of playing for Durham."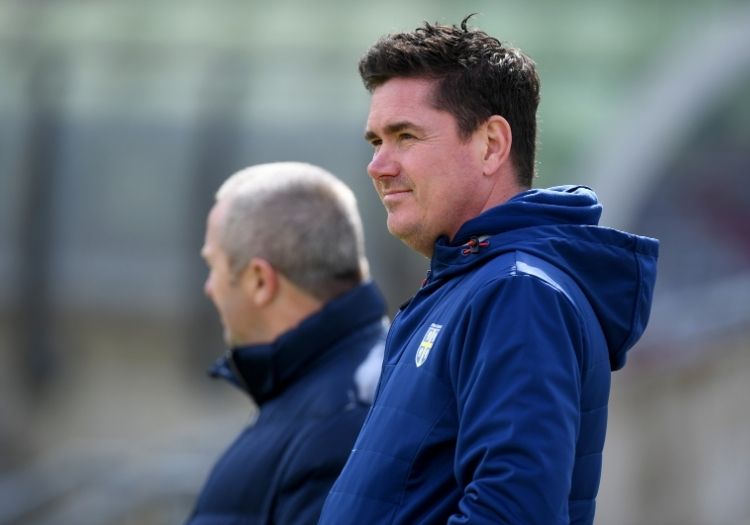 Marcus North is in his third season as Durham's director of cricket
Chris Rushworth certainly can. The club is all he has ever known: the county he watched as a child, the county who let him go him as a teenager, the county for whom he went wicketless on a chastening first-class debut when he was re-signed, the county at which he has become both stalwart and icon.
In 2015, he snared 83 County Championship wickets in the top tier. Quite frankly, he should have been rewarded with higher honours. Last year, he reached 500 in Durham colours, with only Simon Brown and Graham Onions beyond him. He is almost certain to usurp both before the end of May.
And amid Durham's troubles, he has never wavered. There was never a consideration of moving on when the going got tough.
"My future wasn't something that I thought of," he says. "Once we realised that we were going to be safe enough to have our contracts continue, I wanted to be there with the club when we got back up. We're still trying, and it would be nice if I'm still around to get promoted."
In many ways, his tenacity and unswerving industry have acted as an embodiment of his region.
"He's unbelievable," adds Raine. "How young players react to seeing how he goes about his business, that's the thing that will empower the next batch of bowlers coming through to be exactly the same. It's not just him being him, it's the lads growing up wanting to be him."
Respect for Rushworth is widespread; one of his highlights of last year's shortened season was the touching applause that came from Yorkshire's balcony after he reached the landmark of 500 scalps.
But it wasn't always this easy. And the early strife he experienced as a fledgling pro makes him an ideal role model in a part of the world where players are often spotted through the club cricket ladder rather than in the public school system.
Rushworth says: "When you speak to people involved in the process of starting the club; it's exactly why it was started – Durham was made to give local lads the chance to play professional cricket. Looking at the players we've produced for England through that, it's something that in my opinion should remain the main core of the club forever. It's why it was set up and it's been successful, so why change it?"
Albeit briefly, Borthwick was one such international. The others – Onions, Paul Collingwood, Steve Harmison, Phil Mustard, Ben Stokes, Mark Wood, Liam Plunkett, Keaton Jennings and Mark Stoneman – roll off the tongue, such has been the county's role in some of England's most famous wins. But Rushworth views the return of the 30-year-old leg-spinning allrounder as especially significant.
"Scott's been here and won trophies with us," he explains of his long-time friend. "He was a big factor in those winning years. He left when he was in peak form. To have him choose to come back is quite big. It's a massive move for Durham."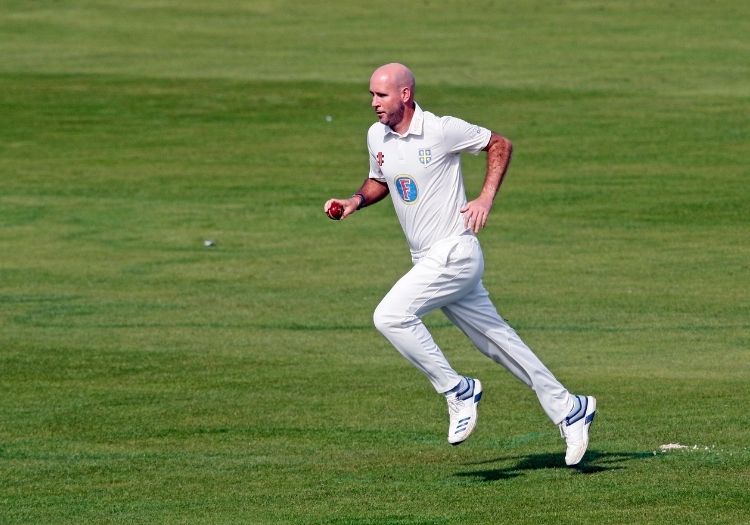 Chris Rushworth is closing in on becoming Durham's leading first-class wicket-taker
For Borthwick himself, the club's new County Championship captain, it is equally meaningful. Speaking to The Cricketer in November, he clarified the straightforward cricketing reasons for his departure down south: "I was thinking: 'If I can get 1,000 runs and 30 wickets a season at the Riverside, what can I do at the Oval?'"
He describes leaving as "the biggest decision I've probably ever made". And while he enjoyed his time at Surrey, winning another four-day title in 2018 but never adding to his four-match England career, he jumped at the chance to return when the opportunity arose.
"It's always been on my radar that one day I would love to come back," he said. "Perhaps not as soon as it has come around, but this was a chance to come back home and represent Durham again. You're not just playing for Durham; you're playing for the north-east. You get Sunderland, Newcastle, Middlesbrough fans all coming together to watch Durham, which is brilliant."
Borthwick left at the end of the 2016 season, along with Stoneman. The following winter, Coughlin, Onions and Jennings followed.
"At the time, it was best for me to progress my career elsewhere," explains Coughlin, who found it difficult to watch events unfold from afar and was "constantly on the ECB app", tracking the progress of his former teammates.
Each departure was a dagger through the heart of a county decimated through no fault of its cricket: in total, 20,995 first-class runs for Durham – and 791 wickets – exited the club through that quintet over two winters. In their final season for the club, Stoneman and Borthwick shared 2,294 County Championship runs.
For Rushworth, Onions' exit hurt most. "I'd opened the bowling with Bunny pretty much all of my career," he reflects. "He went to Lancashire and ripped it up in Division One. I think he was the biggest one where I thought: 'What's going on here?' That was sad, I'm not going to lie. That one probably felt the worst, to be honest."
North adds: "If we look at the last four years, we could argue that if all those guys had stayed, you'd think we'd have been a pretty successful, competitive team. But that's the reality of it. We're not harping on about that; we're just knowing that we're progressing and are into a new stage.
"Now, to actually get someone of Scott's calibre who's right in the middle of his best years as a mature top-order batter in county cricket was a no-brainer for us. And we're getting a guy who is Durham through and through – brought up through the system."
***
Coughlin was on the golf course when the news came through.
"We were on about the 16th hole, so we finished it off, but then we sat and thought about it," he recalls.
In return for a £3.8m financial aid package from the ECB, Durham were relegated from the County Championship's top division, handed a 48-point deduction with which to begin the 2017 campaign, docked four points and two points in the T20 Blast and Royal London Cup respectively and tied to a revised salary cap between 2017 and 2020.
In addition, they lost the right to stage Test cricket at Emirates Riverside, while all prize money from ECB competitions – other than individual player awards – would be withheld until debts to the national governing body were cleared.
For Rushworth, it was the centrepiece of "one of the toughest weeks I've ever had". It was Monday, October 3, when the bombshell landed, via a phone call from then-head coach Lewis "telling us that things had gone wrong and we'd been docked points and had been stuck to the bottom of Division Two".
The next day, he flew to Melbourne for an overseas stint in grade cricket, only to be deported 24 hours later by immigration authorities amid visa issues. By the Friday, he was home. Two weeks prior, Borthwick's move to Surrey had been confirmed, following Stoneman's announcement in July.
Rushworth's memory of how events unfolded dates back to England's Test series against Sri Lanka earlier in the year, when the countries met in Durham late in May, and Michael Atherton, covering the series for The Times, served an early warning of what was to follow in a pre-match article.
'Durham need biggest bailout for survival,' went the headline, with other startling bullet points listed below: 'County face administration without £1m loan.' 'ECB could step in but would impose penalties.' 'Model club could lose international matches.'
Naturally, conversations followed within the club in an attempt to reassure and soothe anxieties.
Yet, as Rushworth remembers: "All of a sudden, the end of the season came and we were like: 'Hang on, I thought everything was fine?' I think at one stage someone had said we were very close midseason to having the keys to the ground taken off us and they were going to shut the place down. You think about it and that would have been disastrous – not just for the club, but for the region.
"The fact that we got relegated, docked points and had the financial stuff, as bad it was, when you think that the ground could have been taken away, it could have been a lot worse. At least we're still here now."
All told, Durham had completed a difficult season in fine order, winning at Hampshire – a victory that initially appeared to have condemned their hosts to relegation. Collingwood's men finished fourth, only narrowly missing out on the three-way title race involving Middlesex, Somerset and Yorkshire.
"We knew that there were some difficulties on the financial side," recalls Lewis. "The dressing room was full of rumours about what sort of turmoil and sticky situation we were in. But honestly, it came from nowhere. I did not see it coming at all.
"We had a beer in Hampshire's dressing room afterwards and they were pretty good about it, for a side that had just been relegated by the defeat. They were quite happy to accept their fate."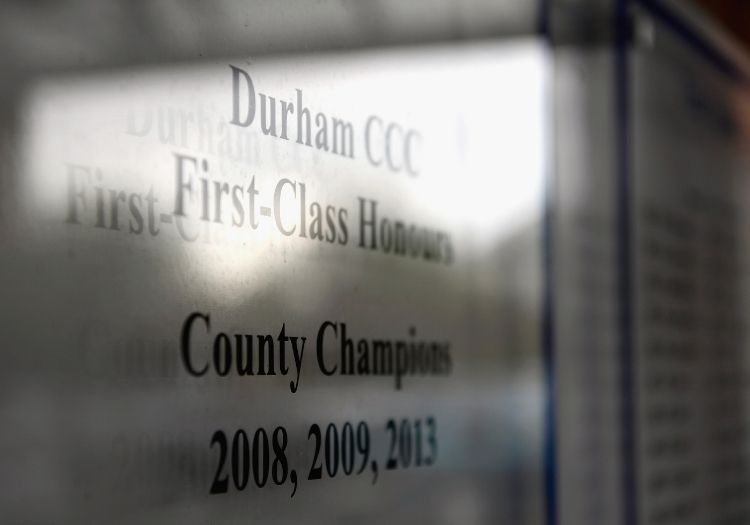 The honours board at Emirates Riverside offers a reminder of a golden period
For Will Smith, the experience was uniquely puzzling. By now, he was opening the batting for Hampshire, and actually made 90 in a losing cause at the Ageas Bowl. But Durham were the club with whom he was most associated: a three-time county champion and title-winning captain in 2009.
And so, when Hampshire were handed a reprieve in Division One at Durham's expense, he admits the situation was difficult to comprehend.
"You just felt a bit of a pang to the heart every time something was announced that didn't go according to plan," he says. "It was very bizarre. For the whole of the back end of that season when I was fighting tooth and nail to try to keep Hampshire up, it suddenly became clear that what I'd been doing all along was essentially condemning Durham. I know that isn't the case and it probably would have happened anyhow because of the issues that had arisen, but it was all a bit surreal."
Perhaps, then, it shouldn't have been a surprise when Smith returned to Chester-Le-Street in the twilight years of his career – a son of Luton who now lives in Whitley Bay, another honorary citizen enchanted by the region. "I wanted to give myself to a county that had given me so much," he reflects.
But when you ask Durham people about Durham Cricket, Collingwood's name is a constant. And in the tales of what happened next, no one dares underplay his role.
His tweet at 5.13pm on the evening of the news came from the heart of a man who had given everything to the success of his county; it was emotive and gut-wrenching but also a rallying cry.
"What we need now is all of your support," he wrote, "because we won't stop fighting until we get this club back up to where it belongs. End."
And what his teammates remember from the following year is the embodiment of that message. Off the field, Collingwood arranged barbecues at his "mancave" for players and their families to socialise together.
Rushworth recalls: "Colly was instrumental that year. We had a very close unit. Everyone was dead friendly and pally. And when you're in a situation like that, you have to be close off the field because it was so tough. It was nice, when the whole club was so down, for everyone to be able to come together."
During games, that commitment was no different. Collingwood declared on himself while 92 not out in the second innings of a home game against Glamorgan, eight runs away from registering two centuries in the match. Durham lost by three wickets, but that didn't matter. Beginning the 2017 campaign 48 points short of their nearest rivals, risks were no longer risky.
"I remember at the start of the season, Colly sat us all down and said that we were still going to think about promotion," said Cameron Steel, speaking to The Cricketer in 2018. "He just said: 'We're going to have to win every game.'
"It did make it a very odd year, because there were a lot of times when we would be in complete control of a game, where we would normally have batted and batted and just taken the draw and been happy to take the first innings bonus points on top of the draw points. But we put in big early declarations and then ended up losing games, but we had to in order to have any chance of getting promoted again."
"The belief within the club is that we are a successful club, we are a top-six club within this country. We have to work out backsides off to get there again. All before that relegation, it was"
In the Royal London Cup, Durham missed out on a quarter-final spot because of their points deduction, while Nottinghamshire – the beneficiaries – went on to win the competition.
More painfully, it took them until June 22 – and a first win of the season – to move into positive integers in the County Championship, a landmark that was a long time in coming.
"I think we played Gloucestershire in the second game of the season," says Rushworth. "Mark Wood was bowling, with myself and Graham Onions at mid-on and mid-off. We might have had one bonus point in the game; the three of us looked at each other at the end of his run-up and just went: 'We're still 40-odd points from breaking even here. This is going to be such a tough ask.'
"It was demoralising. You have that optimism of doing something special before the season starts, but four-day cricket is a bloody tough game when you realise how far back minus 48 points is."
In the T20 Blast, Durham handed the captaincy to Coughlin, who at that stage had accrued just 16 career appearances in the shortest format. "We'd lost Jennings and Stoneman, and we couldn't keep on going back to Collingwood – not that Colly would have turned it down," Lewis laughs.
"He'd have done any job that was ever asked of him, but even he realised it would be better if someone else would captain while he was there and he could be of some sort of assistance to them. But everyone we gave the job to ended up leaving!
"To get kicked down ultimately lost us a lot of players – and I have no argument with the players. Players only have short careers, and they need to do what they can in that time to make the best of them."
He continues: "2017 wasn't easy. I think in the winter of 2016, we had to give the message that we were going to come through this and that this was overcomeable and we could do this. In reality, we were probably giving out a good message, which wasn't entirely based on reasonable fact.
"I think we were giving the right story, but it was a real tough thing to do and it was going to take a couple of years. We had to say: 'No, we'll bounce straight back, and it will be great.'"
Four seasons on, that quest is ongoing, though perhaps now with greater impetus than at any point before.
There is a genuine feeling around the county that a return to the good times isn't far away. But for a slow start in 2019, which saw Durham beaten in their first four games as they adapted to a new regime, they would almost certainly have been promoted: they lost just one of their last 10 matches.
Even in last year's condensed Bob Willis Trophy, Franklin's side – captained then by Ned Eckersley – improved as the competition wore on: it took them six innings to make a score in excess of 300, but they managed three successive draws after losing their first two fixtures.
This campaign, therefore, carries some extra significance: the strongest squad assembled at Chester-Le-Street since the relegation-fuelled exodus awaits. Cameron Bancroft is coming back as the main import from abroad, with New Zealand's Will Young filling his void in the early weeks of the season, while South African David Bedingham – a Durham player through an ancestral visa last year – will occupy the second overseas spot.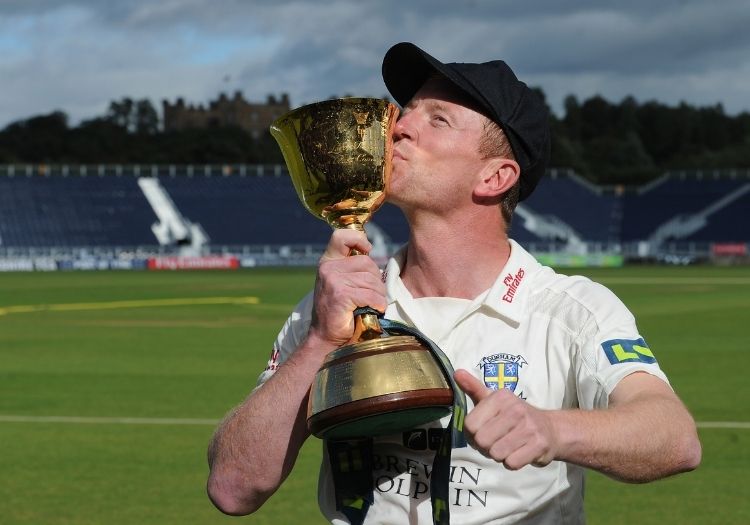 Captain Paul Collingwood holds aloft the 2013 County Championship trophy
Alex Lees has emerged as an astute piece of business, having joined from Yorkshire as his promising career threatened to reach a crossroads after an initial honeymoon period: at 20, he became the youngest Yorkshire player to hit a double hundred, before captaining the Headingley county two years later.
"We got him at the right time: right age, ambitious to make things right," says North, a big fan and unafraid – like Michael Vaughan and Geoffrey Boycott before him – to tip the left-hander for bigger things.
"All kudos to him. As an opening batter, there's a stigma that it's tough to make runs up in Durham, but he's certainly made it his home. He's made a number of hundreds and his consistency over the last couple of years has been outstanding.
"I've said it a few times that if this guy has another good season, there's no reason why he can't be talked about more seriously at the next level. He's got a really well-rounded game."
Indeed, only six men scored more runs in the Bob Willis Trophy and none perhaps at a ground with a more bowler-friendly reputation than Emirates Riverside.
Lees, then, is a terrific precedent for the philosophy behind the club's recent recruitment model. Likewise, Borthwick. A top four featuring Lees, Bancroft, Borthwick and Bedingham offers a stability not felt since the days of Stoneman and Jennings, with Sean Dickson – an acquisition from Kent in 2020 – another batsman of pedigree.
There is a certain pride as well in the stature of these signings: players with strong reputations and other interested suitors.
"Getting Ben Raine to come back and Alex Lees to sign, these were players who had plenty of choice around the counties they could have gone to," says Lewis, whose 21-year association with the county ended shortly after convincing the pair to sign. "It showed that we were getting over that 2016 period and beginning to look like we could go forward again."
North adds: "We had to earn the right to go again from a financial point of view and from a reputational point of view – that we're not a club that people want to leave because there are better opportunities elsewhere. We're a club – a bit like it was six or seven years ago – that's actually producing young players and successful players.
"You're starting to see a core group of players who can really drive things forward. We're excited about that. It wasn't a firm written-down plan that we were going to recruit ex-Durham players. I think it was definitely consciously there and discussed that if there was a really good option like that, let's see if we can get them back.
"But it doesn't mean we're going to go and get Keaton Jennings and Mark Stoneman back! We're really happy and settled with our squad at the moment."
A major part of that satisfaction came in the agreement of a new contract with Brydon Carse over the winter, while Rushworth, Lees and Matty Potts have also extended their stays. There is a real hope that Carse, a 25-year-old seamer, will be the next player to make the jump to international recognition; he has already represented England Lions and was part of the 55-man national training group at the end of the first lockdown last summer.
Once upon a time, his signature might have been more difficult to retain – similar perhaps to Coughlin, a highly regarded young fast bowler, who made his England Lions debut in the winter of his exit for Nottinghamshire, where he endured such misfortune with injury that he only turned out nine times in two years.
Upon his second debut for Durham in the Bob Willis Trophy after months "just sat at home almost waiting for the moment", Coughlin was nervous about having to prove himself once more. Come the end of the season, he was relieved just to have come through unscathed. "I didn't set the place on fire, but just knowing that I was turning up fit to get picked was quite a nice feeling."
When Bostock was first appointed as a replacement for former chief executive David Harker, Carse was close to leaving the club, with offers on the table from two big counties.
That he remained a Durham player was partially due to an unlikely set of circumstances – Bostock and Carse's fathers knew each other from a life in Zimbabwe three decades prior – but also because of the project sold to the fast bowler, and the role he was positioned for in the club's revival.
"It's very important that we're a north-east team with a north-east identity"
"It was one of those things where if he stayed here, he'd play all forms of cricket, he'd play first-team cricket, he'd progress his batting here as well," says Bostock. "That was the conversation – it definitely wasn't a money conversation at all. Obviously, we're in a better financial position now and we can be competitive, but you have to be careful about splashing big salaries around.
"It was much more with Brydon about whether he'd become a better cricketer by staying for the next three years, which is why we got him to sign a three-year contract."
By the same token, Carse wanted to see his own ambition reciprocated by the county. Lees arrived around the same time, while North and Franklin followed shortly afterwards.
"I really don't want to see the days whereby big counties come in and pick up our best players like Stoneman, Jennings and Borthwick," Bostock emphasises. "I don't want those days to return. Equally, at the same time, we have to make sure that the whole setup here is professional and they feel that the club has turned a corner and is moving forward."
Few can appreciate the importance of that sentiment better than Rushworth. On a wall at his home hangs a county champion stump from the 2013 campaign – a reminder that he has seen the highs as well as the lows of the last decade.
He admits to feeling a sense of relief at hearing Bostock talk with such positivity about Durham's present health.
"As a player, I know it isn't really for you to worry about that side of things," he acknowledges, "but when you've been in the midst of it and you've suffered the consequences, I guess you do take an interest in it because you want things to be right. We want to put things right on the field.
"We've been what we've been through – the successful years and then the rough patch where things were dark and it was grim at the club, I'm not going to lie. To now be where we are as a club, it does feel exciting.
"Speaking as someone who's been there through it, now is as good as it's been for a very long time."
***
This season will be the third in a "five-year plan" that was pitched to North and Franklin by Bostock upon their appointments.
Surprisingly perhaps, given the breadth of their playing careers, the pair – internationals for Australia and New Zealand respectively – hardly knew each other beforehand. "James has a reputation of being very driven," explains North, who was attracted to the former allrounder's comparably extensive CV.
"He's a straight shooter – very black and white. I liked the feel of getting someone similar to myself in not being long out of the game, someone that's well-rounded not just in county cricket but also in first-class cricket in other countries and international cricket."
And from a player's perspective? "He's quite easy to relate to, with him just finishing a couple of years ago," says Coughlin. Indeed, Franklin had won the County Championship as Middlesex captain just two years before his appointment as a head coach for the first time.
Bostock explains: "I told them to leave the structure and the finances of the club up to me. They needed confidence that they'd have plenty of time to turn this around.
"It was a case of how you get the team back to a stage where they're competitive again, having lost so many players who were either England players or were about to be England players. When you lose that many players from a first team, you can't just create a top-division competitive team in two years – it takes a lot longer than that."
Looking back, Raine believes it took his colleagues a short while to adjust to the adjustment. It was easier for him, having only just re-joined the club prior to the restructure. "But I think the lads had pretty much the same coaching staff for almost a decade," he says. "It was quite a big change, so in the 2019 season it took us a lot of time to find our feet as a team."
"Certainly by 2025 and 2026, we expect to be completely debt-free"
It signalled a new start after the Cook-Lewis axis that for so long had been at the heart of the club.
"Those two guys will be remembered for a hell of a long time," Rushworth insists. He has known Cook since he was 13, while Lewis was his second team coach when he was starting out. "They're two blokes I'll never forget."
Cook had joined Durham initially in 1991, becoming their maiden captain after gaining first-class status.
Following his retirement, he led the academy, before replacing Martyn Moxon as head coach and overseeing trophy wins in 2007, 2008 and 2009. Even after he suffered a heart attack in 2013, which saw Lewis step in to lead the first team to the third four-day crown of the period, Cook would return to a youth development role thereafter.
Meanwhile, Lewis signed from Essex in 1997 and captained between 2001 and 2004. When he ended his playing career, he became second team coach, a post he held until replacing Cook in the main role. The 2013 County Championship triumph was extra special, therefore, as it was achieved in front of a backdrop of concern over Cook's health.
Cook's response was typical, though: "Please don't go making this all about me, will you?" he warned on the day of the trophy lift eight years ago – a line that exemplified a club culture of selfless togetherness.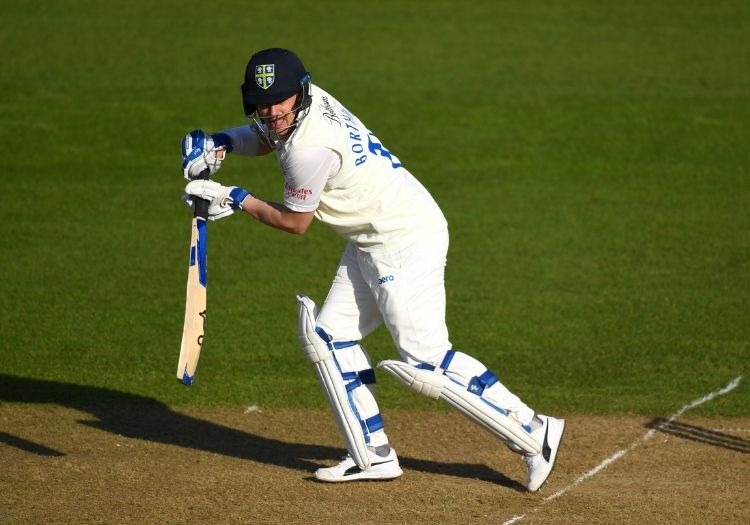 Scott Borthwick has re-joined Durham as County Championship captain
"At any stage at any point in any game, we had someone who – if the advantage was going the other way – was willing to stop that," recalls Smith, discussing that entire period of success.
"We had so many people of that mentality, so there was this real confidence that we were able to win from any position really. As it turned out, there weren't many times when the opposition did get on top of us because we just turned it on from ball one."
In part, that was due to the impact of Michael di Venuto, the belligerent Australian opener, who racked up 6,547 first-class runs at 52.79. With the ball, the pressure never subsided: Harmison, Onions and Plunkett took the plaudits, but Callum Thorp, Mitch Claydon and Mark Davies were unsung heroes. In 2009, Ian Blackwell averaged 40 with the bat and 23 with his left-arm spin.
Dale Benkenstein's name is another that crops up frequently, credited by many as the man who started it all. "We went from a culture of not expecting to win to almost thinking we could win all the time," says Onions. "Honestly, that dressing room was so good, so enjoyable to be around."
"An unbelievable raft of experience," adds Raine, who remembers being a teenager in awe of a "powerhouse team", learning off his elders over a pint in the hotel bar. "The players were left to their own devices. It ran itself. I think now we've got a slightly younger team, which requires a bit more hands-on leadership."
That it all finished in disappointing circumstances for Lewis doesn't take away from what came before. "It wasn't a great end," he admits, "but it was 20 years of fantastic stuff. A tricky month at the end doesn't ruin two decades of great fun. I will always have an affinity with the place, even though I've got nothing to do with it now. The club will always be important to me."
"I really don't want to see the days whereby big counties come in and pick up our best players. I don't want those days to return"
"I am not sure many other people would have been able to cope," Martin Emmerson, BBC Radio Newcastle's Durham commentator, said upon his departure. In 2018, the county were bowled out for under 100 four times, including 61 and 66 on the same afternoon against Leicestershire, and lost by an innings on three occasions.
An end-of-season review was commissioned by Bostock and carried out by North: the result was a recommendation that the coaching structure be overhauled, including the introduction of a director of cricket.
And after everything that had come before, a clean break was considered the most sensible way forward. "A really tough decision," adds Bostock, but a necessity to escape the brutal challenges that preceded it.
"I felt it needed fresh eyes, fresh impetus, fresh energy. That is not critical at all of either Jon or Geoff. I just felt we needed new energy. I thought it was time for a change. Bringing those two guys in was the start of that process."
Likewise, that was one of the reasons for looking beyond Collingwood, who retired from playing at the end of that summer, by which time the ground's South West Terrace had been renamed in his honour. It helped as well that by then he was involved in coaching assignments with England.
"But also, this gave him a break away from Durham," explains Bostock. "I'm sure Paul may end up at Durham at some stage – it's a little like Steven Gerrard at Liverpool. You go off and do other things – go away from Durham, get all the experience that comes with it and there may well be a time in the future when he's ready to come back. But he'll come back with probably 10 years of different experiences."
Alan Walker – "a huge part of that club heartbeat", according to North – and Neil Killeen, another lifelong Durham man, were both retained: both locals and as significant a part of Project Rebuild as they had been of the previous regime. Will Gidman, who played for Durham, as well as Gloucestershire, Nottinghamshire and Kent, is also on the coaching staff.
Bostock says: "My thoughts were that I wanted a fresh pair of eyes and new ideas, but I didn't want to drain the history and passion of the club – far from it, you have to respect it.
"Having Alan and Neil, it gave us a blend of international Test cricketers and the heart and soul of the north-east. That was always my strategy in terms of the professional cricket leadership team to turn the club around."
Away from the cricket, the job was more complex. Bostock, who played minor counties cricket for Cheshire in his youth, still holds a vivid image of the club he walked into. He calls it "a rude awakening", though a previous life in banking had prepared him somewhat for the challenge of a complete reengineering. He was working as a senior executive for National Australia Bank when Durham chairman Sir Ian Botham laid the foundations for him to take on the chief executive role.
The pair had been friends since their younger days. "I went and said: 'Look, you're not going to earn what a banker earns, but I've got a job and a challenge that I think you might like,'" Botham told The Cricketer in December.
Bostock recalls: "The financial position of the club was deemed the biggest challenge. When I looked at it, there were two things that I had to balance in parallel: one is getting the club in a sustainable financial position, otherwise there is no club. If there's no club, there's no cricket.
"Two, at the same time, you're also being a very proud cricketing county, albeit with a very short first-class career, that has done a lot of tremendous things and has produced England players.
"We've won lots of trophies and there's an expectation in the north-east that the club will continue to be successful. So, we were also trying to look at it in terms of how to get the team back to the giddy heights of pre-2016."
A third task was restoring trust with the ECB, so that they had confidence in the club's new executive leadership. The upshot of that work is a far healthier relationship between county and governing body. "I'm pleased to say that ever since I walked through the door the ECB have been nothing but supportive – they've been excellent, despite the history and the bad blood," Bostock confirms.
"I think that's credit to the ECB and to us as well. You have to put the past behind you and move forward.
"I spent quite a lot of time in those first six to nine months placating the members and other people in this part of the world, convincing them that the ECB – despite what had gone on – want Durham to succeed and understand the strategic importance of the north-east and this part of the country, producing cricketers and our track record."
Paul Coughlin returned to Durham ahead of the 2020 season
And now, that period has been consigned to the annals of the past – a time no longer discussed as Durham move forward, every day another step further from rock bottom.
The influence of North in that regard has certainly been significant: understanding what came before him, but conscious that all involved with the club must look beyond it.
"I could only make judgements as someone looking in from the outside to what it would be like to be involved in a squad that had the air kicked out of it with the relegation," he says. "And then in the next 12 months, you lose a core group of players that have moved on for different opportunities. That would be very difficult, so I certainly wasn't disrespectful in that experience.
"But I certainly felt that it was time to draw a line in the sand; it's just not healthy to use that as a backstop anymore. It was a very tough and unfair blow, but it felt that it turned a little bitter. I felt that when I came in, it was quite clear that it must have been horrendous what happened and really set us back – and through no fault of the players or coaching staff, but it was time to move on from that.
"And if we didn't draw a line in the sand and make changes that were very clear in shifting that feeling within the environment, then I didn't think we were going to start moving in a positive direction. We had to make that move, and I feel we have done that."
He believes there has been a major culture shift. "Everything back in the era of relegation is now part of our history, with a lot of successful parts of the history as well," he explains.
"It's a new era. It's not about if we had those players or if that didn't happen. That's gone now. It's about what we have to do and how we keep on evolving to be a really successful, competitive team again.
"Because that's the true reflection of the last decade of Durham cricket – the belief within the club is that we are a successful club, we are a top-six club within this country. We have to work our backsides off to get there again. All before that relegation, it was."
***
An application has been submitted for the construction of an on-site Hilton hotel, with the support of the council. The hope is that approval comes back within the next few months.
Aligned with that development, there are plans in the offing for a reconfiguration of the pavilion in order to improve the ground's hospitality and banqueting services.
Initially, that project also included an entire conference centre, though the impact of Covid-19 has scuppered that proposal. Quite simply, the advent of Zoom, the concern over large gatherings and the rise in remote working meant largescale investment in a 500-seat facility hardly represented the most prudent option. Instead, the pavilion redesign will include the ability to seat 400 people, offering sufficient conference space in a post-pandemic world.
The thought process behind the hotel is equally adaptable. Bostock is keen, for sustainability's sake, "not to rely on one sector".
He views Durham's location on the edge of the A1 as ideal for weekday business travel. On weekends, he believes the area's 'staycation' potential – housing a famous cathedral, historic university and swathes of glorious countryside – could have "a massive upside". And then, there are the stadium events themselves.
"I think the beauty of the hotel is that it will attract a bunch of different demographics," he sums up.
If that sounds interesting but mildly insignificant in the grand scheme of Durham's future, then the chief executive disagrees.
"Off the field, it's making sure that we create a sustainable business model that reduces the reliance on ECB funding," he explains.
"Speaking as someone who's been here through it, now is as good as it's been for a very long time"
Typically, the financial support of the national governing body equates to between 65 and 70 per cent of revenues. On top of that funding, counties add income through sponsorship, hospitality and other events, such as concerts – Durham are due to host Michael Bublé in July.
Bostock adds: "What you really want to do is to get to a stage where you've turned it around: 35 to 40 per cent is ECB and then 60 per cent is your non-ECB activities. That's key. Aligned with that is paying off all of our debt."
In the last year alone – a pandemic year at that, Durham have paid off £1.3m and all previous directors who were owed money in their local enterprise partnership.
"We've made some big inroads into the council debt and ECB debt, so we've managed to reduce our debt down quite significantly," he adds. "Certainly by 2025 and 2026, we expect to be completely debt-free."
And so, if the question asks what constitutes success in five years, then that is half the answer. The rest is about on-field results.
"If we assume it's two divisions, one aim is to get back in that top flight," he says. "Certainly, that's the No.1 priority.
"Two, winning a white-ball trophy is really important to us.
"Three, and not to be underestimated, is that we must continue to produce players for England. That's a really important barometer for us as a club. I think that's one of the reasons why the ECB are keen to ensure that Durham thrive."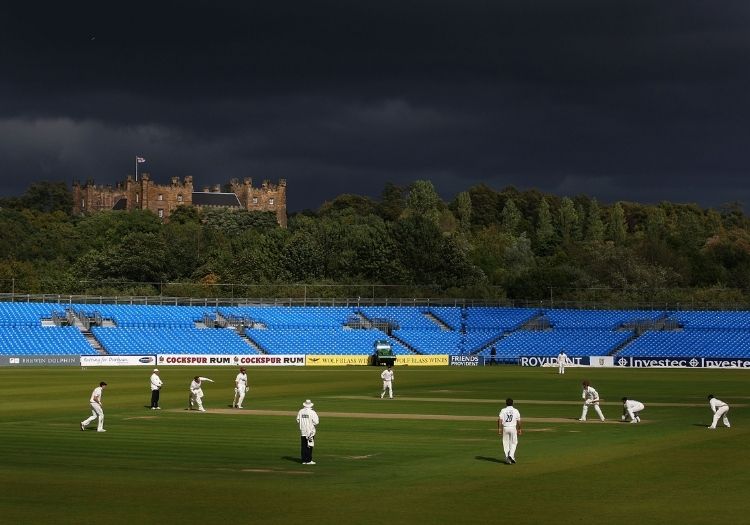 The picturesque of Durham County Cricket Club, a side on the up once more...
Indeed, since 2010, only Yorkshire have developed more Test debutants.
"It's a significant barometer. We've got a couple of heroes in Mark Wood and Ben Stokes, who are fantastic role models. We've got real heritage there, so we certainly want to continue that. Our contribution to English cricket has got to be seen through the lens of producing players for England."
So, how does that measurement become attainable?
"This season will be a huge season to see exactly where this group is," suggests North. One benefit of the red-ball conference structure for 2021 is the opportunity to test themselves against county champions Essex for the first time since 2010.
"It's two and a half years into a new structure. Yes, we all set out to be competitive and we want to win competitions, but it has to be very clear that we see progression in our performances in all competitions. That's success.
"And then if we are consistent in that, our success moves to what's non-negotiable, which is we're going to start winning competitions. I think we're on the right upward path to getting to that stage.
"I feel that this group is literally just around the corner from really clicking. But I'm not one – and I never will be one – to say that our ambition is to win the championship. We haven't earned that right yet. We are certainly on track to be very competitive."
Until relegation struck, Durham were the longest-serving team in the top tier and an exemplar for all that county cricket represents.
And after a spell in the darkness, they are ready to reclaim that berth.
"I don't want to make it about me," says Rushworth, whose humility and commitment to his hometown club would never allow that to happen.
"But because I've been there so long and been through it all, it would mean so much to me to reach that top division again, especially now that we've got this younger group of players. It would be special to be there to help lead that fightback.
"Massive, absolutely massive."
Just maybe, with the band back together, this is Durham's moment.
Subscribe today and receive The Cricketer's centenary issue – six issues for £19.21. Click here
Please ensure all fields are completed before submitting your comment!