"I sat on the physio's table and cried" – Paul Coughlin, who is returning home in search of a change of fortunes
NICK FRIEND: When Coughlin left Durham for Nottinghamshire, it was a symbol of his burgeoning reputation. Two years and three injuries later, he has re-joined his former county. He opens up on a tough road of pain, frustration and mental anguish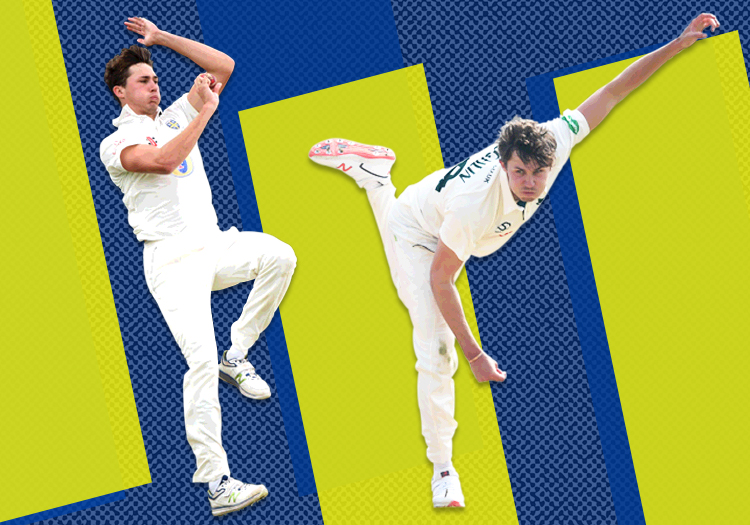 Paul Coughlin describes a sharp popping sensation; he felt as though he had been shot in the back of the leg. For a moment, the physical pain outweighed all else. And then the reality kicked in.
"The hamstring was a nail in the coffin," he reflects with an emotional sigh. Once off the pitch, he sat down in the physio's room and broke down in tears. It was the brutal nadir of a difficult time.
When the allrounder left Durham for Nottinghamshire at the end of the 2017 season, it was a move that mirrored a burgeoning reputation. He had captained his home county in the previous T20 Blast campaign; his name had featured as part of a strong England Lions squad that winter; his signing was a representation of a new era at Trent Bridge.
Two years later, Coughlin, the product of a tightknit Sunderland family, has returned home to re-join Durham in search of a shift in fortunes. The intervening period saw nine first-team appearances and three injuries – each an emotional wrench that wore him down.
There was regular soul-searching and a struggle with his own mental health; he cannot speak highly enough of the backroom staff at Nottinghamshire, who kept him going in an alien environment well beyond his comfort zone.
"That idea of trying to return home – I just felt that I needed a change of luck," the 27-year-old confesses with a disarming honesty. "Just after the couple of years I've had, I don't feel like I've had any luck with injuries.
"I have had a lot of time stewing over everything, to be honest. Did I want to be playing cricket? Would I rather be home? All of that kind of thing. I just didn't think it was good for me mentally.
"Even when I was playing, if I was struggling to find comfort – not happiness because I was happy at times – away from cricket, then how would I be able to give everything on the field when I did finally get the chance to get out there? I think the two are pretty closely aligned."
The hamstring was the third blow, but also the one that ultimately forced his mind towards a move away – a change in scenery, an end to a seemingly interminable rut.
He had dislocated his shoulder during the final game of the Lions tour shortly before ever meeting his new teammates, ruling him out of much of the 2018 season. In the first game of 2019, he broke his finger, a setback that came with its own quandary – how could something so small prevent him from getting back on the field? In his comeback match at the start of May, there went his hamstring – his second game since the preceding July.
"I knew straight away," he recalls. "When it initially happened, you obviously have the pain but immediately there's not that emotional, mental side of it because you're just totally focused on the pain.
"I basically sat on the physio's table when I got off the field and cried. It wasn't because of the pain. I just sat – I suppose I'd looked towards this point as a comeback as I did with the finger. I'd looked forward so much to this point.
"It was an emotional rollercoaster; whenever I got up to play, something would just set me back."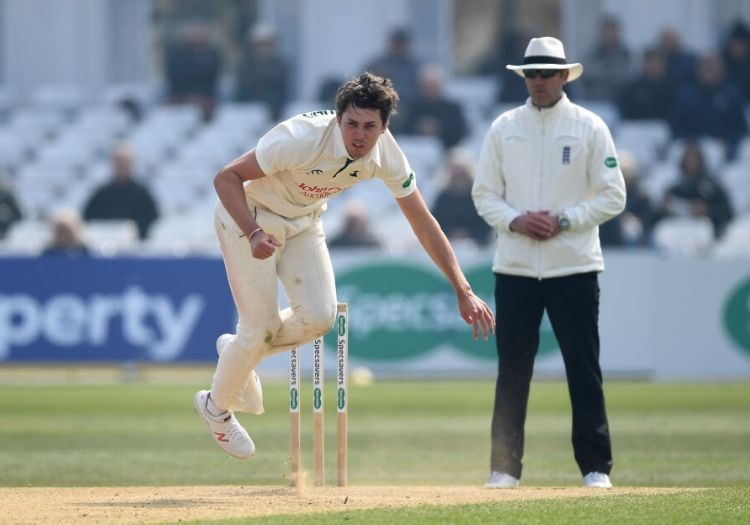 Paul Coughlin endured an injury-ridden spell at Nottinghamshire
The lowest point, he acknowledges, came next – not as he felt the crushing explosion of his muscle failing him, but as he looked to the future and what had to come next.
"I went to see a specialist and we were debating whether the best way was to get it surgically reattached or not," he says.
"That was probably when it hit that this was probably another long stint out. I just had a lot of time sitting, thinking about it and stewing about it really. That was physically not nice, but emotionally and mentally it was very draining. I spent a lot of time then just thinking over everything."
There is a remarkable bravery to Coughlin, and a rare courage in the candour of his reflections. He has returned to Durham to escape this spiral of adversity, but he is unfailingly open in looking back at the challenges he faced as a young man missing his family away from home, physically unable to work through much of his stint, worrying about acting as a burden to those around him.
"I felt like I was letting people down," he admits, "but I don't feel like they thought that I was. I think they knew that I was giving everything every time I stepped out onto the park or even just to train with them. Everyone I met was very supportive but it was tough not having the family around."
He makes frequent reference to James Pipe, the club's physio, and Liam Price, Nottinghamshire's strength and conditioning coach, both central figures in helping him through everything.
"Obviously they're really good at what they do, but they were just going out of their way to make me feel comfortable and try to make it a bit more normal for me to be in a relatively new area," Coughlin says. "They were just really good guys. Just going into work and working with those two – especially because they were mainly who I was with – you actually looked forward to it.
"I could name every coach that's involved at Notts, to be honest. Without that sounding pretty cliché, because it would be easy to say that, at different points throughout, different members of staff and the players gave me some really massive support."
He had initially met Pipe after dislocating his shoulder before even having trained with his new club – an unfortunate premonition, perhaps, of what was to come. "That was strange," he adds with a self-effacing chuckle. "But it put us in good stead for having such a strong relationship. I suppose he had seen me when I was a little bit vulnerable and not feeling great in myself. It just clicked straight away with him."
He credits the pair with going above and beyond to look after his mental wellbeing; he was given leeway to visit home and was taken for many a coffee as those around Coughlin looked to keep him occupied. His words of gratitude are not empty; you get the sense that his ability to fight through each injury might have been different without such a bond.
During his long spells out, he would train or work on his rehabilitation for an hour each morning and then do some additional activity with a physio. Yet, the rest of the day could be a struggle.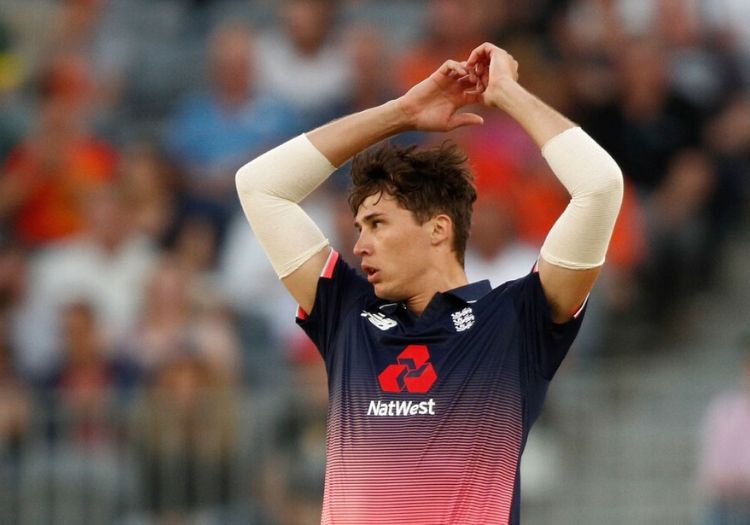 Coughlin suffered the first of his three injuries – a dislocated shoulder – while with England Lions
"You might want to go and have a beer in midweek, which you don't normally do. It's not a normal thing," he reflects. Coping with the loneliness of injury in a different city became an added challenge.
"Basically, otherwise I'd be sat in the house, so I was trying to do anything social that sometimes I didn't really want to do just because I would have the company of other people. It's hard.
"I couldn't just walk round to my parents' house or anything like that. Other people have got lives down there as well, so they need to spend time with their families. It was difficult trying to fill in the blank time."
It is why Coughlin needed to return to Durham. There is no disrespect to Nottinghamshire – nor, indeed, does he hold any lingering regrets over making the move down south.
He remains immensely grateful for having had the opportunity to work with Peter Moores, one of the county game's foremost coaches. In fact, when Coughlin first joined the club, it was a symbolic reward for his growing standing in the game – a sign of his own development as a player. Moores and Mick Newell were investing in generational English talent and he was on their list.
The truth, ultimately, is that some moves don't work out. In this case, it was never for a lack of trying. There are few with a bad word to say about the allrounder: Moores described his desire as "second to none" in the statement to announce Coughlin's departure.
It is clear that his attachment to his family has played a major role in his career. He married his wife, Gemma, at the end of the season. She had offered to join him in Nottingham but he worried about how she might become isolated. His move back will allow them to be together. His brother, Josh, is also on Durham's playing staff.
"I spoke to mam and told her I was coming home," he remembers, "and she said that from a cricketing point of view she knew why I'd left Durham, but she'd never wanted me to because of how close we are as a family in the first place. But she understood it, which is why she'd never said anything at the time.
"Being without the family was a big thing for me. I didn't realise it would be quite that hard. To have the family around when things aren't going well is a massive thing for me."
Cricket's work in protecting the mental wellbeing of its players – and allowing them to feel comfortable opening up about their struggles – is unparalleled in the sporting world.
But even amid Coughlin's unflinching praise for Nottinghamshire's support network, his story offers a fine reminder of the enormous value of a familiar shoulder to cry on.
"If I'd have been playing, it might have been a different story," he considers. "Having the family around and those home comforts then lets you start being yourself in normal life. I'm pretty certain that will have a positive effect on my cricket when I start playing again."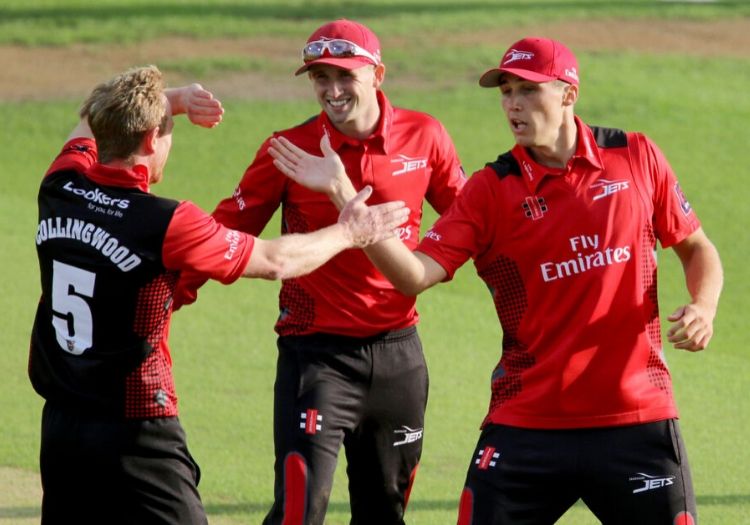 Coughlin (right) is re-joining a much-changed Durham squad
Indeed, there is a genuine thrill in Coughlin's voice as he prepares to travel, in essence, back to the future. He is already in for preseason fitness work, ready to impress his new bosses. Much has changed at the club of his youth since his last appearance at Emirates Riverside. He hit 68 in a nine-wicket County Championship victory over Derbyshire in August 2017 – Paul Collingwood made 177.
Collingwood has retired, while Keaton Jennings and Graham Onions – also part of that side – both now play for Lancashire.
Marcus North and James Franklin oversee first-team matters, with Cameron Bancroft in place as captain. Coughlin is returning to the same club, but different – an outfit in a healthier position than the one he left.
In the final year of his first spell at Durham, they finished only above Leicestershire in the County Championship under Jon Lewis after beginning the campaign with a 48-point penalty.
Coming back means a lot. He tells of his excitement at having to recover his cap from the depths of his cupboard, dusting it off and placing it back upon his head.
"It will be emotional," he adds with a tentative laughter. "Even last year, I travelled up for one of the white-ball fixtures when I was just short of being fit just to be around the Riverside. Even then, when I was stood on the balcony looking over the ground, memories were coming back.
"I got a little bit emotional about it all. It's probably tough to stand here now and say whether I'll get emotional or not, but memories will come back. I'm sure there will be a little moment when I have to give myself a bit of a smack across the face."
He looks back briefly on the England Lions tour, where his run of misfortune began. It was a strong group – Jennings, Ben Foakes, Saqib Mahmood, Ben Duckett, Jack Leach and Mark Wood were part of that squad, all of whom have gone on to play for the national side.
For this son of the northeast, the journey has taken a different path. He is starting afresh. The canvas is blank. He is determined to prove himself once more. It would be cruel to wish on him anything but the very best.
A change of luck is the very least that Paul Coughlin deserves.
Subscribe to The Cricketer this Christmas and receive a £20 John Lewis voucher or Alastair Cook's autobiography. Claim your free gift here
Please ensure all fields are completed before submitting your comment!