I bowled a couple of beamers and I was in tears on the field: Durham's Steel opens up on his battle with the yips
NICK FRIEND: In the most individual of team sports, there can be few lonelier existences. The initial confusion followed by the embarrassed panic, the abrupt disappearance of a skill previously tattooed onto the bowler's core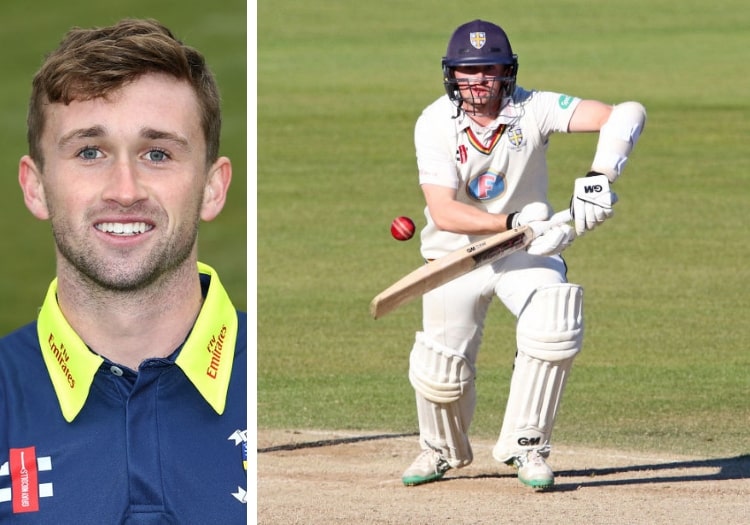 "I have never really spoken about it much," Cameron Steel admits as he opens up on a three-year battle with the yips.
He is wearing his Sunderland shirt as he chats from Perth. Born in California and raised in Somerset before spending his teenage years in Western Australia, the image of the Durham batsman sat in the red and white of his adopted football team suits a 23-year-old who has experienced more than most in his short career.
"The yips is something you only really understand if you've been through it," he says.
As Steel says, it is a challenge he has faced and overcome; though touted as a future legspinning sensation through his teenage years at both Somerset and Middlesex, it is as an opening batsman where he has made his mark at Durham.
Throughout our conversation, there is a calm openness to Steel and as talk turns to the yips, his measured honesty is mixed with a palpable added contemplation. 
The yips - the seemingly random affliction that can stop sportspeople in their tracks - is a mental struggle that has ended careers, ruined reputations, and left bowlers unwittingly devoid of their primary breadwinning skill.
Cameron Steel has remade himself as a batsman at Durham
"I know everyone laughs and jokes about it, but it's horrible," he says. "It's actually one of the worst things you can ever go through.
"When I moved over to England and got signed by Middlesex as a legspinner, I think there was just quite a lot of pressure on me. I had taken some of that pressure off by getting runs.
"But once I got to university, again I was known as this next-big-thing legspinner and I just lost the plot a bit. From there, I didn't really know where to go. I remember going to freshers' nets, which is the lowest pressure environment you could find.
"I remember just thinking: 'What if I hit the roof of the net or hit my front toe?' And I ran up and bowled a double-bouncer. I laughed it off but it was a much deeper issue than that. From then on, I really struggled with it."
In the most individual of team sports, there can be few lonelier existences. The initial confusion followed by the embarrassed panic, the abrupt disappearance of a skill previously tattooed onto the bowler's core – it is a senseless, illogical condition, only worsened by false hope.
"It came to a fore when we had just finished third year at Durham University," Steel recounts. He talks without pause on the issue for five minutes. He only stops at the end to apologise for going on. There is no need, of course.
"I remember one game in the Middlesex second team and I bowled a couple of beamers and I was in tears on the field.
"I remember being sat there, thinking that it was all over. Your dreams are crushed a little bit"
"Everything had come up at once. I would bowl for two hours in the warm-up just trying to get it right and focusing on getting my action right. I just couldn't land it on the pitch."
It makes for a harrowing but fascinating listen. That Steel has come out the other side undoubtedly makes it easier to open up, as does the fact that it remains a frankly unexplainable conundrum. His willingness to share is testament to his character.
If he can't grasp the cause of one of sport's most curious challenges, the solution was a release of pressure. "I decided to just stop bowling," he says. "I told myself that I was no longer a bowler, but just a batsman."
The decision coincided with his arrival at Durham, where his leg-breaks have been used sparingly as a partnership-breaker – he has taken 18 first-class wickets for the county. The role of Paul Collingwood, he stresses, cannot be underestimated.
"I think he was the saviour of my bowling," Steel reveals. "It is probably why he means so much to me personally as a player.
"He just had every confidence in me. He just set the fields deep and just told me to come on and get him a wicket. He really helped me. And while I still struggle a little bit with accuracy, it's certainly not the yips."
It is an uncomfortable tale, but also one that needs telling. Steel speaks with the reassuring self-awareness of a man who has since become a key part of a club in a rebuilding phase.
Picked up by Durham in 2016 after being let go by Middlesex, he confesses to initially struggling with his release. "I remember being sat there, thinking that it was all over," he recalls. "Your dreams are crushed a little bit.
"Sat here now though, it is probably the best thing that ever happened to me."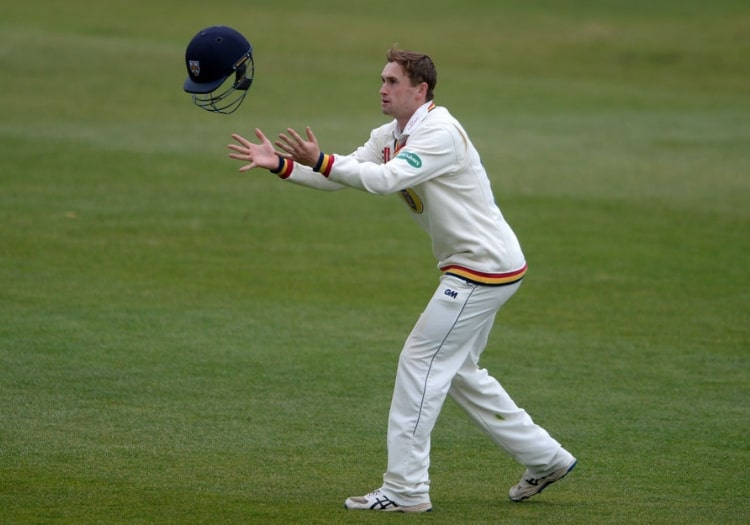 Steel battled with the yips as a legspinner
At the time, however, it would have been hard to paint a picture of two counties experiencing fortunes of greater contrast.
His former side – for whom he never played a first-team game – won the Championship, while Durham were unceremoniously relegated after the club's well-documented financial troubles. Alongside relegation came a 48-point penalty with which to begin the following season in Division Two, while both Scott Borthwick and Mark Stoneman left for Surrey.
Two years on, it is a learning curve that Steel can look back on with a rare and refreshing candour.
If the backdrop over the county's future both on and off the field painted a bleak picture, for Steel and the other young players at a club with a history of producing homegrown talent, it opened the door to the beginning of a new era.
"From a personal point of view, it became an extremely good opportunity. That relegation and people leaving did give me that chance," Steel says. "I actually took a lot of sledging regarding it in my first year. People would say: 'If Stoneman and Borthwick were still here you wouldn't be playing.' I just had to think to myself: 'Yeah, that's absolutely true.'"
Indeed, it is an opportunity that Steel has taken, averaging close to 35 in the 31 games since his 2017 debut, while becoming the county's youngest ever double-centurion in the process. In June – while still only 22, he captained the side against Derbyshire, even if an elbow injury while batting restricted his involvement.
"Now that I know that I am good enough for one or two seasons, the question becomes whether I'm good enough for three or four seasons to keep my spot, to score 1,000 runs, to get us promoted," he explains with the confidence of a man who understands what he has achieved, but also how quickly form and fortune can turn.
Yet, alongside individual success, the 2017 season remains etched to Steel's mind – partially the nostalgic memories of a first step into professional cricket, but also the circumstances of a unique year that challenged his Durham side to make the best of unprecedented misfortune, to make adventure of adversity.
"Being a cricketer is like being an accountant or a journalist – it is people's livelihood and it does mean the hell of a lot more than many people think"
In a league of fine margins, just 53 points had separated the top seven teams in Division Two in 2016. Only three years beforehand, Durham had won the County Championship.
"It was very strange," Steel recalls with a thoughtful honesty that runs through his every word. "From a team perspective, it was a hard situation to be in.
"I remember sitting down at the start of that season and Paul Collingwood talking to everyone. It would have been very easy to sit there and think that we were starting off 48 points behind, so let's just play a normal season and let's improve and think about next year.
"But Colly said that we were still going to think about promotion. He just said: 'We're going to have to win every game.'
"It made it a very odd year, because there were a lot of times when we would be in complete control of a game, where we would normally have batted and just taken the draw and been happy to take the first innings bonus points on top of the draw points.
"But we put in big early declarations and then ended up losing games, but we had to in order to have any chance of getting promoted again."
As Steel reminisces over an unusual period, he does so with an impressive clarity of thought. Well-grounded and mature, it is little wonder he is held in such high regard.
He signed a new deal until 2021 last month, and speaks like a man cut from the cloth of captaincy. If an Australian twang remains rooted to his accent – his parents still live there, Steel talks as a man proud to live in the northeast.
"Durham feels like home," he says. "It is a great place and a friendly place – as is the club.
"Even though we got relegated and we have had two fairly poor years on the field – barring the T20 campaign this year, it is amazing how much support we have had from the members and how they have chosen to stick with us."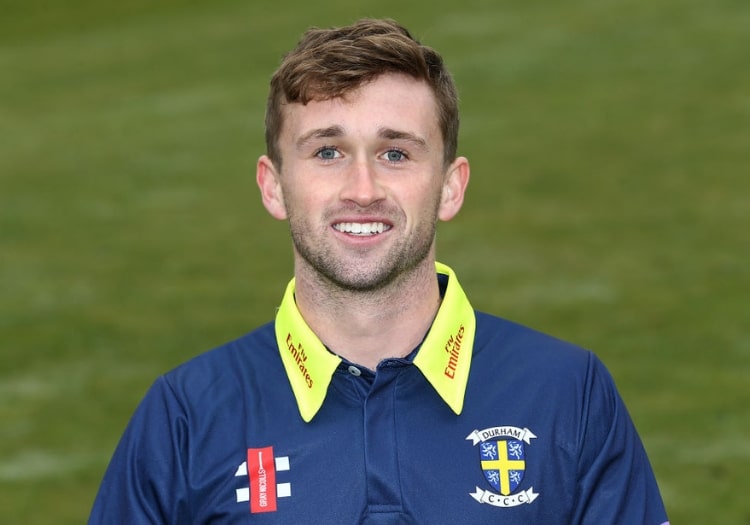 Steel spoke openly to The Cricketer about his past issues
Central to this, of course, has been Collingwood. If it is true that no player is bigger than the club, then the now-retired allrounder tests the law to its limit.
When he made his Durham debut in 1995, Steel did not yet exist. 
It is a mind-blowing thought that highlights the sheer longevity of a man whose grit and sheer willpower so represent his home county.
Quite simply, Steel says, Durham will never be the same.
"Not having him around will be hard," he says. "Everything at the club revolves around him. He knows everything about the club and the club knows everything about him. It will be tough moving on because his breadth of experience is extraordinary. Having him as a captain – especially in the Championship – was amazing, and possibly something that we won't necessarily fully appreciate until he's gone.
"When there were tough times, his poker face brought a lot of calm to the dressing room. That will be the hardest thing to replicate – he has seen everything in the game."
As our chat comes to a close, talk turns to social media, as society now tends to. The last two years have given Steel a vivid outlook on the sport's pressures  –  the yips, the points deduction, the successes and, quite simply, the nature of professional sport.
"It's what I try and say to people when you're getting sledged by people you don't know on Twitter," he explains.
"Being a cricketer is like being an accountant or a journalist – it is people's livelihood and it does mean the hell of a lot more than many people think."
Keaton Jennings is one such example. And while he is riding the crest of a wave as we speak, Steel finishes by paying tribute to his former team-mate – not just for his runs and short-leg heroics, but for coping with all that comes with surviving in the Twittersphere while facing life in the public eye.
"He has just copped an incredible amount over the last two years of his career," Steel says, his voice full of pride at his mate's fightback. There can be few greater traits in a game so emotionally demanding than a sheer delight at another's success.
"He has battled when he has played for England, but that doesn't make him a bad player. You see the other players' reactions when Keaton got that hundred, there wasn't a player at Durham who wasn't absolutely stoked for him.
"Yet, you still get people messaging him telling him never to put an England shirt on again. What gives anyone the right to say that to anyone?"
Please ensure all fields are completed before submitting your comment!