Botham at 65: They say never meet your heroes, but I'm glad I did
HUWZAT ON WEDNESDAY: In the 35 years since his first walk, the survival chances of youngsters diagnosed with leukaemia have risen from 20 per cent to above 80. It's not just the money raised, but he has massively raised awareness of the disease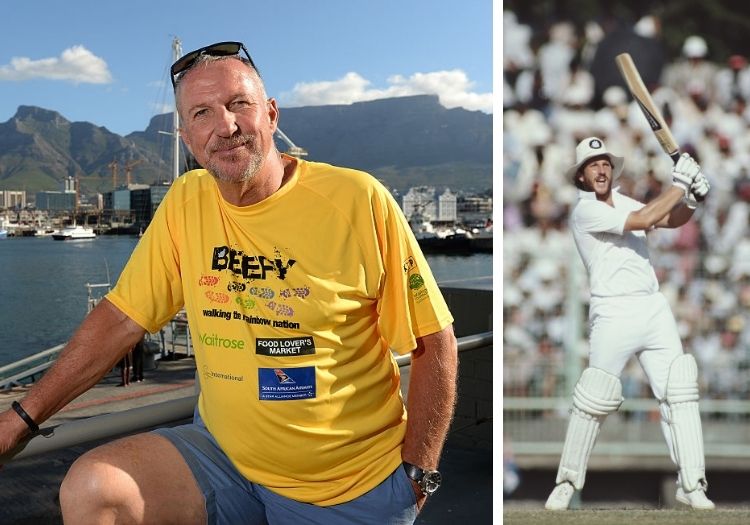 The 65th birthday of England's greatest living cricketer – and one who raised more than £21m for Leukaemia Research to boot – should be a cause for national celebration.
Alas we live in starkly divided times, and Sir Ian Botham's political views force people to forget all those centuries, wickets, slip catches and charity walks.
Where has the respect for Beefy gone?
We seek perfection unreasonably.
It doesn't exist.
I don't tend to make a habit of quoting Jeremy Clarkson, but he touched on this in a recent Sunday Times column.
Discussing the new docudrama film, The Social Dilemma, he wrote: "Google and Facebook and all social media will eventually cause every country on earth to be engulfed by a bloody civil war. Possibly about toothpaste."
He goes on to describe how, when he was a reporter, he used to have a regular lunch with two people in the Workers Revolutionary Party: "I liked them a lot, and I think they liked me… we talked about politics, of course, and we'd argue in a good-natured way and then we'd have a couple more pints."
Have an alternative political view to a friend now, and they 'cancel' you…
Mention Botham to some people, and their eyes roll.
They forget the days when he smashed Dennis Lillee (1981), Craig McDermott (1985) and Merv Hughes (1986/87) around the park, wielding a bat like a caveman's club.
They forget when he charged in like the wind, swinging the ball for fun, castling great batsmen (like he did in 1981), or forcing others to pull a long-hop down square-leg's throat by sheer bravado, presence and charisma (like he did at the MCG in 1986/87).
What worked for him as a cricketer, getting annihilated for the first three weeks of that tour to Australia, didn't necessarily work for lesser mortals. You could even argue it was a bit selfish. But it was not nasty.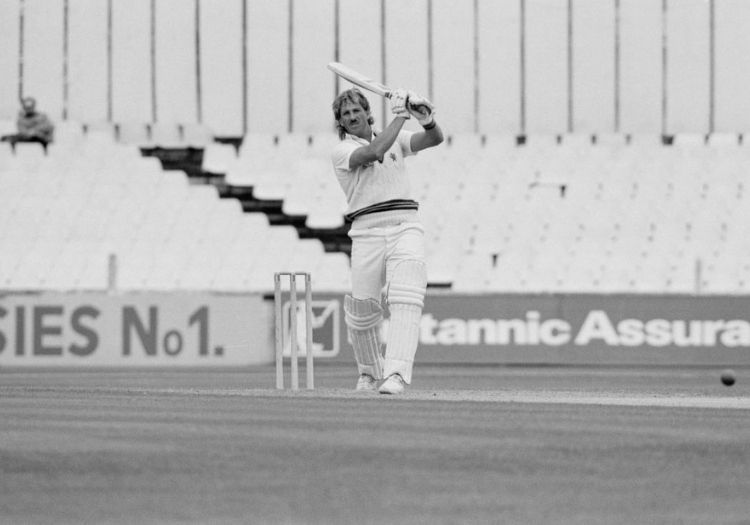 Botham turns 65 today
I wasn't yet into watching cricket in 1981, so I missed his Ashes miracle; and his Sports Personality of the Year award that winter. I started watching him in 1982, but the first time I was captivated by him was in 1985 against Australia at Edgbaston, when he came into bat with England 572 for 4. No helmet on to envelop his blond mullet, he lifted his mighty Duncan Fearnley and hit McDermott first ball for six over long-on. "What about that?" laughed Jim Laker.
Nobody did that sort of thing back then. Long before T20, he seemed superhuman. His third ball from the same bowler also cleared the ropes, and he finished with 18 off seven.
The first time I realised there was a rebellious side to him was in May 1986. I remember it vividly one morning. "Your hero is in trouble again," my father goaded me as I ate my breakfast. I barely understood why. Botham had confessed to smoking pot. I was 13. I didn't even know what that was, and didn't much care. All I did care about was his cricket. He was banned for two months. When he came back he took two wickets in his first two overs against New Zealand at The Oval, becoming the highest Test wicket-taker of all time.
I had never seen a cricket crowd so excited.
Not long after that he scored 138 at Brisbane in the most sensational, swashbuckling fashion.
I've been in and around the press box near the Sky teams for 14 or so summers, and never had much to do with him. I interviewed my other heroes – David Gower, Allan Lamb, Graham Gooch, Mike Gatting and many others, but he is the one that got away.
I made it my mission this winter, making contact with his wine company, promising to give them a plug; then receiving an email from Kathy Botham, no less!
The date was set, and the full interview is in the December edition of The Cricketer out later this week.
I set off for Newcastle – he lives an hour away and conducts business in the city, running Sir Ian Botham Wines, and being chairman of Durham County Cricket Club.
As the train pulled out of King's Cross, I thought of the opening minutes of one of my favourite films, Get Carter. This time it was Get Botham.
I finalised what questions I was going to ask him walking around the city for the first time. It is superb, an amazing fusion of old: the castle, the majestic Tyne Bridge – and the new: the Gateshead Millennium Bridge and Sage music venue.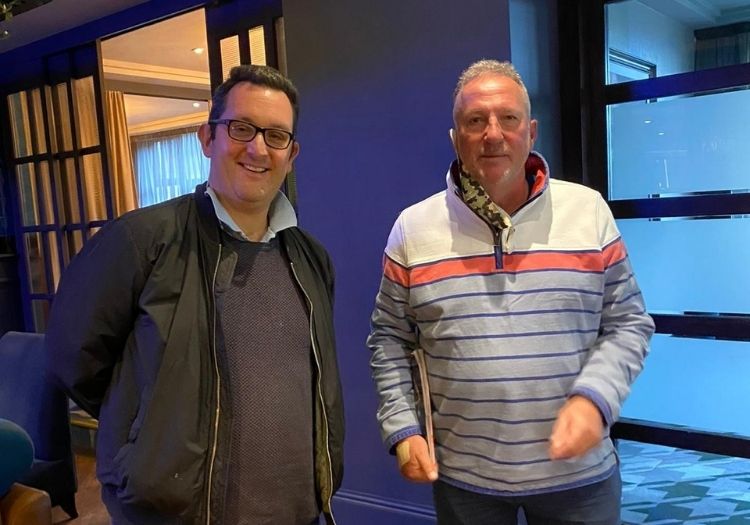 Botham with The Cricketer managing editor Huw Turbervill
He gave me 40 minutes, patiently answering all my questions. Most of it is about cricket.
I was surprised by his views on The Hundred.
He has never seemed to have that much time for T20, and with Durham not in the new competition at the moment, I thought he would oppose it, but he told me: "I'm very much in favour of The Hundred. Sometimes you need something that refreshes. It's like changing a car, or buying a new house."
He talked candidly about Ben Stokes' England captaincy prospects, and whether he will replace Joe Root, possibly after next winter's Ashes: "Ben's a very important person in the England cog; whether he's captain, or sergeant major, vice-captain, whatever you want to call it, that's a decision that he will make."
He is much more involved with Durham than I realised. It was he who changed the board by the sounds of it, brought in the new chief executive.
While his views on Brexit are not a surprise, he is genuinely engaged by his elevation to the House of Lords and has specific areas he is keen to focus on. He is Baron Botham, of Ravensworth in the County of North Yorkshire: "It's a great honour. If you'd asked me 20 years ago whether I'd get a knighthood, then go to the House of Lords, I'd have laughed."
And he has a message for those who ridicule his appointment: "There are people who just sit there and they're trolls. Pretty pathetic people, most of them. I'm waiting for the guy to come up and say it to me, face to face."
Everybody should at least respect his work for Leukaemia Research. It all started when he was in hospital for a broken toe. He walked through a ward full of young men. He was told most of them would be dead in a few weeks.
In the 35 years since his first walk, the survival chances of youngsters diagnosed with leukaemia have risen from 20 per cent to above 80. It's not just the money raised, but he has massively increased awareness of the disease.
They say never meet your heroes, but I am glad I did.
He was friendly, serious, business-like, accommodating, and, at times, surprising.
Read the full interview with Sir Ian Botham in this month's issue of The Cricketer.
Gift a subscription to The Cricketer this Christmas and choose your free gift (a £20 John Lewis gift card or copy of Bob Willis: A Cricketer & A Gentleman). Subscribe here
Please ensure all fields are completed before submitting your comment!