Anuj Dal hopeful that game-wide racism education courses can bring about major change
SAM DALLING: Derbyshire seamer Dal is speaking shortly after attending his county's session, held online because of the pandemic. Buoyed by the experience, he believes cricket's omerta culture is shifting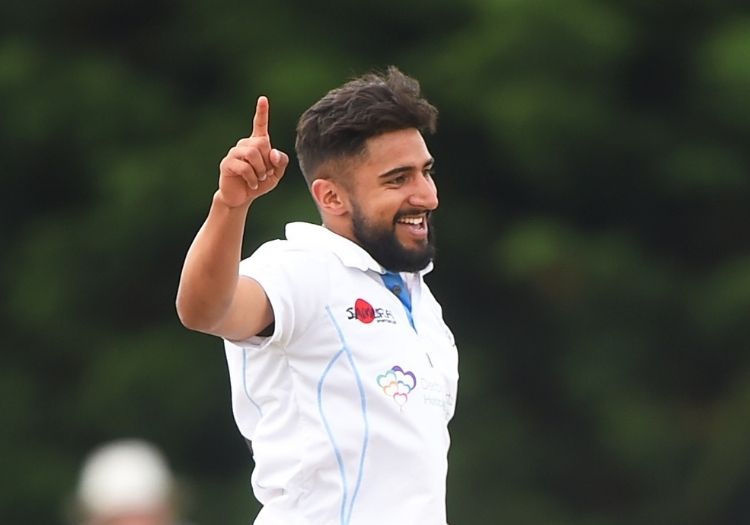 There is a pause as Anuj Dal draws breath. "As much as it hurts me to admit, it's something that I've just had to try and brush off. Play it off as a bit of a joke almost."
There's a reluctance in the allrounder's voice. Times are exciting at Derbyshire, and for the previous 40 minutes he has spoken jovially and eloquently about county cricket. His natural tendency is to see the good in everything and everyone. This is, therefore, difficult.
The 'something' he references is racism.
"It's so difficult as a younger player, especially if it's coming from players of importance," he continues. "As an 18 or 19-year-old you don't want to be bringing up those issues or challenge it. You had to brush it off, especially when you are just starting off and have no credibility in the game.
"You just want to be the quiet individual that goes about his business. But it is there. I've received it at a lot of different levels, whether it be references like 'you lot' and or hand gestures that would be made to indicate a BAME player.
"In the past I wouldn't have felt comfortable opening up about it. But now, seeing how relevant it is and seeing the likes of Azeem Rafiq and lots of other players going through something very similar – as we've seen from the results of that survey – it's clear that the issue is there. It's heartbreaking to see what players have to go through."
The survey Dal refers to is one conducted by the Professional Cricketers' Association last summer. Almost 600 PCA members – professional cricketers past and present - were asked for input. Slightly disappointingly only 173 replied.
Of those respondents, 23 revealed they had experienced racism in cricket, 12 of those identifying as BAME, including 10 current professionals. Almost half of the 23 cited a fellow professional as the source.
"I was disappointed but not," Dal said of the results. "I know in our dressing room it was an eye-opener and the results were a shock to a lot of people at the PCA. I'm very glad it has come to light though as it enabled them to realise just how important this topic is and how necessary it is to stamp it out.
"I really feel for players having to go through it. I am comforted by the fact that the PCA have taken such a strong stance. So from one point of view the survey was very disappointing but from another it is exciting to see how involved the PCA and the clubs are."
Dal is a recently appointed vice-chair of the Professional Cricketers' Association
Asked about the perceived intent of the racism experienced, 62 per cent of the respondents stated that the abuse had been dressed up as 'banter'.
"I don't think anything said to me was intended maliciously. Maybe the players were not educated enough to understand where the boundary is. Because I had the ability to brush it off and I could try and put it to the side as a joke, as 'banter'.
"But deep down I knew it wasn't what you wanted as a player. I didn't want to engage with it and never felt comfortable opening up on it. I looked back to three or four years ago and wish and I was in the position I am now because it would have been very different."
Dal is reflecting on past experiences, and has now found a happy home at Derbyshire, whom he joined in 2018.
"We've got such a great group that you wouldn't really see that sort of thing happen in the first place. Even the 'banter' side just doesn't happen in our group. It's so refreshing to be part of a side whether you don't even have to worry about that. It's a non-negotiable for the club. It makes you feel at ease knowing that it (racism) is not something you have to deal with it."
After years of inaction, of turning the other cheek, cricket has finally woken up to issues entrenched deeply into the game.
Last summer, in the wake of the Black Lives Matter movement on which Michael Holding and Ebony Rainford-Brent spoke so beautifully sadly, the PCA established the Equality, Diversity and Inclusion group. Dal is a member, as are Isa Guha, Abi Sakande, Mark Butcher, Katherine Brunt, Rob Lynch (PCA chief executive) and Simone Pound, head of equality and diversity at the Professional Footballers' Association.
"Moving forward there are a lot of issues that we want to target. Racism is a big one and is something that hasn't been covered to the extent it should have been in the past.
"We want to reach a position where there is equality and inclusion for all players but we also have to make sure we get things done properly rather than rushing to do everything at once. We have targeted racism as the one to start with, and want to reach a position where we have: a) good understanding of the issue, and b) good education around it and support for the players going into that."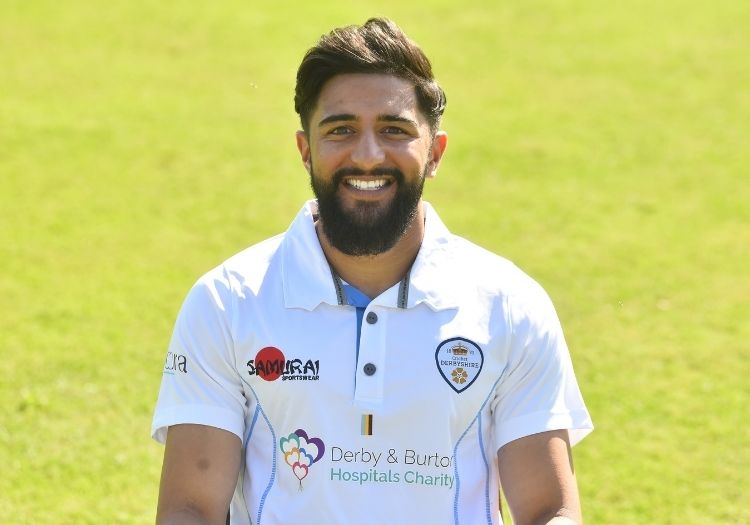 Dal joined Derbyshire in 2018
And that education has begun. The survey results were published in January and the PCA responded swiftly, announcing the roll out of educational workshops to all professionals in England and Wales. The EW Group, a consultancy specialising in delivering unconscious bias training, have been engaged to run them and the first took place in March.
Dal is speaking to The Cricketer shortly after attending Derbyshire's session, held online because of the pandemic. Buoyed by the experience, he believes cricket's omerta culture is shifting.
"Ours was outstanding. Fantastic. Really well run by EW and very easy to interact with. We had such engaging conversations both as a big group and also when we split into mini-groups. It was great to hear people's thoughts and they spoke up about how they interpret things.
"The aim is to firstly to allow players to feel able to challenge comments that make them feel uncomfortable, and we have reporting procedures in place now that mean it can be escalated in the right way. Ultimately, we want to have environments where these things don't happen in the first place.
"Derbyshire are making sure not only the players but all of the coaches – senior and pathway – are involved so that the players right the way through the system don't have to worry about it (experiencing racism). If the other counties are having similar conversations, I am hopeful that a few years down the line it can be completely eradicated from within the playing side. That is what we want moving forward."
Dal, in his new role as PCA vice-chair, will be at the forefront of professional care over the next few years. It's a position he holds jointly England women's captain Heather Knight, and the pair provide support to recently elected chairman James Harris, who takes over following Daryl Mitchell's successful stewardship.
Dal only became actively involved with the PCA in early 2020 when he took over from the retiring Daryn Smit as his county's player representative but impressed sufficiently for Harris to promote him.

"Jimmy messaged me in the morning before training asking if he could run a few things by me. I thought he just wanted my opinion on some standard PCA stuff. It was a very strange phone call and I am still a bit shocked. I'm delighted though, honoured really, especially at my age. It was a no-brainer to accept although I was probably a little bit naïve as I didn't know what the job entailed or what my responsibilities would be! But Mitch, Jimmy and Heather have been incredible.
"Literally as soon as the press release came out Heather sent me a WhatsApp message congratulating me and saying she is always there if ever I want to run something by her or need support. That was an awesome message to get," he says starry eyed. "The England women's captain sending you a message out of the blue! Awesome."
A few weeks on from Harris' call, and with a first board meeting under his belt, Dal is starting to get his head around the job specification.
"I'm essentially a bit of a sounding board for James. If he is coming up with things that he thinks will benefit the PCA and its membership, I'm here to give a slightly different perspective and try and give him an insight into how that might be seen by the younger players."
The PCA's workload is as broad as it is heavy. Already Dal has had to tackle the potential implications of the previously mooted moving of the T20 Blast to September, insurance policies for those picked up in The Hundred draft (and indeed those who were selected first time around but not this year) and ensuring that the Royal London Cup receives appropriate attention.
Then there is the mental health support: "That's been a lifeline for so many players, it is there 24/7, remarkable really."
And all that is before even considering the organisation's primary remit.
"The PCA's main job is to help, when it comes to it, with a player's transition out of cricket. You always know the PCA is there and has an important because when you sign your first contract, its name is across the top and it is their standard. top and it is their standard so you know they have an important job.
"But I never understood how connected the PCA is and how much they have to offer you as a player. I think now as a 24-year-old I'm realising the extent of it all. They have incredible support and contacts, with so many fantastic sponsors and companies that actively engage with them. The number of doors they can open is ridiculous. Hopefully players at 18 or 19 are starting to realise how brilliant the PCA is and how much it can help."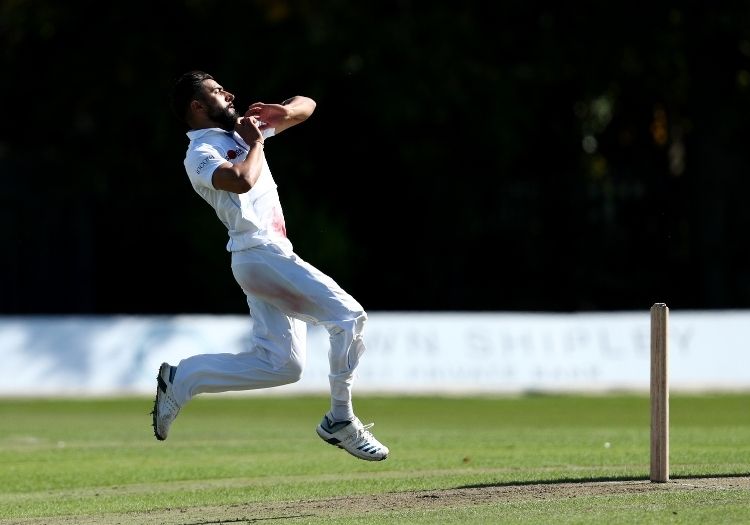 Dal earned the PCA's personal development scholarship award in 2019
Dal himself has been a beneficiary, earning a Personal Development Scholarship Award in 2019. With that money he was able to purchase equipment for Purpose Cricket, his 1-2-1 coaching company that is thriving. He now has a team of six coaching, including teammate and close friend Fynn Hudson-Prentice.
"That win was pretty awesome," he says recalling his trip to Edgbaston to present his case. "It helped me with the little things that can be quite expensive when you are setting up a company. I expected a quiet year last year but in fact it was the complete opposite.
"People were sick and tired of being indoors, so as soon as lockdown eased they wanted to get outside and start playing cricket again. I went from around 12 or 13 clients to 40-45 people trying to arrange sessions. I physically didn't have time to do that, we had to expand while being careful to get the right people in. To be able to offer a service like that is great."
Dal is also completing a diploma in regulated financial planning. "It takes the pressure off – eases the burden a bit - going into the last year of my contract," he explains. "I've got a Plan B or Plan C in case it doesn't get renewed. It gives me the freedom to go out and enjoy myself.
"A lot of people put all eggs in one basket but that last year can be very difficult mentally knowing you have nothing outside of cricket to fall back on."
He speaks from a position of experience, his release from Trent Bridge having come before he had made his professional debut.
"Notts is a big club where first-team opportunities are very limited. I remember being in the last year of my contract and mentally and physically it was quite draining. You got to the stage where no matter how well you were doing in second- team cricket you weren't going to get an opportunity. That is tough to take as a cricketer. I thought my professional journey had come to an end."
But, in Derbyshire, Dal found a club willing to offer a second chance. Come the summer of 2018, runs flowed freely in the 2nd XI, 574 in total, which included 352 at an average of 58.66 in the T20 competition.
That led to him featuring in nine Blast games that year, and his first-class bow came in August. A one-year deal followed, and then another two taking him through to the end of the current season.
To date he has appeared 45 times for the East Midlands side across all formats, making four half-centuries and picking up 11 wickets, including those of Jonny Bairstow and Usman Khawaja.
"When I was a Notts I was a very young immature player who had almost no experience," he says.
"I didn't feel confident of where my game was. Now I know exactly the kind of player that I want to be and what I need to do to be successful.
"Almost the opposite end of the spectrum really. I've put so much work in over the past couple of years to get my game towards where I want it to be. It's still a long way off but it's exciting to know that this is where I am.
"I am very excited to hopefully reap the rewards of that hard work."
Subscribe today and receive The Cricketer's centenary issue – six issues for £19.21. Click here
Please ensure all fields are completed before submitting your comment!