Four years on from his first-class debut, Hamidullah Qadri is no longer a teenager
NICK FRIEND: Not many spinners in the English game use the words that Qadri uses: he studied Saqlain Mushtaq and could bowl a doosra at 13 - though when it was effectively outlawed, he developed a carrom-ball to combat that inconvenience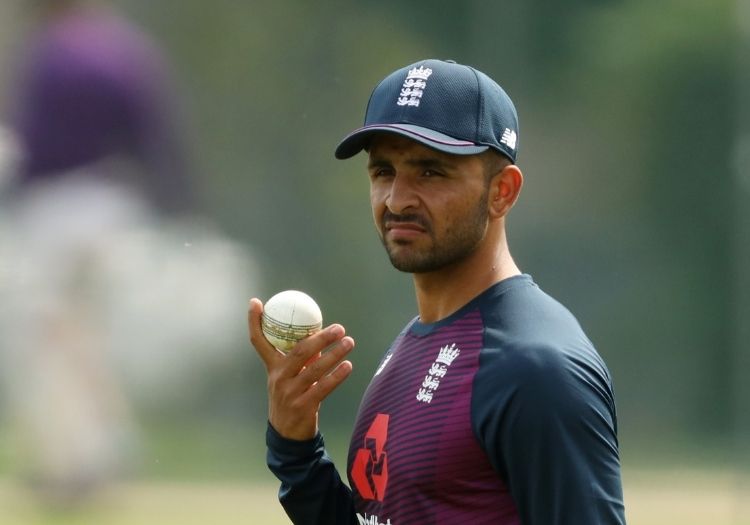 The euphoria around Hamidullah Qadri's first-class debut feels so long into a distant past that watching him twirl away during last year's Under-19 World Cup provided some important perspective around his development since the remarkable circumstances through which he burst onto the scene.
Ostensibly, Qadri is still in cricketing terms a child, or at the very least only on the verge of adulthood.
He is 20 now but he was 16 then, when – just five years after picking up a hard ball for the first time – he became the first player born in this millennium to make a County Championship appearance, in the process becoming Derbyshire's youngest debutant in the competition.
Interest around the story swelled as a schoolboy off-spinner took five second innings wickets against Glamorgan – still his best figures as a professional – in a performance that helped to end the club's 710-day wait for a win in red-ball cricket.
That only 19 further scalps have followed in the intervening three seasons is of little significance. After all, this is only his second year as an elite sportsman without the burden of A-Levels hanging over him in the background – the first was mostly scuppered by the pandemic. The progression of Matt Critchley, the leg-spinning allrounder, also restricted opportunities at Derbyshire, who were generally happy to leave spin duties in his hands.
So, this campaign represents a fresh start: Qadri joined Kent at the end of 2019 and featured in four Bob Willis Trophy matches, though he was used sparingly.
But having taken himself away to South Africa over the winter, where he played for the university team in Potchefstroom, he has returned ready to throw himself into life at Canterbury. "The most important thing is enjoying it and spending some time with my teammates, getting to know them a bit more," he says. "I've not had a full season with them yet. It's a matter of enjoying it and doing the best that I can."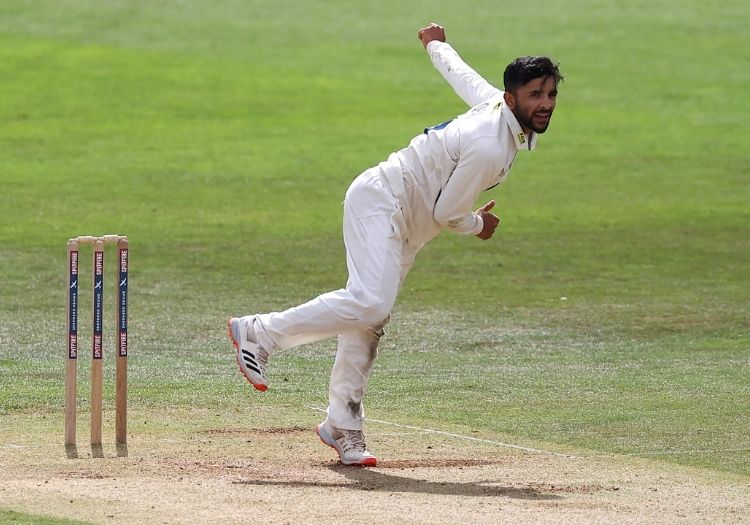 Qadri played four Bob Willis Trophy games for Kent in 2020
He knows, too, that there is a place up for grabs in Kent's four-day setup, with neither James Tredwell nor Adam Riley fully replaced following their contrasting departures. Left-armer Imran Qayyum has established himself as a white-ball option, but he played the most recent of six first-class games almost two years ago; his other likely competitor is off-spinner Marcus O'Riordan showed himself to be a resourceful cricketer last year, ever-present in the condensed red-ball season as a contributor with bat and ball.
Qadri is different, though, and listening to him talk about spin is intriguing; his ideas are refreshingly unusual. Perhaps it is because he has been primarily self-taught, beginning life as a seamer before a back injury forced him to readdress his ambitions.
"I had to go down the other route," he reflects. "I don't know whether spin found me or I found spin, but I just watched YouTube videos and learned from that. I would go into the nets for a few hours to explore and work on things. I just kicked on from there."
He uses words that you don't often hear from young spinners in the English game: he could bowl a doosra at 13, though it has now effectively been outlawed, and he has since developed a carrom-ball to combat that inconvenience.
"I didn't have a lot of coaching. It was mainly myself. I guess that's where the talent comes in. At a younger age, if you get coached too much, it just takes away your natural talent and your natural creativity.
"I was fortunate not to have coaches, but I was also unfortunate not to have coaches. It was sort of a tricky one – it's a hard combination to get. But that way has worked out nicely for me, so it was just about looking at different bowlers, picking up things from them and adding them to my game."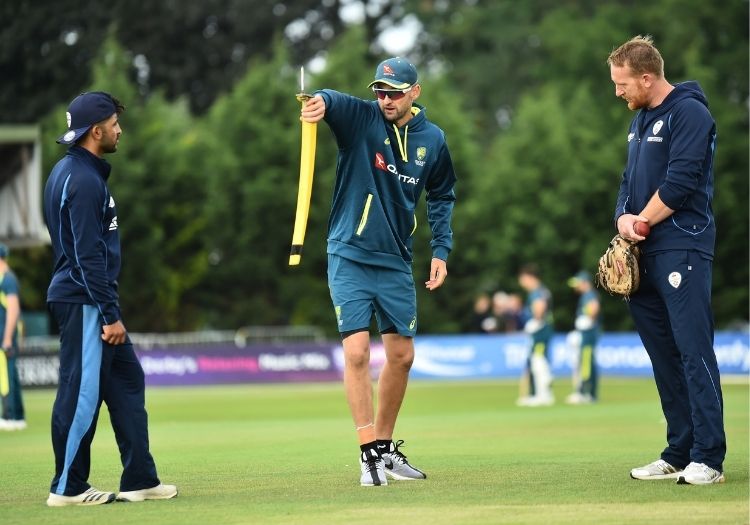 Qadri worked with Nathan Lyon for three days when Derbyshire faced Australia in 2019
When he played for Derbyshire against Tim Paine's touring Australians in 2019, he grabbed hold of Nathan Lyon for three days to suck him dry of his wisdom. Earlier, aged 14, the stars aligned for Qadri to pick the brains of Saeed Ajmal, back then near his rampant peak.
His principal case studies, however, were Graeme Swann – a typical answer – and Saqlain Mushtaq, perhaps less so among a generation born too late to witness his era of dominance. But their combination of traditional quality and captivating mystery encapsulate the bowler he hopes to become.
"Jeetan Patel, too," he adds, in awe of his longevity in county cricket as a constant threat to batsmen and a reliable source of control for his team. Min Patel, who played two Tests for England and is head of Kent's talent pathway, has become another fountain of knowledge.
"I watch all spinners – even leg-spinners sometimes. I love listening to Shane Warne; not just on bowling, but the way he talks about the game is fascinating. I'm still learning at my age, so I try to add as many things as possible to my skill department and I want to improve my tactical side as well. It's trying to be a whole package."
The doosra was one of those supplementary layers and a cause for excitement until the ICC began its crackdown on illegal actions. The delivery itself has not been prohibited, but there is a general acceptance that "it's impossible to bowl it without having a flection in your arm".
Qadri's response was to work around that frustration: "I had to get rid of it because of not wanting to be called a chucker or a cheater." He reckons it took him eight months to perfect, though the carrom-ball is more complex.
He explains: "The doosra was a bit easier because you had that extra degree of flection. The carrom-ball took a bit longer because it's actually very tough, because you just flick it out of your middle finger and your thumb. It's a tricky ball but it's good to have in your armoury. It has taken me almost three years to work on."

Now, though, he has it "nailed on", having unveiled it during the Under-19 World Cup and again during last year's domestic summer as well. "You can bowl it as much as you want in the nets, but it's having the confidence to bowl it in a game," he knows.
Crucially, however, these are merely add-ons.
"As a spinner, you want to have a stock ball where if you wake up in the middle of the night, you'd be able to bowl it and land it on a penny," he says. "I wouldn't be able to bowl my carrom-ball if I didn't have a good stock ball, if that makes sense.
"I work hours and hours on my stock ball and then that allows me to bowl my carrom-ball. Otherwise, if I can't land my stock ball, there's no point – I wouldn't be able to bowl my carrom-ball. In that sense, it's good to have it, especially in the white-ball formats, being able to turn it both ways."
Such an appreciation of his art is a massive plus and will be music to the ears of more experienced onlookers, especially having challenged himself by moving to Canterbury, where spin has hardly been Kent's modus operandi in recent times: in the 2019 County Championship, just 16 of their 227 wickets were taken by Riley, Joe Denly and Ollie Rayner.
Yet, as a regular for England at youth level, there is genuine belief that Qadri is among the best young spinners in the country – a tag that extends beyond the point of difference provided by his variations. He enjoyed a decent World Cup on a personal level, even as his team disappointed: only five players took more wickets.
"Spinning the ball and having control will take you far," he says. "Patience comes with it as well. For me, I'm trying to just be as consistent as possible, trying to go at less than three runs per over. And then, when it does turn, that's where I'd come more into the game."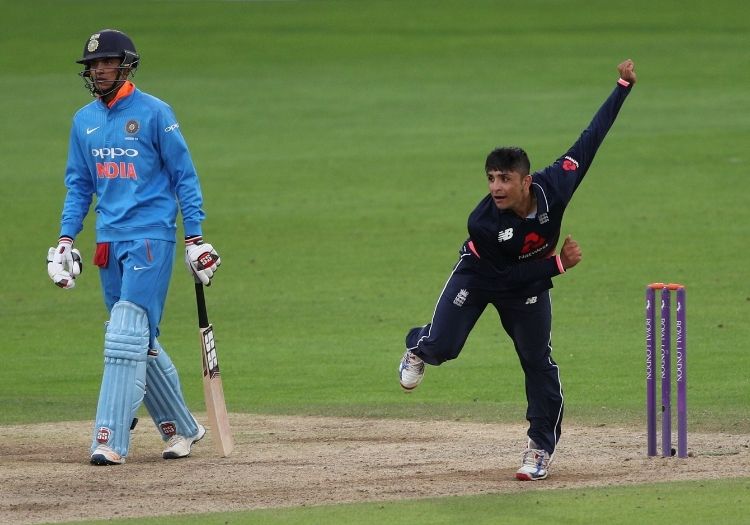 Qadri in England Under-19s action, with India's Shubman Gill at the non-striker's end
Qadri was born in Afghanistan and moved to England in 2011, aged 10. These days, Rashid Khan, Mujeeb Ur Rahman, Qais Ahmad and Mohammad Nabi are all among the world's leading spinners. But when he was growing up in Kandahar, the country's second-largest city after Kabul, he hardly ever played cricket, barring occasional tape-ball sessions – football was his main sport until he arrived in the UK.
It makes his trajectory through the last decade all the more remarkable.
"I'd say that I'm lucky but at the same time, I've worked hard at my game and on my studies."
No longer a teenager, Hamidullah Qadri speaks like a young man prepared to take the next step, and Kent might just be the beneficiaries.
Subscribe today and receive The Cricketer's centenary issue – six issues for £19.21. Click here
Please ensure all fields are completed before submitting your comment!