The Essex way: Inside the champion county's golden era
NICK FRIEND: Jamie Porter, Sam Cook and Aaron Beard: great mates, keen golfers, Essex's title-winning seam attack. They sat down together to explain how the cultivation of an off-field spirit turned the Chelmsford county into serial winners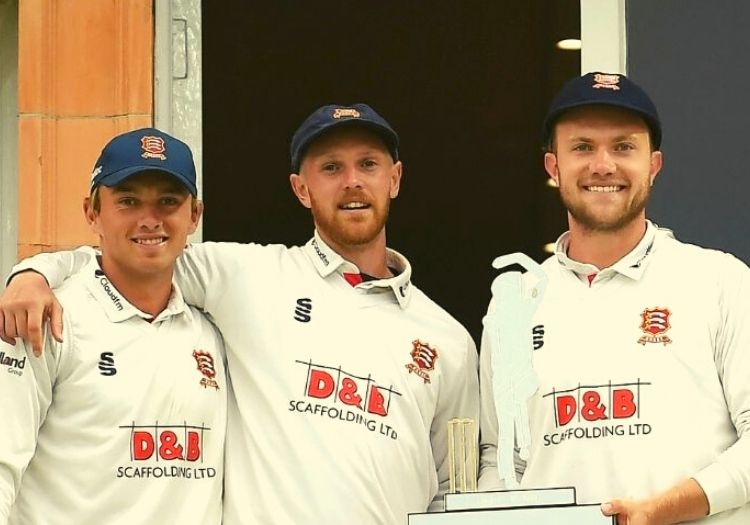 Sam Cook is flanked by close friends as he attempts to explain Essex's golden era. He has given up his Thursday evening to talk – via Zoom – alongside Aaron Beard, Jamie Porter and Ralph, Porter's cockerpoo.
In a team that rarely loses, they are its seam attack – minus the dog: three great mates, each with their own journey, all simply chuffed to be part of a winning machine which has unflinching camaraderie at its heart. That they, as a locally reared triumvirate, aren't often afforded the external plaudits their performances merit is neither here nor there in the wider context of a team built on togetherness.
Instead, that acclaim tends to befall Simon Harmer, who has taken 250 competitive red-ball wickets at 19.59 apiece since arriving at Chelmsford four seasons ago.
Ironically, in this conversation no one mentions his name for 55 minutes, so when it does finally crop up it is greeted by a collective chuckle. Because when people talk about Essex, discussion of the South African offspinner is never far away: whether he is eligible for England, how he has achieved such success, why no one has matched his feats, quite how good he actually is.
"He makes our lives easier because we don't have to spend much time on the pitch," Cook jokes.
More seriously, however, Essex's seamers are fascinated by their cheat code. His record is phenomenal, freakish even. Since he joined the county ahead of the 2017 season, no other spinner has taken a five-wicket haul at Chelmsford, an astonishing statistic that should stop any urge to put Harmer's record down to home comforts.
"We have the one thing that every other club would kill for," smiles Porter. "Over the last few years, that has been the difference. We've always had a good seam attack at Essex. But there hasn't been a good spinner for a while, probably since Danish Kaneria – in terms of someone who's going to go out and take 50 first-class wickets per season.
"It is the difference between us and other teams. There is not a single team that has brought a spinner to Chelmsford that has outbowled him. We went to Notts and he outbowled Ravichandran Ashwin."
Cook laughs, almost in awe of his colleague. When Harmer took 14 wickets against Surrey last August, it was the third time in four seasons he had claimed 14 scalps in a single game – the previous occurrences came within seven days of each other during his first campaign.
"I've seen a couple of bits about how we only win it because of Harmer and whatnot, but it shows how good he is. No other spinner compares to him at our home ground. People saying that it's because Chelmsford spins, it's not. It's because he's an absolute genius."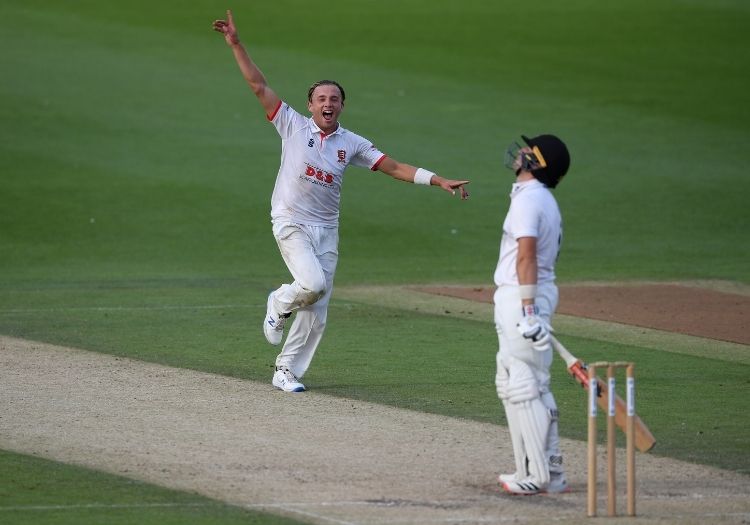 Aaron Beard is the youngest of the trio
And so, Essex's seamers are a rarity in English cricket: the beneficiaries of a dominant, unstoppable spinner. Quite simply, what is that like?
"It makes a huge difference," says Cook. "We're a lot fresher, we can rotate one after the other. The captain knows that he's going to get a fresh spell out of every bowler every time we're coming on down the hill – at Chelmsford anyway.
"In terms of a mindset thing, it's a bizarre feeling when we stride out for a four-day game because it's almost like we've got a rhythm to how we go about it. Myself and Ports will take the new ball and we know if we get two or three early, we're right into them and then you're exposing the middle order to Harmer and Beardy following as well. From a batting point of view, I can't imagine what that feels like, especially if you lose a couple of early wickets."
Indeed, Porter, Beard and Cook have shared 336 red-ball wickets at 21.8 apiece since Harmer's arrival, ensuring all bases are covered and proving a point perhaps not made often enough, that there is far more to Essex's prosperity than their offspinner.
Flatter, bouncier surfaces assist Beard, while seam-friendly conditions suit Cook and Porter. And when it spins, Harmer books himself in from one end, with everyone else taking it turns to keep things tight.
"Having a world-class spinner obviously makes our job easier," Cook continues, "but I think as an attack we complement each other quite well. Growing up together, we know what we have to do for each other now. It's just an innate instinct and such a routine for us. I think that's what has made our attack so strong."
Five years ago, Essex began a remarkable transformation. Also-rans for so long in red-ball cricket after being relegated from the County Championship's top tier in 2010, promotion in 2016 as Division Two winners marked the start of a new era. Three titles have followed since: glory at the end of gruelling, lengthy seasons in 2017 and 2019, before further supremacy in the condensed, Covid-imposed arena of the Bob Willis Trophy.
But in order to fully appreciate that success, you have to understand the culture on which its dominance has been established.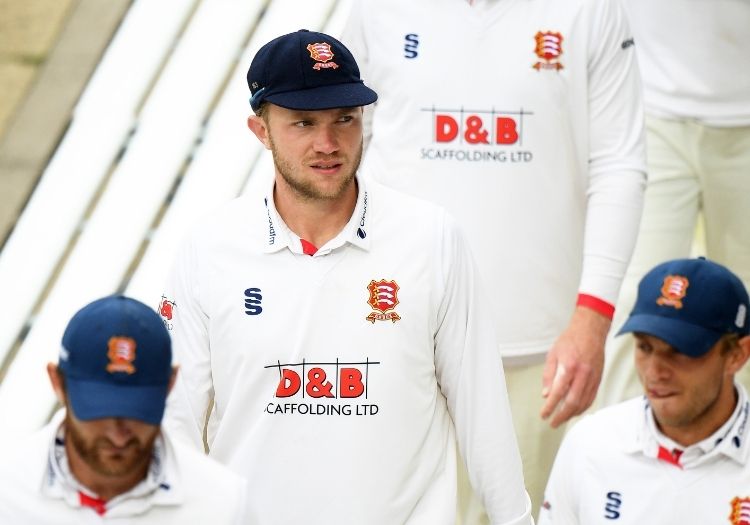 Sam Cook honed his game at Loughborough University
"How we work is how strong we are off the field," says Cook, a sentence which encapsulates the basis of a brilliant dynasty.
"You've nailed that, Cooky," Beard interjects. The pair have known each other for as long as they have been playing the game, having first met as children at local village club Writtle. They first came across Porter years later, when he joined them indoors for a winter of academy sessions. Little did they know then that they would form a title-winning alliance in the colours of their home club.
"I personally think it makes it more emotional when we do congratulate each other," adds Beard, "Especially us three being so close, we all want each other to do well."
Cook concurs: "I think it's that family mentality of the club – our families are all pretty close off the field when they're at games. We've all grown up together. We've been fortunate to have had the success that we've had but it's probably made it sweeter and made it more motivating going forward to have had a taste of it, knowing how much it means to everyone on and off the pitch.
"It makes us more driven when we're training or in early morning gym sessions. If you know you're working towards that end goal, it makes it that bit easier, I think."
So, to golf – the second sport of professional athletes – and, for the best team in the country, a central ingredient that has become a regular habit once training comes to an end in the early afternoon.
"If you think about it, it all sort of falls into place," says Cook. "It's competitive, it's good hand-eye, it's good recovery, it's good time-filler. You speak to guys at other counties, and they don't do anything socially really with their teammates off the field. Whereas it's kind of like every day with us.
"I played a bit before being a cricketer, but if everyone's going off to play, you don't want to miss out, so it's a natural progression. The club might get a bit annoyed when we ring up to book four tee-times every day, but it's brilliant and it keeps the spirits up off the field. It's a perfect way for everyone to switch off. I think it's a really strong part of our squad."
Brentwood is one frequent jaunt, where Porter is a member, but they have forged strong ties with several courses in the area.
Of the three seamers, he is keenest and plays off the lowest handicap. Does that make him the best?
"How can you ask that question?!" laughs Beard.
Porter giggles, adding an olive branch to his fellow seamers: "In these boys' defence, if they played as much as I did, it would be a different story. Beardy has most beautiful swing. Cooky isn't as artistic but he grinds his way around.
"I love it. It has over the last few years become more of an obsession than anything. I just find it the only thing I can do that completely switches me off from cricket. When I'm playing golf, I'm not good enough to not concentrate on what I'm doing. It just takes me away from cricket, so it's three and a half hours where I'm just focusing on something else."
As he says, it exists as a means of competition away from the day job: "You won't find many professional sportsmen who don't have a keen interest in other sports. But obviously, you're quite limited in the other sports that you can engage in, so golf is a no-brainer really. If anything, it's good recovery to walk 18 holes. It's good social as well – we have a laugh and get stuck into each other. There's always a bit of money on the line, so it's competitive. It's a good day out, especially in the summer in between games."
That image is a snug fit with the ethos of this trophy-laden period, especially in the years since Anthony McGrath was appointed as the county's head coach late in 2017 following Chris Silverwood's move to assist England's bowlers under Trevor Bayliss.
Cook calls the former Yorkshire allrounder "probably the funniest man I've ever met", though McGrath's responsibilities extend far beyond the role of court jester.
"The way he moves the dressing room and keeps that mentality is unbelievable," he adds. "He has been as big a part of the success as anyone. He probably doesn't get as much airtime as he probably deserves, but I don't think it's any coincidence as to why we've started doing so well since he's come in. He deserves a lot of credit for it."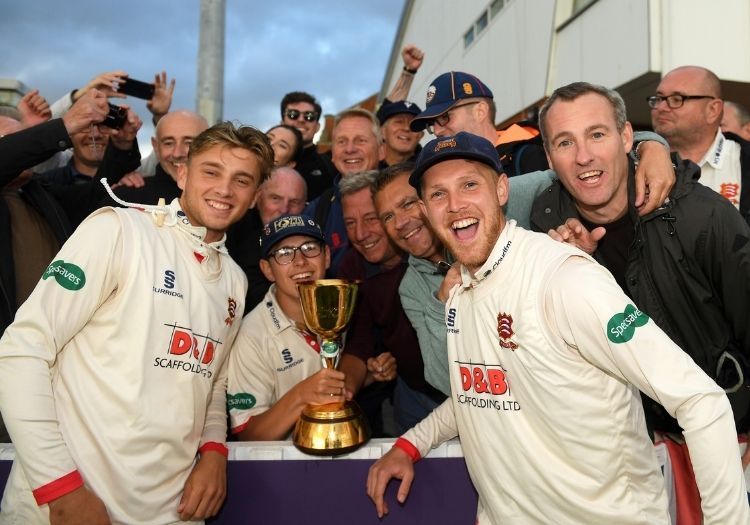 Porter and Beard celebrate after winning the 2019 County Championship title
Because not long ago, Essex were a different beast: a decent side in the second division, who finished third in three consecutive years before their breakthrough campaign.
"I look back then and outside of cricket, the only lads I saw were the young lads: Reece Topley, Ben Foakes, Tymal Mills, Tom Craddock, Nick Browne," says Porter. "You didn't mix with the senior guys outside of the dressing room."
All that changed in 2016.
"And it was led by the senior guys. I remember literally the first event in pre-season. It was really Ryan ten Doeschate who led it. Those guys making a big effort to get around the guys – getting everyone together after games, in between games.
"No one was forced to be there, but I think when you see the senior guys showing up and showing an interest and socialising with the younger guys, it makes you want to be a part of it."
In a career that began at age-group level with both Essex and Middlesex as he sought to make the county grade, Porter has experienced many and various dressing rooms: he is a product of Chingford Cricket Club and benefited from the MCC Young Cricketers scheme. At one stage, when he began working as a recruitment consultant, he feared it might never happen for him. But a consistent, nagging excellence cast those doubts aside as he mastered his craft.
His path has included stints with England Lions and a solitary Test call-up in 2018, though that was as far as it went. And so, as he enters his seventh full season as a professional with Essex, Porter believes the atmosphere at Chelmsford is unique, certainly among his own experiences.
"I've never been in a dressing room like this," he explains, "where everyone has the right to speak up and no one will ever be put down for speaking up. I think that has been created by what we've done off the pitch.
"Now, you walk into a dressing room on day one of a Championship game and Will Buttleman is doing 12th man, and I've got him taking the mick out of me and he's not afraid because everyone's put on the same level. That's brilliant. It's created such a good working environment."

The upshot is a collective confidence. "For me," Cook continues, "I find it just as easy to talk to Alastair Cook about anything cricket-related as it is for the youngest bowler on the staff, for example. If you're coming in, you don't feel like you can't ask questions."
Perhaps that is why all three can speak with such assurance here. It is easily forgotten quite how young their careers are at this point, certainly in comparison with David Masters, a tremendous, dependable predecessor. Cook and Beard, both 23, have only played 56 first-class matches between them, while Porter is 27 but was a relative latecomer in graduating to become a fully-fledged pro. He was fortunate to overlap with Masters, though, in the dying embers of his career.
Porter's gratitude towards him extends all the way to the construction of his run-up: "I was struggling a little bit with the line and then one morning he was like: 'Right, this is what we're going to do.' I've done the same thing ever since. He really helped me through the start of my career.
"I always thought if I could do the exact same as Dave Masters at my pace, there is no way I wouldn't play for England. That was always the way I looked at him. If I could do the same things he did, I always felt I would 100 per cent play for England. That was how I looked at it. I'm still to this day aspiring to have his skills and control."
"Just the sheer economy rate, not giving anything away, while also being able to run through teams," Cook gushes. "It's what you want to do as a bowler: get as many wickets for as few runs. As an academy player seeing how he worked, I took an awful lot from him."
He is not the only mentor namechecked over the course of an enjoyable, intriguing discussion: Silverwood, Dimitri Mascarenhas, Andre Nel and Graham Napier are among the other names to arise. There are shoutouts, too, for Mohammad Amir, Peter Siddle and Neil Wagner, three overseas seamers who left a mark through their generosity and approachability as much as any on-field performances.
Every county has its experienced leaders, but perhaps few have access to such a line-up of widely respected senior statesmen: as well those imports from abroad – and Siddle is due back this season, Ten Doeschate, Alastair Cook and captain Tom Westley remain influential figures, while Ravi Bopara has moved on to Sussex.
"Those names have helped us as youngsters come through a lot quicker than I think we would have done if they weren't by our side," Beard reflects, audibly grateful for their wisdom.
"We see how they work, we see how they live. Cricket is taken very seriously in our dressing room, but we play it with a lot of fun. That's why we've been so successful over the last five years. Us three have been very lucky to be a part of that.
"I get such a buzz off starting a game. We've got such a winning mentality that our nature is to be aggressive in whatever we do: batting, bowling or fielding. We always look at the positives."
Sam Cook has taken 104 first-class wickets
In that regard, consistency has been key – not only on the field, but after games too. The feeling of winning has never been taken for granted, nor has the need for celebration ever been allowed to lessen.
"That's one thing the coach is very keen on," Porter insists. "When we lose, he says not to treat it any differently – because you're going to lose games and you're going to win games, so try to stay level. The best way to describe it is that after every game – but especially with the wins – we use it as an opportunity to spend time together as a squad.
"The second team will come from their game and pop in, and we'll sit in the dressing room for a bit, play some music, have a beer or a soft drink. We use it as time to spend time as a group.
"The club has become very big on it. It's become a culture now – it's not really something that has to be said. It's just done."
When Cook was ruled out of a home clash against Somerset through injury in 2019, he took himself shopping in Bicester Village on the third day of the game, with the match looking like it would head into a fourth morning after the visitors were set a 269-run target for victory.
But with Beard and Porter running through their title rivals as the third afternoon wore on, Cook raced to the ground to be there in person.
"I felt like I had no choice but to jump on the train and hot-tail it back," he says. "That's what you do. You don't want to miss out – I thought I had an extra day. It cost me £25 on a train ticket back from shopping but you do it because it's what you do. You want to be a part of it.
"Every youngster then knows when they make their debut that this is how it's going to continue. If you can keep that culture instilled in the youngsters, it's just going to keep moving forward.
"Even in the days when we don't have Tendo and Cooky around as much anymore – and those days are going to come, as a squad I don't think the mentality is going to change. Obviously, it makes it easier when you are winning but how level we are – win, lose or draw – is quite different to a lot of other teams.
"We have dressing rooms next to other teams and they have coaches shouting and screaming at them after a loss. That never happens at Essex. We're as disappointed as anyone to have a loss, but you deconstruct it professionally, you work out where you went wrong and you work out what you're going to do in the next game.
"There's no point in getting so up when you win and so down when you lose, is there? I think that's something the coaches have been incredible at instilling in us. It's not something that's forced, it's just what happens. And I think it's such a benefit of our squad."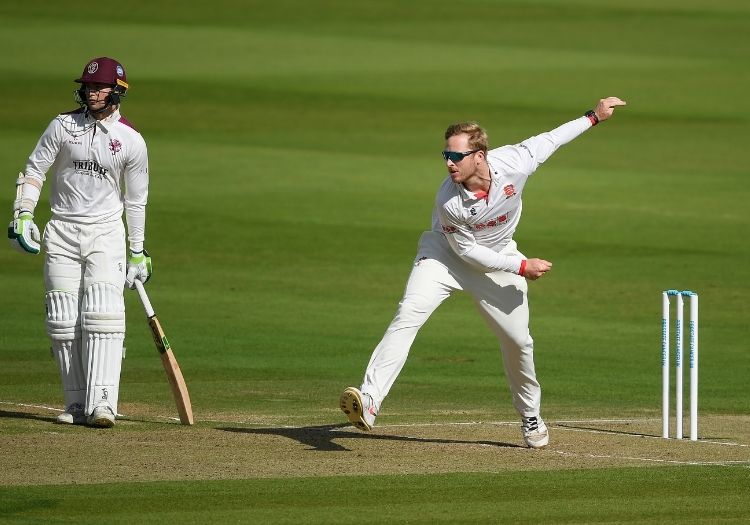 Simon Harmer has made the difference for Essex since his arrival in 2017
That it comes so naturally is perhaps a consequence of the long-time friendships at play: the vast majority of the current first team squad have descended from the county's pathway system, having grown up in league cricket.
Beard was initially enrolled as a footballer at Writtle, where he and Cook first met, and he only turned to cricket when a group of friends opted to give the game a go. From there, the pair moved onto Chelmsford, a bigger club with greater league opportunities. "Beardy was the year below me but we always played together," Cook recalls. "We can't get away from each other, can we?"
There is a shared admiration, therefore, for the role of the Essex Premier League in all this. Beard remembers facing then-county seamers Maurice Chambers and Mervyn Westfield bowling in tandem for Wanstead when he was just a fresh-faced teenager.
"Especially as a young player coming up against contracted guys," Cook explains, "I found that if you got one of those guys out, I felt like: 'Well, if I can do it in this cricket, why can't I do it in second-team cricket or in the first team?' I think for youngsters as well, it's a perfect breeding ground. It thickens your skin in terms of the chirp and you have to learn to get on with it."
Most interestingly, however, about their respective pathways to this point is how they differ: Porter, the late bloomer who believed he had missed the boat; Cook, whose game was honed during his time at Loughborough University; Beard, who followed a more traditional trajectory through the club's academy.
Among Cook's MCCU colleagues were James Bracey, Hassan Azad, Sam Evans, Charlie Thurston, Robbie White and Michael Burgess, all of whom have gone on to forge county careers, as well as Canada batsman Nitish Kumar. "It's quite strange because at the time, we probably didn't realise how good our team was, I think," he says. "As an environment, it kind of pushes you out of your comfort zone a bit because you go from being quite comfortable in your age-group team or your academy where you feel like you're established.
"All of a sudden, you're shoved into this environment where no one really knows each other and you've played each other a bit, but you have to prove yourself. Even though you were on a summer contract, you quite quickly felt like you might not walk into this team."
That experience helped to harden him as a cricketer, training with quality players on a regular basis. It meant that he was ready when his County Championship debut arrived late in the 2017 summer, castling Liam Livingstone for his first victim.
In Beard's case, it feels as though he was always destined to make it: a substitute fielder in an Ashes warmup for England at the age of 15 and the scourge of Sri Lanka with four wickets in a tour game as an 18-year-old on his first-class bow for Essex.
But even as a prodigiously talented youngster, he had his setbacks and moments of uncertainty: a pair of stress fractures before his first appearance threatened to derail his obvious potential. "That period made me realise that if I wanted this, then I'd have to work really hard for it," he recalls.
"I didn't really know what working hard was until I had that back injury. From there, I've never really looked back. It was probably the best – but worst – thing that could have happened to me. I made my debut the year after I came back from injury, which was amazing."
Porter, Leytonstone-born, began as an age-group cricketer at Essex before joining Middlesex for the latter part of his youth, playing in the same side as Nick Gubbins, Adam Rossington and Harry Podmore. But he didn't make the cut and only received the call to join Essex a matter of days before his 21st birthday.
After impressing in the second team, he was finally handed his first team opportunity in September 2014, dismissing Darren Stevens with just his fifth delivery. "I don't know when that moment hits you that you belong, but it probably wasn't until the following year," he reflects, when he proved potent after being handed the new ball in pre-season friendlies against Surrey and Middlesex. "That was probably the point where I realised I was good enough to be here."
The rest, as they say, is history. He claimed 56 first-class scalps in 2015 and 59 a year later, before enjoying a sensational run in the title-winning 2017 campaign, with 75 wickets flowing at 16.83 apiece.
He was named by the Cricket Writers' Club as their Championship Player of the Year, earning England Lions recognition in the process.
And those numbers have never abated: he heads into 2021 just 44 short of 400, unfortunate not to have won a Test cap for his efforts. Even in 2019, when Porter was less pleased with how he performed, he picked up 48 wickets in another County Championship triumph. "Still better than most guys' best seasons," Cook points out.
And so, being overlooked after the first national lockdown for England's 55-man training group was a painful rejection.
"That was the lowest point in my career," he admits. "It was a tough period."
He is over it now, having learned to recalibrate his expectations. "It forced me to shift my thinking in a way that I should have done way before that. Reality set in that you can get all the wickets in the world – I could get 100 wickets per season, but it still comes down to someone's opinion. You can't do anything about it, so there's no point in losing sleep over it.
"All I can do is try to keep getting better to influence that opinion. I may influence it one day, I may not. This is the one thing, weirdly enough, when I first became a regular in the first team at Essex – I said to myself that I would never, ever look beyond that. And for a period, I did.
"It was out of my control – and it is. All I can do is be the best version of me. That will either be good enough or it won't. That part is out of my hands. But as long as I'm putting in the work, getting better and putting in performances, that's all I can worry about."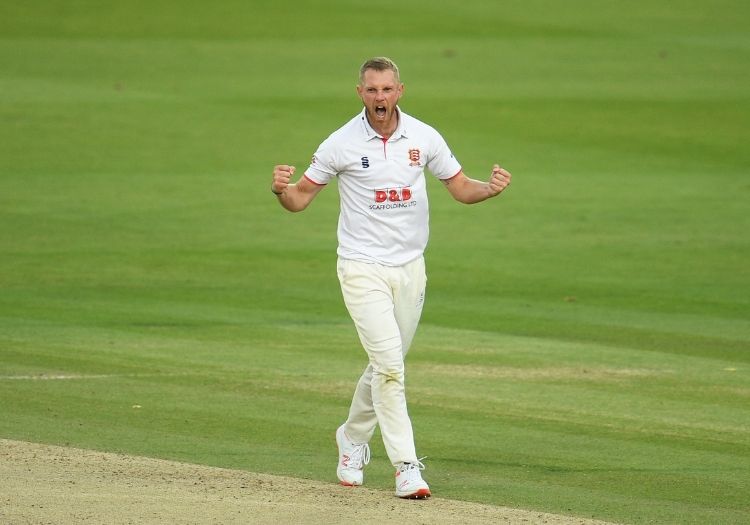 Jamie Porter goes into the 2021 campaign just 44 wickets short of 400
The most difficult takeaway from the announcement was the size of the squad and, subsequently, the sense that anyone not selected was dreaming an impossible dream.
At first, it made Porter feel further away from an international opportunity than ever before. "One hundred per cent," he says. "One of the first questions was whether the door was closed. You're never going to get a straight answer to that because no one is ever going to tell you it is, but I felt like it was.
"It feels like it's a lot of work to be done but, to be honest, I've kind of given up worrying about where I stand with that. To be honest, I don't think I'll ever know. I just think all I've got to do is perform and get better. That's the key: keep getting better and hopefully one day I'll put them in a position where they have to pick me."
As friend and colleague, Cook looked at the situation differently. He maintains that Porter should have been included but also believes that the 55-player headline was misleading, given the group was split across Test and white-ball formats and, in effect, was made up entirely of those either on England deals, fast bowling contracts or part of England Lions' successful tour of Australia earlier that winter.
He adds: "When you break it down, obviously I still think Ports should have been in there – but as he says – it's someone's opinion and all we've got to do is keep on taking wickets, and that's all we can do.
"I think it's only natural when your name is bandied about in those conversations, you do look. We're all desperate to play for England and we'd all do everything we can. Every cricketer up and down the country has been on that same journey. It's your life's work. There's naturally going to be a bit of emotion there. But what Ports says is the biggest point for me; he didn't feel like he bowled that well in 2019 – which I think is debatable anyway – and he still took [48] poles. There is no hiding that."
And so, conversation alters its course for a moment, shifting more generally to the current state of the game and its perceived need for speed. None of Porter, Cook or Beard claim to carry express pace, increasingly seen as an essential trait for anyone seeking to make the step-up to the international stage, especially with an Ashes tour coming into view over the horizon.
When Cook spoke to Ed Smith during a stint with England Lions, the chief selector explained his feelings with greater nuance: "He wanted us to be outstanding in two of three areas – whether that's pace, accuracy or skill."
Hearing it from the man in charge of making those decisions acted as a boost. "But on the flipside," Cook adds, "you see a lot of people writing about the standard of county cricket, saying it's nowhere near Test cricket."
For a team so proud of its recent dominance, it can only be a source of frustration to have their achievements qualified by those sceptical of the competition's overall quality.
"But if you look at the amount of guys that have played Test cricket playing county cricket, in Division One we're playing against two or three – maybe even more – Test guys week in week out. In 2019, the sides in Division One were incredibly strong. You're playing against Cook, Bopara, Siddle, Westley, Lawrence – they are people who have been at the top level and there's not much in between. If you look at it from a personal point of view, you just have to say: 'Look, it is still a good standard – this is what I've got to keep doing,' and always try to ignore that outside noise. That's all we can do."
Porter lists James Anderson, Vernon Philander, Glenn McGrath and Mohammad Asif as supporting evidence – all brilliantly skilful, but a reminder that it's not just on the county circuit where bowlers of his speed can thrive.
Instead, he maintains that the key is a balanced attack, highlighting the example of 2017, when Wagner played ten games for Essex. His aggression provided the ideal fillip for Porter to enjoy the most profitable season of his career.
"He was bowling seven overs halfway down the wicket, trying to kill people," he laughs. "But it meant that the way they approached facing myself and Cooky changed. The batters played us differently – it is about having a balanced attack. I do feel that people just think it's county cricket on nipping wickets. But the wickets in Test cricket over the last four years have nipped sideways, more than half of what I've seen in county cricket.
"I find it an interesting debate," he adds, smiling with a hint of diplomacy.
And with nine rounds of red-ball action scheduled before the middle of June, Jamie Porter, Sam Cook and Aaron Beard will be licking their lips.
Win or lose – and the Chelmsford juggernaut rarely bothers with the latter – they'll have a good time along the way. As has become the norm, Essex will take some stopping.
Subscribe today and receive The Cricketer's centenary issue – six issues for £19.21. Click here
Please ensure all fields are completed before submitting your comment!