Meet the Brookes brothers
NICK FRIEND: The Brookes brothers all came through Warwickshire's academy: Henry and Ethan are on the staff, Ben is a mortgage adviser. Chatting together on Zoom, they are fiercely competitive, often hilarious and immensely proud of one another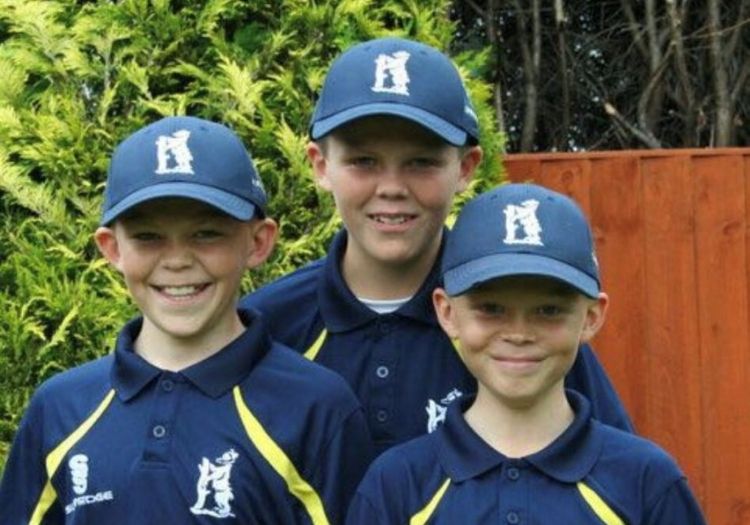 To ask three brothers, born four years apart and all with a common passion for cricket, about their competitive spirit is to throw a red rag to a bull.
"Let's just say, we rarely play a game, any game, without a kick-off or a fight," chuckles Henry Brookes, the middle child and Warwickshire's highly rated 21-year-old fast bowler. "It doesn't matter what game it is. It could be Monopoly, and someone's trying to punch someone."
"I was going to say Monopoly, mate – scraps every time," interjects Ben Brookes, the oldest at 23 and a product of Warwickshire's academy, but now a mortgage adviser after not quite making the grade.
Last to go is Ethan Brookes, 19 and a batting allrounder of promise, who made his first-class debut at Edgbaston two summers ago. "I've got another one as well," he smiles, offering the kind of mischievous grin that only the youngest can get away with.
"I think it was when I was in Warwickshire Under-12s. Our county age group were playing a warmup game against Olton Under-15s. Henry was playing for them and I was batting. I hit the winning runs – we were shaking hands at the end and he just punched me out of nowhere because our team won."
Cue a cacophony of laughter. Ben's is loudest, and so Zoom thrusts his camera back into the middle of the screen. They are chatting from three different homes between the West Midlands and South London: the two professional cricketers on sofas, Ben in his desk chair.
"When I was at Knowle and Dorridge and these boys were still at Olton, we played a game," Ben recalls. "We have a song when we win, and we sang the song and Henry must have been 13 and I was 15. We shook hands afterwards and he was crying; he wouldn't speak to me for days because we sang the song. Apparently, he was walking around the dressing room going mental downstairs."
Again, laughter.
"That's fair enough," admits Henry, happy to surrender his right to reply. "We obviously lost, and they sing this little song. I just lost my head and started bashing shit up."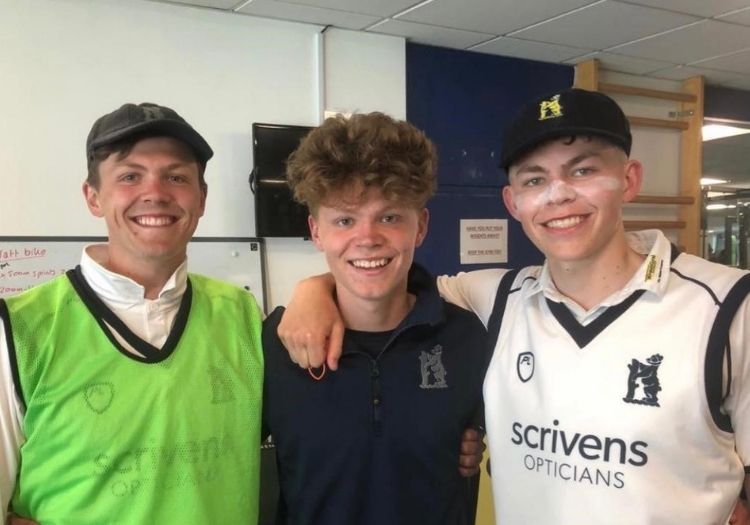 The three brothers more recently than in the lead image! From left to right: Ben, Ethan, Henry
For 40 minutes, it's like this: three siblings, all great mates, just bouncing off one another in conversation – completely natural, as if the interviewer wasn't even there. But it's a pleasure to be present, loosely directing proceedings as a natural blend of brotherly love and sibling rivalry does its thing.
So, what's it like when they're back together under one roof in Solihull?
"I'm not sure you could write that up," quips Henry.
"We just behave like children," adds Ben. "We enjoy each other's company. We're always laughing, making stupid jokes."
And so, these are the Brookes brothers, at the heart of Warwickshire's development pathway in recent years and, to those who know them, a joy. "A brilliant family," says academy director Paul Greetham. "I've seen them interact with each other and they love each other. They are very close. The Brookes family – mum, dad and the boys – are a very tight unit. The two lads, I hope they're with us for a very long time to come."
They began their cricketing lives at Olton and West Warwickshire and, as kids, they would play in the same side – the third team, whose ground was just a stone's throw from their house – along with their father, Ian, who introduced them to the sport.
"I think we played a game with all four of us together," Henry reckons of the early days. "It's our family club, so we used to get on with everyone there and we loved it – in the bar after the game, always in the nets. We lived and breathed it.
"Playing there allowed us to play men's cricket from an early age because they were slightly lower down in the divisions. That teaches you a lot of things."
Ethan recalls a "dads against lads" friendly. "Dad hit me over the sports hall," Ben grins. He was the first to leave for Knowle and Dorridge, a bigger club in the Birmingham and District Premier League, before his brothers soon joined him. There, they came under the wing of Steve Rouse, the former Warwickshire bowler-turned-groundsman, who emerged as a coach for the three boys.
Otherwise, they remained indebted to Ian, who mowed fresh strips for garden cricket battles throughout their childhood.
"No matter what time in the year it was for us, I reckon most days in the evening we'd be out in the garden," says Henry. "We'd probably change the strip every couple of days because we'd beat up the garden. Dad would literally just literally get the mower and mow a basic strip down the middle – not a proper strip, pretty rough grass.
"From where you'd be standing as a batsman, there would be a crater because we were playing that much. We just had to move it around a little bit and play around the crater."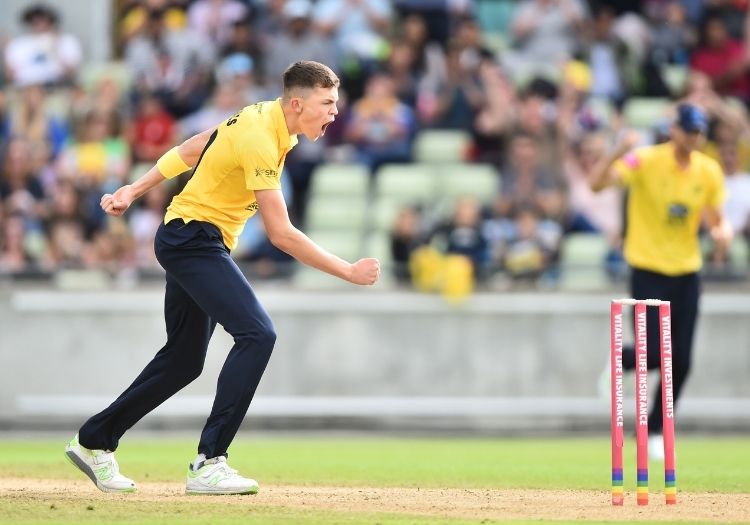 Henry has enjoyed the majority of his early success in white-ball cricket
Those days seem a long time ago now, even if they're really not: the boys were back at home together during lockdown last year, and either side of Ethan's outing in the Bob Willis Trophy – a draw with Glamorgan in Ian Bell's final game for the county – he turned out for Knowle and Dorridge in seven matches. Ben, a left-arm seamer now toying with trying his hand at left-arm spin, plays for Datchet in Slough.
As for Henry, he was one of the first cricketers in the country to return to training after last spring's national lockdown. Selected by England initially as part of their 55-man summer pool and then included in a smaller 24-man group ahead of the ODI series against Ireland, his stock continues to rise. He took three wickets in a 50-over warmup game against the Irish tourists, impressing under the captaincy of Eoin Morgan. Barring county teammates Bell, Chris Woakes and Jonathan Trott, it was his first time in the presence of that calibre of player.
"It was more of a learning curve for me," he explains. "I went there and I was always backing myself to make the squad. I suppose there's no point in being there if you're not going to back yourself.
"When I came back, it just gave me that little bit of drive to work harder so that next time I get back in a camp like that, I can try to stay there. It was a wicked experience, I really enjoyed it."
Shortly after his County Championship debut as an 18-year-old, Ashley Giles labelled him a "potential superstar". For good measure, he holds a Hundred deal with Birmingham Phoenix and was part of England Lions' unbeaten trip to Australia during the winter before the world ground to a halt.
Speaking to The Cricketer, Bell – a big fan of the Brookes clan – described him as "an amazing competitor", adding: "The top bowlers have to be able to get into a competition even on a flat pitch that's not in their favour. I see a lot of that in Henry. He will learn, but he's got the appetite and raw ability to be a very exciting young player."
There is a general acceptance that his red-ball cricket hasn't advanced as rapidly as his limited-over skills but, given the determined streak that runs through his early success, the expectation is that matching up those skills in the longer format will come before long.
"I've worked really hard on that this winter," he explains. "If and when I get my opportunity, I'd love to be able to have a big role to play for the side and be effective in what I do. With my white-ball cricket, it's a similar thing – take it game by game. I really enjoy that format. I feel like I'm a little bit further progressed in that and a little bit more comfortable in it."
There are no question marks around his bottle – even in the setting of this interview alongside his brothers, a steely maturity shines through: he bowled a wicket maiden in the penultimate over of Worcestershire's chase in a T20 Blast game last year and claimed 11 scalps overall in nine appearances. "He's a fantastic yorker bowler, with great slower-balls," says Greetham. "He's got everything in his locker really as a white-ball bowler. He won't hide – he'll want to bowl the important overs.
"In my time as academy director, Henry was a bit of a watershed player for me. He was the type of impactful player that we set out to make sure we got through when I first started at the academy. Everyone else who followed had that to follow, and I would say the environment changed as a consequence. The club seemed to have a lot more faith in what the academy was producing."
At the centre of that progression has been his pace. The collective reckoning is that it first emerged around the age of 16. "It was definitely that one winter," suggests Ethan. "I remember watching you in the indoor centre."
"There was one season and then literally the next year afterwards you were just rapid," says Ben.
Greetham, who has overseen the journeys of all three brothers through Warwickshire's academy, recalls a growth spurt before everything clicked.
"He was knocking people's heads off in the indoor centre," he chuckles, "and that's when he really was a cut above. We've got a speed gun at the ground and he was raising some eyebrows back then. He was in the late 70s.
"For someone of that age to be raising your eyebrows at that point, with a little bit more growth he was going to easily rocket into the 80s. From that moment on, you just felt that he was standing apart from everyone else. Not just because of the growth, strength and pace that he was showing – there was good control, he was consistent and he moved the ball sideways – but he had this hunger and a stubbornness that was uncommon.
"He just wanted it. All he wanted to do was be a cricketer. From 16 onwards, it was tunnel-vision, and he knew that he wanted to be – and was going to be – a pro."
That characteristic is part of the Brookes gene.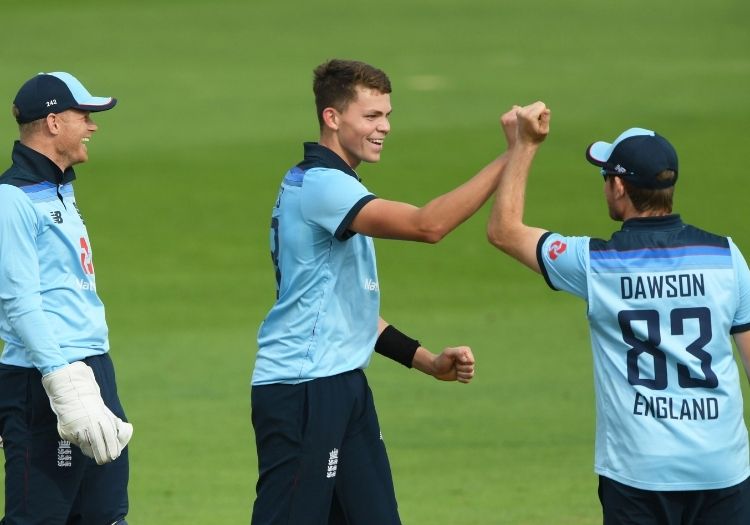 Henry was rewarded for his huge potential with a place in England's training squad ahead of last year's ODI series against Ireland
"One thing that ties the brothers together is their competitiveness," he explains. "Not just between themselves, but with themselves, if that makes sense. Each of them have a slight stubborn streak, where they try to outdo themselves. They compete with themselves.
"There is this real drive and hunger to compete, and I saw that with all of them, and that was one of the things that attracted me to their journey through the age-groups and into the academy – I just saw this hunger."
"We've always wanted to be professional cricketers," smiles Ethan. "That's always been all of our aspirations."
And so, it was gloriously fitting that his professional debut should come alongside his older brother: a four-day draw against Essex at Edgbaston – one of few games not dominated by Ryan ten Doeschate's team in their 2019 title-winning season.
"Henry picked me up on the morning, we went in together, had breakfast and did all my warmups," he remembers.
When he strolled to the middle for his first innings as a first team cricketer, Warwickshire were 296 for 5, with Jamie Porter and Simon Harmer operating in tandem. Matt Lamb, who would make 173, was at the other end.
Ethan continues: "I met Lamby at the crease. He said: 'Don't worry mate. You can't go any worse than me – I got nought on my debut.' I was like: 'Yeah fine.'"
At which point Ben jumps in, cackling in realisation at where this anecdote is heading. "You got nought!" he laughs, mastering the role of the oldest brother.
"I got nought," Ethan repeats. "I walked off and Henry went: 'Well batted, mate.'
"But honestly, we've grown up being like that, so I took that as light-hearted banter. It made me feel a bit better, to be honest, If that was someone else, they might not have said anything."
Henry, as he recalls with a playful smirk, made 46 after replacing his brother in the middle. "I don't try to take it too seriously sometimes, especially off the pitch. You're just going to beat yourself up if you do."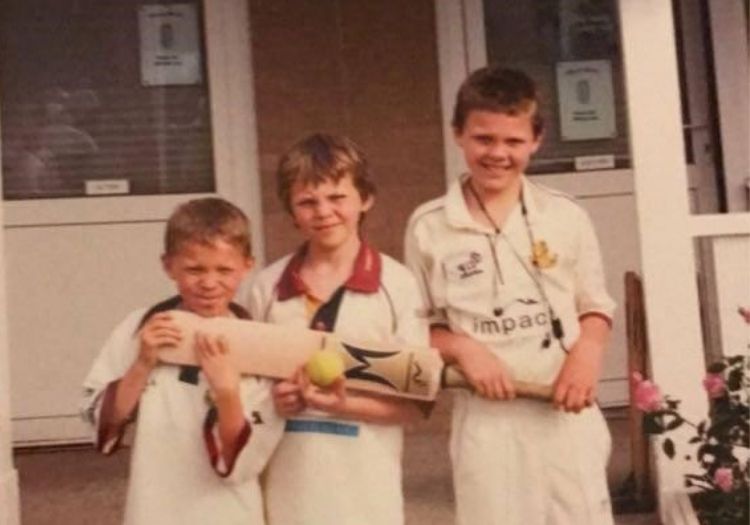 The Brookes brothers...
At present, Ethan is seen as a batting allrounder and has fielded several style comparisons with Sam Billings – from their propensity to sweep all the way to adopting Gray Nicolls as their blade of choice. "He's been outstanding on all our academy trips," says Greetham. "It's interesting that opposition players have always picked him out – difficult to play against, always in the game.
"At age-group level, he was likely to win a game with the bat, ball or in the field. You didn't quite know what was going to pop its head up above the rest, but then it was his batting really – particularly how he played spin and how proactive he was."
Bell adds: "I think scoring runs and taking wickets in the second team and dominating in the Birmingham league will be a real priority. He's a real talent and someone who, when I watch him train, goes about it like a senior pro. He works extremely hard. He's a really good young man."
With the ball, like Ben, he is a bustling left-arm seamer, focusing at the moment on improving his consistency and becoming a reliable option for captain Will Rhodes. Naturally, Henry has been a huge help, while Tim Bresnan – signed last summer – is an ideal mentor. "Shadowing what he's doing and picking his brains as much as I can definitely helps you," says Ethan. "Even just general cricket chats with the lads, so you understand how other people go about their game against different bowlers."
Ben is another role model, even if he didn't ultimately earn a deal with Warwickshire. His journey – as the first sibling into the club's academy – planted an important seed as a precedent to follow. "It showed that it was a realistic path," says Ethan.
It's a pretty unique tale: the three siblings who made it through the same system, all their names inscribed on the academy board in the indoor school.
Henry, who was the first onto the county's radar as an under-10, reflects: "Him getting into the academy drove me on really. We're a competitive bunch anyway, so we'd be lying if we said we didn't want to be better than each other. It was just almost that little bit of drive to try to be as good as he was at the time. Luckily, it worked out."
Plenty of research has been done on the subject, not least in The Best: How Elite Athletes Are Made, the book written by Tim Wigmore and Mark Williams, published last year. Statistically, it suggested, having an older sibling is one of the greatest advantages an aspiring athlete could have – a quirk known as the 'little sibling effect'.
Ben was the first player picked by Greetham when he took on his position in 2014, having been a teacher for 15 years beforehand: "I would say he set the bar as far as his attitude, hunger and work ethic was concerned. He had such a massive heart. I was a big fan of his."
Only, he never quite took the next step, playing plenty of cricket at academy and second team level before joining the MCC Young Cricketers. There were conversations about the future along the way with former director of cricket Dougie Brown and ex-head coach Jim Troughton, but not to the extent that a professional deal followed.
"I'd always pick up weird wickets," Ben explains. "When I was 17, I had a really good year. I remember very vividly Jim was like: 'If you keep bowling like that, you're knocking on the door as much as you possibly can to make it.' Then, I had a chat with Dougie and I went into this meeting thinking I was going to get signed and get a contract or something. We were sat on the balcony and he basically said that we had too many young players and I wasn't quite there."
Not that there are any hard feelings. In the winter after his first year with the MCC Young Cricketers, he was invited back to train for two days a week under Graeme Welch, Warwickshire's bowling coach, and he believed during that stint that he was beginning to crack it. "That was probably the first point where I was like: 'I'm going to do it here, I'm going to get signed.'"
The simplicity in Welch's methods resonated and, as his game improved, he felt as though he had a genuine shot again. "He was like: 'Trust me, trust me.' And I think that's why he gave me the opportunity to come back – because he saw that he could probably make into somebody that might have a chance."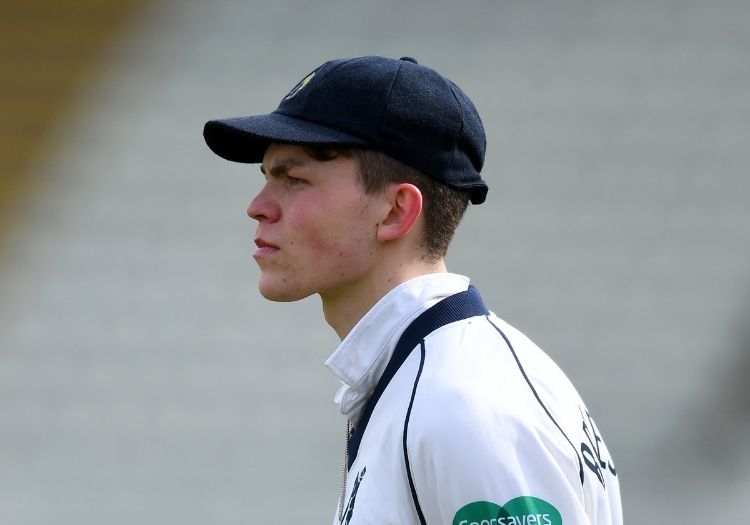 Henry has spent much of the winter working on his red-ball skills
Knee surgery cut short the following season, however, but it says a lot for the Brookes-Warwickshire relationship that the club took him back in over the subsequent winter to assist with his rehabilitation and allow him the opportunity to work with them through the off-season.
Only, at that point he lost his bowling entirely. "I don't think you can call it the yips because I'm back to bowling normally," he says, "but I was genuinely hitting the side nets and stuff. I think I was at the point where you have to look at it and go: 'It's probably gone now.' I got to February and I was like: 'I need to potentially try and do something different here.'"
And so, he moved to London and spent 18 months as an estate agent.
"It didn't quite transpire. Such is life. You can't dwell on these things, can you?" he reflects, before a moment's pause and another wisecrack between brothers.
"I've got most looks and the best chat! Them boys can be good at cricket!"
Cue further gentle ribbing.
Looking back now, he is philosophical about it all – there is certainly no resentment as he watches his younger siblings live out a shared dream. Rather, quite the opposite.
He laughs: "What's it like being the worst? Is that what you're trying to say?!
"To start with, I was a bit like: 'This is a bit stiff,' but now I love it. I absolutely love watching the boys play. I don't have any hard feelings with it at all – I think most people expect me to have a few hard feelings, but there's nothing like that at all really.
"Ethan's only played a couple of first-class games, but we went and watched a bit of Henry's stuff the previous year – me, mum and dad – whenever we could. Grandad loves going down whenever he can.
"It's great going down to watch – even T20s on a Friday night that were being live-streamed, we'd watch them at home on the telly. If I was in London, I'd have it on the telly. We love watching it. It's cool watching the lads on telly and being like: 'Hey, that's my brother.'"
Ben harbours no regrets – there is certainly no suggestion that he could have worked any harder. Henry admits "it was tough" to watch his older brother struggle after losing his radar during his last winter back in the setup. "I'd obviously seen him play well in the past, but he just couldn't really replicate it," he remembers. "It was him striving too hard to get it sometimes. He put it all on the line, so I can't imagine he'd look back and regret too much. He gave it a proper nudge."
Ultimately, Ben knows, he simply came up short: "I think both of these two are very naturally talented with a lot more natural ability."
He speaks here with a real sense of pride. Because, for all the banter that flows through a hugely enjoyable conversation, it is obviously founded on a quite sincere, life-affirming brotherly affection.
"Henry can bowl quick, Ethan does both really well. I was probably not as talented but worked as hard as I could, which obviously kept me in favour. But I was always at the top of my limits. I was only ever really going to play second team cricket, I think. I don't think I'd have ever played first-class cricket.
"It would have been nice if we could have all done it. Then it would have been a good story. It's like the Currans."

He tails off momentarily, before continuing with tongue firmly in cheek.
"I should have bowled left-arm spin earlier! My left-arm spinners are good. Ask Henry. Henry, aren't my left-arm spinners good?"
Henry?
"He's the next Jack Leach, I reckon," he jokes with a deadpan expression, somewhat egged on.
For the most part, you sense, this is what an afternoon with the Brookes brothers looks like: plenty of laughter, love and competitive spirit, with a healthy dose of cricket – but never drifting into anything too serious.
"Henry and Ethan are both pretty good at that," Ben reflects. "I'm probably a lot more emotional – maybe that's a slight difference in the mentality as to where we ended up. They're quite good when they've had a bad day. I'll be speaking to Henry and he'll be like: 'Yeah, crack on.'
"He'll be talking about something else in the car on the way home if he got panned in the T20s. They're both very good when they've had a bad day."
"If you go away from cricket and you always think about cricket, you're going to cook yourself, I reckon," Henry says. "We just have a bit of banter."
And at the end of it all, isn't that just what brothers are for?
Subscribe today and receive The Cricketer's centenary issue – six issues for £19.21. Click here
Please ensure all fields are completed before submitting your comment!