BIG CRICKET SURVEY 2019: Championship remains most popular... but 31% of 25-39 year olds don't go to any county cricket
The Big Cricket Survey revealed that 62.06 per cent of respondents preferred the four-day tournament above all others in the English domestic schedule, down from just over 66 per cent in 2018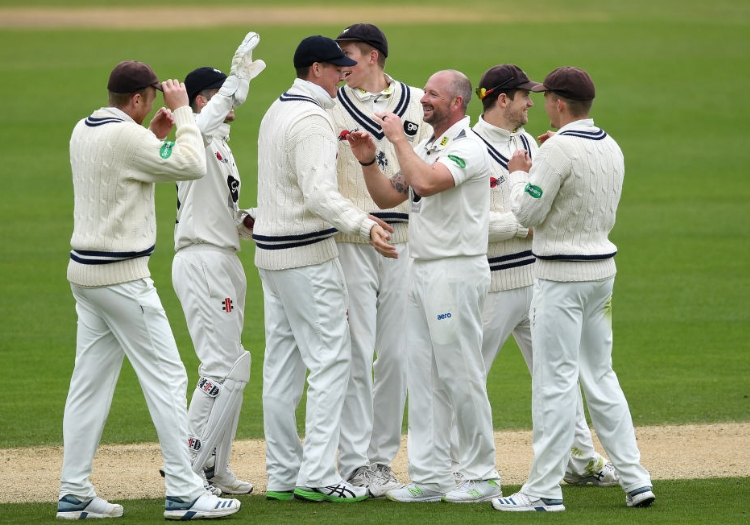 The County Championship remains the favoured competition of our readers, but its popularity has dropped slightly year-on-year.
The Big Cricket Survey revealed that 62.06 per cent of respondents preferred the four-day tournament above all others in the English domestic schedule, down from just over 66 per cent in 2018.
A further 23.57 per cent claimed to like all three competitions - the Royal London One-Day Cup and T20 Blast, as well as the Championship - equally. The equivalent figure was 18.06 per cent 12 months ago.
The timing of the first-class season has been a topic of much discussion in recent years, with many of the matches pushed to the margins of the summer, outside of school holidays and into periods with less predictable weather patterns.
But the competition's popularity persists, especially among members, who overwhelmingly prefer the Championship.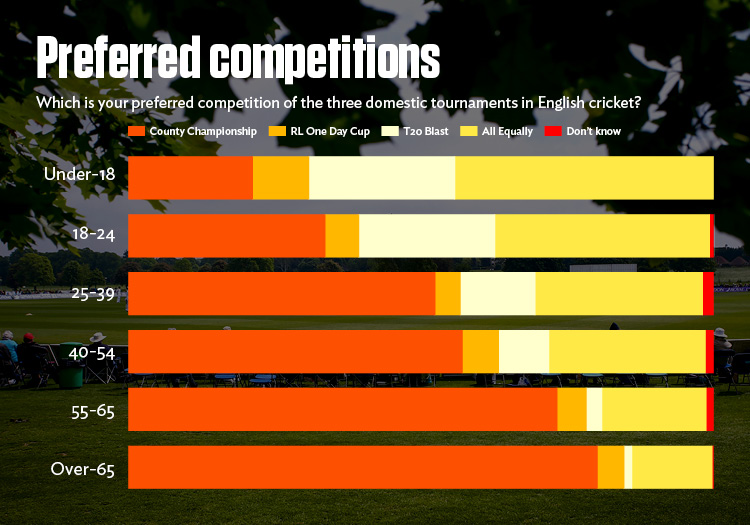 A whopping 71.83 per cent say four-day cricket is their favourite, compared to 55.69 per cent among non-members.
While less than 3 per cent of members favour the Blast, more than 11 per cent of non-members prefer the T20 competition.
There is an unsurprising split among age groups, too.
While 25 per cent of under 18s who replied to the survey say the Blast is their favourite event, just six over 65s said the T20 competition was their favourite.
Contrastingly, over 65s named the Championship as their standout tournament (80.13 per cent saying they prefer it over all the rest).
While the Blast is more popular among the younger element of the population, the vast majority of age groups still say four-day cricket is the pick of the bunch.
Only in the under-18 category was their a larger vote for the Blast than the Championship.
| | | | | | | |
| --- | --- | --- | --- | --- | --- | --- |
| | Never | Less than once a month | Once a month | Once a fortnight | Once a week | More than once a week |
| County members | 2.28% | 13.68% | 17.26% | 27.69% | 12.27% | 26.82% |
| Non-county members | 34.55% | 43.33% | 15% | 4.63% | 1.24% | 1.24% |
We also asked readers how often they attend county cricket matches.
More than a fifth (22.11 per cent) revealed that they never go to games. A further 31.78 per cent say they attend less than once a month.
Unsurprisingly, members get to the grounds much more regularly.
A shade under 40 per cent attend matches at least once per week, compared to less than 2.5 per cent of non-members. 38.95 per cent of respondents to the survey were county members, with 61.05 per cent not holding an annual pass (2018: 36.98% members, 63.02% non-members).
Just 7 per cent of non-members say they watch games in person more often than once per month during the season.
Young adults between the ages of 25 and 39 are most likely to go through an entire summer without visiting a cricket ground (30.94 per cent).
See the equivalent figures for 2018 by clicking here
MORE FROM THE BIG CRICKET SURVEY
Audience demographic breakdown
Surrey fans happiest with way county is run
Nearly half do not go to international cricket
62% say ECB does not do a good job running the game
Cost of TV subscriptions is too high, say two-thirds of fans
Please ensure all fields are completed before submitting your comment!