Keeping the flag flying: Women's county cricket lives on
RICHARD CLARK: Despite the major restructure of domestic women's cricket in England bringing an end to the 50-over County Championship, several counties are determined to keep going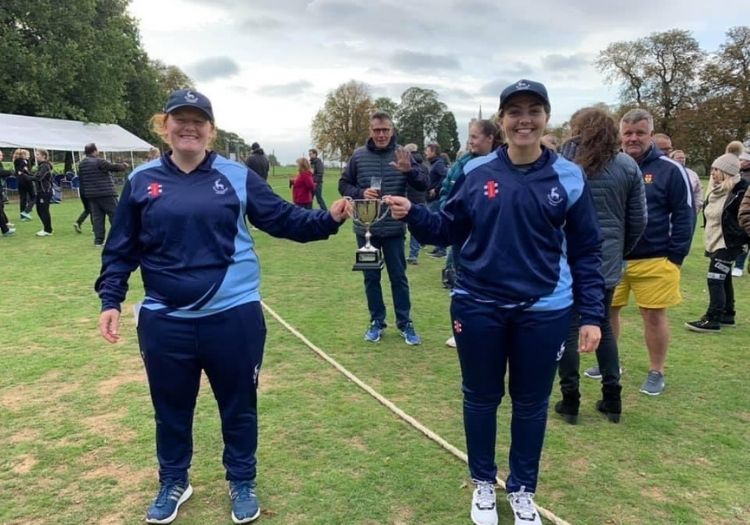 The changing landscape of domestic women's cricket in England was never more evident than in 2020. While the inaugural season of The Hundred – English cricket's first real stab at intertwined men's and women's domestic cricket – was inevitably cancelled, the brand new 50-over Rachael Heyhoe Flint Trophy did emerge from the lockdown gloom of early summer, providing some much-needed positivity.
Based around eight new regional teams, the competition will return – albeit probably in a slightly different format – in 2021, along with a corresponding T20 tournament. Tasked with increasing the intensity of domestic cricket and providing better preparation for international cricket than the old County Championship, it's impact will only be judged over time.
Certainly, however, the beginnings are promising, with significant media coverage, live streams attracting remarkable viewing figures, and some notable performances from previously unheralded players.
But what of those left behind? The Women's County Championship of 2019 featured 33 counties (including Wales), as well as Scotland's 'A' squad and the Netherlands, and it needs no great mathematical acumen to work out that squeezing players from those numbers into eight squads of fifteen leaves an awful lot outside the tent.
Under the ECB's plan, that structure was to be dismantled in its entirety – county cricket would no longer exist. If you didn't make it into a regional squad or their associated academies, club cricket was the only refuge.
So, what do you do when the rug is pulled from under your feet, when your whole reason for existing is dismantled before your eyes, and when you aren't given any significant say in that happening?
There was widespread disgruntlement amongst the counties cut adrift, and in one corner of the country a quiet determination not to go quietly.
"We vowed that whatever happened we would continue women's cricket. At the very least we would make sure we played some friendlies, even if we couldn't put together an official competition," says Phil Lewis, women and girls development officer for Huntingdonshire and head coach of Hunts Women.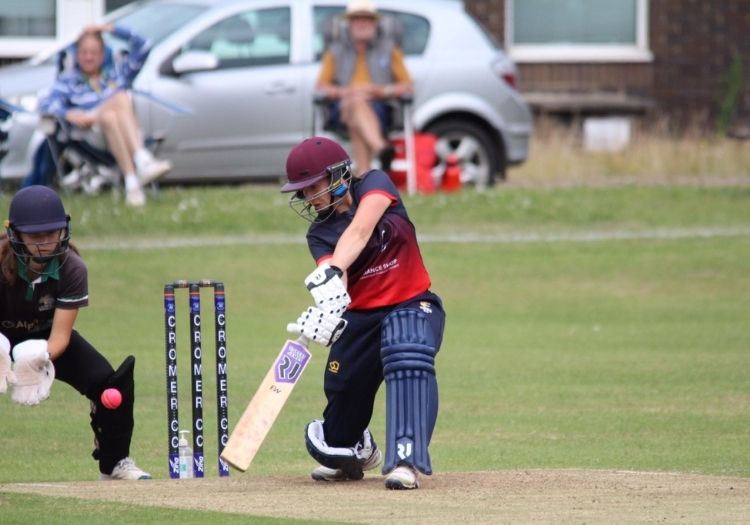 Norfolk captain Emily Woodhouse at the crease (Credit: Peter Free)
"It was very apparent that there would be a number of players who would be very heavily affected, players who had worked hard through age group cricket and had got to that stage where they would have nothing if senior county cricket was taken away. The ECB was telling them to play club cricket, but the fact is there was no discernible standard of league cricket for women in most of our region."
Lewis – and Huntingdonshire – weren't alone, as Hertfordshire captain Amy Price explains. "We went to a meeting with representatives from different counties and Clare Connor was explaining what the ECB wanted to do, but the way it was being portrayed they had already made up their minds. I felt it was very disappointing that they wanted girls to be playing lots of cricket, but they were effectively taking it away from us at the same time. It didn't feel fair."
One comment in particular screamed out to those involved in the county game, and it evidently still rankles with Lewis even now. In announcing the new framework, ECB head of women's cricket Clare Connor remarked that "Women's county cricket is being used in many parts of the country as a participation experience."
"It really got our backs up a little bit and gave us a bit of extra incentive hearing the women's figurehead describing county cricket as 'participation'. I found it absolutely mind-boggling. It was as if county cricket was being dismissed. If you went back five years there was probably an argument for that but in my time involved in women's cricket I've been really blown away by the quality. It was a lot tougher than I thought it would be.
"Along with Herts and Norfolk in particular, we argued that the new regional structure was addressing a problem that had already passed. We'd got through that phase. When the quality was a little bit light it may have been beneficial to have that more streamlined structure at that point. But we felt that this was eliminating a lot of opportunity for players who had ambition."
Those pleas were successful to a point, with the ECB eventually relenting and allowing a two-year stay of execution for the T20 competition only. For Lewis and others, however, their minds were already made up that more needed to be done.
A London Championship involving Surrey, Middlesex, Essex and Kent had been widely mooted, and would eventually come to fruition, with Sussex set to join in 2021, but without the potential support afforded by those first-class men's counties behind them would these 'smaller' counties find funding a barrier?
"In those regional meetings, when it was put forward that there was opposition to the abolition of county cricket, the line we were given was that if we wanted to continue to do it that was up to us. We could organise whatever we wanted, but there wouldn't be any funding for it. There was a small amount of funding for the official ECB competition when it was reprieved, but not a tremendous amount of money.
"Herts had backing from their director of cricket, Norfolk the same. Our chairman at Huntingdonshire immediately gave his support. And Buckinghamshire wanted to come in as well, so we had four teams interested.
"Tom [Ruxton, head coach of Hertfordshire Women] put a schedule of games together for a 50-over competition based over six dates, and we looked at formalising it to create something that might attract a sponsor or two."
The planning and hard work paid off. Soroptimist International Ltd, a global volunteer movement for women and girls, agreed to provide some backing, plus a Championship Trophy and awards for the top batsman and bowler, while John Bull & Co Jewellers offered match-ball sponsorship.
Thus, was the East of England Women's County Championship born. A committee was formed, a website built, a Twitter account established. Then came Covid.
Even when it eventually became apparent that cricket would return in 2020, might it have been an easy option for Lewis and co to mothball their brainchild for twelve months?
"No, no thought of putting it off for a year. We didn't blink. As soon as we knew there was going to be a delay, we had a revised fixture list ready. We tried to anticipate when we might be able to play. We had July in mind as a potential start date, so we had back-up fixtures in play immediately, and we talked extensively about playing into September, which we ended up doing as things turned out.
"Because we were in control of it, we were able to adapt quickly. Our original 50-over programme was due to start in April. We slotted in the fixtures so it didn't clash with the ECB T20s, or the RDC days for the younger players, we avoided club Sundays where we could to make sure we weren't impacting on them and they could run in conjunction. There was room for both, and no reason why one should be there and the other one shouldn't."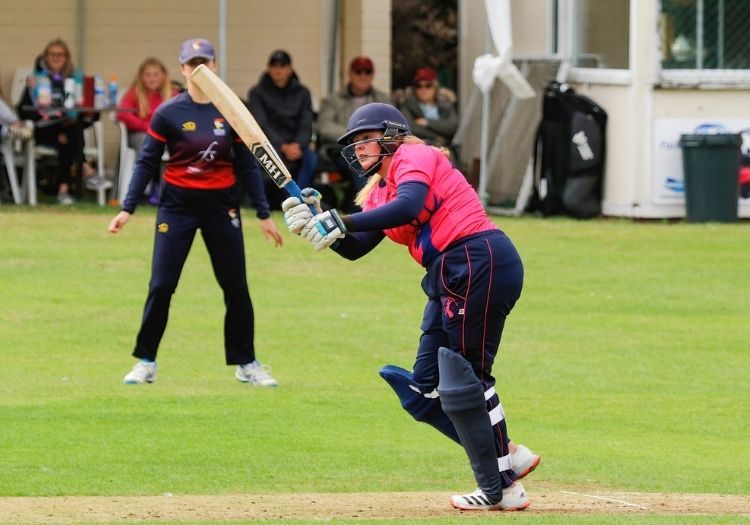 Huntingdonshire batsman Amber Mays in action (Credit: Chris Mays)
The initial plan had been based purely around a 50-over competition to complement the official T20 Cup, but once again the ability to be flexible proved invaluable.
"Originally it was going to be six matchdays, playing home and away, but when lockdown came and the ECB T20 was cancelled, we mixed it up and went for three longer format and three shorter format dates, with double headers for the T20s. Same dates, same venues.
"We reduced the 50-over games to 45 overs, mainly to allow extra time for sanitisation and so on, and in the end we kind of like that 45 over format, so we're going to stick with that going forward."
One of the motivating factors behind the desire to facilitate the Championship was that wish to keep the longer format alive, as Lewis explains.
"It [45 or 50-over cricket] is very good for player development at this level. Just having the patience, building an innings or getting overs under your belt. Generally, there's a fascination with reducing the game's length. Not to sound like a dinosaur, but if you look at it from a player's perspective that means fewer overs to get a bat, and fewer overs for bowlers. I see that especially with young spin bowlers. The longer they bowl in a spell, the better they bowl, and you need that time for skills to develop. If you're bowling one or two over spells you just don't get that."
Meanwhile, for the players the new challenge was one they took to with relish, and the matches proved extremely competitive. Bucks pipped Herts to the T20 title on the final day of the season, but it was in the longer format that kicked off proceedings in August that the real drama came.
Of the six matches played, four went down to the wire. Hunts beat Bucks by two wickets (having been 77 for eight, chasing 111), then lost to Norfolk by one run, while over the final weekend of the season Herts edged to a one wicket victory against Bucks, and then tied with Norfolk before taking the super over victory, and the Championship, in a script-it-and-nobody-would-believe-you final match.
The story of the tussle might fill a book, but the condensed version is that Herts recovered from 46 for eight to post a still meagre 74 all out, before Norfolk arrived at the same total via the scenic route – taking in the serene splendour of 31 without loss and the abject despair of 43 for seven along the way. The super over was routine by comparison – Herts overhauling Norfolk's modest total of five with a ball to spare to ignite the celebrations.
Matches like that can bring into focus the universal appeal of a tense cricket match – men's, women's, young and old, breathless hushes and all that – as stand-in Herts captain Kezia Hassall explains.
"It's a small ground at Harlow, and there was a men's match on the other pitch. By the end, all the spectators from the men's game had turned around and were watching us!
"I've never been in a super over before, and to win as a captain when you've got a really young team, I was so impressed with the girls' application. It's probably the best bowling and fielding performance we've ever had. I think after that if I stopped playing now I'd be happy!"
Perhaps at this point, it's worth talking about Amelia Kemp. The 16-year-old Hertfordshire opener (described by Lewis as "a phenomenal talent") may well have earned herself a bizarre place in the history books during that frantic afternoon when she was dismissed, caught by April Herathge off Eleanor Pringle, for a first baller twice!
After falling that way to the second ball of the match, she did so again to the second ball of the super over. Records are sadly not extensive enough to confirm whether Kemp is the first player ever to be dismissed for two golden ducks – and in the exact same way both times – in a single-innings match, but it must be a fairly exclusive club, and the next time her opening partner calls her for a single first up, she might be excused if she politely but firmly declines!
Still, that is only half of Kemp's story. In between those golden ducks, her figures of 4 for 15 played a huge part in dragging Herts back into the match. And there's more – 24 hours earlier, Herts had entertained Buckinghamshire, and with the visitors posting a challenging 177, their task in the chase was an imposing one.
Reeling that target in, it was Kemp who – all but single-handedly – had kept them in the game, scoring 97 before being ninth out with seven still needed. Many players will know that feeling – sitting on the sidelines thinking you've cost your team the game, when in reality you're the only reason victory is still within reach at all. Kemp needn't have worried – it took them 28 balls, but final pair Charley Phillips and Daisy Fitzgerald got those seven runs to set up the last day drama.
"That's cricket for you, isn't it?" says Price. "Amelia is a very, very talented player, and this level of cricket pushes her to become better, and that's really important for the girls' development. We've got a very young side, and it's nice to see them challenged and pushed, and getting runs and wickets."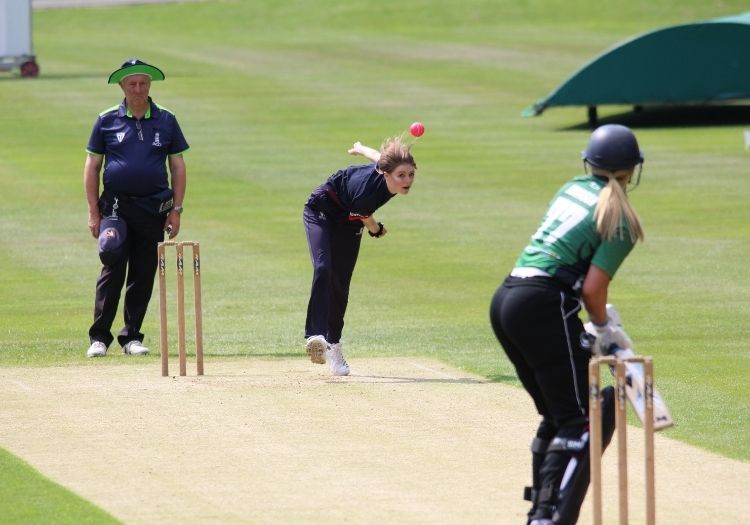 Norfolk seamer Abigail Free in full flow (Credit: Peter Free)
Kemp's experience is a perfect illustration of why county cricket at this level remains important. Talented youngsters coming through age-group cricket will reach a stage where they need another challenge, and senior cricket against older, wiser, stronger players provides just that. It's a building block, a rung on the ladder. Take it away, and you make the leap to the next block, the next rung, just that bit harder.
Norfolk skipper Emily Woodhouse is in no doubt about the Championship's significance.
"I was gutted when the ECB pulled the plug on the 50-over competition, but the East of England Championship gave us this opportunity back again. It's been very exciting, and also very important for Norfolk as our players have had the chance to apply the skills developed in 40-over age group games too.
"We have a very young squad, and for me leading them has been extremely rewarding. I'm proud every time I lead out my county. I thoroughly enjoy captaining the squad, and it's a role I see myself in for many years, helping our young squad grow as we did last year. The games provided situations many of the younger members hadn't experienced before.
"For some reason games between ourselves and Herts are never boring encounters. For most of our players it was their first experience of a super over, and it was the last thing we expected when we were set 75 to win!
"Herts proved to be too much for us in the end, but despite being on the losing side and missing out on the title, we will learn incredible amounts from that day, and improve on it going forwards. The defeat hurt, but the lessons learnt were invaluable."
Price is equally enthusiastic about the Championship's place in the women's game in the region.
"It's been an absolute life-saver for us. We had some really good matches. We know that playing these counties on a similar level we're going to get good competitive games, and results have shown that this season where so many games have come down to the death, and that's been great. I've played against Emily since under-11s. We're friends and rivals, it's very special.
"The argument from the ECB is that there's loads of club cricket, but club cricket around us isn't strong enough for county standard players. It takes time to set up a women's team or competition at club level, you can't expect it to happen just like that.
"I couldn't be prouder of the girls. Everyone's played a part. Throughout the games we've played there's always been an individual who has put their hand up. I've coached some of these girls through the age-groups and they've come through into the senior team, and it's so nice to see girls who at the start had no confidence, and they're in the team now scoring runs and putting themselves on the line."
With the first season under their belts, planning for 2021 is well under way, and Lewis is excited by the prospect of the Championship expanding as two more counties join the fray.
"Once we'd started and people could see it was actually happening, we then had other counties approaching us. Lincolnshire got in touch to say they might want to be involved, Cambridgeshire too, plus a couple of others. We could have had eight counties for next summer, but as it is we'll have six. It works well, three fixtures on each matchday, no team will need a 'bye'. We're looking forward to that.
In the wider scheme of things, the Championship might also have shown a way forward for other counties. Some, though not all, managed to fit in a handful of friendlies last summer, and going forward organised local competitions would seem to be an ideal route to ensuring a proper programme of matches.
"There's no reason other regions can't do the same if the will is there," Lewis insists. "It's been a very good collective effort. Between the counties there's an enormous amount of passion for the women's county game, both among the players and those behind the scenes. Everyone bought in and we made it happen."
With the ECB County T20 set to return for what is expected to be one final fling in April and May, the East of England will concentrate on 45-over cricket in 2021. But if a suitable venue can be secured, Lewis doesn't rule out a T20 'Festival' involving all counties at the end of the year.
"We're sticking to just 45 overs for the Championship, but we did enjoy that T20 element last summer. It would be a good opportunity to get everyone together."
"Another idea we've discussed is potentially putting together a representative side, a League XI to play a couple of matches, and that would be another opportunity for the young talent to say, 'look at me'. More opportunity to get in front of the right people. Some of them are at the right age for the academy level, if they get the chance."
There is undoubtedly a need to have the right pathway in place for the very best players to prosper, but the East of England Championship is a perfect illustration of why those who aren't bound for the very top still matter. The two strands need not be mutually exclusive.
Time after time, the conversations come back to the need for development, so that young players who might just miss out on a pathway opportunity still have a chance to be able to progress their games at their own pace and at their own level in a good standard of cricket, and come again. And about the importance of more experienced players around them to help that growth, rather than being lost to cricket altogether.
And they come back too to the sense of pride players have in representing their counties against other counties. That, after all, is the bedrock of cricket in this country.
Feature image credit: Amy Price
Please ensure all fields are completed before submitting your comment!