A year of Dan Moriarty: From relative anonymity to one of the country's best young spinners
NICK FRIEND: It has been 12 months since Moriarty made his debut for Surrey, but his returns so far suggests we will be seeing plenty more from the left-armer, who is keen to play for England and grew up idolising Daniel Vettori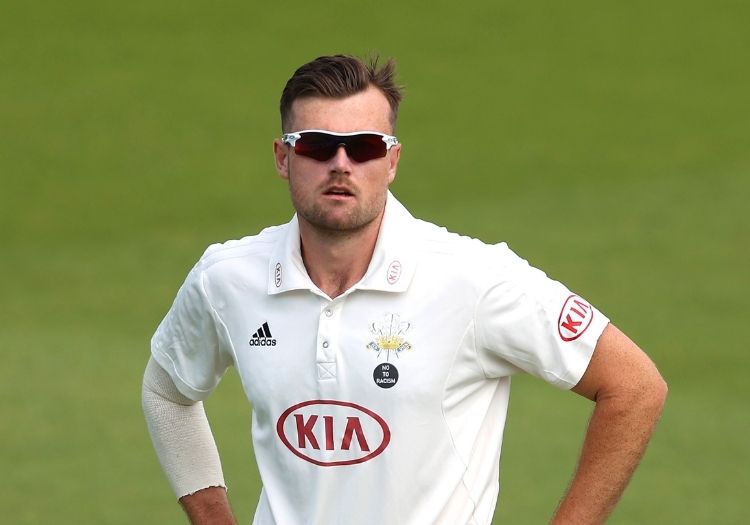 It has been quite a year for Dan Moriarty, who emerged from relative anonymity at the start of last summer to end the Covid-delayed season as one of the most impressive young cricketers on the circuit.
Twelve months on from his debut, it means he has enjoyed a taste of each of the extremities facing young spinners in the English game. The Bob Willis Trophy took place exclusively in August and September, when elite sport was able to resume and dry surfaces gave him sufficient encouragement to pick up 17 wickets in his first two appearances as a first-class cricketer; the early throes of this year's County Championship, on the other hand, were played out in late springtime, when seamers would be expected to dominate but Moriarty – selected in two games – picked up six wickets against Somerset and eight against Gloucestershire.
Remarkably, it adds up to a quite outrageous start: four games, four five-wicket hauls. In the T20 Blast, that record extends to 28 wickets at 20.21 apiece, perhaps more impressively with an economy rate of 6.81. Which is why, in a sense, it is a slight surprise that he hasn't been afforded a Hundred deal – not that Surrey will be complaining, having already lost more than a team's worth of players to the competition.
The Royal London Cup, then, has become Moriarty's focus, and it is midway through the group stage of the 50-over tournament that he is speaking to The Cricketer, reflecting on a start to life in the professional game that he could scarcely have imagined. Elite sport, as they say, is so much about timing.
"If it was a normal season with the full squad, those opportunities wouldn't have arisen," he says. "But I was fortunate that I did get them and I think I realised that quite early. I just went with it; I saw it as having nothing to lose and I knew that if I could give the selectors a few headaches, I'd be doing the right thing.
"I still do this now, but every time I play, I feel like it's my opportunity to stay there, so I really try to put in a performance every time I play and try to cement my position there.
"It is difficult because conditions do vary so much. It's something you can manage though – it's more the mindset that changes. In April and May, I can't look to bowl teams out. I'm there to play a holding role and a supporting role to allow the seamers to rotate around me and to get those guys going. It's a lot like white-ball cricket in a way, where I'm looking to bowl more economically than towards the end of the year when I'm looking to bowl teams out.
"You can't try to be the hero in every game, as much as you want to be."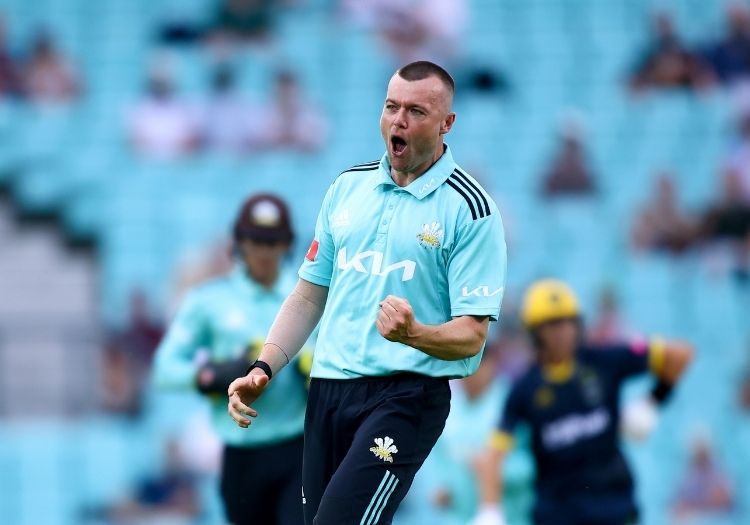 Dan Moriarty has impressed since coming onto the scene last year
On current status, Moriarty finds himself as Surrey's first-choice spinner, with Amar Virdi watching from the sidelines and Gareth Batty operating predominantly in a coaching capacity during the Royal London Cup. Given the carnage last week at Guildford – where Surrey and Nottinghamshire shared 577 runs in 60 overs – he is justifying that backing: figures of 1 for 49 in six overs might not sound like much, but they were by far and away the best of the game's three spinners.
He and Virdi speak regularly to each other about their art, and the prospect of the pair bowling in tandem on a more regular basis in red-ball cricket – "my massive strength," as Moriarty describes the four-day game – is a tantalising thought.
Until recently, Somerset had Jack Leach and Dom Bess twirling away in tandem at Taunton, but there cannot have been many other occasions when a county has been able to field two young, England-qualified spinners – one turning the ball into the right-hander and the other away – at once. In the four matches they have played together – all at the Kia Oval – the pair have taken 50 wickets between them.
In Batty, Moriarty has found another ally. Despite a 21-year age-gap, he has become a good friend, as well as a mentor, whose trademark competitiveness "has resonated" with the new kid on the block.
"He wants spinners to be the guys who dominate," says Moriarty. "I love that. I firmly believe that as well; if you bowl spin well, you'll win games.
"He's so experienced and he understands cricket back to front. He leaves no stone unturned with me; if I ask him something, he's always there to help. He's helped me with a lot of mental, tactical and technical stuff."
Moriarty was born in Reigate to an English father and a South African mother, before moving when he was young to Cape Town, where he first came across Batty while following county cricket from afar.
And even though he briefly represented South Africa at under-19 level before returning to the United Kingdom to trial around the counties after finishing at school in an attempt to get signed, he is steadfast in where he stands now. "One hundred per cent, an English cricketer," he explains. "My goal now is to represent England. I know I don't sound it, but I am English. I was born here and I'm loyal to the Three Lions."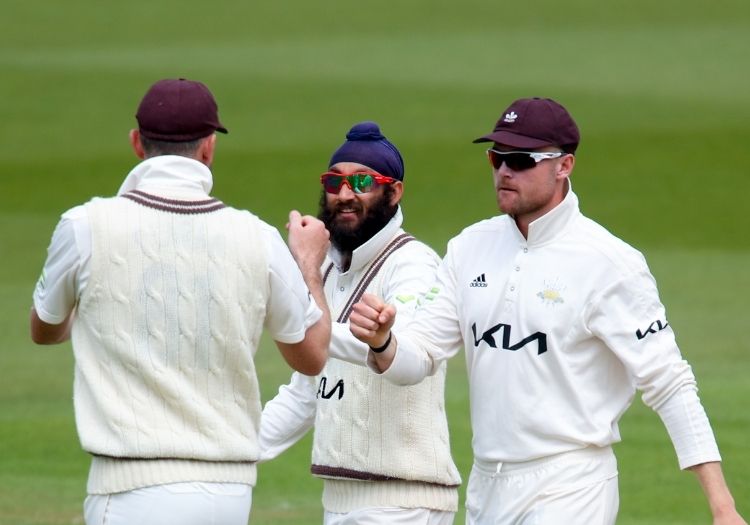 Dan Moriarty and Amar Virdi have become a lethal combination in four-day cricket
Growing up, however, it was Daniel Vettori, the former New Zealand left-arm spinner, who provided him with an example to follow: "He was my hero." It is a less fashionable answer from a spinner of his age, but Moriarty has taken plenty from him and he is fascinating in the way in which he breaks down Vettori's impact on the bowler he has become.
"It's a more holistic view of cricket," he says, referring to the nuances of spin bowling that Vettori mastered, trusting his use of the crease and changes of pace rather than an overreliance on turn and bounce.
"I got a lot of inspiration from the way he bowled, but also from the way he thought about the game. Obviously, he was a captain and he was a very clever multiformat cricketer. That's my thinking now – to play all formats with different skills. That's something that I aspire to.
"He had a lot of different skills – the kind of skills that go a little bit unnoticed: through the air and using angles. It's quite important – the fact of the matter is that you're not going to play on wickets that are going to spin all of the time, so you have to be able to bowl everywhere."
He points to the difference between club cricket and the professional game, where amateur league wickets would often spin, while first-class pitches would offer more as the game wore on but rarely from the outset. In Cape Town, he recalls, club surfaces would spin more than when he played further inland, where "it's a whole lot flatter and that's where your different skillsets come into play". See also: Woodbridge Road, Guildford.
"You have to learn quickly or you become ineffective quite quickly," he explains. "If you're too aggressive, you'll leak a lot of runs and you'll end up not bowling at all, so you have to learn that quickly.
"Idolising someone who was good everywhere is a great base, I think. One day, if I could get anywhere close to emulating that, I think I'd have a half-decent career.

"I'm quite ambitious but having chats with Gareth Batty and Alec Stewart, it's about taking it game by game. I know it sounds cliched, but it's all part of that process. If the Lions tours come along and future potential call-ups, then that's cool. But I'll deal with those at the time. But it's just trying to better myself every day and the rest will take care of itself."
In the meantime, he is well aware of the competition around him in Young English Spinner Land, a more populated field than in the recent past. Leach is the man in possession, but Bess is also in England's Test party for the series against India, while Virdi, Mason Crane and Matt Parkinson were all involved in squads over the winter. Moriarty, though, hasn't given them much individual thought.
"We're all very focused on our own game," he says. "There's a lot going on and a lot you have to do, so to worry about other people's game is a bit unnecessary. It's an exciting thing though."
He has enjoyed being part of it as well; coming onto the scene as a young spinner is an interesting existence. "I've found that it suits me," he laughs. "I was kind of briefed that especially as a young spinner, they are going to look to target me. I saw that as a challenge but also an opportunity. I knew that if players were going to be overly aggressive and if I could hold my nerve and use my skills, then it would be a way of getting wickets.
"Whereas if you come into a game with a massive reputation, people play you differently with a whole lot more respect and they prepare for you a lot more. Whereas now going from my first to second season, guys have already started to play me a little bit differently. I like it, but I think it was a cool challenge at the time – it still is.
"Being a spinner in the limited-over stuff is a challenge; every game has its own little difficulties. I enjoy the competition and I enjoy taking guys on and getting in a fight, so I'm kind of suited that."
Please ensure all fields are completed before submitting your comment!