Rob Yates' hundred-filled summer has its golden ending
NICK FRIEND AT LORD'S: For a part-time student who began this season still carrying a lingering whiff of self-doubt, this effort felt like an appropriate note on which to wrap up a breakthrough campaign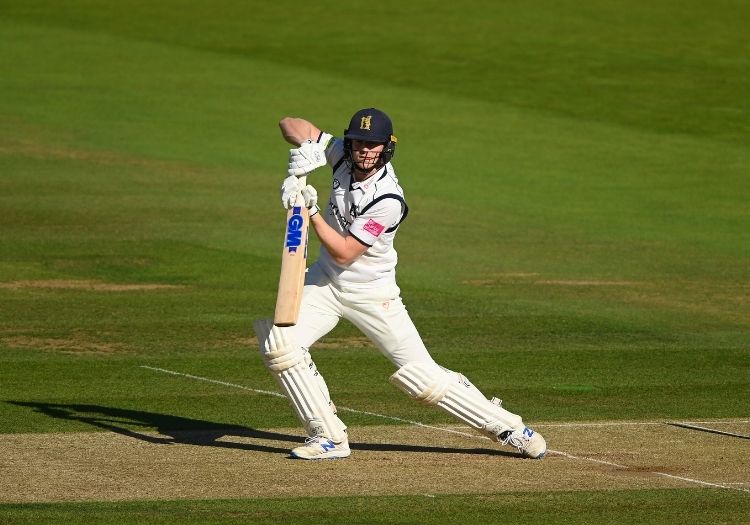 Lord's (day two of five): Lancashire 78, Warwickshire 464-7 - Warwickshire lead by 386 runs with three first-innings wickets in hand
This time next year, Rob Yates won't have to think any more about his studies. He will have graduated with a degree in English language from the University of Birmingham, freed up to focus solely on scoring the runs that have led to an ever-swelling reputation.
Six months ago, he had made 17 first-class appearances for a single hundred. It is often said that the first is the hardest, but that is only true until the hunt begins for the next. In his case, that gap spanned two years – one of those truncated by the pandemic, the second prolonged by a false start.
He had spluttered along for 46 runs in four innings until blunting Simon Harmer at Edgbaston to form the backbone of a day-four chase against Essex that set the tone for a title charge that had looked unlikely at the time and seemed at least a season premature. Harmer went wicketless for just the second time in the final innings of a County Championship match. On the other occasion, he only bowled four balls. Logic dictated that Yates shouldn't have been able to pull off something so obdurate or composed: a young left-hander on a turning pitch against an off-spinner who has disposed of his kind as a matter of course ever since first surfacing at Chelmsford.
He batted that day with Hanuma Vihari, who had never come across Harmer, but whose background as a Test cricketer for India allowed him to treat him with the requisite combination of respect and disdain. Yates, dismissed by Harmer in both innings when they had last met, fed off that tranquillity. He was unbeaten on 120 when the game was won.
Since then, his sense of self-belief has ballooned. "Age is just a number really," he told The Cricketer shortly after that match-winning knock. "If you're good enough, you're old enough. I want to be able to contribute in such a way that you would expect of anyone in the team. I don't want to just be a youngster in the side. I want to be part of the side and I feel like that adds to that self-belief that I'm ready." He was 21 then and only turned 22 in the week before Warwickshire's title-decider.
At Lord's, he was the third-youngest player on show but might just have played himself into winter contention here: England are taking a Lions squad to Australia as Ashes backup, and a left-hander batter comfortable on the back foot might just fit the bill. If that is deemed too early for him, then he has still done as Tom Lammonby did this time last year and Jordan Cox a fortnight ago, lighting up domestic finals as burgeoning stars of the next generation, serving the game with notice of their talent.
Will Rhodes ended the day unbeaten on 151
No one in English cricket has scored as many red-ball hundreds this season as Yates' five, and none have been younger in achieving that feat since Joe Clarke in 2016. His latest was brought up with a punch through extra cover off Matt Parkinson, who toiled away admirably in conditions that wearied a Lancashire side for whom the last week will have been a mentally draining, incredibly frustrating experience.
Parkinson eventually won his battle with Yates, who ran down the pitch to attempt something violent but only edged to slip. When he fell, Will Rhodes – now the leading run-scorer in the Bob Willis Trophy after scoring 423 in five games last autumn – carried on from where Yates had left off. He will resume tomorrow on 151.
Lancashire would have known they were in trouble quite swiftly, given the fascinating quirk of Yates' record. He has only made it out of single figures on 11 occasions this year. Five of those have become centuries, culminating in a remarkable conversion rate from 10 to 100 and a tally of 906 runs at 41.18, well above a career average of just 32.28 that highlights the remarkable progression of a player whose second birthday came three months after the professional debut of Tim Bresnan, now a teammate and fellow county champion.
This was just his fourth score away from Edgbaston above five in 2021 and the first time he has reached three figures outside his home county. Before today, his career-best beyond the confines of Warwickshire came at New Road, Worcestershire, still only an hour's drive away. Coupled with his choice of university, family address in Solihull and house-share with teammate George Garrett, the home comforts run deep.
Because of Yates' all-or-nothingness, 20 players scored more runs in the County Championship, though only seven of those faced more balls. In a way, he epitomised a surprise triumph, the foundations for which were laid by contributions spread across an entire team. Only Sam Hain prevented Yates from being Warwickshire's leading run-getter – and only then by 34 runs.
Yates might have overhauled him but missed the victory over Yorkshire after his father tested positive for Covid. He returned with a century against Somerset in the biggest game of his career, setting up the declaration that opened the door for a dart at silverware.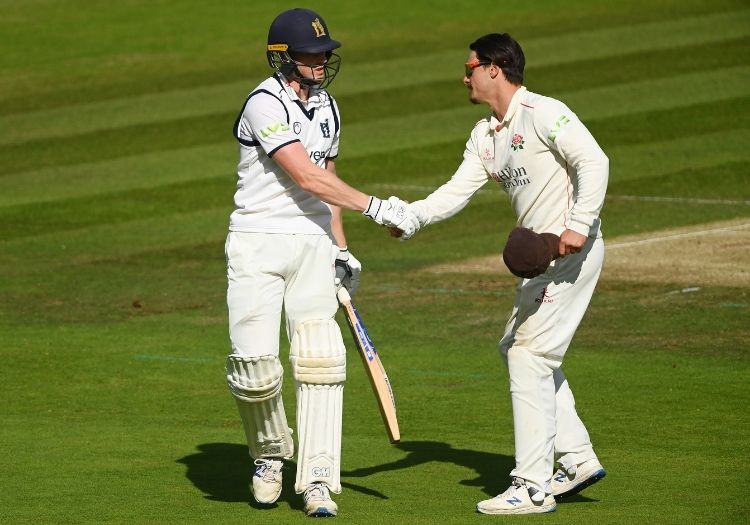 Rob Yates was congratulated by Rob Jones as he left the pitch
In this innings, he did most of his best work on Tuesday, when batting was undoubtedly more challenging in weather that changed as the day wore on and forced the sides off on a couple of occasions. Lancashire had been bowled out cheaply and, just four days after clinching the County Championship title, Warwickshire were having to pad back up.
Alongside Dom Sibley, he was faced with an opportunity to ram home a position of outrageous strength, and he took that chance. One straight punch stood out for its sheer authority; he was dropped in the slip cordon last night and offered up a solitary chance to Parkinson, who shelled him off his own bowling. But otherwise, he went about his work like a man who has done and seen this all before.
For a part-time student who began this season still carrying a lingering whiff of self-doubt, that felt like an appropriate note on which to wrap up a breakthrough summer.
Please ensure all fields are completed before submitting your comment!