County cricket's community champion: The story of Olly Hannon-Dalby's summer
NICK FRIEND: In an interview with a difference, Hannon-Dalby discusses volunteering at a foodbank, phoning Warwickshire members, fears for the post-pandemic job market, the "phenomenal" Daryl Mitchell, the sword of Damocles and touring Pakistan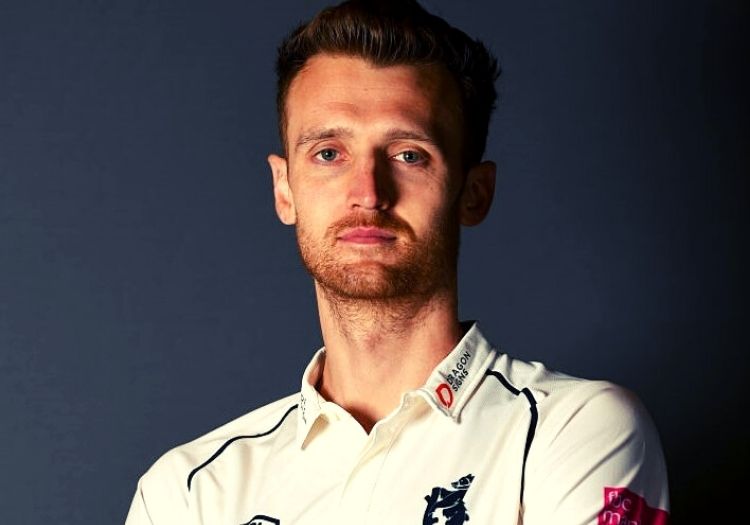 During the height of lockdown, The Cricketer launched an initiative, giving people the opportunity to nominate their unsung heroes of a turbulent summer. There were five categories: four spread across the amateur game and one dedicated to those on the professional circuit who had gone above and beyond to make a difference.
Several names came in, with Amar Virdi, Dom Bess and Keaton Jennings among them. But after a public vote and adjudication by an independent panel, Olly Hannon-Dalby emerged as champion, even if it feels inherently difficult to rank voluntary work and community spirit.
That gong is not necessarily the basis for this interview, but it gives immediate direction to a fascinating conversation with one of the county sphere's most thoughtful players.
Over the course of half an hour, cricket is rarely touched upon; Hannon-Dalby took 25 wickets in Warwickshire's Bob Willis Trophy campaign at 20.92 apiece, including career-best figures against Gloucestershire. But all that is secondary.
Instead, Hannon-Dalby – Halifax born and Yorkshire bred, but now coming to the end of his eighth year at Edgbaston – talks about everything else: spending his days making long phone calls to vulnerable county members, helping out at a local foodbank charity, his fears of a post-pandemic job market, the "phenomenal job" done by Daryl Mitchell as chairman of the Professional Cricketers Association, his own role as the club's PCA representative, the cutthroat nature of life on one-year contracts and the "brilliant experience" of touring Pakistan with the MCC.
Times have changed for Hannon-Dalby; he was handed his county cap at the end of the 2019 season and is midway through a two-year deal, having established himself as a senior player.
The wicket of Lukas Carey in Warwickshire's final red-ball game of the season against Glamorgan was his 200th in first-class cricket – a figure he was often unsure he would reach.
"Getting that cap meant the world to me, to be honest," he says. "I got a bit emotional – there have been various points in my career where I might be finished." His departure from Yorkshire in 2012 coincided with the bombshell that he was a long way down the pecking order.
"I got told that I wasn't going to be in their plans and that there were plenty of bowlers ahead of me. That moment in itself was like: 'Gosh, this could be it.' Luckily, Warwickshire took a chance on me. And then, the amount of times I've been on one-year contracts and I've not been in the team, it might be the middle of June and I'm thinking: 'They haven't offered me anything yet, so this could be my last year.'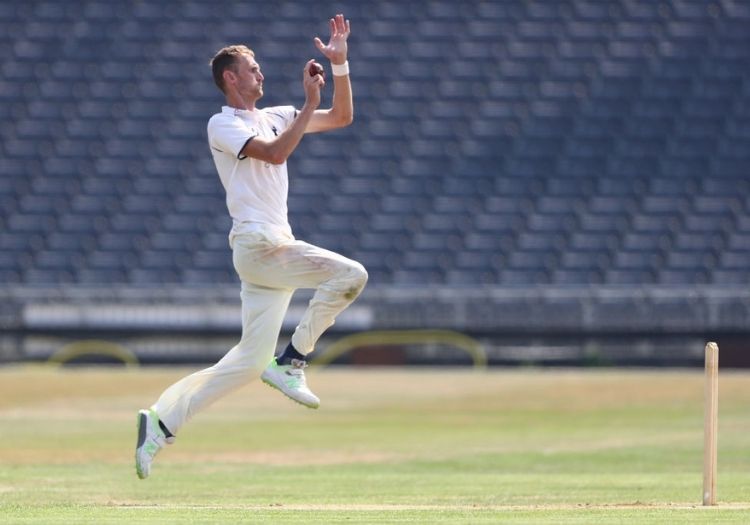 Olly Hannon-Dalby took 25 wickets for Warwickshire in the Bob Willis Trophy
"But these are no different feelings to any other professional sportsman – it's a precarious career. Unless you're Jack Grealish, we don't tend to sign five-year contracts. It's generally one-year deals. Going into the last year of a deal is scary; you're a human being, you like to be secure.
"We've all got mortgages of 20-odd years, and yet you only ever sign a one or two-year deal – it's a funny way to exist. The sword of Damocles is always dangling above your head but that makes it more exciting, doesn't it? You have to prove yourself year on year. It's just the way it is."
And over the months of this shortened campaign, that mantra has been truer than ever. Only, it has come with an asterisk beside it: a truncated calendar has meant fewer opportunities for those in the final weeks of current deals to push for renewal or enhance their chances in the shop window, while the impending financial apocalypse facing the sport has forced decision-makers into difficult calls, with several more sure to follow.
At Edgbaston alone, there will be a changing of the guard: Ian Bell, Tim Ambrose and Jeetan Patel have all announced their retirements, with 21-year-old batsman Liam Banks released. He was one of 134 players in county cricket whose contract, at the beginning of the season, was due to expire at the end of this summer.
For Hannon-Dalby, the county's PCA intermediary tasked with relaying developments from meetings to the teammates in his changing room, it has been challenging to watch.
"It's the worst part about being a cricketer," he explains. "Every single year, you have to say goodbye to five or six top lads. Whether that's in the coaching setup and backroom staff or actual players, come the end of September you're saying goodbye to some really good mates. Some will stay in the game, some will disappear and you might not talk to them again, which is sad. That is a really tough part of the job."
Foreseeing the possibility that county cricket might face a haemorrhaging of players this winter, the PCA and domestic game acted manfully – initially in April – in an attempt to stave off a worst-case scenario. Players agreed to be furloughed if requested, as well as cutting salaries and relinquishing prize money. Those terms were then extended in June, with a pay deductions structure designed to support those in the final year of their contracts and facing further uncertainty.
On top of that, the door has been reopened for counties to offer summer deals, while the minimum wage for full-time professionals has been reduced, all to keep more players employed. Rookie contracts have also been lengthened, with players in their final year on academy terms now able to sign extensions.
"You don't sign up to be the PCA rep with this in mind," Hannon-Dalby adds with a wry chuckle, "thinking you're going to have to try to help the club and the PCA through a global pandemic. The stats have been well documented that 130-odd players are in the last year of their contract.
"From a PCA point of view, that's a massively scary thing. We've tried to implement a few things which meant that the number has been reduced as much as possible. I think sacrificing bits of salaries and sacrificing bonus money has saved the game. Hopefully, that has helped."
The county game has done what it can, though Hannon-Dalby's concerns stretch further afield. No one – whatever their walk of life – will come out of this period unchanged. Cricket, like every other industry, exists on its own as a microcosm of the wider world, clinging on in the short-term but aware the full ramifications might be yet to come.
"At the moment we're all in this furlough world, where everything is a little bit rosy," he says. "I just really worry that when furlough disappears, how much is this going to affect everyone's working life – not just cricketers, but everyone's working life who's currently on furlough. Are jobs just going to evaporate? How many people are going to be unemployed?
"We've got lads in our changing room who might leave this year and are heading into the worst job market in decades, which is terrible and frightening. I can honestly say from both a club point of view and from a PCA point of view, we've done everything we possibly can to try to mitigate those things. But there will be people leaving the game this year and going into a very scary job market, which is not great at all."
It brings Hannon-Dalby to Mitchell, the Worcestershire batsman and PCA chairman, whose work – on and off the field – far too often slides under the radar; only twice in the last decade has he averaged less than 30 in a first-class season and, as an administrator, he has become a highly respected figure.
The pair should be rivals, given the proximity and traditions of their counties. But there is an important point to make: Mitchell scored 384 runs at an average of 42.66 in this year's Bob Willis Trophy – only eight players made more, but none of them were tasked with safeguarding their sport through the most complex spell of their generation. In all the talk around this season's standout performers, he has produced as an allrounder like no other. And so, Hannon-Dalby's tribute is warranted.
The absence of a settled, regular chief executive has added to the responsibility on Mitchell's shoulders: Tony Irish left the position in July, while his predecessor David Leatherdale took several months away from the role due to a stress-related illness.
"He has negotiated that County Partnership Agreement to start with, but then to help shepherd the game and professional cricketers through this coronavirus period has been an absolutely ridiculous effort from him," Hannon-Dalby stresses.
"And then, on top of that, he's been a very good professional cricketer and has had to run the PCA chairmanship on his own. That's crazy.
"To manage to do both things very well, he has done a phenomenal job. He's a rock-solid cricketer and, on the flipside of that, he's having to negotiate with the ECB and 18 counties at the same time, he's trying to keep 18 changing rooms happy through the reps. It's an unbelievable workload and he's done brilliantly."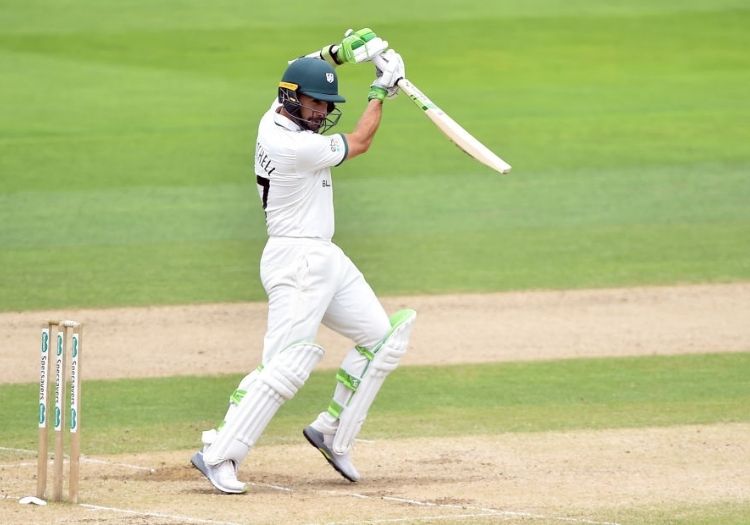 Another impressive year - on and off the field - for Daryl Mitchell
If that was Mitchell's lockdown, Hannon-Dalby too was determined to make his own impact in a difficult time. It was actually Tom Rawlings, Warwickshire's head of media and communications, who nominated him for The Cricketer award, pointing to an adopted Brummie who had gone beyond the call of duty once cricket shut down in March.
Warwickshire's players were all furloughed, and so everything he did was on a voluntary basis. But Hannon-Dalby's passion for both club and county is obvious, even simply from this conversation.
He recalls spending an hour on the phone with Keith, a member of Edgbaston's security team and "an absolute legend", checking in how he was coping with an enforced spell away from work. For so many involved with county cricket – either as paying members or invaluable staff behind the scenes, summer is king. But devoid of their fix through April, May, June and July, Hannon-Dalby recognised the worth that his voice could carry as a memento of better times, especially once it became clear that grounds would remain closed even if cricket were to restart.
"Speaking to members is part of our job as cricketers," he says, matter of fact. "Obviously, we're there to play cricket but if there's a member to be spoken to on the boundary, then it's our job to engage with them. We want them to come back to Edgbaston."
He would take his dog for a walk as part of his daily exercise allowance and work his way through a list of phone numbers, starting with those shielding in the most vulnerable, elderly categories.
"It was lovely, to be honest. Everyone was thinking the same things: 'When's this going to finish? Are we going to play any cricket at all?"
Eventually, that beginning led him to the foodbank – "I've counted a lot of tins of beans," he laughs. It was well documented early on in lockdown that Edgbaston had lent its facilities to the fight against coronavirus, opening up as a testing centre for NHS staff.
Through the club's Edgbaston Foundation, they also volunteered their space to Thrive Together Birmingham, a charity tackling poverty in the city. And so, the stadium's exhibition hall became an organisation centre for hoards of food, which was then redistributed locally to smaller charities.
All of which manifested itself as an affecting experience for Hannon-Dalby, who was joined by several Warwickshire coaching staff, groundmen, analysts and office workers.
"I was on the Friday shift," he recalls. "Essentially, you had truckloads of food turning up and you had to organise it. I might have been on the tin section one week, so I'd organise the tins of beans, tins of sausages, tinned peaches into piles.
"All those piles got organised into smaller segments to send out to individual charities, so an individual charity from up the road might come and say: 'We need a hundred tins of beans. Do you have that?' It was brilliant to be involved in something where you knew you would be making a difference."
Between May and August, the campaign collected over £56,000 worth of food, toiletries and baby supplies to bolster supplies at foodbanks and emergency food distributors. More than 800,000 people benefited as a result.
For Hannon-Dalby, it was the first taste of a community project like this; in the past, he had coached through winters on a voluntary basis for Warwickshire, but never on such a wide scale. Looking back now, it has given him a different outlook on life.
"Obviously, people were struggling – that's the whole need for a foodbank," he reflects. "The idea of any charity is to try to make yourself redundant, but just the sheer amount of food coming in made you realise that people really must be struggling through lockdown, which was not nice to see.
"To feel like you were helping out in any small way was fantastic. The sheer amount of food that was donated was pretty special. To think that all the people in Birmingham were donating this amount of food – that's incredibly generous of them. But then, to see it go out the door and know that it was going to make a real difference somewhere was fantastic."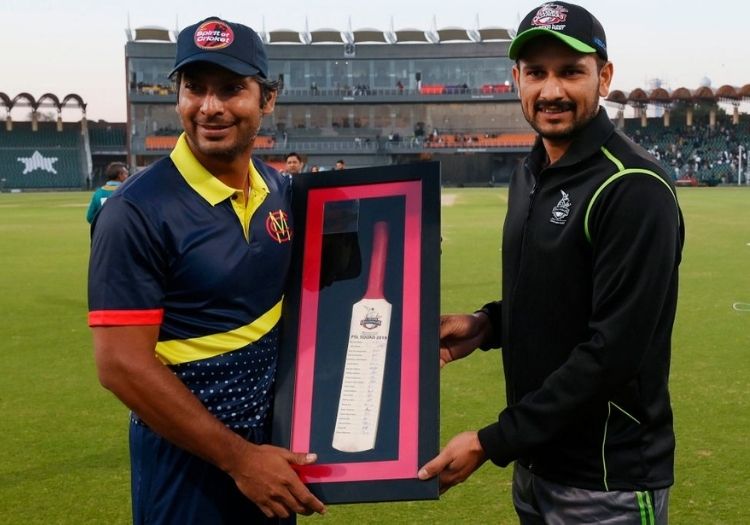 Kumar Sangakkara led an MCC tour to Pakistan in February 2019
Touring Pakistan left him feeling similar emotions. "They were so appreciative of us being there," he explains. With an offer of a T20I series in January on the table from the PCB, England are closer to returning to the country than they have been at any point since their last visit in 2005.
And few Englishmen can speak on the subject with greater recent wisdom than Hannon-Dalby, who travelled for an MCC tour in February. Kumar Sangakkara, part of the Sri Lanka side attacked in Lahore in 2009, captained the trip – a powerful piece of symbolism for the message of Pakistan's safety and security.
In fact, the seamer's mind was made up by Paul Farbrace – a colleague of Sangakkara on that fateful trip and now Warwickshire's sport director. He was Sri Lanka's assistant coach and was on the team bus when gunmen ambushed them.
Hannon-Dalby recalls: "As soon as I got the opportunity, Paul Farbrace was on the phone, saying: 'You've got to go. What an opportunity.' And Farby was involved in the attack – he got shrapnel in his calves. If he's saying that, we had to go. Why wouldn't we?"
What he found was a country desperately grateful to its squad of tourists, far from the perception built up over the course of a decade-long exile from hosting international cricket. The red carpet was rolled out and every single precaution taken; their hotel was only a stone's throw from the Aitchison College Ground, where they played three games, but rather than take the short stroll across the road, a coach was laid on with the surrounding streets closed.
Hannon-Dalby laughs once again, remembering the regal treatment he received: "You think to yourself: 'We are not this important!' Don't get me wrong, it was a little bit daunting when you get off the plane and you get into an armoured vehicle with an armoured guard. And you're thinking: 'Oh my gosh, why do we need this?' You go into the hotel and there's an armoured guard, but pretty quickly you realise that they're just trying to be so secure.
"From the hotel we were staying at, it was at most a 100-metre walk to the ground. But we weren't allowed to walk it – we had to get a bus half a mile to the roundabout, turn and go half a mile back. For us to do this three-minute journey, they shut the city for half an hour before and half an hour after.
"We're not this important but the PCB and the government want to show how safe they can make it. There's absolutely no doubt that we felt incredibly safe there. Not only safe, but very welcome.
"We couldn't leave the hotel, but so many people – staff, cleaners, members of the public – just said: 'Thank you so much for coming to Pakistan, thank you for being here, thank you for coming to play cricket here.' It was a lovely, lovely thing to be part of."
And what would he tell anyone wondering whether to follow him to one of cricket's great nations?
"If anyone asked me, I'd just be honest and tell them what my experiences were. I was a bit worried at first, thinking: 'Oh, Pakistan.' I was a bit nervous when I got off the plane, but pretty quickly it was fantastic. I'd definitely go back."
For unrivalled coverage of the county season, subscribe to The Cricketer and receive 3 issues for £5
Warwickshire
|
Features
|
County Cricket
|
1Banner
|
Please ensure all fields are completed before submitting your comment!