The end of Graham Onions, a serial wicket-taker who didn't realise how good he was
NICK FRIEND: Onions made a promise to himself in 2010 - that he would only stop playing once his body broke. We've reached that point. He leaves the arena with 874 professional wickets as a dignified, high-class performer who always sought to improve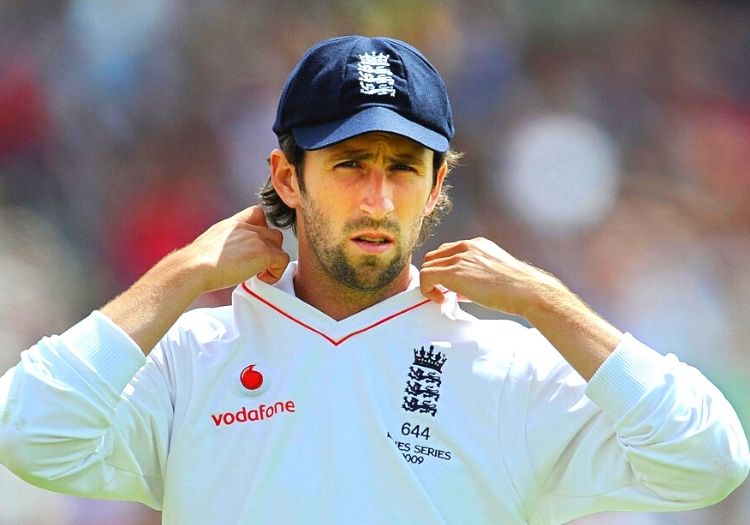 "I know these roads like the back of my hand," says Graham Onions, talking as he makes the long journey home from Manchester to Gateshead.
In every way, it is a fitting route on which to catch him – a trip that encapsulates the path of a fine career.
It is a voyage down a lane full of memories, laden with wickets for Durham and Lancashire, as well as a smattering in England colours that gave fulfilment to unlikely, lifelong dreams.
Once upon a time, he was the eager youngster – newly obsessed by the game that would become his livelihood – chasing Martin Saggers for an autograph on the boundary's edge.
Each Sunday morning, he would sit by the bar at Gateshead Fell CC, tucking into a bacon sandwich and a blackcurrant and soda, hoping the third team might be a man light so he could step in to field for them.
But now, nearing three decades later, that boy speaks as a former cricketer – a job status he committed to evading for as long as was physically possible.
"I made a pact with myself in 2010 that I was going to play until I broke," he recalls. "I knew that I would always love the game. To be honest, I've got to the stage where my body has basically broken.
"The surgeon has said that this is for my long-term spinal health. Honestly, I couldn't get my shoes on in the morning. But in the long run, I will be in a better place."
The sight of Onions and his whippy action became a staple of the domestic game – deceptively quick and, by his peak, unerringly accurate. Plenty changed over time – his pace and precision altered with age and experience, but his best never waned: from 2009 onwards, he took 539 first-class wickets in England at 22.7 apiece.
The greying stubble of his latter years acted as a façade, fooling any observers who might have believed he was beyond his heyday. More victims were lined up for this summer and next, only for this back injury to curtail the story.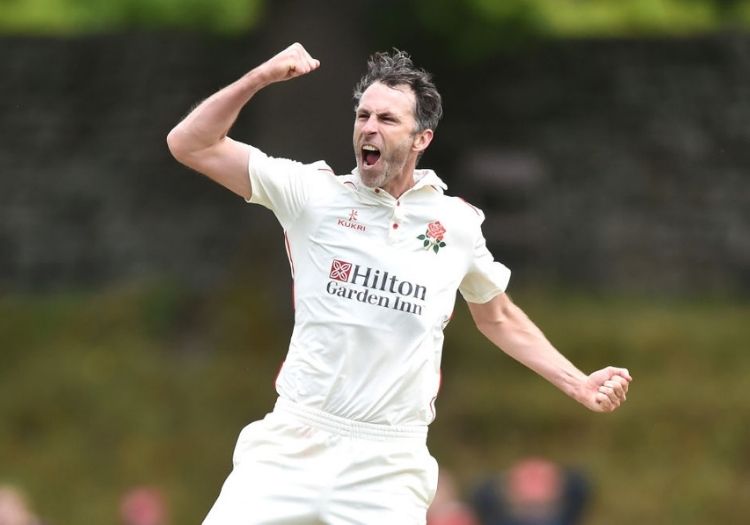 Graham Onions has been forced to retire due to a back injury
At the end of a season that has seen several others hang up their boots – notably Ian Bell and Tim Ambrose - news of Onions' retirement was met with both fanfare and understatement; an appropriate melange that typifies a highly regarded, dignified character.
"I've got Michael Hussey's shirt upstairs in my room," he reflects. "After the Ashes series in 2009, he just said: 'An absolute pleasure to play with, but a nightmare to play against.' That's what I wanted."
Among the comments in response to his announcement on social media, fellow stalwarts Luke Wright, Liam Plunkett, Jack Brooks and Chris Nash echoed those sentiments. "Always a pleasure losing my front shin to you," joked Nash – Onions dismissed him 11 times.
"I wanted people to think: 'Oh no, I have to face Bunny.' But as a teammate, for Andrew Strauss or whoever was captain, I'd do anything to win a game. I'd run through brick walls and I'd do it all the time.
"Hopefully, I'll be known as this fierce competitor who played the game really hard and gave everything on the field, but then off the field was a decent bloke. That's what I would like to be known as, really."
Onions has spent recent weeks honing that conclusion, learning to look back with pride on the last two decades after the bombshell revelation that this injury marked the end.
He had been preparing for Lancashire's Bob Willis Trophy campaign when he suffered the blow, meaning that Dawid Malan – then of Middlesex – goes down as the last of 874 professional wickets, 15 years after Steve Stubbings became the first when edging a wiry debutant to Marcus North at slip.
"The advice is to not play again," he says soberly. "That day hit me hard – I didn't reminisce at all. I spent a lot of time worrying about the future and panicking a little bit. Could I ignore that advice and try to get back to where I want to be? The decision was very much out of my hands really, which is fine.
"But when it comes to reminiscing, I can actually do it now without getting too emotional. Yes, I'm not going to bowl a ball again in professional sport, but I can be very proud of what I've done.
"People keep asking what my biggest achievements were; for me, my biggest achievement was coming back from the really bad injury that I had in 2010 and proving to myself and to others that I could play again.
"People think that winning trophies must be the highlight and the best thing ever, but I don't know. When people say that you can't do things because of injury or you're not good enough and you prove people wrong or prove to yourself that you're good enough to do something, that for me is more of an achievement sometimes.
"I've got a lot of people to thank, going all the way back to my local club at Gateshead Fell, where my journey very much started. Without a doubt, Geoff Cook at Durham provided me with an opportunity to fulfil my dreams.
"Did I honestly ever think I would play for this length of time or take as many wickets as I have? Absolutely not. But sometimes, not knowing your ability is quite a good thing."
A brief chuckle follows that thought. That psyche, he explains, is why he never stopped seeking to improve his craft.
He offers his ODI debut as an example: after bowling against Australia at Emirates Riverside in 2009, Onions took himself for a midgame net to teach himself how to bowl an in-swinger.
"I was always striving to get better," he adds. "I didn't have any bravado. The amount of balls I've bowled, I reckon I can double that with the number of practice overs I've done. But I loved the challenge of trying to get better and constantly trying to improve my game. I found that fascinating.
"You don't realise that you can do it until you do it. Until you go out and perform and prove to yourself that you can go out on the field and be trusted by your captain to win games, you never know.
"I wouldn't say I ever had a huge amount of self-belief. It probably took me a little bit longer to perform at that level. I remember going into a game against Somerset before I got called up by England – it was on Sky and I took six wickets in the first innings. I bowled beautifully, but I still never ever thought that I would be good enough to play for England.
"Everyone was like: 'Mate, you deserve it. You're bowling brilliantly, you're the next-best bowler.' But maybe that's not such a bad thing, because it meant that I was always pushing myself to the limit of perfection to try to get better."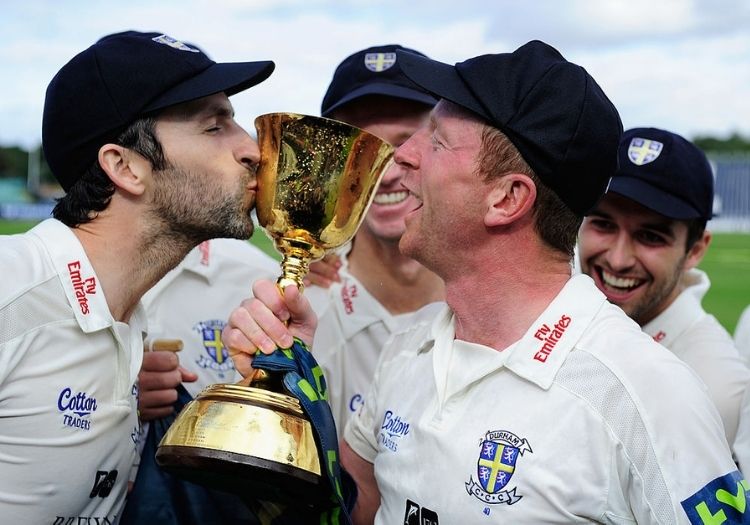 Onions gets his hands on the third of three County Championship titles with Durham
In the first five years of Onions' red-ball career leading up to his international bow in 2009, he had averaged 33.8 with the ball. It was only after working with Kevin Shine on pushing a consistently fuller length that he began to realise he "could be a good bowler".
He took five wickets in his first Test innings against West Indies, while he was at the crease at the end of two famous, last-gasp draws in South Africa.
During the Edgbaston Ashes Test in 2009, he dismissed Shane Watson and Hussey with the first two deliveries of the second day in a spell that transcended a rain-ruined game.
As a snapshot, it was prime Onions: bustling to the crease, tight into the stumps on delivery, good pace with movement off the seam. Everything had clicked on the biggest stage of all, having been handed the first over of the day by Strauss ahead of James Anderson, Stuart Broad and Andrew Flintoff.
"That day made me feel involved," he recalls. "I was like: 'Why on earth have you gone for me to set the tone?' But he backed me and I did really well. In my mind, that was when I believed I was good enough to do it."
Four Tests later, however, a serious back problem in 2010 threatened to end his career in its prime. And after a two-year absence, he returned to the fold in 2012, taking four wickets against West Indies.
That Test represented a career-high – vindication for putting himself through a physical and emotional recovery battle, emerging from it still with the drive to go again.
"People talk about depression, I went through a tough time mentally," he says. "I got injured and I just broke. I was thinking: 'Well actually, what on earth am I going to do if I can't get back?'"
In the aftermath to the injury, he lost the central contract he had worked so hard to earn only 12 months earlier. His thoughts shifted to his parents, who had been so supportive when he first told them of his wish to pursue a cricket career, and the burden he felt to repay that initial loyalty.
"I almost felt like I owed it to them to give it my best shot," he explains. "I said to my wife Emma: 'Right, I'm going to do every single thing that I possibly can just to play one more game. If I can't do it, then I can look in the mirror and know that I've given it my best crack and it hasn't worked out.'
"I did everything right – I was religious with my practice, pilates, running sessions. It's quite remarkable really that I've got another 10 years out of my body. Looking back at that time, I'm really proud of what I did."
His international renaissance, therefore, came with added significance – a knowledge that he had rescaled his pinnacle after a heavy, career-threatening plunge into a bleak, different reality.
He missed the 2010 season in its entirety, with 464 days between first-class deliveries and 28 months separating England appearances against South Africa and West Indies. "It was such an emotional day, but it was so much fun as well," he remembers of his return, better known now for Tino Best's batting heroics.
Onions' memories are gloriously wholesome; even as he recounts events eight years in the past, he does so with the enthusiasm of the child who first fell in love with the game.
"It was like a second debut. People gave me loads of credit, and of course I trained hard and it was difficult, but you can't do it without the help of your family and your loved ones. That sounds quite cheesy, but it's true.
"I've never been one for pressure, but before that Test I was so excited. I had thought through that period: 'If I ever play international cricket again, I'm just going to love every minute of it.' And I did, it was great. Unfortunately, I never played again after that."
All this time later, it feels as though a smidgeon of irritation lingers, even if he insists there are no regrets at the end of a 16-year career. "Being completely honest, it did hurt," he reflects. "I feel as though I had all the credentials to win games for England."
Looking back, it seems almost unfathomable that his international career spanned just three years and 13 matches – not simply on account of his own quality, but also because so much seemed to involve him in that short stint.
Onions' nine Tests are as many as Gareth Batty, one more than Sajid Mahmood and 27 fewer than Steven Finn, despite the fact that their careers – at least for a short time – appeared to intertwine as English seam bowling's next cab off the rank.
"But on the flip side," he stresses, "did I ever think I'd play one Test for England? Absolutely not. No chance. I was very lucky to play nine. But if I'd been asked about this around that time when I was constantly not selected, it was very frustrating: 'Go back to your county and take some wickets.'
"I missed out on the away Ashes series when I took 73 wickets at 19. I'd never been so excited to pick up the phone from a selector ever. I got the phone call and then it wasn't good news – I couldn't quite believe it.
"But my wife just said: 'Graham, if you constantly think about what could have been, it will fester in your mind for so long.' There's nothing I can do about it now. I've got to be very proud of what I've done."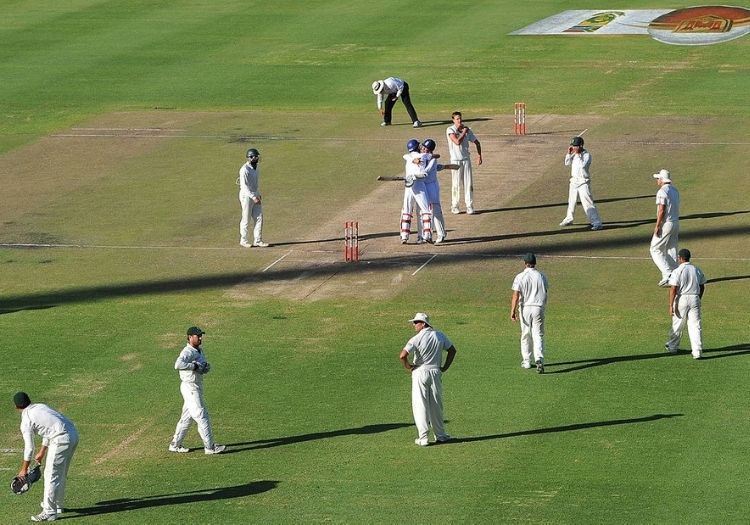 Onions and Graeme Swann celebrate after clinching a draw in the final Test of the series against South Africa
Much of that pride stems from a northeast beginning. Onions remains the leading wicket-taker in Durham's short first-class history, even if Chris Rushworth is breathing down the neck of his former teammate.
It is three years since he last represented his home county, but none of his passion for the region has diminished.
"When I go back, it's just a nice feeling," he says. "I drive past Durham all the time, I look at the floodlights and just think that there are some amazing memories there that will never be taken away."
Three County Championship titles and a pair of 50-over trophies, to be exact. But what was it about that Durham side, a team constructed on a diet of prodigious, local talent and a dash of overseas knowhow, that morphed into such a formidable machine?
"You were basically playing with your mates and performing for your friends," Onions remembers. "You've got their back. To go into training all the time and to know that you've got someone at the other end bowling or batting with you that has been with you along the way is amazing. Plus, we had Geoff Cook, who is Mr Durham.
"He gave you the belief that you were good enough to do it. I went through some incredibly tough times where I didn't think I could do it. Honestly, there were times when I was bowling at Brad Hodge and we'd won the toss and I'd gone for 120 in 15 overs. I'd go off the field thinking I wasn't good enough to do this. But you had people around you and your friends, who could reassure you. You learn a lot from that.
"That era at Durham, putting the county on the map, was so good. Definitely, until that stage other teams thought: 'We can beat Durham – that's not a contest.' And we probably didn't believe that we could win trophies.
"But we made brilliant signings like Dale Benkenstein, and the culture changed. We went from not expecting to win to thinking we could win all the time. Honestly, that dressing room was so good, so enjoyable to be around."
As Onions looks towards the next phase of his life and a foray into coaching – he has been qualified as a level four coach for five years, it is an environment he would do well to replicate.
"I love the feeling of helping people – on and off the field," he says, pointing to his own life experiences that might inform his philosophies going forward. The combination of injury difficulties and an inherent work ethic provides him with a natural position from which to empathise and assist young players on their own journeys.
That is his future, having made his peace with the end of this chapter. How different a send-off he deserved: leading his side from the ground, ball raised in one hand and cap in the other, an appreciative gaggle of spectators offering their acclaim.
"But you have to remember that I didn't want to retire," Onions says. "I would have loved to have gone out on my own terms and have been walking off with nothing else to give.
"I know that sounds silly because I have ultimately gone until I've broken, but I wish I'd gone on until it was up to the other lads to take my place. I'd have walked away happy, but that's something I'm going to have to live with – there's nothing I can do about it now."
Only, he can reminisce with an air of contentment on a tremendous shift. From Gateshead to Manchester and back again, that journey he knows so well has come to an end.
For unrivalled coverage of the county season, subscribe to The Cricketer and receive 3 issues for £5
News
|
Lancashire
|
Features
|
England
|
Durham
|
County Cricket
|
1Banner
|
Please ensure all fields are completed before submitting your comment!