WORLD CUP MOMENTS No.24: Kenya shock shambolic West Indies
Arguably the greatest single shock in the tournament's history saw the two-time champions go down to a humiliating defeat in Pune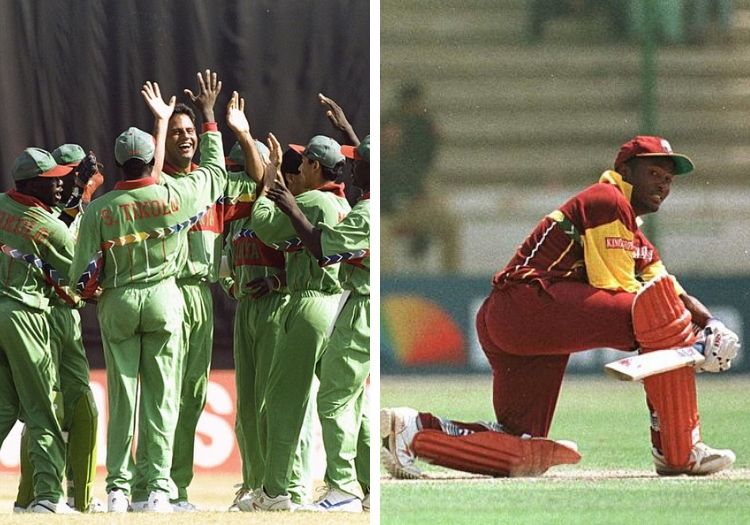 When tracing back the fragmentation of West Indies cricket, at least one piece of the jigsaw can be found by returning to one fateful afternoon in Pune in February 1996, when they were victims of one of the World Cup's greatest shocks.
The cracks in the winners from 1975 and 1979 were evident even before the tournament began. Captain Richie Richardson had overseen a successful period on the field which had included the emergence of seam pair Curtly Ambrose and Courtney Walsh, while Brian Lara was the sport's next superstar.
Nevertheless, his position was under threat coming into the tournament, despite his impressive Test match record. Furthermore, the culture around the team was toxic, underlined by Lara cutting a disinterested figure.
Having eased past Zimbabwe in their group opener they lost to India and forfeited the game against Sri Lanka in Colombo due to safety concerns. Normally, that is the death knell for sides in this competition but thanks to the format which allow four qualifiers from a six-team group, the Windies had a reprieve.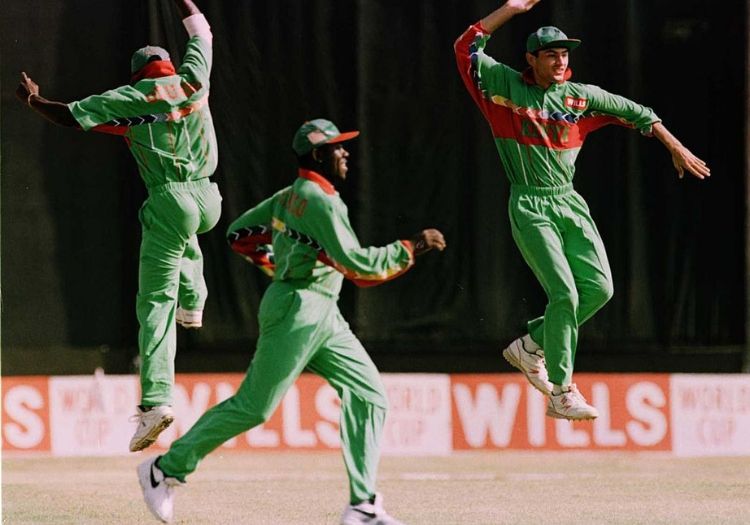 Kenya took advantage of an indifferent West Indies
Victory in either of their last two games would secure passage to the quarter-finals, but even that proved to be a tougher task than any of their illustrious names could imagine.
Kenya had benefitted from a more lenient ICC setting aside three slots at the 1996 tournament for associate nations. At the ICC Trophy, they won eight matches in a row to reach the final - which guaranteed a place. They lost to United Arab Emirates but their place in a first World Cup was assured.
Yet, it was hard to see past their status as major underdogs at the elite level. They possessed just one professional player, Steve Tikolo, and at 500-1 were ranked as one of the biggest outsiders in the competition's illustrious history.
The team skippered by Maurice Odumbe had provided brief moments of encouragement in their opening three games, though defeats to India, Australia and Zimbabwe left them propping up Group A as they prepared to take on another cricketing heavyweight in the form of the West Indies.
Any spectator would have been forgiven for thinking a surprise result looked remote at the half-way stage. Kenya were bundled out for 166 with three balls to spare. Tikolo struck the most meaningful contribution with 29 including what would turn out to be the only six of the game.
But signs of encouragement and that the wheels were coming off the Windies could be found in their fielding display which included 37 extras, dropped catches and miss-fields galore. Could that bleed into their batting performance?
The chase was boosted by the presence of Kenya wicket-keeper Tariq Iqbal behind the stumps. While various publications were unkind about his physique, there was no doubting he did not possess the athleticism nor the skills for the role. Teammate Aasif Karim has since admitted he "was embarrassed to look at him".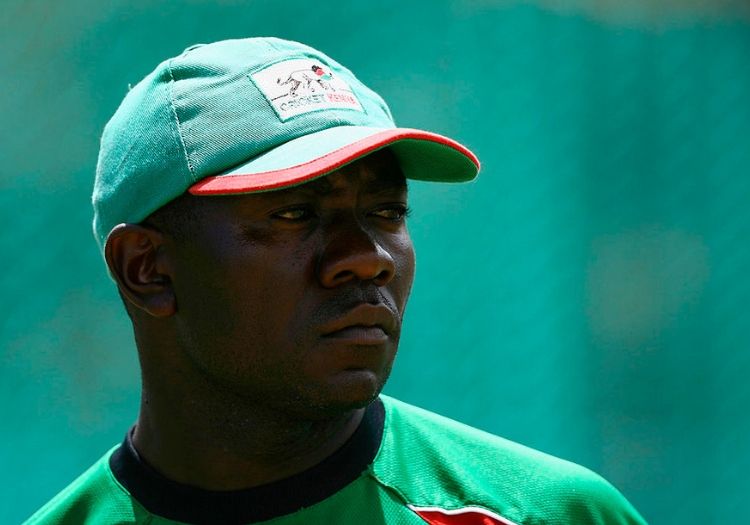 Tikolo played a role in the first of Kenya's World Cup successes
It, therefore, said much about West Indies' ineptitude that they fell dismally short of their target with more than 14 overs still to be bowled. Rajab Ali set up the victory with an intensive spell of fast-bowling, crashing through Sherwin Campbell's defences and then luring the lackadaisical Lara into an edge which Iqbal grabbed at and somehow clung on to.
Then came the turn of spinner Maurice Odumbe, whose approach to the wicket was almost as scenic as Kenya's charge to victory. Shivnarine Chanderpaul, Jimmy Adams and Roger Harper had no answer before Ali returned to clean up the double world champions for just 93. It remains their lowest World Cup total and is 14th on the all-time list.
That Kenya would go on to lose to Sri Lanka in their final group game only worked to emphasise the shocking nature of the result, and the shambolic state West Indies cricket was in. The post-mortem was not helped when Lara was accused of racism after allegedly claiming he would prefer to have lost to them than a side like South Africa - referencing the loss to the Proteas in 1992. Nevertheless, little could stop the exit of Richardson, who departed soon after.
Granted, Kenyan cricket would go on to have even greater days on the world stage but they might not have been possible without the greatest single scalp during their foray towards the summit of international cricket.
Our coverage of the ICC Cricket World Cup 2019 is brought to you in association with Cricket 19, the official video game of the Ashes. Pre-order your copy now at Amazon.co.uk
Please ensure all fields are completed before submitting your comment!