Lisa Keightley rejects "disappointing" women's Test comments from ICC chair
Earlier this month, Greg Barclay admitted to not foreseeing women's Test cricket being "part of the landscape moving forward to any real extent"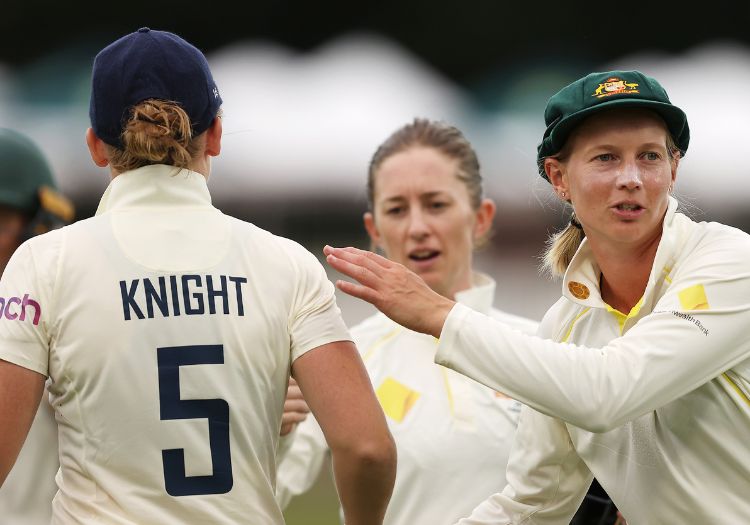 Comments made by ICC chair Greg Barclay about the future of women's Test cricket have been described as "disappointing to hear" by England head coach Lisa Keightley.
Speaking to Test Match Special at the start of June, Barclay admitted that he did not foresee the longest format of the women's game being "part of the landscape moving forward to any real extent".
Only 143 women's Tests have ever taken place, just five of which have come since 2015. England could field five Test debutantes at Taunton next week against South Africa, who could have as many as 10 players making their first appearances in the format, having not played a Test since November 2014.
"If you look at the way cricket is going there is no doubt that white ball is the way of the future – that is the game that is sought after by the fans, where the broadcasters are putting their resources and what is driving the money," said Barclay.
"Therefore, the counties that are developing women's cricket will focus on that. In order to play Test cricket, you have to the structures in place domestically and they don't really exist, so I can't really see women's Test or long-form cricket evolving at any speed at all.
"That's not to say they can't choose to play Test cricket, but I don't really see that as part of the landscape moving forward to any real extent."
It was an indictment on Barclay's words and the current lack of structure around women's Test cricket that Katherine Brunt's Test retirement was linked to the fact – once it became clear that she wouldn't be ready to face South Africa – that her next likely opportunity would come in the next Ashes series in 12 months' time.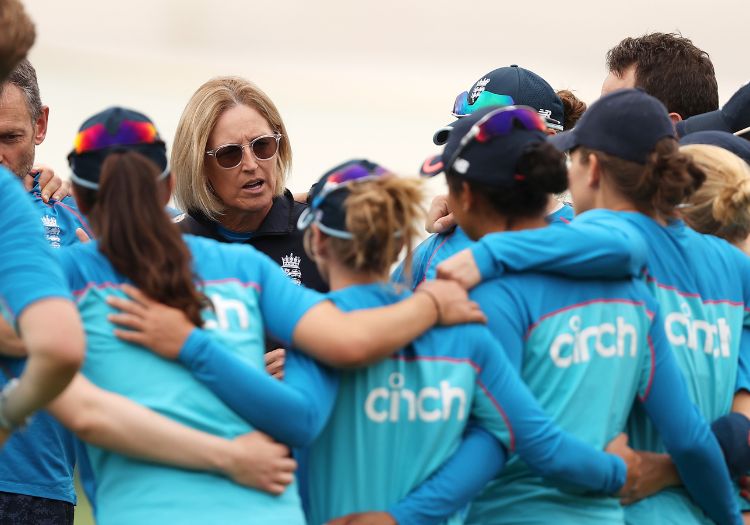 Keightley addresses her charges ahead of the last day of the Ashes Test (Mark Kolbe/Getty Images)
"I've been in women's cricket for a few decades now, it's disappointing to hear," said Keightley, responding to Barclay as she previewed her third Test since taking charge in 2020.
"From listening to it, we can challenge and say: 'We actually feel like we want to lead the way'. The way to do that is play more Test matches. Realistically, I don't think every country can play this format, I get that, but I do think we should stretch and challenge and have the desire to improve women's cricket and to grow it.
"There are a few countries that are putting their hand up to play Test match cricket for that purpose. The players really want to play it and the organisations are getting in and around it and behind it. I think the last few Test matches have proven it's a format that is quite exciting if we play it to the move forward and that's the biggest challenge in women's cricket and Test matches where players have not played many Tests."
The two Tests in which Keightley has been involved since replacing Mark Robinson as England's head coach have been thrillers in their own right.
England and India drew at Bristol last summer thanks to a fourth-day rearguard from the tourists, before Australia and England played out a remarkable fourth day in Canberra six months ago. Heather Knight hit a first-innings century, before her team – nine wickets down – came closer than any team in women's Test history had previously come to successfully chasing a total in a drawn game.
Keightley also hinted that the decision-makers within the English game were looking at implementing multi-day cricket within the domestic circuit. "I know we're looking to do that moving forward," she said. "It's just a matter of how you could put it in a domestic structure and what that may look like."
---
Related Topics
Please ensure all fields are completed before submitting your comment!