England plot life after greatness
NICK FRIEND: A new era begins for England at Taunton next week as they face South Africa without Katherine Brunt or Anya Shrubsole, two pillars of consistency in an ever-changing landscape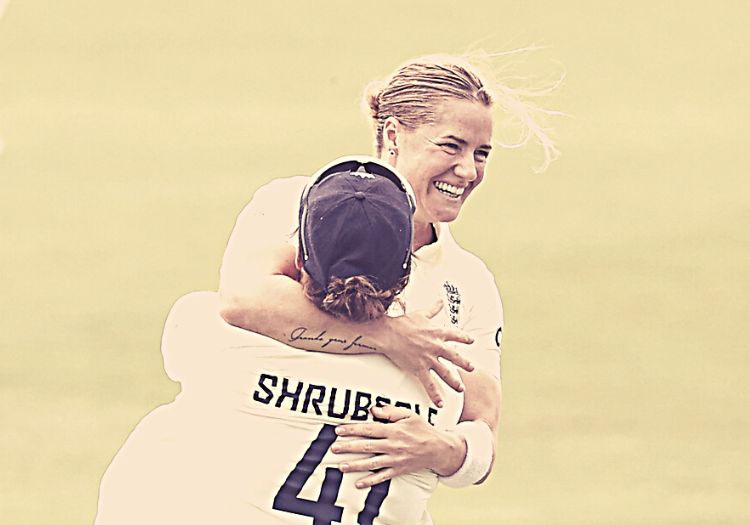 As Lisa Keightley prepares for the international summer, England are set for their first taste of life after Katherine Brunt and Anya Shrubsole.
Brunt retired from Test cricket last week, following Shrubsole's announcement earlier this year that her time on the international stage is over.
The pair, who claimed 70 Test wickets between them, opened the bowling for England in every Test between the start of 2011 and the draw in Canberra six months ago.
"It's over 10 years of those two having the ball and doing what they do," said Keightley, who explained that Brunt's Test retirement was linked to a desire to be primed for the Commonwealth Games later this summer and an acknowledgement that upping her bowling loads sufficiently to ready her body for four days' hard graft at Taunton represented an insurmountable challenge.
"Throughout that journey, they've both had their ups and downs in form. Generally, they're very consistent and you know what you're going to get. We don't know what we're going to get, but that brings excitement, new opportunities.
"It's an end of an era and we need to create a new one and see which players are going to stick their hand up and lead the way with the ball. Our hand's been forced, and we'll wait and see how it goes."
The notion of a forced hand is interesting, given England have long known that this moment would one day come. For that reason, there has been criticism in the past of the national team's reluctance to rotate their options to avoid being caught cold when two of the game's all-time greats eventually called time on their careers. Brunt, of course, is not done yet with the white-ball game. Shrubsole signed off by declaring the game to be in rude health and "movng faster than I can keep up with".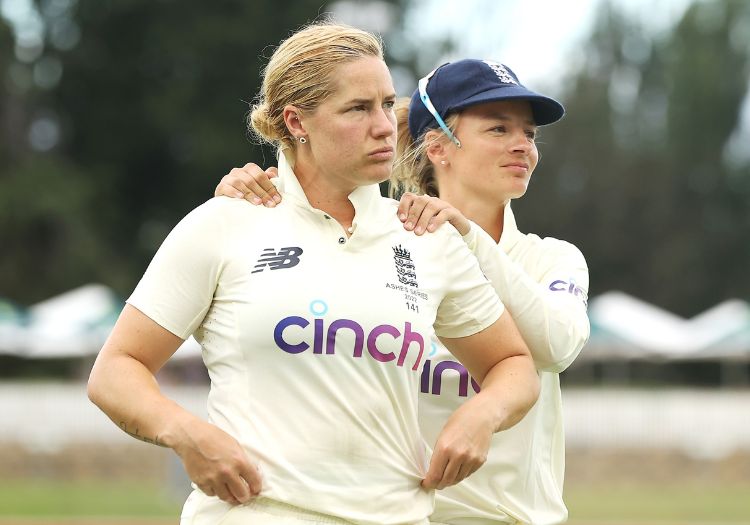 Brunt's final Test appearance came in the Ashes draw with Australia (Mark Kolbe/Getty Images)
Lauren Bell and Emily Arlott are both uncapped in any format, while Freya Davies will be making her first Test appearance if selected, though England know what they are likely to get from all three: Bell swings the ball in a similar vein to Shrubsole, Arlott's height and movement off the pitch earned her a call-up for the India Test last summer, Davies has already made her mark in limited-over cricket.
What Keightley doesn't know yet is whether any of the new generation possess the same fierce sense of mongrel that has typified Brunt at her best and acted as a supernatural power when England were down and out.
"The biggest thing we're going to miss is those moments in a game where Katherine gets the team behind her," she said. "I look at when she got thrown the ball in the last Ashes and how many times she got us back into the game, I look at her taking that catch against India in the outfield (to dismiss Shafali Verma at Bristol in 2021), moments like that will be hard to replace.
"Her passion and her fire, I don't know if we've got another person in the team that has that fire as much as she does and that competitive edge and ruthlessness. That's going to be missed, but we'll find out if we've got another one in the wings that has the same white-line fever."
Keightley admitted that she wasn't surprised by Brunt's decision, which was aided by a bout of Covid that made getting ready for next week a more difficult task. Brunt told The Cricketer two years ago that making the Commonwealth Games was her primary target, and that ambition appears not to have altered.
"She wants to be in a really good spot and fit and healthy to do it," said Keightley. "We know after the last two Test matches, 10 days after she's really struggled, and we know with multi-format series they come thick and fast. We knew it was going to be a juggle.
"In the end she didn't have the loads behind her to play in this Test match, it would have been high-risk and sitting down with Katherine and talking it through, it was pretty obvious that the Commonwealth Games was the focus and she wasn't going to get up for this Test match. With those conversations she's gone away and thought about it and probably thought the Ashes was too far next year, so if she didn't play in this one, she probably wasn't going to play a Test."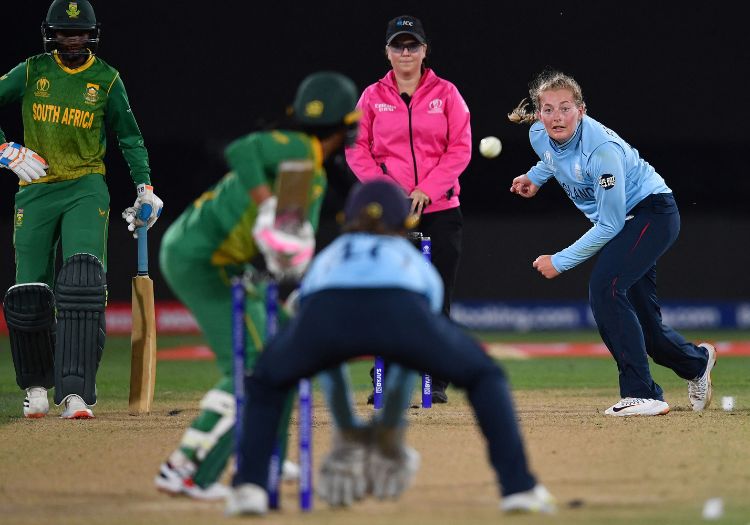 Keightley has noted the need to manage Sophie Ecclestone's workload ahead of the summer (Sanka Vidanagama/AFP via Getty Images)
That is a sad indictment on the lack of structure around women's Test cricket; needless to say, coming to that conclusion has made for "an emotional few weeks" in the life of one of English cricket's most competitive souls.
In all likelihood, Brunt will still be on-site with the Test squad, working herself up to speed ahead of the limited-over leg of South Africa's visit, which no doubt means passing on her expertise to the youngsters looking to fill her significant void at a time when women's Test cricket has been dealt its latest roadblock in the shape of comments from ICC chair Greg Barclay, who suggested the format didn't form part of his landscape for the game's future.
Keightley called those comments "disappointing" and instead insisted that "we should stretch and challenge and have the desire to improve women's cricket and to grow it".
She added: "There are a few countries that are putting their hand up to play Test match cricket for that purpose. The players really want to play it and the organisations are getting in and around it and behind it. I think the last few Test matches have proven it's a format that is quite exciting if we play it to the move forward, and that's the biggest challenge in women's cricket and Test matches where players have not played many Tests.
"If you look at South Africa, they could have 10 debutantes, we could have five. You've got to learn the craft of Test cricket at the same time."
There have been fewer greater advocates for it than Brunt, and while she turns 37 at the start of July, the veteran seamer is not alone in needing careful management ahead of a jampacked summer schedule. Sophie Ecclestone is in such demand that she has already featured in the FairBreak Invitational and Women's T20 Challenge since the start of May, as well as the Charlotte Edwards Cup.
England have been transparent in their admission that Ecclestone – the top-ranked bowler in the world in both white-ball formats – was overbowled in the Bristol draw with India last summer, in which she got through 64 overs, and then toiled through 44 against Australia in January.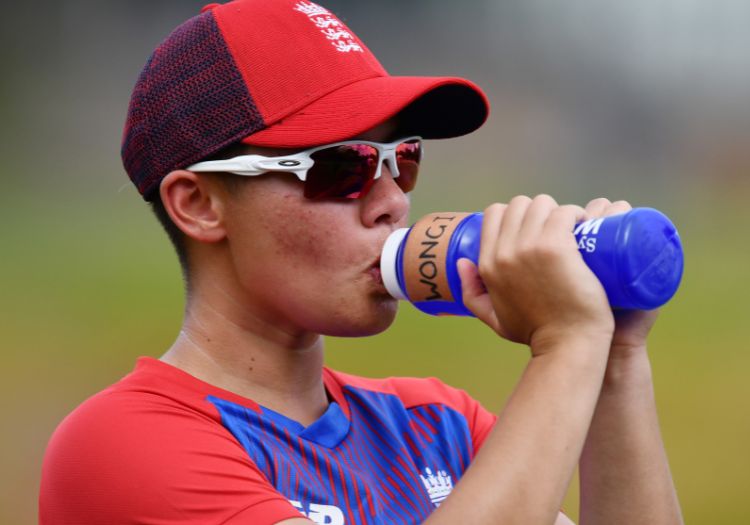 Issy Wong has been named in the squad as a travelling reserve with a view to an opening in the white-ball formats (Mark Brake/Getty Images)
"We'll definitely be looking at our team balance and making sure that Sophie doesn't bowl that many overs," said Keightley. The inclusion of Emma Lamb, who is all but certain to debut as Tammy Beaumont's opening partner, will give Heather Knight an extra off-spin option alongside herself and Charlie Dean.
Nat Sciver, as well, is far too important for England to misuse, with the inclusion in the squad of Alice Davidson-Richards as a seam-bowling allrounder perhaps aimed at taking some of the load from England's talismanic vice-captain. Georgia Elwiss fulfilled a similar role in the past, albeit without making much of an impact.
On Sciver – and England's multi-format players more generally, Keightley added: "We have to be really smart with how we use them in the Test match throughout and then backing up into the 50-over and the T20, to then get to the Commonwealth Games and have them in really good places mentally and physically."
Hence the inclusion of Issy Wong, not for the first time in her young life picked in an England squad as a travelling reserve. Two winters ago, she toured New Zealand to gain a taste of international cricket.
Keightley is clearly a fan: she was present to hand out the winners' medals at the Finals Day for the Charlotte Edwards Cup at Wantage Road, where Wong bowled quickly but also impressed with plenty of subtle variation, even if she was on the losing side. The attraction of a genuine fast bowler as a point of difference needs no further explanation but makes Keightley's caution around her fitness understandable.
She confirmed that Wong would be working with the squad, but with white-ball formats in mind – hinting at a possible debut later this season – as England work on the robustness of a 20-year-old considered to have significant potential.
"I think Issy Wong is extremely exciting," said Keightley. "She's quick and is the quickest in England. I think managing her through the summer and getting the best out of Issy is probably not playing this format.
"She's in and around because of how exciting she is and the pace that she offers. Hopefully for Issy, if she continues to bowl well and make net sessions extremely hard for batters, she's got a good chance of playing in the summer."
---
Related Topics
Please ensure all fields are completed before submitting your comment!