For 41 female cricketers, the professional dream has become a reality
NICK FRIEND: As of December 3, English domestic women's cricket now has 41 full-time professionals. An enormous moment for the game, this is a story of pride, taxing journeys, deserved reward, bold life decisions and an excitement at what comes next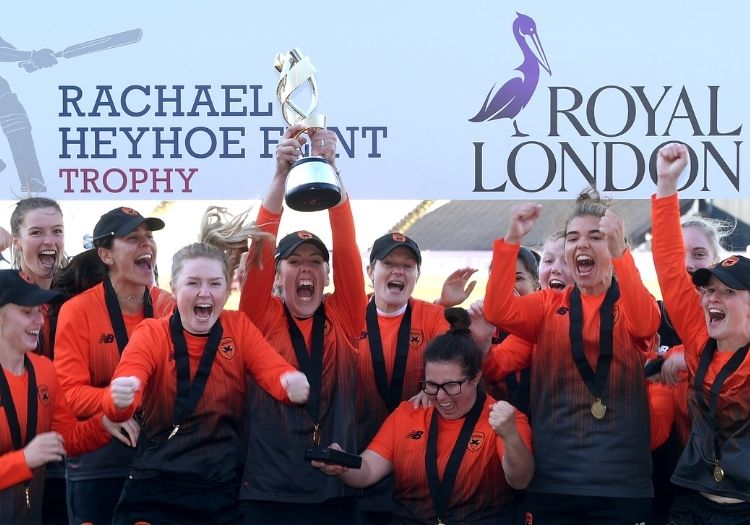 Twitter can be a dangerous place: a platform of opinions, for better or for worse. But on Thursday, it was a joyous forum of pride and exhilaration, a hub of female cricketers revelling in the fulfilment of lifelong dreams.
Domestic women's cricket in England now has 41 full-time, professionally contracted players. It is the latest milestone in a challenging year that has carried several significant moments.
"It's mental," laughs Western Storm allrounder Georgia Hennessy, by her own admission still giddy with disbelief. "To be honest, it doesn't really feel like it's happening. I feel like you forget you're getting paid, and that's genuine.
"I think no one thought this could happen unless you play for England. At our age, you wouldn't be able to do it unless you were earning money, so now it gives us that option to be able to actually get the best out of what we can do and not feel under pressure.
"They just said that they'd like to offer me a contract, so I accepted and cried. I said: 'Am I all right to cry?'"
In June, 25 players signed retainer deals to take them through an uncertain summer, with the guarantee attached that, come the autumn, they would become the holders of fully-fledged contracts.
They were the first tranche of beneficiaries of a £20million investment into the women's game. In the midst of a pandemic that saw plans for the inaugural edition of The Hundred postponed for 12 months and the world more widely grind to a halt, it was a show of tangible, steadfast commitment to a major overhaul that had been announced in the distant utopia of the previous October.
Late in September as England prepared to face West Indies in five T20Is against the backdrop of a bio-secure bubble in Derby, ECB chief executive Tom Harrison reflected on the women's summer as "a net positive". At times, it seemed as though there might be no cricket at all, certainly on an international scale. India and then South Africa both withdrew from tours and the days appeared to be running out until an autumnal solution was found. In the background, the Rachael Heyhoe Flint Trophy debuted amid more mainstream attention than women's domestic 50-over cricket had ever previously seen: a competition put together in double-quick time and emerging as a vital success.
"It takes away having to train at silly hours after getting up early in the morning. We now have the luxury of training in the day and not eating into late-night hours"
In the broader context of a season shaped by Covid-19, "it could have been a year of oblivion for women's cricket," Harrison knew. Only, ambition and a tagline promising to inspire generations ensured that such a situation never came to pass. Promises were made and promises were kept.
On Thursday, 16 new names were added to the list of retainer-holders as a historic group was unveiled in its entirety: 41 professional domestic cricketers – one more than had been set out in the governing body's original mission statement – spread across eight regional hubs, each of which represents the future of the women's game in England and Wales.
"It's so rewarding because you finally see a light at the end of the tunnel," says Georgia Adams, the tournament's leading run-scorer and, at 27 years of age, an appropriate symbol for the progression of the sport at domestic level. Despite turning out fleetingly in the past for England Academy and becoming the youngest Sussex player to a century of appearances, the final step has eluded her. Now, she has the backing to change that.
"It makes all the years of training for nothing worthwhile," she adds. "Nothing, as in, for no monetary value. But none of us would ever say that we trained for nothing; we did it because we loved the game and we wanted to be as good as we could be.
"To finally be able to properly dedicate time to training and also access better resources and be in proper facilities with high-calibre coaching expertise around you is just a bit of a relief. Players made so many sacrifices for so long just to play for no real monetary value or external reward to finally get something back. That's what I take from this.
"Older players are finally going: 'Well actually, after 10 years of committing my life to cricket, I can make the most of it.' And younger players have something to aspire to and really strive towards."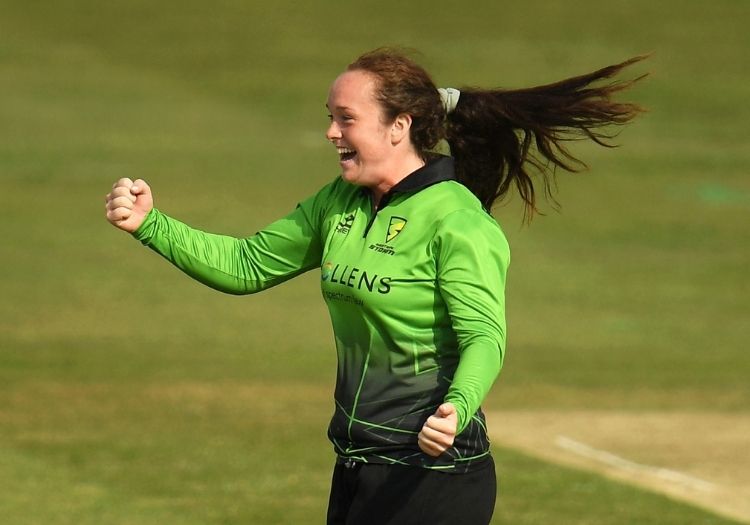 Georgia Hennessy is one of six Western Storm players to be awarded a professional contract
Adams was rewarded with a retainer in June and then with the Southern Vipers' captaincy, whom she led to glory at Edgbaston in a final victory over Northern Diamonds.
"Whenever I was interviewed in the summer, I was always referred to as a professional cricketer, so I think that part of it had already sunk in," she explains. "So, when these contracts were announced, it was less of an individual sense of achievement and more of a collective moment. I'm just so pleased and overwhelmed at how much support has gone into the women's game."
For David Thorley, regional director of cricket at Lancashire-led Thunder, there is a different privilege involved. He was tasked with making the phone call to 21-year-old Hannah Jones, offering her a life-altering opportunity. She joins Alex Hartley, Emma Lamb, Ellie Threlkeld and Georgie Boyce as the region's professionals. "This is offering someone an actual career, which is fantastic," Thorley says. "It's really nice to see the difference that this can make to these players."
Jones is one of several players to have earned a contract at the beginning of her journey: Boyce, Threlkeld, Lamb, Emily Arlott, Bryony Smith, Tara Norris, Sophia Dunkley and Maia Bouchier are all 22, Bethan Ellis 21, Scotland batsman Sarah Bryce 20, Nat Wraith, Dani Gibson and Lauren Bell 19, with Issy Wong and Alex Griffiths the youngest at 18.
This moment has come to them earlier than for some of their peers, but still on the back of years of hard graft.
"My parents have just been absolutely amazing," says Bouchier, a Vipers teammate of Adams. "I've had to get jobs and coaching and that's had to go towards my cricket. From having nothing to being able to get expenses, travelling and not having to worry about that: this contract has made a massive difference. It's a great feeling and I guess it feels like more of a relief that I have more support.
"This has always been the dream, I guess, just because I've played since I was five or six years old. The future was always looking towards cricket. Coaching as well; it's another passion of mine. Cricket and travelling and playing for England would be incredible. That's the end goal. Playing in the summer, playing in the winter."
"The corporate world will be there forever to come back and get a job there, but at 29 I just thought: 'I trust the system and the funding that the ECB are putting in.' What a dream opportunity this is to play cricket all summer and see where it leads really" 
For 29-year-old seamer Phoebe Graham, this is the news that she believed might never arrive. Even when the rollout of this raft of contracts was announced, she feared that her age profile would work against her. So, this realisation of this dream is laced with pride, having persevered unflinchingly for so long.
"If you're looking to develop the next best England player or new talent on the block, I didn't know if that would be me or not," she admits, "but I did know that I've got the potential and haven't had the training and support for probably 10 years since I was a junior at under-19 level.
"I didn't know how they were picking the contracts or whether they would be based on age, but hopefully they saw that I've still got the hunger to develop and can offer back some professionalism into the structure."
Some of that drive was instilled by a spell out of the game midway through the last decade. Her father, a former Minor Counties player for Northumberland who owned a specialist cricket shop, passed away from cancer and, amid the devastation, his devotion to the sport left Graham "too raw" to carry on.
"It was all too entwined and heavy," she recalls. "I had a few years off but then I went to the World Cup final at Lord's with a full house. I saw loads of the girls who I'd played with in the past, and I just thought: 'My gosh, I've missed this.'"
After returning initially with Berkshire and rekindling her love for the game, this new start is deserved reward. "But I still find it hard," she adds. "After the Rachael Heyhoe Flint Trophy final, I wanted to give my dad a ring, and he's always the first person I want to speak to.
"I hope I'm doing him proud, but I'd definitely say I'm doing it for me now, whereas in the past few years when he was terminally ill with cancer, I was doing it for him. I think that's been a big shift in my enjoyment, in that I'm playing for me. But I feel super-proud. I just think: 'Gosh, there's one person I'd love to tell.' But I'm sure he's looking down fondly."
Hennessy's route to this point has raised similar challenges. Still only 24, she, too, took a break from the sport after falling out of love with it. She reflects: "I thought: 'Do I really enjoy it that much? I don't get to see my friends when they're around, I miss people's birthdays.' But it wasn't cricket – I just wasn't in the best of places. The break did me the world of good.
"I'm really proud, more so off the field than on the field, of where I am now, and I'm looking forward to taking that through and improving every day."
And so, at the start of this shortened season, three years on from her last Kia Super League appearance, she felt behind her colleagues with plenty of catching up to do. A century and 11 wickets later, however: mission accomplished.
And then, there is Jenny Gunn, a legend of the women's game and a pioneer. "I couldn't believe it when we were international cricketers professionally," she laughs. "We always trained professionally before we got paid, but it was just crazy."
The 34-year-old played 259 times for England, making her debut as far back as 2004, at a time when ECB managing director of women's cricket Clare Connor was captain, before closing the curtain on her international career last year. That, she believed, was that: "I always said that once I retired from England, that would be it and I didn't want to play cricket – maybe I'd go back into football or something different."
But, after a winter in Australia spent playing for Sydney Cricket Club, a phone call from Northern Diamonds head coach and former England teammate Dani Hazell coaxed her back into the fold; Gunn scored 149 runs, including a match-winning half century, and took eight wickets, proving there is little substitute for wisdom and knowhow.
Now, she is a professional cricketer once again – the oldest player to earn a full-time deal and one of eight with England experience, having six years ago been among the trailblazing national squad handed central contracts.
Almost invariably, the decision has been met by pockets of scepticism – Gunn has already had to defend herself against "one guy who was slagging me off" on social media. A by-product of a move towards professionalisation was an assumption among some onlookers that the focus would land on the next generation rather than an older cohort of players, but that viewpoint lacks considerable nuance.
"I did not expect to get a contract at all," Gunn admits. "What surprised me was how many people decided that experience is key. A lot of the teams in the summer probably missed an older, more experienced person and I think that opened a lot of people's eyes to the idea that you can't just chuck loads of youngsters in. You need some guidance.
"Yes, you want youngsters to get contracts, but you want them to work for it as well. Some aren't ready for it yet. I feel that I can definitely help a hell of a lot more on the field than I can just sat there watching. And while there aren't many jobs out there at the moment, why would I not?
"I spoke to loads of people, umming and erring about the best thing to do. But everyone said: 'You'll regret it if you don't try one more year.' Especially if you can do it, why not? I jumped at the chance; I want to help push those future England stars."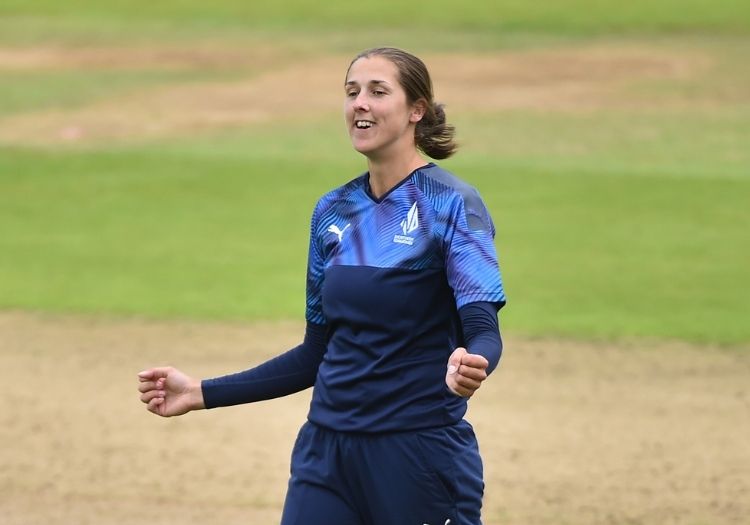 Former England allrounder Jenny Gunn "did not expect to get a contract at all"
Simultaneously – and perhaps sentimentally, it also feels like deserved reward for a stalwart of the English game: she was the first England cricketer – male or female – to the landmark of 100 T20Is.
Until this point, life on a central contract has remained a precarious existence. Playing for England might represent the pot of gold, but underneath that pinnacle there has been scant financial security. Charlotte Taylor, who was player of the match in the Rachael Heyhoe Flint Trophy final, recalls "paying our match fees, paying for our training" in her early years with Hampshire.
It is also why 24-year-old Tash Farrant, who held a central contract between 2014 and 2019, took on a coaching role at Trent College shortly after her release. She has since returned to the game as a professional with South East Stars but at the time, then-head coach Mark Robinson confessed: "Tash now has a choice: she can go in a different direction in her life or she can hang in there and see where she is in two more years." Quite simply, the option of a full-time career wasn't there.
Likewise, Hartley. In a feature reflecting on the importance of the retainer deals handed out in June, the left-arm spinner – a World Cup winner in 2017 – told The Cricketer: "It's just nice to know for the other girls that once you've played international cricket and you dip in a bit of form and you lose that opportunity, it's not the end of the road anymore.
"People can look at me and say: 'Alex is still a professional cricketer, albeit not for England.' They can strive to do that."
Thorley adds: "It's almost part of the pathway now that if you do lose your England contract, there are other options to keep you in the game. It would sadden so many of us if someone was to drop out of the England system and quit the game. It's good that there are more opportunities now to remain a full-time cricketer."
That is the position in which Gunn now finds herself, albeit in the twilight years of a decorated playing career. "It's probably more like the men's game," she says. "They finish with England, go back to county cricket and can still make a career from it. I retired from England at 33, but some people might retire at 30 and still want to play cricket. I don't think it should stop them getting a contract just because they've finished playing for England.
"Why would you not want to grab their experience and help people? You're always going to get people who disagree, but I've said to people that I want the youngsters to come on and say: 'Come on then, I want your spot' and actually take it from me and work their arse off to do it. I think sometimes it's just too easy to say: 'We should be getting this.' Well actually, put your work in and you will reap the rewards from that hard work. But you have to work hard to start with.
"Ultimately, what is age now? If you keep yourself fit, it does not matter. Look at Sir Captain Tom – he's inspired everybody. Especially with our team at Northern Diamonds, we've got a lot of girls in their late-20s who've never had that full training. This is their chance now to actually come through. They've done all those years of sticking it out when there was nothing.
"I was lucky: I had the dream job with England, but these girls were working full-time and fitting everything in. These are the people who really get rewarded now; that's why I'm really happy that Phoebe Graham has got a contract. Katie Levick has dominated county cricket for years and she's getting her chance. I've seen a fresh blood in her – I've never seen her gym so much. It's exciting that she still wants to do it."
Gunn's overall point is fundamental as the direction of travel for development in the women's game enters its next phase. Graham hopes that the new structure can precipitate an increase in player retention past a certain age. She recalls "going to Berkshire training at 26 and the next-oldest person was 16 or 17".
"Post-university, if you weren't in the England Academy, you were kind of stumped with choices really unless you decided to move to Loughborough and say you were all in – even if the coaches hadn't invited you there. The structures haven't really enabled players to break through at an older age and I think that's where this huge change will come.
"The structure's in place now so that you can live anywhere in the country and have access to that professional environment – and also just have a clear path to get to England as well."
Sonia Odedra remains the last player to make her England debut past the age of 25, in a Test against India in 2014: it was her solitary international appearance. For the last 30-year-old debutante, you have to look beyond this century to Ruth Lupton, who faced Denmark in 1995.
"You can see with our (Thunder) squad, we've not got many players over the age of 22 or 23," Thorley points out. "There comes a point in everyone's life of asking whether they should ditch a pastime or a sport that they love for weekends when they to work, or whatever it might be."
He was grateful, therefore, to Hartley and Natalie Brown, 30, whose collective experience was crucial in a group that was the youngest of any of the eight regions. "It certainly made us aware that it was a very talented squad, but a young squad," he adds.
"Playing on better pitches has needed to happen for years, I reckon, to help the England standard"
"I think this initial period is focused very much on the elite end of the sport: getting the structure in place with the players, staff and training programmes. But the exciting bit for me is then getting into the pathway and participation – how can we influence that to work on retention? How can we show them that these careers exist? For a 13-year-old now, by the time they're 20 there might be eight, nine or 10 contracts available."
Perhaps the most salient example belongs to Erin Burns, the Australian allrounder who made her international bow last year, aged 31, in the world's best team. Her journey took her from state to state on more than one occasion, before her Women's Big Bash form with Sydney Sixers finally propelled her onto an Australia tour.
"That is where we have to go," Gunn stresses. "Australia are leading the way by far. Over here, would we pick a 30-year-old who's in form? I'm unsure. Now, with these new competitions, if someone's in form in and around an England series, there probably is more chance for the right people to get in."
Enter, Adams. All things considered – a lack of preparation time, captaining a brand-new team and the pressure of the retainer tag on her shoulders, her campaign was extraordinary: 500 runs at an average of 83.33, including an unbeaten 154. When she spoke to The Cricketer in June, she admitted that "I do feel like there has been this culture within the women's game that if you've not broken into the England setup before you're 22, you'll struggle".
She knows that an immense challenge lies ahead – Tammy Beaumont, Danni Wyatt, Nat Sciver, Heather Knight and Amy Jones make for an imposing top five, but she does at least now feel as though the door is ajar. "I would be lying if I said it wasn't on my radar," she says. "I'm trying not to think about it too much, but I'm aware that I won't be able to do too much more to break in than I've done in the last couple of years."
When Adams was initially moved off the England Academy, one of the reservations around her game was her ability to clock up big runs consistently – an issue she believes her last two years have corrected, in no small part through a change in her focus.
"It was a really difficult road because I was so desperate to play for my country," she recalls. "But then, in that desperation to play for England, I tried to force runs. This summer was the first summer where, because I had so many things to think about, I went out every time just thinking about Vipers. I never really had a second thought about England.
"It would be the dream to play for England because it's something that, from eight years old, I wanted to do and wanted to achieve. It's tough but I'd love to keep trying to push myself."
"I guess I never really imagined that this could ever be an option or opportunity for me"
Adams' season finished with an innings of 80 in the Rachael Heyhoe Flint Trophy final, but it was ultimately a less heralded teammate who emerged from the day as an unlikely hero. Taylor took six wickets in a 38-run victory, ending the tournament as the leading wicket-taker, a remarkable tale for a 26-year-old who wasn't even in Charlotte Edwards' side at the start of the season. Before the summer, her games had never even been live-streamed; by its end, she was starring on Sky Sports.
"We had been told how many people potentially could be watching, so you're always thinking: 'God, people are actually watching this,'" she laughs. "Mainly, I was thinking about my family watching the game because they weren't allowed to be there.
"It's quite nice to know how many people would be watching and the calibre of people as well. If nothing else, we were trying to show how much we enjoy the game and what people can work towards now.
"When we were told, it wasn't like: 'All these people are watching, you'd better pull it off.' It was more like: 'Look how many people this game is reaching now.' That was the point – that we were going to inspire lots of girls to take up the game, which can only be a good thing."
Despite her success, she hasn't been approached for a professional deal at this juncture. "One good competition doesn't make you the next best thing," Taylor adds. "I'll just keep working hard and see what happens."
Instead, speaking with an audibly sparkling enthusiasm, she is simply grateful to have been handed a chance at all after injuries elsewhere opened the door for her off-spin.
"Absolutely, I worried that I wouldn't get this opportunity," she admits. "I played for Hampshire for ten years; I remember when they said that there was going to be no more county cricket, I was thinking that they wouldn't be looking at players of my age to perform at the next level.
"I'm very fortunate in that I play a very good level of club cricket, but to play at that next level and keep getting the quality of coaching that you receive and the time and effort and the hours that you can put into your game, to have that potentially taken away from you was a really scary thing.
"To be given an opportunity now as we go into this winter, it's just a different ballgame – the amount of hours that you get put into you in terms of training and development. Credit to the ECB for putting that time and money into the women's game."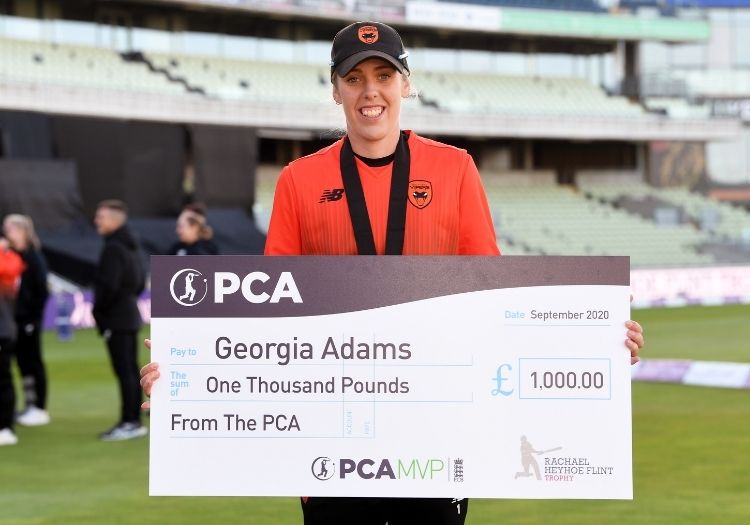 Georgia Adams was named MVP in the Rachael Heyhoe Flint Trophy
She is one of many placed in an interesting position by this new era. Taylor's job was well publicised in the aftermath of her Edgbaston heroics; she works in customer service for an aerospace company that supplies flight recorders to aircraft.
Were the chance to arise one day for her to join the professional ranks, a difficult decision would await: a choice between longer-term security and achieving childhood ambitions.
"If there was an opportunity to play full-time cricket as you dream about as a kid, I don't think I could turn it down, if I was honest," she says.
"I think it's one of those things that you have to weigh up: whether it's worth the risk. I think a lot of players would say yes and that they would fall back on whatever they could at the end of it."
In the meantime, she can scarcely speak highly enough of her current employer, who have given her time off for training and matches, as well as agreeing to "a bit of sponsorship this year, which is fantastic".
She adds: "They've been so good. It's a job I do enjoy, and I like the fact that I've got something away from cricket, which is quite nice."
At the end of December, Graham will leave her job as a marketing lead at Sky Sports, working with clients including Liverpool TV, Man United TV, Virgin, Vodafone and TalkTalk.
Until now, she has balanced the full-time role with county cricket – a juggling act that felt more challenging in this summer's new regional setup, with an increase in training time. As part of the "no-brainer" decision, she has relocated back home to live with her mother in Yorkshire, leaving behind London where she was based for work.
"Even though it's been a great 14 months there, it's not playing cricket full-time unfortunately," she says, tinged with emotion.
"You could say it's a leap of faith going into the sporting environment or just a huge opportunity. The corporate world will be there forever to come back and get a job there, but at 29 I just thought: 'Do you know what, I trust the systems and the funding that the ECB are putting in. What a dream opportunity this is to play cricket all summer and see where it leads to really.'"
For Hennessy, the decision to accept required little thought. "Realistically, I'm in a perfect position because I'm at university anyway, going into my third year," she explains. "Mum and dad have a local business; they've got an ice-rink and I work there part-time."
And if her end-of-season meeting with Western Storm had gone differently?
"I guess I'd have carried on doing that and finished my degree. For me, it was a very easy decision. I can fit it into my schedule very easily. I guess for other people, it's tough."
These considerations form part of Thorley's own thinking as the ultimate overseer of his region; there is a welfare element to his role that goes beyond performance alone. "Some players didn't want a contract," he explains. "If you've got a job that is paying X amount of money, these contracts – you have to remember – are only 12 to 18 months at the moment. There is a degree of risk if someone's in a stage of their career.
"We kept the conversations alive during the summer to get a real feel for who wants one as well. We tried to keep it as transparent as possible, knowing that there will be disappointed people in there as well, but with our squad we're quite fortunate that everyone who hasn't got one is quite young still.
"We talked to a few players who are 18 or under. For me, I think it's almost a case of when they're ready for it as well. You don't want to affect education; I'd hate to offer someone a contract and them to decide not to go to university, for example, and impact their future. It's trying to make a decision that's best for cricket but best for that player as well.
"We're certainly guided by the players as well, because there are some big life decisions there. The conversations we held were letting them know what this year involves – and we talked them through the pros and cons of it: you're supported to come in three or four times a week, you get all the sports science and sports medicine support, health insurance, a salary, expenses.
"But there are cons as well, as with any professional sport: severe injuries perhaps could curtail it. It was good having these conversations with them throughout the summer. We probably guided a few where we said: 'It's best for you now, in our opinion' or it might be: 'You're on our radar and it might be something to talk about in a year or two.'"
"Older players are finally going: 'Well actually, after 10 years of committing my life to cricket, I can make the most of it.' And younger players have something to aspire to and really strive towards"
It is a fascinating aspect of this new chapter, as is the thought process that went into narrowing down a raft of cricketers to a quintet most worthy of professional deals, with Western Storm signing up a sixth as well.
Thorley explains how in the case of Hannah Jones, her performances in the competition stood her out: "When you can do it in training and in games, it does say something." He adds that he considered both current ability and potential to improve, with "a good two or three in the discussion".
"Sometimes, it's just a case of who's at the right stage of their development – not necessarily age – to take that opportunity," he says.
Was balancing the squad an issue at all? Jones is one of three left-arm spinners attached to Thunder, along with Hartley – last season's captain – and Sophie Ecclestone, the world's top-ranked T20I bowler. Former Lancashire and England man Stephen Parry, a left-arm spinner himself, is working with the trio through the winter.
"We kept coming back to picking the best cricketer. Obviously, we wouldn't pick three wicketkeepers, for example, but we kept on coming back to the best available, as long as they could still fit into the squad."
Of any ECB involvement in selection, he adds: "It was quite open actually. We had some good conversations with them around players who might have scope to play for England or be on the England radar. But equally, of importance was those who can contribute significantly at domestic level."
Those contributions in the Rachael Heyhoe Flint Trophy benefited from true surfaces and lush outfields, with the competition played almost exclusively at venues used for men's first-class cricket.
Adams spoke openly during her golden run of form about how much she had enjoyed the batting conditions; Vipers played their games at Chelmsford, Bristol, Hove, the Ageas Bowl, the Kia Oval and Edgbaston – her lowest score was 37.
"Towards the end, I was actually walking out, thinking: 'Surely, today is not going to be my day,' and then I'd find myself scoring runs again," she recalls. "As batters, you knew that you were going to get value for playing your shots and you could play to your game-plan a little bit more. That was really helpful for me; I knew that if I got myself in on the wickets that we played on, you could catch up further down the line."
"Playing on better pitches has needed to happen for years, I reckon, to help the England standard," Gunn adds. "You can't get away with a bad ball – or you shouldn't. You have to bowl six balls in the right area, otherwise the batter will bounce on it. That's what you want: you want to see if you're good enough to play at the next level. You get found out pretty quickly on good tracks."
For those holding a professional contract, an added sense of expectation is almost inevitable now. "It certainly changes the dynamic," says Thorley.
Part of his duty, then, as a director of cricket will come in helping to allay any pressure felt by his players. The early signs are encouraging; the five leading run-scorers in the Rachael Heyhoe Flint Trophy were on retainers.
"We are trying to help players manage the expectations on them," Thorley explains, "because as soon as you're paid to do something which was a hobby, it does change it. It will bring media attention and intra-squad attention. We're helping to manage that as well.
"For us, it's just trying to make sure that they can enjoy their cricket and play without pressure as much as possible, but equally create an environment where we can help them talk through problems and issues that they might have."
Adams has already enjoyed her first summer in that position; she thrived under the weight of fresh responsibility. "It makes me focus a little bit more," she says. "And with the added pressure of being a pro, that value for your place in the team increases. You feel like there's no let-up – you can't afford to have a bad patch. But saying that, you don't then want that to have a negative effect on you and you put too much pressure on yourself."
Backing from director of cricket Adam Carty and head coach Charlotte Edwards has quelled any anxiety over the future in that regard; though, as long as domestic contracts are yearlong in length, the threat of losing a deal – however nominal – will linger.
The great hope, however, is that professionalisation will lead to an increase in standards. Gunn lists the opportunity to up fitness levels as a major focus point, as well as the normalisation of playing at big grounds and in front of the television cameras leading to an easier transition into international cricket.
"Some people might think it's going too slowly," she adds, "but we've done this in a pandemic. Who would have thought it would be possible? It's only small steps at the moment but it is getting stronger. Getting that many people on a professional contract, that is key as well.
"It will be exciting to see how much cricket develops over the winter and come next year, how people improve and if it really ups the standard. You want to bridge that gap between England and that next level."
She highlights the dominance displayed by Nat Sciver, Katherine Brunt and Heather Knight when they featured for their regions over the summer.
"You want to see people stepping up and getting these players out," says Gunn. "That's the way to get noticed. You don't have to be on a contract; you can get noticed without it. Hopefully, it will be an incentive – other people without a contract will say: 'I want that next year' and grab that chance."
Adams, meanwhile, points to a chance to exponentially increase the sheer volume of balls hit and deliveries bowled over the winter and beyond.
On this subject, she knows she has been unusually fortunate; Adams coaches at the Brighton Aldridge Community Academy, assisting her county head coach, Alexia Walker, who is the school's director of cricket. As a result, she has possessed the facilities and facilitator to allow her to keep ticking her game over.
"But some of the girls are literally going down to a sports hall or their local park, filming themselves bowl and then watching that footage back and planning how they're going to work at it," she says. "I know, for example, Tara Norris was sending videos across to Alexia last year, asking what she thought of her action and asking for pointers.
"As an amateur, we've always had to drive our own development; I don't think that's a bad thing because it will get us into good habits of thinking about our own games and driving our own development. But we've now also got high-quality coaches to work with, feed back to us and progress us on quicker.
"It's so rewarding because you finally see a light at the end of the tunnel"
"It takes away having to train at silly hours after getting up early in the morning. We now have the luxury of training in the day and not eating into late-night hours.
"I do think it will be really exciting to see how much the women's game develops in the next couple of years because people are going to be getting fitter, stronger, hitting more balls and having more technical input. You'd like to think that the standard will keep going up and up."
As Graham reflects on the long journey to this point, she cannot help but think back to her youth. "I guess I never really imagined that this could ever be an option or opportunity for me," she says.
"Even just things like playing in a men's second team, if this normalises it for little girls to look up and think they can play this level of cricket, then I think that's amazing. Because that's what we didn't have when we were kids really.
"When the England girls got their first contracts, I thought: 'Wow, that's incredible,' so I hope people see these regional contracts as: 'My gosh, I could be a professional sportswoman now,' rather than: 'I could just play cricket.' I've always seen it as: 'I could just play cricket.'"
But for 41 domestic women's cricketers, with one stroke of pen to paper, that thought has changed forever. At long last, they are full-time professionals.
Gift a subscription to The Cricketer this Christmas and choose your free gift (a £20 John Lewis gift card or copy of Bob Willis: A Cricketer & A Gentleman). Subscribe here
Please ensure all fields are completed before submitting your comment!