Riki Wessels: "As I've got older and players have got younger, probably none of them know who my father is"
NICK FRIEND: Wessels' game has developed like few others. In the history of T20 cricket in England, only Luke Wright and Joe Denly have scored more runs; only Wright has struck more sixes. No player has reached more T20 Blast quarter-finals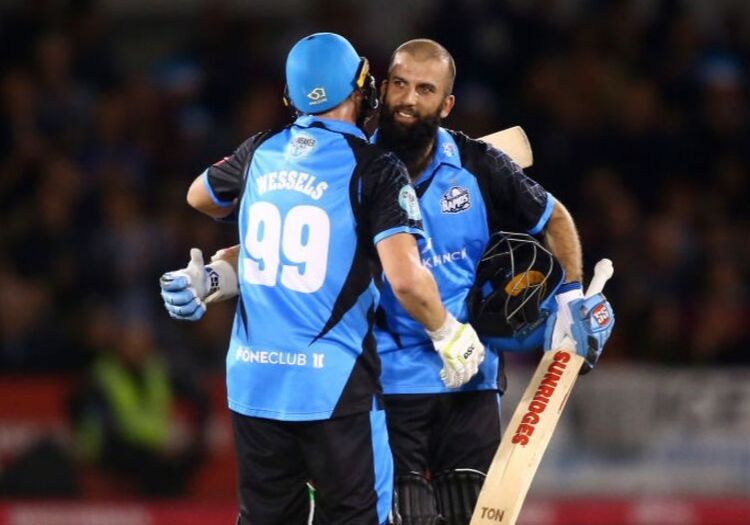 Riki Wessels pauses for a moment and laughs. "Bizarre," he chuckles. "One of the more bizarre games of cricket I've been involved in."
T20 Blast champions last year and desperate to become the first side ever to retain their crown, Worcestershire found themselves on the wrong end of a one-sided demolition in mid-August.
Durham had Callum Ferguson's side tied down with the bat and looked to be cantering towards victory; just 39 runs were needed with 51 deliveries remaining, ten wickets in hand. Game over. Onto the next. Lick your wounds.
An hour later, bafflement. Durham could not believe what they had let slip, Worcester could scarcely fathom their luck. A triumph by three runs – a result that never entered the realms of possibility, but also a result that seemed entirely inevitable throughout the closing stages of a game that should never have got that far.
As is his wont, Pat Brown held his nerve in the final over as Durham went without a boundary for the final 53 balls. A quite extraordinary turnaround – the kind that defines seasons; the sort that drives a team to Finals Day, the type that encourages rare self-belief and pushes an agenda of fate.
"We had no right to win the game," Wessels reflects – his 14-ball 16, a stodgy knock that included two boundaries, was symptomatic of a tough surface. Yet, even so, Durham's failure to win, having been 79 without loss, represented an almost implausible turn of events.
"In the context of our T20 season, that was one of the most important games of our whole summer. Lose that and the season sort of just runs out or win it and we're talking about Finals Day.
"It looked like it was done and dusted, just going through the motions and trying to take things as deep as we can. We picked up two wickets in an over and then suddenly the whole context of the game changed.
"It looked like we were never going to lose from about six overs out. It was a fresh wicket and it felt like it was very difficult, but they played with absolutely no risk whatsoever and looked like it was an absolute canter."
The craziest game of a crazy campaign, one might suggest. Yet, in the reverse fixture, Wessels and Martin Guptill hunted down a target of 184 inside 13 overs. When Wessels was dismissed for 74 – he had faced just 29 deliveries, the pair had put on 148 in just 53 balls.
In the quarter-final that secured a place at Finals Day, Wessels was at it again; his role – a run-a-ball 47 – snuck under the radar as Moeen Ali chased down Sussex's 184 almost single-handedly. Worcester are good at this - adaptable, savvy, ballsy. No two T20 games are the same. You don't win a tournament this competitive without a mixture of guts and nous.
And having joined the county at the beginning of this season, bringing to an end an eight-year association with Nottinghamshire, Wessels is more than happy in either role – lead actor or among the supporting cast.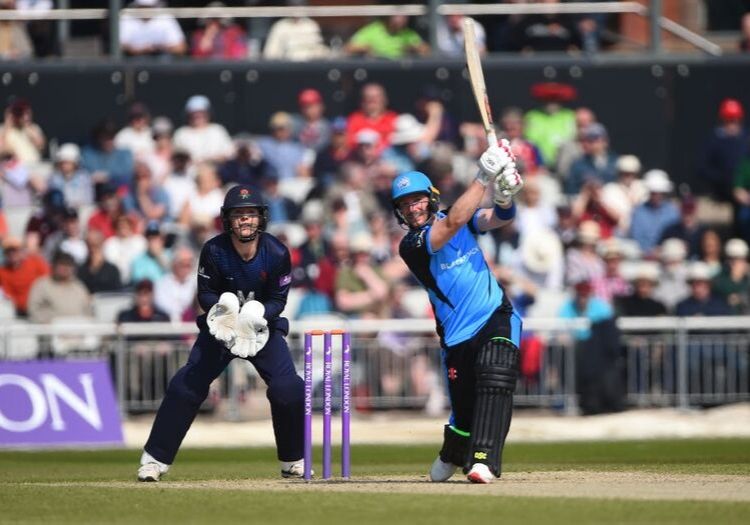 Wessels will come up against his former county, Nottinghamshire, in the first semi-final of Finals Day
"I walked off the field that day with Martin and I said it was the first time where I'd really been involved in a game where two guys batted the way we batted, where we both walk off with 70 off 30 balls," he says. The norm – at least in theory – is in what Moeen achieved, a red-letter day for one, while others chip in.
As for his stand with one of English cricket's most significant modern figures, it is part of a learning curve. Missing both Guptill and fellow New Zealander Hamish Rutherford at Hove, the onus was on those at the top to undertake the bulk of the work. Joe Leach's presence atop the order was part gamble, part pinch-hit, part sacrifice.
"It's not really how I go about my T20 cricket," Wessels admits. "But at times you've just got to appreciate when someone is hitting the ball as cleanly and as sweetly as Moeen was.
"It's about getting him on strike but trying not to lose wickets. If you lose wickets at the other end, it means he can't play the way he did. It was about absorbing a little bit of pressure and realising that maybe you've got to appreciate how skillful someone is when they're playing that well.
"It's different for me, but I reckon maybe five years ago I would have tried to match him and could have come out on the wrong side of a result there."
Wessels' game has developed like few others in recent years. In the history of T20 cricket in England, only Luke Wright and Joe Denly have scored more runs; only Wright has struck more sixes. No player has reached more T20 Blast quarter-finals.
He credits his own improvements to playing all over the world; in amongst the short-termism of the franchise industry, runs – not age or reputation – are the only currency.
Having taken part in the Bangladesh Premier League, he takes a personal interest - and certainly no pleasure - in its recent plight. The forthcoming edition will be controlled by the national body rather than individual franchises after the Bangladesh Cricket Board clashed with team owners. Its own troubles follow the postponement of the Euro T20 Slam and the revelation that this year's Afghanistan Premier League won't take place.
Worrying times, even in the face of The Hundred's introduction – an innovation that Wessels meets with a two-sided understanding. He is aware of the opposition from members, fans and counties, though also offers an honest appraisal from a player's perspective.
"I know a lot of people are against it and I can see both sides of the fence," he explains. "It's quite nice for us as players to play in a big marquee tournament – a lot of us don't get to go to the IPL, Big Bash and those kinds of franchise experiences.
"In terms of that, it will be quite nice and you might see a stronger pool of players for England to pick from for T20 World Cups."
His wider point on the state of the franchise game, though, is a sound reflection from a man who has experienced these competitions first-hand. The bubble has not quite burst, but the game is approaching its saturation point in certain areas.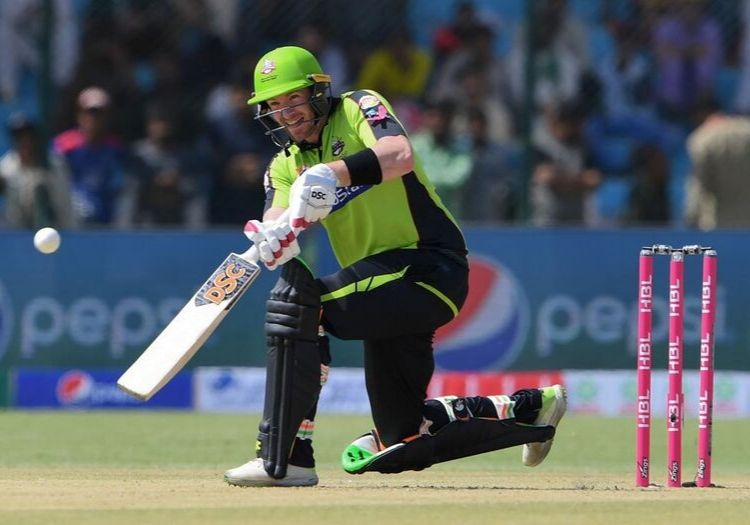 Wessels has played all around the world in T20 cricket
"There's only so much money in cricket to go around," Wessels points out. "You start setting up all these little tournaments here and there, but there are only so many Chris Gayles and these guys. They don't come cheap – you are buying a massive name, a massive player, a massive profile to lift your tournament.
"There's only so many of these players you can have in these tournaments without things going bust. Chris Gayle has got 22 T20 hundreds – some players don't have that many first-class hundreds. He's in high demand and he costs a lot of money. If you want to play in all these tournaments, it's going to go bust.
"It's quite difficult – T20 is the way forward. You get the TV rights, you get the people coming back to watch it. People want to watch Chris Gayle bang balls out of the ground anywhere in the world. It's difficult and it's high risk, high reward for the people who want to set up these different T20 competitions."
The Euro T20 Slam, owned by the same consortium that controls the Global T20 Canada, which faced its own financial difficulties this year, would have seen local players from Scotland, Netherlands and Ireland playing alongside some of the game's biggest stars.
Its collapse, however, came as a crushing disappointment – a sentiment with which Wessels sympathises.
He has seen the value of playing abroad with some of the world's best in the development of his own all-round game. He has learnt the importance of T20 cricket's nuances – a winning total in one country is often the opposite elsewhere.
"You go to some of those places and some of those wickets just aren't conducive to scores of 200 plus," Wessels explains. "You need to ground out a score of 140 to find a winning score. How you go about getting to those totals isn't just a case of smashing balls to the boundary.
"Sometimes, you actually have to play a smart innings, so I've probably learnt a bit more in those areas and not panicking if I'm playing with some of the bigger names in T20 cricket and cricket in general. The way that they don't panic when they get slightly behind the rate because you know that at some point you're going to catch up and go past it."
It is an approach that Wessels has been forced to pick up. The nature of the franchise beast is such that overseas players compete for a first-team berth. Fail once and there might be another chance. Struggle repeatedly and there is a queue of willing players waiting beneath. It is dog-eat-dog.
"You end up having five, six or seven world-class names in each squad and only two, three, four at a time can play," he says. "You get probably one opportunity here and there and if you mess it up you're back to carrying drinks for the next three or four weeks.
"You learn to be quite ruthless, but in the same respect, the top-class players are only human as well. They also tend to have off-days or the odd bad day and make mistakes themselves.
"It's about trying to relax in your ability and know that you might get one chance so, instead of just freezing up, just letting it go and if it doesn't work then at least you know you've played the way you need to play."
It is a change in mentality that Wessels recognises; once upon a time, the pressure that came with being Wessels Jr was a relative hardship. His father, Kepler, played Test cricket for both Australia and South Africa, before coaching at Northants.
That stress, however, has eased with age. Wessels, who made his first-class debut in 2004 and his T20 bow a year later, is an older statesman these days, especially in a Worcestershire side packed full of young talent.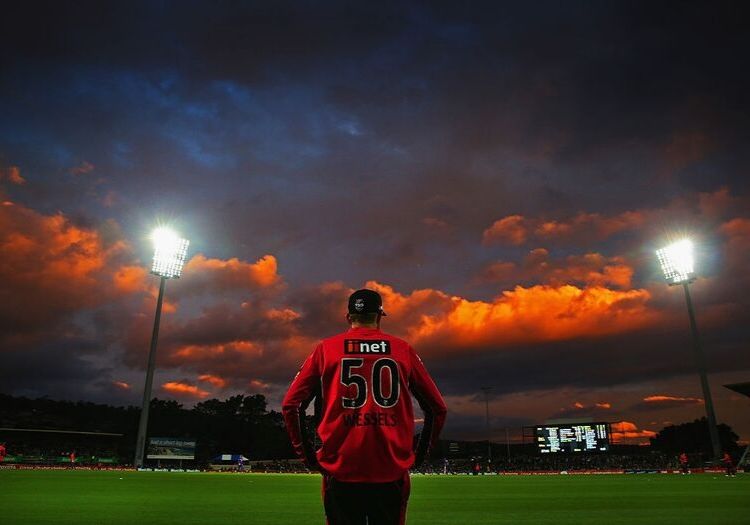 His father, Kepler Wessels, played Test cricket for both Australia and South Africa
"I think maybe 15 years ago, it was more of a hindrance and got to me a lot more," he admits of the family name and the status that came with it. "Nowadays, it's not really something I worry about. I think my father worries more about scores and things than I do. He probably thinks he's still playing through me.
"When I first started, it was a very difficult thing – it was the frontline of abuse from bowlers and that sort of stuff.
"As I've got older and players have got younger, probably none of them know who my father is," he adds with a chuckle.
"It has been great though – it's one thing I'm proud of. He didn't really want me to play cricket – he knew what the life entailed, and he was pushing me to other sports and in those directions. I stubbornly took my father's non-advice and followed him into cricket."
Fourteen years on from his T20 debut, that Wessels remains a force to be reckoned with says much for his own talent and the choice he made to defy his father's early wishes.
While those coming through the ranks have grown up with a blueprint to follow in the game's shortest format, he – as with his fellow trailblazers – was forced to find his own way of growing with the game and clinging onto a forever-upward curve.
This Saturday will bring to an end his 15th season as a T20 cricketer – a lifetime split across three counties. That he remains a sought-after commodity is to pay tribute to his own ability, especially as a fresh generation of outrageous youngsters arrive on the scene.
"Everyone else has caught up and gone past," he says with an offer of laughter. "You have got some absolute freaks going around now; Tom Banton this year – some of the shots that he's playing I wouldn't have dreamed of playing 15 years ago and I wouldn't even attempt to play them now.
"But on the other hand, you've got someone like Babar Azam who just looks absolute class every time he hits the ball. There doesn't look like there's any effort or strain going into the way he's batting. As much as the game goes forward, you've still got some classic batsmen and then you've got some absolute brutes.
"I'm just happy that after playing for 15 years, I'm still in the game of T20 because it has just gone so quickly. It's quite frightening to look at where the game is going."
Please ensure all fields are completed before submitting your comment!