The ITV football commentator on presenting the Roses match and why Brian Johnston was his broadcasting hero
I should 'fess up at the start – cricket's probably third-favourite for me after football and golf. The last time I watched a big match in the flesh was the Lord's Ashes Test of 2015. I had great seats 25 rows from the front with a really good friend. We soon realised we were in a sea of Australian yellow and green. Warner got himself out on 38, and Smith and Rogers batted all day, seemingly hitting 99 per cent of their runs to fine leg and third man, so it was a good thing we had an excellent picnic accompanied by red wine.
I'm from Radcliffe – the Lancashire one, not the Nottinghamshire one – and a couple of uncles on my mother's side were real cricket stalwarts. Worrell and Sobers both played at Radcliffe CC and I did go to watch, but for some reason I honestly can't remember watching them! Cec Abrahams, father of Johnny, was the pro. Johnny was a similar age to me [two years older] and in the 1st XI. I'd go down to watch a dozen times a season, with Mum or my cousins of a similar age. We could 'do' all the players' actions or batting styles – from Sobers to Clairmonte Depeiaza, all the famous players in the Central Lancashire League.
I don't know if we're related to Johnny and Ernest Tyldesley, or Dick Tyldesley. It's an old Lancashire name. For whatever reason I've never got round to doing the research on my family history. But the importance of the Tyldesley brothers to Lancashire cricket was made apparent to me from very early on in life.
At Kirkham Grammar School I wanted to bowl as fast as I could, but I ended up as a second-change spin bowler. I'd wrap my fingers round the ball and have no idea where it was going, but then neither did the batsmen! As a batsman I was technically very good – perhaps it was the aspiring commentator in me, wanting to do things properly – but I just couldn't hit the bloody thing off the square! I'd be in at No.1 or No.11.
There was a similarity with my son, Paddy. He went to Lord Wandsworth College in Hampshire, where Jonny Wilkinson and Ugo Monye went. Paddy would open the bowling but the coach wanted him to be a spinner. He gave it a go, but went for 20-odd in one over, and one ball into his next over he thought 'screw it', and marked out his full run-up and bowled the batsman straight away. I was proud of him for that.
I used to offer to score for LWC. Perhaps it's because, like many commentators, I have neat handwriting. I actually enjoy scoring.
The last time I played was in a Dads v Lads match at Hartley Wintney. I do remember the pace of the ball and being a bit disconcerted, because I've never worn a helmet. It just never entered the equation when I was growing up. There's so much equipment you need to play a good standard of cricket now.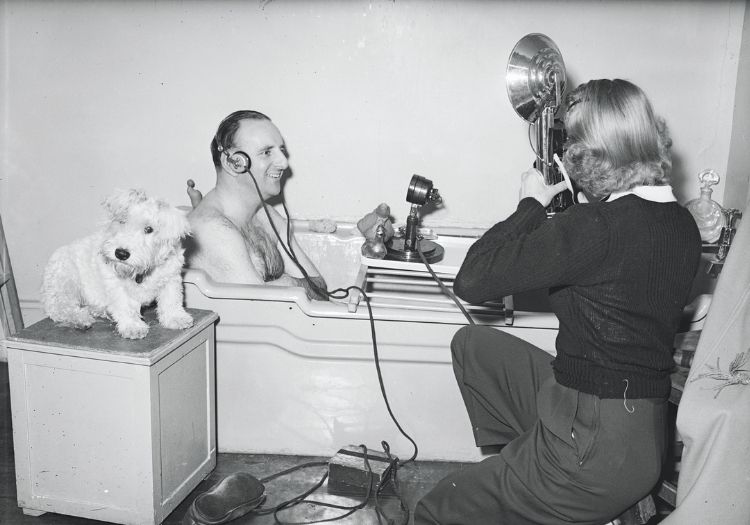 Not just a cricket commentator: Brian Johnston broadcasts from the bath in May 1952
We would go to watch Gillette Cup matches when I was a boy. I was at Lord's for the 1970 final against Sussex where Harry Pilling had a great day. I was at Old Trafford in 1971 when David Hughes hit John Mortimore for 24 in an over. I must have been the only 16-year-old dutifully sitting in his seat, finishing the bowling analysis on my scorecard.
It was a great time to be a cricket fan: Lancashire were so good at one-day cricket. It was still quite new. I could name all that team. Jack Simmons became a bit of a hero, as a fellow spinner. But it was 'Rooky' Engineer and Clive Lloyd who captured my imagination, or when a young Frank Hayes came along.
I always wanted to be a football commentator, and studying the great BBC sports commentators was almost as special for me as studying the players. When someone famous you love dies one of the few silver linings is the tributes or the music you hear in the days afterwards. So I was really angry when Brian Johnston died – all we heard in the days after was that giggling passage with Jonathan Agnew. Johnners was so much more than that. The BBC entrusted him to do royal weddings and funerals, and he had a wonderful editorial take. He knew how to mix the light and the shade. I never met him but I imagine I would have liked him.
I did present and commentate on the Roses Match at Old Trafford in 1990 – a joint production between Granada and Yorkshire Television. I think I did it just the once! It was a draw that went right down to the wire. Yorkshire's last pair clung on and it stopped Lancashire's charge that year, and that was during their long drought without the Championship. I had Fred Trueman sat next to me, and John Helm and Martin Tyler as fellow commentators. My memory is that I wasn't very good, and I didn't know enough. [The YouTube clip suggests he was not that bad – JC.]
I was on talkSPORT with Goughie recently and he was convinced he was playing in that match, but he's not on the scorecard! I can imagine it was a one-off, my friend [producer] Paul Doherty taking a punt on buying the rights that year. The summer of 1992 and Sky's entry to Premier League live football changed everything. I was doing Saint and Greavsie and rugby league on ITV at the time, and we lost a lot of our rights overnight.
I have a feeling that female commentators are better suited to cricket than football or rugby. I think when the big moments come, as they do a bit more in high-octane sports like football and rugby, and the decibel level inevitably goes up, it's the fuller voice that copes with that more easily than the higher-pitched voice, whether a man or a woman. In cricket that's less of an issue. Isa [Guha] and Ali [Mitchell] are very capable, very good broadcasters and I'm not sure people think of them as 'female commentators' now. They're there on their own terms. That's progress.
'I was at Old Trafford in 1971 when David Hughes hit John Mortimore for 24 in an over. I must have been the only 16-year-old dutifully sitting in his seat'
I think in cricket the lines are blurred between commentator and co-commentator more than in football. There's a lot of analysis in the lead role. I think Simon Mann does a great job. He may not have played to a high level, but he has a balance gleaned from other things he had reported on, including football, that makes him a perfect foil for a Vaughan or Boycott. Nasser Hussain is obviously absolutely outstanding.
One year I won the Royal Television Awards Commentator of the Year Award ahead of Richie Benaud and I was almost embarrassed to go up to the stage. Benaud was one of the first modern sports broadcasters, I think, with an incredible judgement of what to say and when.
It's not just football that's squeezed cricket out; it's exam timetables too. There are so many sporting options now. There's no set-in-stone cricket season anymore, really – it depends more on the climate.
I have a feeling the Asian population will keep cricket alive in this country. I'm a Kick It Out mentor and we agonise about not producing enough Asian footballers, but – without falling prey to stereotype – I think one big reason is the British Asian attachment to cricket.
It's been fascinating to see Ben Stokes have to deal with the kind of scrutiny and fame that footballers live with. It's always struck me how much cricketers live in each other's pockets. Cricket tours can be too bloody long now. I understand why they're structured that way, but there's no way young men can go two to three months living together. Cricket's different from most sports, where the elite athletes rock up for a few hours and then go home again to their own lives.
It was a natural thing for me to make cricket analogies in my football commentaries. If the opening stages are cagey, as they are in a lot of sports, then I would say it's like getting through to 20 without loss after the first hour. For some reason that kind of thing seems to get under people's skins on Twitter… but then so do a lot of things!
Interview by James Coyne
This article was published in the November edition of The Cricketer - the home of the best cricket analysis and commentary, covering the international, county, women's and amateur game
For unrivalled coverage of the county season, subscribe to The Cricketer and receive 3 issues for £5