How to play The Cricket Draft: build your squad, manage your team and enter leagues
Playing chairman of selectors is easy with The Cricket Draft. Here we explain how to select your all-conquering squad and starting XI
Not yet signed up for the Cricket Draft? Head to the site now to join the fantasy fun
Building your squad
There are two main pages worth checking out when building your squad – the PLAYERS and SQUAD pages.
1. A good starting point is to head to the PLAYERS page to see a list of all available players in your chosen Cricket Draft game along with their values, positions and much more useful info.
2. Start adding players to your squad by selecting the player you'd like and then clicking the 'SIGN' button.
3. Keep track of who you've signed on the SQUAD page.
4. Don't forget that you have a budget of £1.5 million and each squad must contain at least 15 players - so you'll need to balance expensive superstars with bargain buys.
Top tip: If you need help or are just after a bit of inspiration to get you started, you can choose to 'auto fill' your squad via the SQUAD page. From there, you can chop and change the players for your final squad.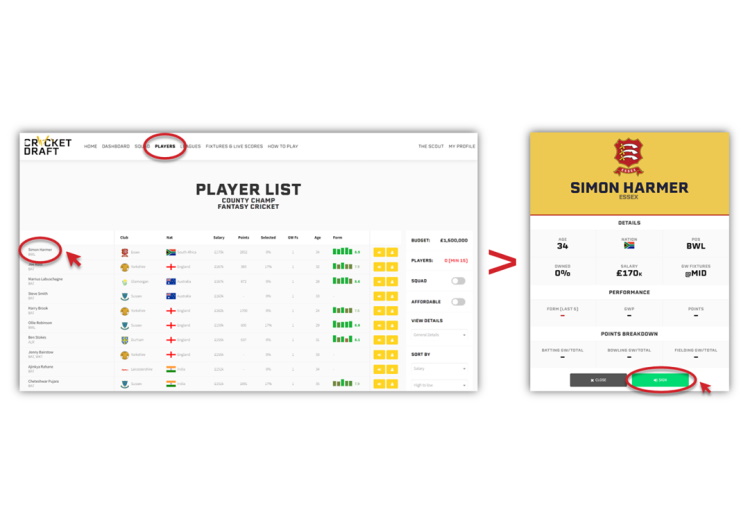 Select your fantasy squad from all availablke players... just remember you'll be constrained by a budget.
Team composition
Once your final 15 are chosen, you have to select a starting XI from that squad for each gameweek.
1. Your Starting XI each week must include at least three batters, two all-rounders, a wicket-keeper and three bowlers.
2. The remaining two remaining slots are 'flexible' and can be filled with combinations of your choosing between: two all-rounders, one all-rounder plus a batter or bowler, or one batter and one bowler.
3. Note that there are also limits on the number of players you can have in your Starting XI from any one club.
4. Make sure you select a Captain and a Vice Captain for each gameweek. The Captain will score double points for your team and the latter will step in if your Captain doesn't feature in that gameweek.
5. It's important that you ensure your squad and Starting XI is selected in time for the start of each gameweek – if you don't have 15 players selected by the gameweek deadline you may not score any points for that round of fixtures.
Point scoring
1. Players in your squad will earn you points based on their real-life performances.
2. More runs, more wickets and big fielding displays equal more points.
3. There are additional points awarded for achieving certain milestones and for scoring above/below the defined strike rates and economy rates.
Chop and change your line-up during the season on the SQUAD screen
Squad management
As the tournament progresses you can manage your squad by buying and selling players inbetween gameweeks to try and maximise your points and climb the leaderboards.
1. You can release up to two players for free each gameweek.
2. A further three players may be transferred out but you'll incur a 50 point penalty each time.
3. There is no limit on the number of players you can sign each gameweek other than your available budget.
4. It's worth bearing in mind that player values will move up or down based on how well they are performing and the player's popularity within the game.
Leagues
On the LEAGUES page you'll be able to see how you're getting on against fans around the world. From here, you can also…
1. Create public or private leagues. Once you've created a league you can share an access link or access code with friends to get them involved.
2. Join existing public or private leagues. You can do this either by browsing the available public leagues or by accessing a private league via a link or code that's been shared with you.
3. See how you are doing in overall, gameweek, national and supporter leagues as well as supporting your local club by taking on team mates and other clubs from across the country.
Ready to play? Head to the Cricket Draft website now to sign up for FREE and start building your squad
---
Related Topics
Please ensure all fields are completed before submitting your comment!