Ex-slow leftie JIM HINDSON was inspired by watching then playing alongside Randall at Nottinghamshire
With an Aids epidemic, the Cold War and the furore created by the miners' strike, the 1980s contained few certainties in life. Fortunately my karma came from watching County Championship cricket at Trent Bridge, where precious time spent inside the old ground felt gloriously reassuring. With the pitches sparkling emerald green, Nottinghamshire skipper Clive Rice would win the toss and take to the field, allowing Richard Hadlee and co to skittle the opposition by lunchtime. Chris Broad and Tim Robinson would then skilfully open the batting, taming a surface that bore no resemblance to its menacing morning appearance.
As we relaxed behind the bowler's arm in the old Radcliffe Road Stand, the sun now beating overhead, my mind would start to wander until wickets eventually fell. DW Randall's huge nameplate would then be heaved into place, high in the scoreboard that nestled in the shadow of the council offices.
"Here he is," the wags would holler from the Hound Road stand as he bounded down the steps, tweaking the brim of his helmet. The local lad 'done good'. Skipping out to the middle and rehearsing that glorious cover drive that caressed many of his 28,000 first-class runs.
Derek Randall could come across as shy and a little nervous outside the boundary but this persona disappeared when batting. Even in the stands we could hear him taking guard before settling into that distinctive open stance, gently tapping the bat against his toe. To this day, I still mimic his call when batting, a thunderous two-tone 'NO-NO' when there isn't a run on.
Randall quickly became my hero and I was desperate for him score runs for lots of reasons. He could be such a dashing batsman, injecting life into the afternoon session. He was also so down to earth, widely regarded by the Notts faithful as 'one of us'. And he was always so damned fidgety at the crease, waiting for the next delivery, apparently in constant fear (like the rest of us) that one false stroke could cause his demise.
There is no doubt that he was an outstanding batsman, representing England in 47 Tests and scoring seven centuries. His stellar performance came in the 1976/77 Centenary Test at the Melbourne Cricket Ground when he made 174 and famously doffed his cap to Dennis Lillee following a lightning bouncer; but it wasn't just the runs alone that made him my hero. He was an entertainer, way before sport was formally branded as entertainment and players 'the product'. As youngsters, we'd stand by the bottom of the dressing-room steps at Trent Bridge to watch the players run out.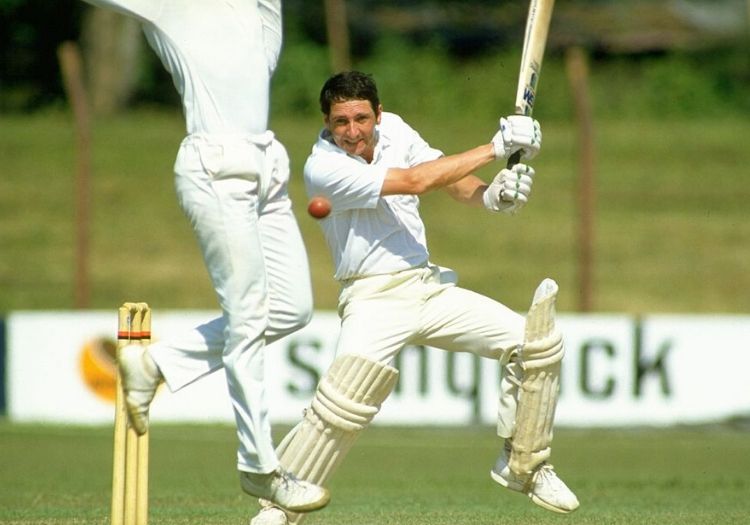 Randall in action against Sri Lanka, 1986
You'd get the odd smile but generally it would be a fixed middle-distance stare, focusing on the session ahead – one which I came to understand a decade later when I was the one battling to cling onto a career as a professional cricketer. Not Randall, though – he'd bounce down the stairs, cheekily pulling kids' caps over their eyes, tapping unsuspecting members on the shoulders and bellowing 'Alreet young'un', chuckling all the while.
In the field, Randall was electric. He would walk towards the batsman like a lion preparing to pounce, a master of intercepting the path of the ball and throwing the stumps down. Then, as the bowler wandered back to his mark, he'd be throwing his cap in the air and catching it behind his back, or playing a prank on an unsuspecting colleague. Simply a joy to behold, which made a day of Championship cricket fly by.
I was lucky enough to play some cricket with him at the end of his professional career (although he'd go on to play Minor Counties and club cricket for many years). Memorably in a 2nd XI match for Notts versus Durham at Newark, with the match virtually won, a catch looped up towards him and he attempted to take it behind him… he failed miserably but it took me back to those halcyon days at The Bridge.
There was no edge to Derek in the dressing room. He loved coffee, never stood still for a moment and often turned up in his whites, parking his sponsored car and leaving the keys in the ignition for the day. Brilliantly crazy. He certainly wasn't the tidiest team-mate – in fact quite the opposite. Each squad member would get huge volumes of identical kit dished out onto their changing place.
We would all busily write our names inside the labels, while Derek took the approach that any kit without a name must belong to him. His final season for Nottinghamshire was in 1993 and coincided with the first summer of coloured clothing in the Sunday League. In typical fashion he took his final bow wearing a team-mate's shirt with Bates emblazoned on the back (belonging to young off-spinner Richard Bates). All the Randall shirts were long gone, no doubt given away to charitable causes or missing in action.
It would be easy to say that the dressing room was never the same again, but that would just be whimsy. Professional sport is a transient occupation and you get used to players coming and going, even those like Randall and, in more recent times, Chris Read, who were brilliant enough to play for more than two decades. What is missing is the energy Randall bought to every Championship game, even in the days when counties would play a 24-match season. His infinite love for the game was infectious and still burns brightly in me, making him my favourite cricketer, 40 years after I first saw him play.
This article was published in the July edition of The Cricketer - the home of the best cricket analysis and commentary, covering the international, county, women's and amateur game
Save 30% when you subscribe to The Cricketer's print & digital bundle. £35 for 12 issues