Yasir Shah, pacesetter: Pakistan's spinner poised to break 82-year-old Test record
An injection of wickets has seen Shah's career total in the format leap up to 195 from just 32 matches, setting him well on course to become the fastest man ever to 200 Test scalps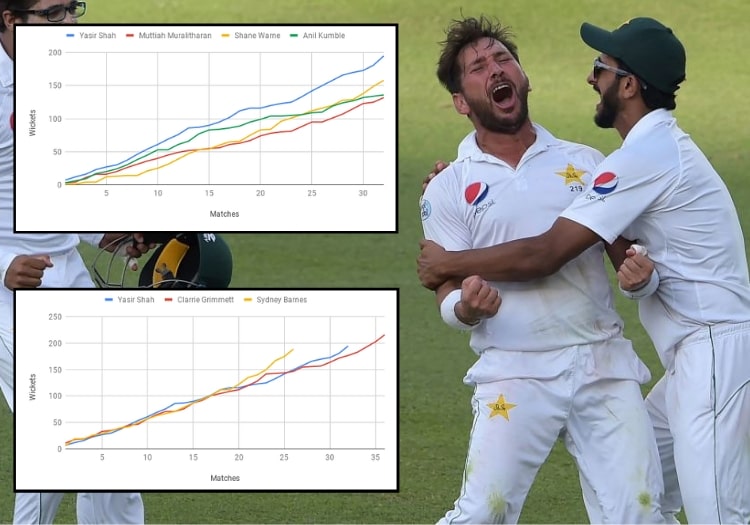 All the while he has been busy reducing New Zealand's batting line-up to a pile of rubble, Yasir Shah has been edging closer and closer to an 82-year-old Test match record
Pakistan's mercurial legspinner just loves bowling in the UAE and the Blackcaps have found that out to their cost, with Shah claiming 22 wickets in two matches so far including a first-innings blitzkrieg of 8-41 in Dubai, the third best figures in his country's history.
That injection of wickets has seen Shah's career total in the format leap up to 195 from just 32 matches, setting him well on course to become the fastest man ever to 200 Test scalps by games played (Sir Ian Botham's record of four years and 30 days to the milestone remains intact).
Should he get there, though really it's a matter of when, Shah will take the crown from a gentleman who last played the game more than three years before the outbreak of the Second World War.
Clarrie (Clarence) Grimmett, the Dunedin-born Australia international wrist-spinner and, so it is said, originator of the flipper, reached his double century of Test victims in 1936 at the ripe old age of 44.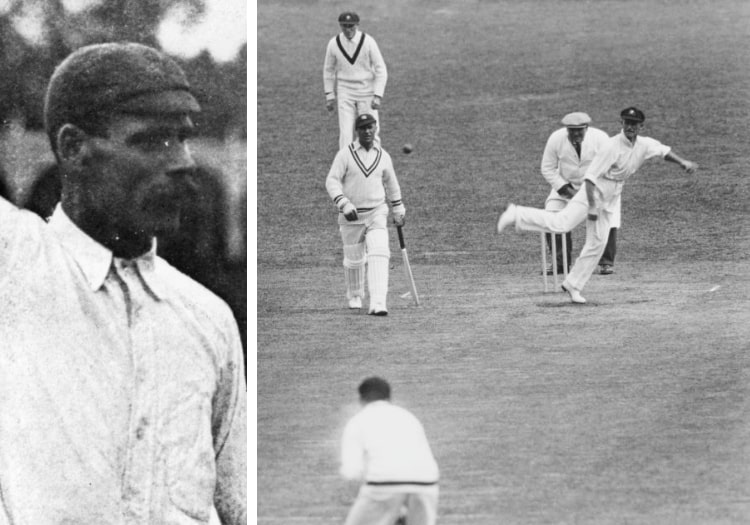 Sydney Barnes and, right, Clarrie Grimmett
It had taken the wily Grimmett - a man described by Bill O'Reilly as "perhaps the best and most consistently active cricket thinker I ever met… he never let a batsman off the hook; once you were under his spell you were there to stay" - just 36 matches.
And that record has stood ever since, threatened briefly by R Ashwin (37 games) and all-time greats Dennis Lillee and Waqar Younis (38) but only really in danger of being equalled, never beaten.
Until now.
Shah, remarkably, has three full Test matches to usurp Grimmett - nicknamed Grum by his team-mates in the Aussie and South Australia sides - so prolific has the legspinner been on the international stage over recent months.
Five more wickets is all the 32-year-old needs and that, after a 14-for in the second Test this week, seems to nigh-on inevitable when the teams meet again in Abu Dhabi from Monday.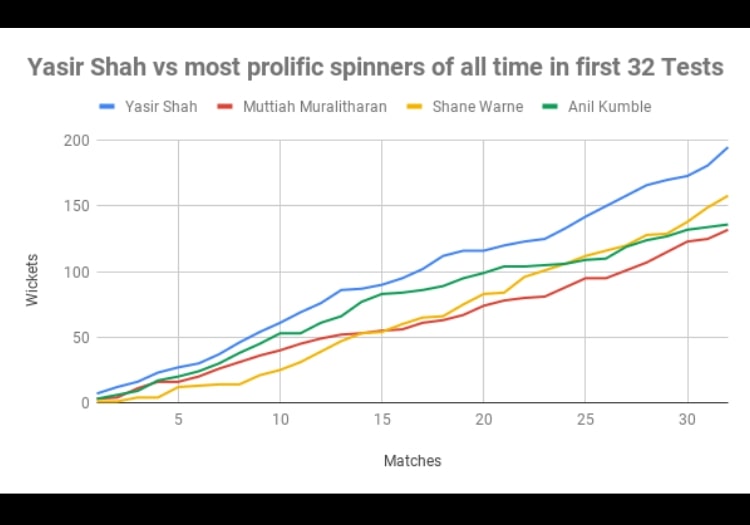 Yasir Shah has flown out of the traps in the Test wicket-taking stakes
Only a monumental loss of form, or something much more sinister, could prevent Shah from reaching the landmark, and that he might do so almost 10 per cent faster than anyone else in history is quite extraordinary.
The game's three most prolific spinners of all-time, messrs Muralitharan, Warne and Kumble, are not so much trailing in his wake as still strapping on their armbands and testing the water with their toes.
Kumble, the slowest out of the traps of all three, took 47 Tests to hit 200 wickets. Warne and Muralitharan made it there in 42.
Historically, there is only one man whose sustained wicket-taking prowess at the start of his Test career truly compares.
Sydney Barnes, the England seamer of the early 20th century, played just 27 times for his country yet retired with 189 in the 'w' column. Had Barnes not been so drawn to league cricket ahead of the first-class game, Grimmett would surely never have had a record of his own in the first place.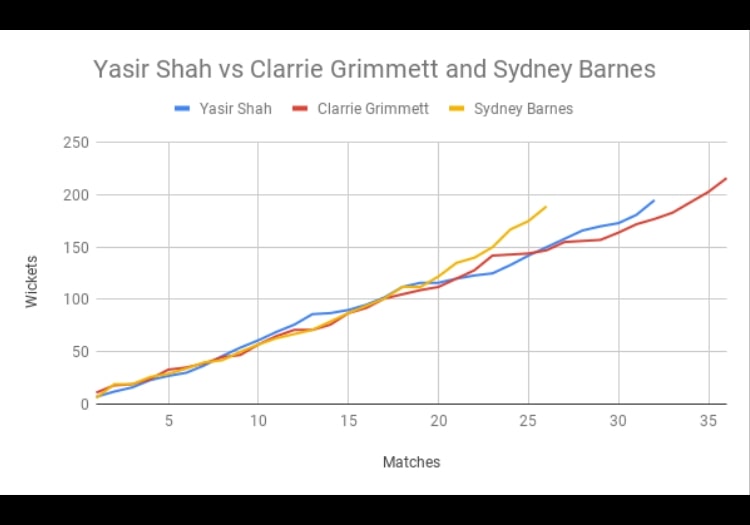 Shah's record compared to Grimmett and Barnes
Still, Barnes preferred to endure the toil of the regional divisions over county cricket, did not play for England for five years during his peak and opened the door for first Grimmett and now, as so it happens, Shah.
Pakistan's current talisman cannot boast the average of Barnes (a ridiculous 16.43) nor Grimmett (24.21) but his strike rate (54.4) lodges neatly between the two.
Detractors may claim that he can be thankful for playing regularly in helpful conditions - of Shah's 32 Tests, 16 have come in the UAE and 21 in Asia, where he has claimed 143 wickets at 24.11 - but criticising bowlers for making use of home advantage is a pithy argument.
Instead, as and when Shah gets to 200, the moment will be worth noting for posterity. Judging by history, it's unlikely to be repeated in a hurry.
Please ensure all fields are completed before submitting your comment!