The Timeline: Southern Brave Women v Birmingham Phoenix Women
Danni Wyatt made her mark on The Hundred with a boundary laden 69 not out from 40 balls to steer Southern Brave to victory over Birmingham Phoenix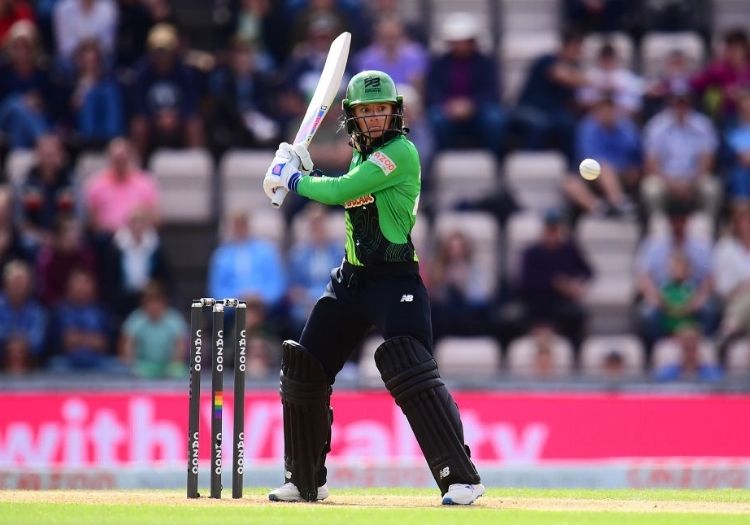 A half-century from Danni Wyatt helped Southern Brave seal a eight-wicket victory over Birmingham Phoenix and maintain their 100 per cent record in The Hundred.
Birmingham Phoenix batted strongly, with a 58-run opening partnership between Eve Jones and Shafali Verma and an unbeaten 42 from Amy Jones propelling them to 140 for 4.
However, Wyatt, building on a fantastic 23-ball 41 from Sophia Dunkley, produced a boundary-laden innings to steer her side home with 18 balls to spare.

Here's how it happened…
Ball 5: Eve Jones off the mark! The Birmingham Phoenix opener dispatches Charlotte Taylor for the first four of the day, driving the ball through two fielders and away to the mid-off boundary rope.
Ball 15: Skipper struggles. A tough over for Anya Shrubsole with 17 runs coming from it. Jones has a bit of fun, dancing down the pitch for the first of two fours, before Shafali Verma gets in on the act with a boundary of her own through square leg.
Ball 22: Chance! Verma chips a half-volley very high into the wind… and just over the head of a retreating Shrubsole. Two runs and one snow-covered ball.
Ball 25: Groundhog day. Two boundaries in three balls for Verma, both identical chips over the top of the mid-on fielder. Birmingham Phoenix 40 for 0 after the powerplay.
Ball 45: Verma OUT! Amanda-Jade Wellington makes the breakthrough as a full delivery smashes into Verma's pads. Phoenix opt to review but the decision is confirmed. Verma departs for 22, enter captain Amy Jones. 58-1
Ball 50: Eve Jones OUT! What a 10, or carnet if you will, from Wellington! Eve Jones, who scored her sixth boundary two balls earlier, gets a tad greedy and skips down the pitch to the Australian spinner whose deceptive delivery smashes into the stumps. 63-2
Ball 65: Mack OUT… or is she? Of course not, it's a free hit! After watching Mack dispatch a wild full toss over the boundary for a handful of no balls, Stefanie Taylor redeems herself with the next delivery, splitting the Aussie's stumps. Pity it doesn't count.
Ball 71: 100 up! Mack smashes Taylor's delivery over the mid-off boundary for a one-bounce four. Phoenix are 102 for 2 with 29 balls remaining.
Ball 81: Dropped! Wellington can only parry Jones' chip to long off with her left hand. A tough chance off her own bowling.
Ball 93: Mack OUT! The Australian tries to turn one into two but is no match for the bullet arm of Sophia Dunkley, run out for 31. 135-3
Ball 94: Burns OUT! The briefest of stays in the middle for Erin Burns, who is trapped lbw by Shrubsole for a golden duck. Team hat-trick opportunity. 135-4
Phoenix finish on 140 for 4 and Jones leaves the field unbeaten on 42 runs from 26 balls. Southern Brave will be happy the score is sub-150 but can they chase it down and tighten their grip at the top of the table?
Ball 2: Close call! Issy Wong catches Smriti Mandhana on the foot and appeals for all she's worth. Umpire Jasmine Naeem raises the finger but Brave take it upstairs and get the decision overturned, the ball pitching just outside leg. Phew.
Ball 8: Taxi for Mandhana – OUT! One ball after dispatching Burns for four over mid-off, Mandhana smashes what on any other day would be a sure six. Unfortunately, it stops in the Southampton breeze, falling just short of the boundary and into the hands of a sprawling Gwen Davies. 7-1
Ball 13: Mack falls just short. Phoenix are committing players to ball, and Mack nearly takes a blinder, charging in from deep midwicket and diving full length in an attempt to snare Dunkley's top edge. Misses by a matter of centimetres.
Ball 24: Four-tune favours the Brave: A fortuitous top edge from Dunkley races away to the third man boundary before a loose delivery is pulled for another four. At the end of the powerplay, Brave are 35 for 1 – right on the money.
Ball 34: Class from Wyatt! An inside out forehand is one of the most exquisite tennis shots and Danni Wyatt has just produced one of equal beauty with a cricket bat, carving the ball through cover to bring up Brave's 50. Take a bow.
Ball 38: Dunkley out? Nope. Dunkley swipes Arlott's full toss skyward and is caught by at short fine leg by a marauding Amy Jones. Sadly, for Phoenix, it's deemed a no ball by the umpires and the young England international survives.
Ball 43: She is this time – Dunkley OUT! What a way to get out. Abtaha Maqsood mistimes a catch off Wyatt, dropping the ball onto the stumps in the process and running out Dunkley for 41 at the non-striker's end. How crucial will that prove to be? 67-2
Ball 45: Missed opportunity. Maqsood nearly bags a second after striking Wyatt on the pads. Phoenix opt against the review but the replay shows the Southern Brave opener would have been out. Will they regret not removing Wyatt for 20?
Ball 56: SIX! Wyatt gives herself room and gracefully lifts the ball over the cover boundary.
Ball 64: SIX again! Wyatt sweeps the ball to the square leg boundary for a maximum to bring up Brave's 100. That missed review will be starting to haunt Phoenix right now.
Ball 72: 50 for Wyatt! Brought up with a single, 50 runs off 33 balls for Wyatt.
Ball 74: SIX! Danni Wyatt, stop it! Georgia Elwiss is her latest victim, watching on helpless as Wyatt sends her delivery over long-off. Perfect placement.
Ball 82: Game, set, match with a SIX! Was she going to do it any other way? Wong sent for six over deep square leg and it's three from three for Southern Brave.
Hero of the match, Wyatt, praised the performance of her teammate Dunkley, commenting: "It was a really pleasing innings and a great win for us. I was just batting and if it was in my area I'd go for it. I was defending the good balls, there was easy singles, and Dunks [Sophia Dunkley] was going really nicely which helped me as well - it didn't put any pressure on me."
Wyatt also touched on the importance of Brave's next match, continuing: "The girls have been on fire in these first three games. Hopefully we can rest well - we've got a massive game on Sunday at Lord's against the Spirit, who have got an exceptional team, so that's going to be a cracker of a match."
Birmingham Phoenix captain Amy Jones praised Brave's death bowling and the batting of Wyatt but also voiced her disappointment in her side's performance with the ball.
"We were aiming for 150, and they really tightened up at the end. We faced a lot of yorkers and they dried it up at the end quite well," she said. "It was an incredible innings from Danni Wyatt. We needed to control where we were hit better - we know she's good over cover, so for her to get her boundaries mainly there is quite disappointing for us. We needed clearer plans with the ball - that's what let us down today."
Birmingham Phoenix: 140 off 100 balls (17 fours, 0 sixes)
Southern Brave: 141 off 82 balls (16 fours, 4 sixes)

Southern Brave win!

Please ensure all fields are completed before submitting your comment!