The rise and rise of the ACE Programme
NICK FRIEND: On October 29, 2020, independent charity status transformed ACE into a national entity. Ebony Rainford-Brent and Chevy Green reflect on the programme's impact, its challenges, the future and how the project has changed over the last year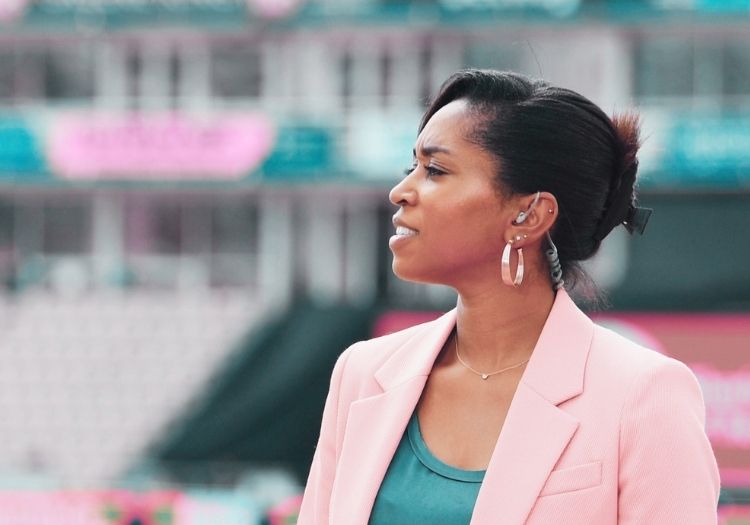 "In hindsight, I'm not quite sure how I've ended up here," says Ebony Rainford-Brent. By here, she means in a position of influence like this and in a sport like this, given the obstacles faced by those of her upbringing and background.
She has just spent an hour talking through the extraordinary progress of the ACE Programme as it approaches its first anniversary as an independent charity. Its evolution has been extensive but is still in its infancy, given all that needs to take place to correct a structure that – for all the work of programmes like Dynamos, All Stars and Chance to Shine – remains disjointed for those in the communities where representation in cricket is at its lowest.
"I don't think enough targeted work is being done to connect everything," she explains. "For the most underrepresented groups, to build and think through all the barriers and connect them up so that you can make it through the pathway, that's not in place at the moment."
The end of last October, then, was a momentous occasion for what began as a mini project originally designed to fast-track talented young people of African-Caribbean heritage into a system that has failed to address a perpetual decline in cricket participation among members of the black community.
It transformed the initiative into a national entity, with significant financial support from Sport England and the ECB, which has since been backed up by Royal London, whose investment helped to launch a third base in Bristol. Birmingham was the second city to be introduced – and the first of several planned expansions; all being well, Manchester, Nottingham and Leeds will follow in the next year and a half.
The effort to reach this point has been gargantuan, a labour of love and a calling that Rainford-Brent quite simply could put off no longer. "I think there was a bit of self-resistance about doing this, but now we have to get on with this and get it done." Until Sophia Dunkley's arrival on the scene, Rainford-Brent remained for a decade as the only black woman to play for England. Her learnings as the driving force behind ACE have accentuated what she understood of her playing career as an anomaly, such were the hurdles she had to wade through to reach the top.
She says: "That makes me double-down on the idea that if there aren't that many who are going to be in this position to impact the game, then I'd better get on with it and get it done.
"If you leave it for the next person in my position, then we could be waiting a generation or two. So, crack on. There are two thoughts that have crossed my mind. Wow, what a crazy journey; how the hell am I here? But also, seeing as you've got to this position, just get on with it."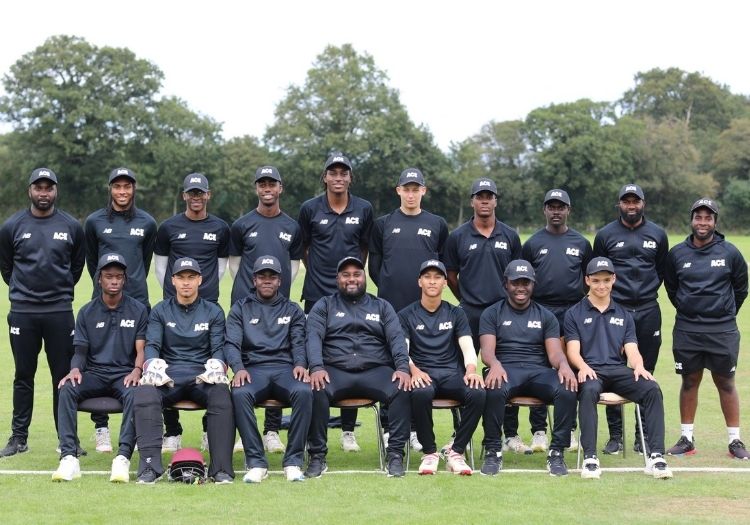 The ACE Programme - with director of programmes Chevy Green front and centre - has made enormous strides in the year since becoming an independent charity
Part of getting on with it means altering the way in which interviews like this take place. "Sometimes, this conversation feels emotive," says Rainford-Brent, who has spoken so brilliantly on this subject from the very outset. "One thing I want the sport to do is to start reporting in hard numbers. So, let's get to the key data and key facts. What are we working with? What's our starting point? Where do we want to be?"
One statistic that immediately leaps out, following a study by Tom Brown and Adam L Kelly, is this: according to their research, those with a higher relative access to wealth are 22.3 times more likely to make it as professional cricketers in England and Wales than their lower access-to-wealth equivalents. It highlights massive disparity, though perhaps it is not completely surprising that the gap is so stark.
As Chevy Green, ACE's director of programmes puts it: "Cricket has a class issue just as much as a race issue. We're targeting lower socioeconomic communities and areas, so within that we'll pick up more young black, brown and white kids, and try to introduce them to cricket. A lot of those kids don't have access to it – there's cost involved. We want to reduce that through ACE."
The same investigation found that British South Asians, meanwhile, move from being generally overrepresented through county age-group cohorts across the country between under-10 and under-19 level to being mostly underrepresented when making the leap to professional status, so much so that they are 7.8 times less likely to reach that point than White British players, having been 3.8 times likelier to be selected between under-16 and under-19 level.
Rainford-Brent and Brown have spoken, though, and she is confident that a strategy is coming together to help those numbers. "For us, we just have to get loads more in the funnel and build a really strong relationship with the network," she says.
"We've already started thinking about all the barriers, and what interests me is that they're solvable. The point of this is to be able to allow a young person to fulfil their potential, and to do that we have to look at what facilities are in place, the programmes in place and how they're going to get from A to B. Once you start connecting and having those conversations, we find the solutions quite quickly."
And that is the reason for talking at this juncture, 12 months on – to the day – from when we last sat down to discuss ACE, back then to celebrate the launch of its independence as a charity and now to analyse its journey since.
Because, in the interim, so much has been done, and so much has changed. England had two ODIs – a men's game against Sri Lanka, a women's fixture against New Zealand – named after the programme during the summer.
"I never thought we'd do so much within a pandemic," Green reflects. "But it just shows what you can achieve with the right people, hearts and minds involved."
Certainly, the events of last summer – with the murder of George Floyd and the subsequent rise of the Black Lives Matter movement – have provided a momentum for ACE's work, but it is easily forgotten that the foundation of this project predates both, and even the pandemic. Research carried out by Thomas Fletcher at Leeds Beckett University opened eyes to an unacceptable situation, where the number of black non-overseas players in men's county cricket had fallen from 33 to nine in the 25 years between 1994 and 2019, with only three full-time head coaches in the history of county cricket coming from an African-Caribbean background.
"Back then, we were just thinking about accelerating talent into the system, to find the players and get them in," says Rainford-Brent. "Then, you realise that you need to mobilise the community and start from the base.
"I think the biggest shift is this: we're set up to support the black community, but we're seeing so much underrepresented talent. In all of our development hubs, we've got kids from all sorts of backgrounds that are underrepresented for so many reasons: socioeconomic, Afghan refugees. As ACE evolves, we're talking about making space for people of different backgrounds that are coming through. I think we're realising our vision. Our tagline is supporting diverse talent from the grassroots to the elite, it's supporting underrepresented groups."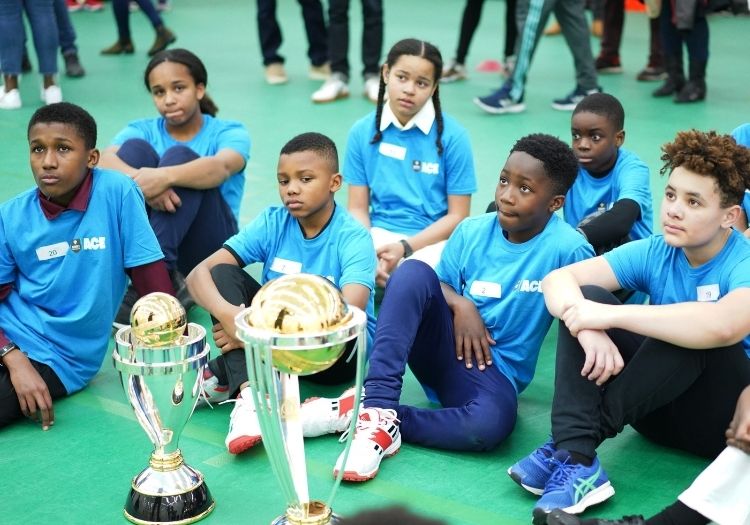 2,400 young people have engaged with ACE in this year alone
The name won't change though, even as ACE – an acronym for African-Caribbean Engagement – spreads its wings wider than the terms of its initial mission statement. Partly, because remaining as ACE means retaining the core values of why the programme was established: "I don't think we'll ever move away from ensuring that the black community itself is supported," she clarifies, "but equally, the areas that we operate in being the low socioeconomic areas means that we have to bring everyone in that area with us."
I attended one of the inaugural trial evenings at the Kia Oval right at its genesis: six lanes of nets and fielding drills under the guidance of a team of Surrey-affiliated coaches, led by Green. Rainford-Brent was in Australia, covering the Women's T20 World Cup in one of her other guises as a broadcaster, while her mother watched on from the public gallery to ensure her daughter was at least present in spirit.
That night feels worlds away: 2,400 young people – boys and girls – have been engaged by the programme's various aspects in this year alone, with the best 75 in an academy that is split into two categories by age. At present, girls account for 17 per cent of the academy make-up, though those figures are closer to 50/50 in the project's development hubs. "That means in five years' time the academy should be 50/50 – as long as we do the right work."
In the meantime, the current numbers represent something to celebrate. As Rainford-Brent says: "We're already achieving something that's never been achieved."
This time next year, the expectation is for those figures to have swelled threefold: Birmingham's academy at Edgbaston is now up and running, with Bristol's beginning early in 2022, meaning that young people currently travelling to south London from afar will soon have more appropriately located settings for their sessions. Three lots of 75 equates to an academy of 225 young players, all of whom might otherwise have been lost to the system. When ACE eventually touches down in the three outstanding bases on its initial hitlist, that number will double to 450 academy prospects.
"There is no way we're not going to convert that talent," says Rainford-Brent with a beaming smile.
In a piece earlier this week, she offered the example of Haringey Cricket College as proof. The facility in Tottenham – long-since defunct – spawned 25 first-class cricketers in its short lifespan, almost all of whom were of African-Caribbean heritage.
"If Haringey Cricket College was still funded and running, we wouldn't need ACE because the level and quality of players was so great and it was fuelling our game," Rainford-Brent told ESPNcricinfo.
"Haringey's legacy is that it proves that the model does work. If you put infrastructure and investment into certain areas and communities, you will see results."
And as the first fruits of this action plan – Haringey's belated successor in a sense – begin to ripen, she has allowed herself to dream. Idris Otto-Mian was already playing club cricket in the Middlesex league for Shepherd's Bush but found his way to ACE last year and had represented Surrey's elite player pathway by the end of 2020. There is another "young man", as Green describes him, in Marcus Scotland, who was in Surrey's pathway until being dropped at 15. He stopped playing for two years but is now back involved and spent some of the summer trialling around the counties, while also returning to his birthplace of Bermuda to train with the men's national team.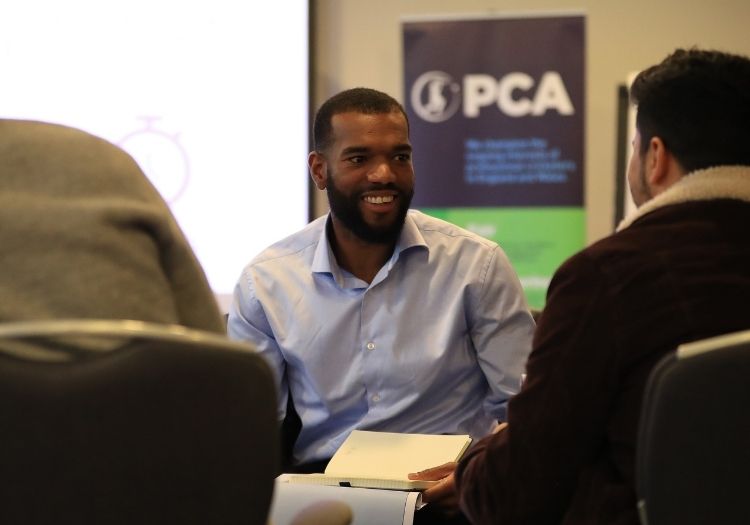 Recordo Gordon is heavily involved in the Birmingham programme, having represented Warwickshire
"It's massive for me and it means the world to us," says Green. "But you know what's even bigger? It's even bigger for the young people at work, because they can see these people as role models. They've trained with some of them, they've worked with some of them. They've seen them. That's why we try to promote our young people as much as we can."
Nathan Barnwell, who Green has known for years, made his England Under-19s debut over the summer. His sister is on the programme. Davina Perrin, 15, made her first appearance for Central Sparks. Neither Barnwell nor Perrin are direct products of ACE, but that makes their success stories no less significant.
Green stresses: "It's important for young people to see us celebrating these young black boys and girls playing to a decent level. For a long time, it has been perpetuated that these boys and girls don't play cricket or don't like cricket. We're trying to show that they do; for us, these are role models. The kids on our programme look up to them; they see them and think: 'If they can do it, why can't I?'"
Others will follow in their footsteps.
"In five years' time, in every age-group we'd be expecting to see a couple of our players who are good enough to get into the county pathway," adds Rainford-Brent. "We think within five years of starting, we should have a pro – that's our dream. In ten years' time, we should start to see representation. Our goal has always been representation."
For all the growth since the start of 2020, that objective has stood as a pillar of consistency. We are talking in a week that has seen Quinton de Kock refuse to take the knee ahead of a World Cup game and make himself unavailable for selection, before performing a U-turn 48 hours later. On the same day, Yorkshire announced that they are not taking disciplinary action against any club employee in relation to Azeem Rafiq's claims against the county, even after a report upheld his complaint that he had been a victim of "racial harassment and bullying".
The Cricketer asks Rainford-Brent whether she feels undermined in what she is trying to achieve by such incidents.
"It's not that I don't pay attention to it, but you've got the big picture in society of racial inequality and the challenges that come with it," she explains. "That's not actually our fight. Quite early on, we separated ourselves: if we spend time trying to change someone's views about taking the knee or not taking the knee, that's energy that we don't have. We can't control any of that.
"We made that distinction that if we get caught in that energy, then it's going to take us the wrong way. Our job with every person in our environment is to create opportunities that didn't exist before and open up the pathway. That, we can control. I can't control society.
"Also, I don't think it will change far enough in our lifetimes: it will move – and I think it's moving – but it's not a battle that we can tackle. Our role is simply to provide opportunities and provide inspiration. If we find someone who can get an opportunity that they wouldn't have got before, that's our job."
Hence, the academy. Before the opening of the Birmingham arm, attendees trekked to the Kia Oval from Leeds, Bradford, Sussex and Hertfordshire – unrealistic journeys in the long-run but perhaps in the short-term some of the most pertinent evidence as to why ACE has been so necessary and successful in striking a chord with its target audience.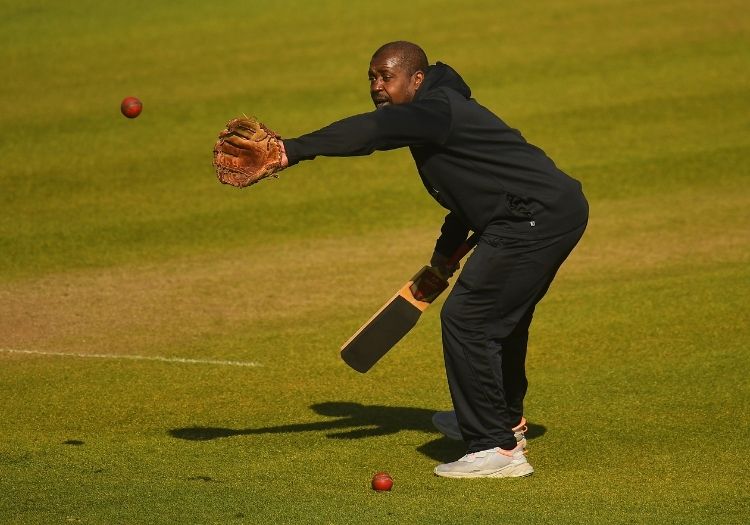 Mark Alleyne will be involved with the rollout of the programme in Bristol, where he is a legend of Gloucestershire as the county's most successful captain
"The other day, a couple of the youngsters were getting on a coach to come here because they felt this is where the opportunity is. For us to solve that problem, the national reach has to happen."
It is a telling indictment. One youngster came all the way from Derbyshire and immediately impressed Surrey's coaches; he has since found his way into the Staffordshire setup and is now able to join ACE sessions at Edgbaston, a more local option, where he is coached by former Warwickshire seamer Recordo Gordon.
"We don't mind where the kids go," Rainford-Brent adds. And that is a crucial point: ACE has not been set up to provide a feeder system, but rather to re-engage communities with the goal of unearthing young talent in previously ignored, untapped areas. "The dream for us is that ideally our job is done once they get into the (county) performance structure, and they stay in," she explains.
"For us, it's about the talent not leaving the game and then us facilitating the best relationship for them. That kid (from Derbyshire) is a great example of, rather than falling out of the game which might have happened, coming to the London academy and then facilitating sessions but also now has found a county that has taken him on because traveling to London is unsustainable.
"I think that's why we need that national reach: we've got kids in Bristol who from January will have their training sessions there."
It is also why one of the greatest changes has come in moving away from being viewed as a predominantly Surrey-centric scheme. That was the doing of Richard Gould, the county's former chief executive who has since moved on to the same role at Bristol City Football Club; he stressed the importance of expansion and, consequently, the need for independence and the cultivation of new relationships further afield.
"One thing that me and Chevy say is to think of ourselves like a private school," she says. "What we mean by that is, if you think of a private school, they will have great networks into all the hubs. They start to build those relationships, so when they that say they've got someone, they're in. I want us to think in that sort of way: create the opportunities, create the pathways, break down the barriers."
Along with that notion, Rainford-Brent is keen to forge connections with some of those private schools. Whitgift, a production line in recent years for several England batters, have already taken in 25 of ACE's top scholars for a residential camp, handing the programme access to its indoor and outdoor nets, as well as strength and conditioning facilities. For the school, it was viewed as a chance to engage with the local community. For ACE, such links constitute an integral part of the programme's philosophy.
"It's not us against them, not you against us," Rainford-Brent explains. "I do think it's important to stress that point: there is no taking down of private schools. I think we have a beautiful system; it's just now about creating one that works for the others.
"I think this is so powerful; especially when you're quoting stats and it can come across as if you're having a go at the system.
"Private schools producing talent is not a problem – we should be grateful for it. Our county structure is not a problem – we should be grateful for it.
"What we have to do is open up new avenues. This strand has just not been developed. Basically, supporting underrepresented groups from other pathways hasn't really happened. What's great about partnerships with private schools – and as we grow, hopefully we'll grow that in each city – is that you're basically coming together to help solve the problem."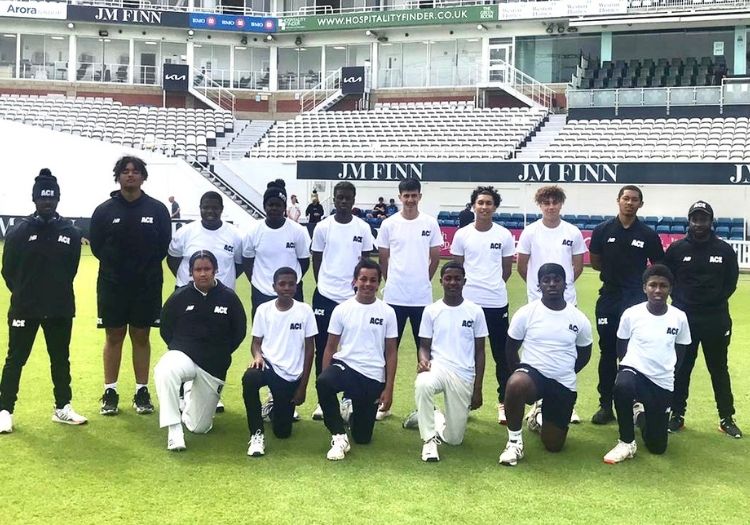 Plenty of progress has been made since ACE was first rolled out at the start of 2020
In that regard, the response of counties has been heartening, albeit caveated; plenty have been in touch to enquire about coming on board. "It's really open," Rainford-Brent adds, and that has been a reassuring finding. "People are saying: 'We want to be a bit more diverse; we haven't engaged with this group.' I don't think that reflection would have been there two years ago, but I think it is there for everybody now, which is a positive. I think everybody is ready for change, and I think the approach that we have – which is not dictatorial, it's more a case of whether we can work together to achieve what we both want to achieve – we can make change quickly."
The challenge, though, is turning words – and there has been plenty of discussion about the need to correct these deep-rooted failings – into the implementation of tangible actions.
"Don't just talk about doing something," says Green. "You also have to do it as well. Otherwise, what's the point? It's good to show the willing and the wanting, but you also have to implement. Otherwise, you won't get any change."
The ability to drive it through is a sticking point for some, simply by virtue of the funding needed to put in place what is required. "What we've learned is that you need dedicated resource," says Rainford-Brent. And that does not mean "part-time coaches and bits and bobs". Rather, a proper structure with a full-time lead coach and sufficient facilities. "Our model at the moment is more about funding the coaching role and that dedicated person, and then the county comes in to put all the bits together."
That commitment to coaching extends to furthering the coaches' experience: Theo Gordon is Bristol's development officer, and Rainford-Brent is desperate for his skillset – and that of his peers elsewhere – to improve as well. They have done work experience placements and have been to Loughborough to meet Mo Bobat, the ECB's performance director. "We hope to see the transition of some of these coaches into the game as well, which would then diversify the pool and the thinking in that space," she adds.
The average programme in most cities needs between £50,000 and £100,000, with London operating on a considerably loftier sum. Even signing off the indoor school for an evening's academy training, with assistance from coaches, puts a dent into club funds at a time when spare capital is often in short supply.
So, it works as a partnership – and that is the way it has to be for an organisation founded at perhaps the most taxing time in history for any new charity, setting out in the middle of a pandemic, which has prevented ACE from holding major fundraising events. That would be challenging enough even if they weren't experiencing a concurrent, exponential growth. "We were going to be a small programme. Now, we need to build a strategy that makes us a sustainable charity, which is a whole different field."
But there is a willingness to make this work, as well as an increasing awareness that it needs to.
Gloucestershire are the latest to get going, a county – like several others – with a first-team squad lacking in diversity, but with an appreciation of the need for change. "It helps," says Green. "It's their genuineness. Hopefully, we can try to change that and provide more awareness and access for players who get overlooked to start being looked at. Hopefully, that will help to diversify the make-up of the counties' first teams."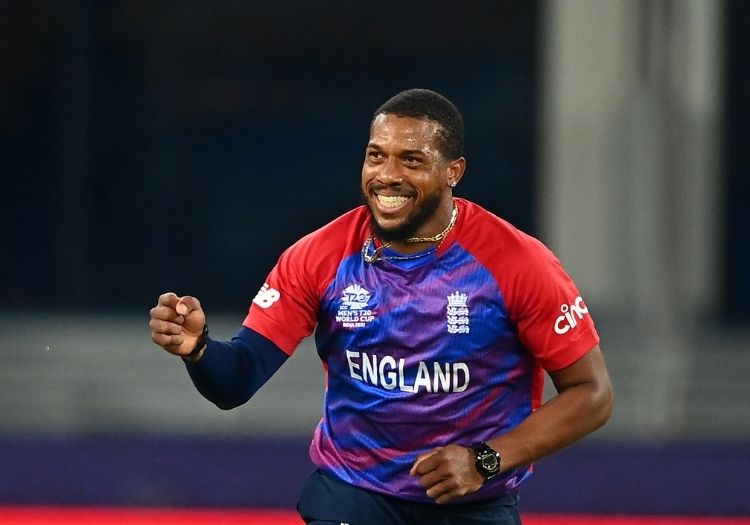 Chris Jordan is an ambassador for ACE and has re-signed for Surrey, moving him closer to the programme's founding partner
A huge mural image of Mark Alleyne, the club's most successful player and captain, stands almost parallel to the entrance gates at Bristol's County Ground, while they published a heartfelt apology to David Lawrence after he spoke in a documentary about the racism he encountered during his time at the club. Their keenness to become involved with ACE, therefore, represents another step in an important direction.
"There is nothing wrong with saying there are problems, because life is full of problems," says Rainford-Brent. "The history is very complicated. There will be a lot of people with pain. I think actually the best way of dealing with that is being honest, saying that there have been problems and pain caused. However, they're committing to making change. For us, that has been key. That helps to heal some of those wounds.
"You can't really heal generational wounds, but I think with years and years of programmes that are trying to readdress the balance, you can make changes. With some of the counties that we're speaking to, it is about how they can rebuild some of those connections: can we grow there? Can we leverage the culture and the community and make everything richer? That is vital to it. It provides actual hope and inspiration.
"The conversations around racial inequality and racism are all very heavy and they can feel like finger-pointing, depending on which side of the table you're at. Whereas when there's a solution where we can all come to the table and work together, that is a much better thing to work with.
"It's almost like we're drawing a line and accepting that there are some challenges, problems and history, but we're coming together. I see little changes in people: they've changed the way they think or they realise that they can be more inclusive, more open. It becomes really powerful when you see that. Doing ACE has given me more hope than if you were sat on the sidelines because you're seeing change every day."
Alleyne is one role model, Rainford-Brent another. She has become more aware through this process of their value, having been there and done it. Isa Guha popped into a session recently to meet a group of girls: "She's a World Cup winner and you're a 13-year-old girl chasing a dream."
Surrey have re-signed Chris Jordan who, along with Jofra Archer, has been an enormous supporter ever since the programme was first mooted. His involvement – he is already an ambassador – will only grow now that he is back at his first professional team and, more pertinently, ACE's founding partner. Recordo Gordon has a vital role to play in the rollout of the programme in Birmingham, where participation "had dropped to being virtually non-existent and was most probably close to dying a death", while the support of Dunkley, Alex Tudor and others has been pivotal.
"We have everyone," notes Rainford-Brent. "That tells you that everyone knows this is needed. We're really grateful that we've got so many people who have been in the game, who can lend their voice and who can lend their inspiration."
ACE Elite is one such area where that expertise has been called upon. It is a less-discussed strand of the overarching initiative and was not part of the plan when it was first drawn up. But as word spread – and one of the great positives of ACE's early success has been its public exposure – several young players already involved on county pathways came forward for assistance.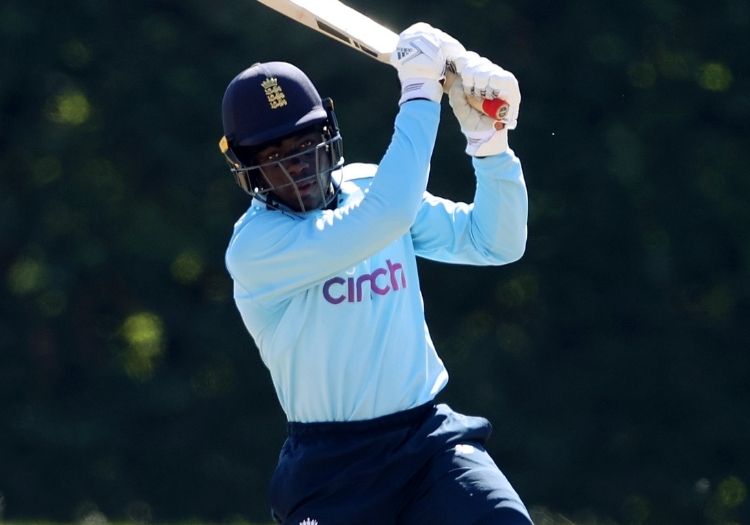 Chevy Green namechecks Nathan Barnwell, who made his England Under-19s debut against West Indies; he is not a product of ACE but has come through Surrey's academy
Perrin was among them; she is highly regarded, having made her Rachael Heyhoe Flint Trophy debut in the summer. Green and Rainford-Brent are keen to make the distinction: ACE would never claim her as their own, her cricketing talent having been nurtured by Staffordshire and, latterly, by Central Sparks. But what the programme has been able to offer is a friendly face familiar with her story. In all, there are 18 boys and girls receiving mentoring and mental support from ACE Elite: they are in the system but keeping them there – and not losing them from the game – is paramount.
As Rainford-Brent puts it: "A lot of people reached out to us who felt, I guess, what I felt – not being isolated, but there aren't many around who reflect our background. Having someone to relate to has been quite powerful. Davina is already in a system that is making her a great cricketer, but actually that connection was important for her and her family."
Green adds: "For a lot of people, they are one of the only young black kids who go to their clubs or teams or county trials. It can be a daunting place to be if you're on your own and you haven't got anyone there who is similar to you. It can be quite difficult.
"Were just trying to support her to stay in the game because anyone who is in the game with African-Caribbean heritage, we want them to stay in it."
It will take time. But hopefully in a future not too distant, anecdotes like that can be tales of the past. The ACE Programme will have played a fundamental, game-changing part.
"I'm not naïve enough to expect this to be embedded in deep cultures very quickly, but I would hope that by the end of a five-year cycle, in theory the system is in place to get to that point where finding talent from diverse sources is really rich enough and it's part of the thinking and part of the performance structure," says Rainford-Brent, reflecting on the similar timescale she planned for when first appointed as Surrey's first director of women's cricket.
"That will be the dream, but I think there will be a lot of work to be done between now and then to make sure it's thriving."
RELATED STORIES
Ebony Rainford-Brent: Trailblazer, influencer, game-changer
ACE Programme launches as independent charity
Mark Alleyne: A captain and coach ahead of his time
Surrey seek to reconnect with local community as ACE Programme opens its doors
Surrey launch ACE: "We've missed a generation and a half, maybe more"
ACE Programme to launch in Bristol during England Women's ODI
Please ensure all fields are completed before submitting your comment!