Maia Bouchier and Linsey Smith are living their Australian dream
ELIZABETH BOTCHERBY: The English duo were stunned to receive WBBL contract offers but are now chomping at the bit to finish their seasons with a bang and fly the flag for England's domestic cricketers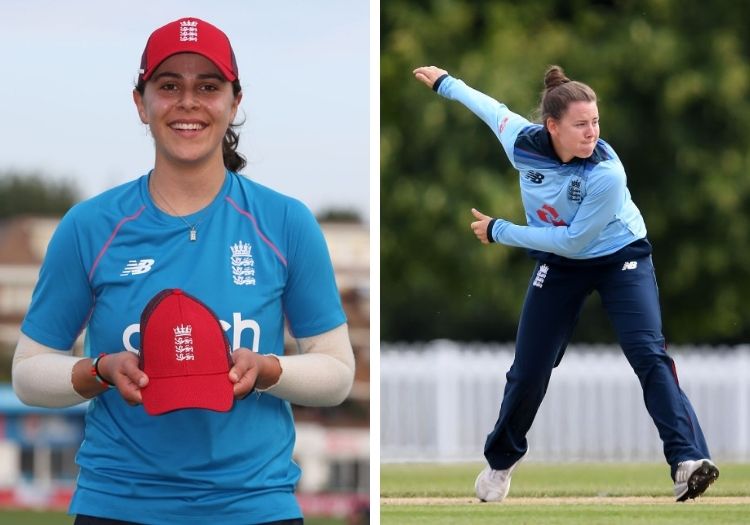 Young talent, returning veterans and overseas stars: WBBL players to watch
The only warning Maia Bouchier received about the potentially career-changing news on her horizon was a cryptic message from Charlotte Edwards.
"If you get a call from a strange Australian man just know it's someone calling from Australia," her coach at Southern Vipers said.
Two minutes later, Bouchier's phone rang again. On the other end was Jarrad Loughman, the Melbourne Stars head coach.
He told Bouchier that he wanted her to be part of his squad for the WBBL07 season.
"I was just sitting there completely gobsmacked that I was getting this phone call," Bouchier tells The Cricketer. "I usually prepare for these things, write down things I want to ask, and I was not prepared at all.
"It came at a really great time. We'd just come off The Hundred, reaching the final, I'd made my England debut and then that phone call… I was happy to even be considered for the Big Bash because it's been my dream for a long time."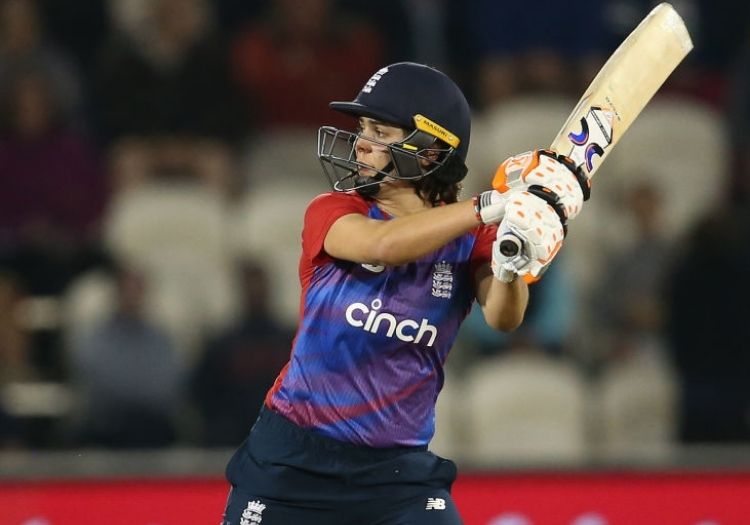 Maia Bouchier batting her way to 25 on her T20I debut against New Zealand
A few weeks later, it was Northern Diamonds spinner Linsey Smith's turn to be surprised.
Smith had just taken part in the Rachael Heyhoe Flint Trophy final and her kit had been packed away for a short winter break.
"But on the Sunday morning I had contact from the Stars and my cricket bag was straight back out of the garage," she says.
Not even the prospect of a 14-day hotel room quarantine in Australia, seemingly endless bio-secure environments and no guarantee of a routine trip home discouraged either player from jumping at the chance.
"It wasn't even something I looked into," admits Smith. "I just saw the offer and said yes, I'd love to. It's not something I thought would happen, not being an international anymore. The Big Bash is something I've always wanted to be part of and when that opportunity comes, it's something I could never say no to.
"The 14 days didn't really hit me until I entered the hotel, and they lock the door behind you but it's something I'm willing to do to be given this opportunity."
"I don't think there's any question about whether I would say no or not," says Bouchier. "It's the Big Bash and I'd do anything to play in it."
***
Both players have enjoyed something of a breakout season in 2021.  
Since being suspended from bowling in October 2020 for a suspected illegal action, 22-year-old Bouchier has turned professional, helped Southern Brave reach the final of The Hundred, made her England debut, lifted her second Heyhoe Flint Trophy title and found the time to graduate from Oxford Brookes with a degree in Business and Sports Coaching.
In 20 matches across the three domestic competitions, she scored 391 runs (two half-centuries) and batted in every position from opener to No.6, while on the international stage – unsurprisingly the highlight of her season – she scored 26 runs in two appearances, with a top score of 25 on home territory in Hove.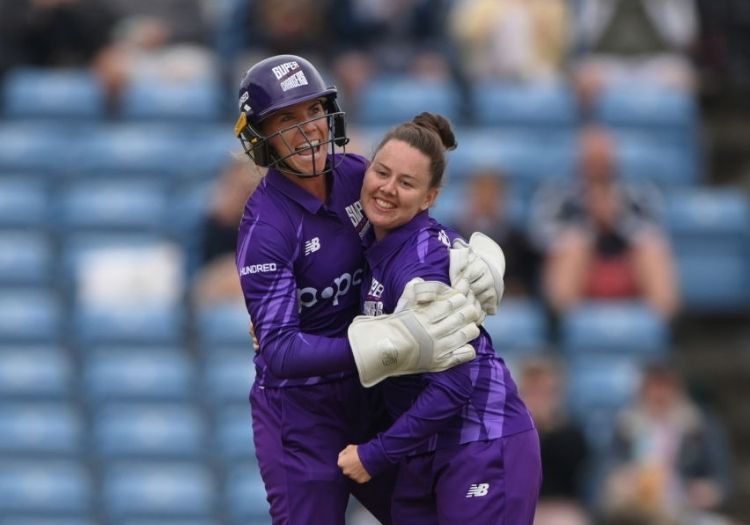 Linsey Smith (right, celebrating with Lauren Winfield-Hill) was Northern Superchargers' best bowler in The Hundred
"I never thought I would be in the position I'm in now. At the start of the year, I was just thinking about how I could improve at Vipers but I've had a pretty sensational year," Bouchier says.
"We were unlucky not to get to the final [of the Charlotte Edwards Cup] but I couldn't be happier that we've won the Rachael Heyhoe Flint, it's pretty amazing. And with the England stuff, it's incredible and probably my favourite part of the summer.
"My parents were so proud. [The camera] panned to them hugging when I was receiving my cap and my dad's always been the key person pushing me and I'm happy to be able to give it back to them."
Smith, meanwhile, finished the 2021 season with 22 wickets in 16 appearances for Northern Diamonds, reaching the final of both the Rachael Heyhoe Flint Trophy and Charlotte Edwards Cup. In The Hundred she picked up a further nine wickets in seven appearances, finishing the competition as Northern Superchargers' leading wicket-taker and most economical bowler.
"It's been a pleasant surprise," the 26-year-old says. "It hadn't really hit me how good of a season I'd had until I got into the 14-day quarantine and it all just stopped. In the season I was just taking each game as it came, not looking too far ahead and not looking too much into my performances – it was non-stop.
"Now I've taken the time to reflect, I'm pretty chuffed with what I've done this year. There's been a lot of balls bowled – my body's definitely feeling it – but I've enjoyed every minute of it.
"One moment which really sticks out is The Hundred when we beat Oval Invincibles at Headingley and it went down to the final ball. The noise of the crowd was like nothing I've ever experienced in a domestic game. Taking my first five-for in the Rachael Heyhoe Flint Trophy was a massive achievement for me, too. I'd sat down with Dani [Hazell] over the winter and said I wanted to develop my game to be more of a threat in 50-over cricket, so that was a real high point for me."
With such impressive form under their belts, you could wonder why their respective WBBL contracts came as such a shock. However, while English players are not a rarity in the competition, of the 19 individuals to don the famous coloured jerseys to date, the majority have been established internationals or in possession of a central contract from the ECB. Perhaps the most notable exception is uncapped allrounder Hollie Armitage, Smith's captain at Northern Diamonds, who joined Sydney Sixers as a replacement signing in 2019.  
The four-strong English contingent for WBBL07, therefore, which also includes Eve Jones (Melbourne Renegades) and Issy Wong (Sydney Thunder), is quite unusual – partially a result of a scheduling clash with England's now postponed tour of Pakistan but also, according to Smith, a clear demonstration of benefits of the professional contracts handed to 41 domestic players in December 2020.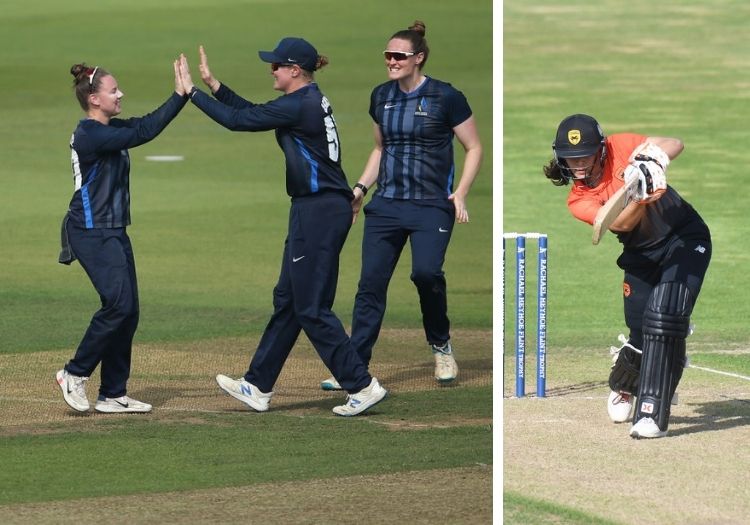 Linsey Smith (left) celebrates taking a wicket in the Rachael Heyhoe Flint Trophy final; Maia Bouchier batting in the final
"It shows massive credit to the way our domestic structure has progressed over the past 12 months," says Smith, who used her intensive winter training to complete her evolution from seamer to spinner with the help of a specialist coach, a luxury she hadn't had the time for in the past.
"The girls that are out here, we've all got professional contracts and it just shows what can be done when people are allowed to focus solely on cricket and progress their game. Credit to the girls who are out here, they've worked really hard and deserve it, and hopefully it's something we can progress to get the whole squad being professional."
Bouchier, too, has reaped the benefits of her professional contract, enjoying flexible coaching around her university studies and no longer having to worry about how she was going to training: "I've been able to really focus on my cricket and the coaches have been great, giving me that flexibility so I could come and train on certain days of the week and still attend my lectures.
"And I can pay for travel now. That's always been a struggle and I've had to use my own money that I've earned from coaching. This year it's been great being able to perform at such a high standard without having to worry about life things, well, life in general!"
***
In signing for Melbourne Stars, Bouchier and Smith have joined a team with an unknown trajectory. In WBBL06, the Stars topped the regular season table and subsequently reached the final before Sydney Thunder brought the fairytale to an abrupt halt with a thumping seven-wicket victory – still a superb season from a side who had previously never finished higher than fifth.
However, ahead of the 2021 season, they have lost key overseas trio Nat Sciver, Katherine Brunt and Mignon du Preez, spinner Alana King, and head coach Trent Woodhill, the latter after just one season at the helm.
Smith has the unenviable task of replacing King in the bowling attack, a player who was something of an unsung hero for the Stars last season with 16 wickets and an economy of just 6. However, the spinner, who could make her debut against Hobart Hurricanes on October 19, is completely unfazed by the task at hand.
"I'm trying not to put too much pressure on myself," Smith says. "I'm just going to enjoy every minute and do my best for the team and hopefully the results will come. T20 is a format I love playing and I like to take the ball in tough situations. I want to take responsibility and do my best for the team in those situations. I've put in some good performances in England this summer and hopefully that can carry over into this season.
"In the past, I've looked at the bigger picture too much and been self-critical. I'm a perfectionist and that's difficult in cricket when you're not always going to be perfect, and when I put that pressure on myself, that's when my performances aren't at their best. I love the competition, but I hate the competition that I have with myself and trying to be perfect. But I'm in a good place now to enjoy what I'm doing and hopefully the performances can come from that."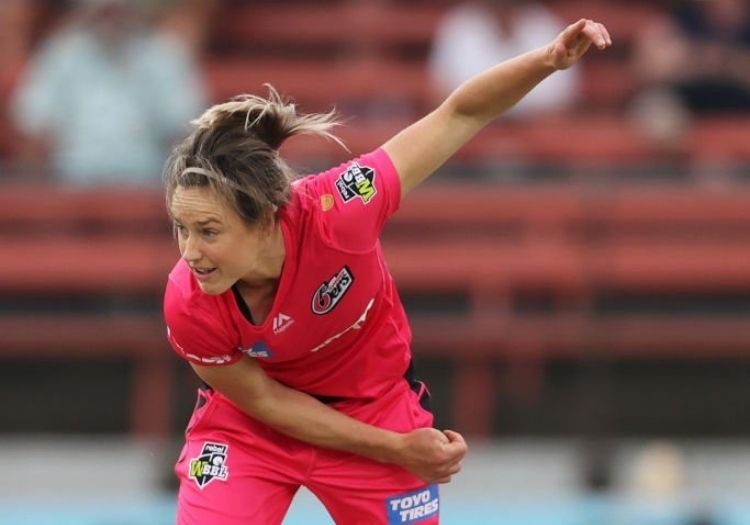 Ellyse Perry is Bouchier's role model
Bouchier is more coy about her role in the team, refusing to reveal where in the order Meg Lanning has positioned her – "I don't want to give too much away!"
However, one thing she can't hide is her excitement and understandable nerves at lining up alongside and against the WBBL's stars.
"When I heard Meg Lanning and Elyse Villani were part of the Melbourne Stars I was a bit starstruck," she confesses. "I've dreamed of playing in the Big Bash and I've dreamed of playing with and against the international Aussies. It will be great to see them train and how they go about it, to listen to Meg, and to play against the greats like Ellyse Perry and Alyssa Healy.  
"It's quite scary for me because I've always watched Ellyse Perry bat and bowl. She's always been a role model because she's the ultimate allrounder. I'm scared to go and play against her - good scared. I want to go and smash her if I can! I'm still a bit nervous to get going."
And as for being teammates despite the developing rivalry between Southern Vipers and Northern Diamonds back in England? They're ok with that, although Smith does have one condition: "England-Australia is bigger than Diamonds-Vipers, so I think we'll have to stick together a little bit. But I'll be making sure she doesn't mention any medals she's won, that's for sure!"
Please ensure all fields are completed before submitting your comment!